Do you love cooking with instant pot, but are you at a loss regarding dairy-free versions of traditional dishes that you can cook with Instant Pot?
Or are you looking for dairy-free instant pot recipes to help make your life easier? Well, you have come to the right place!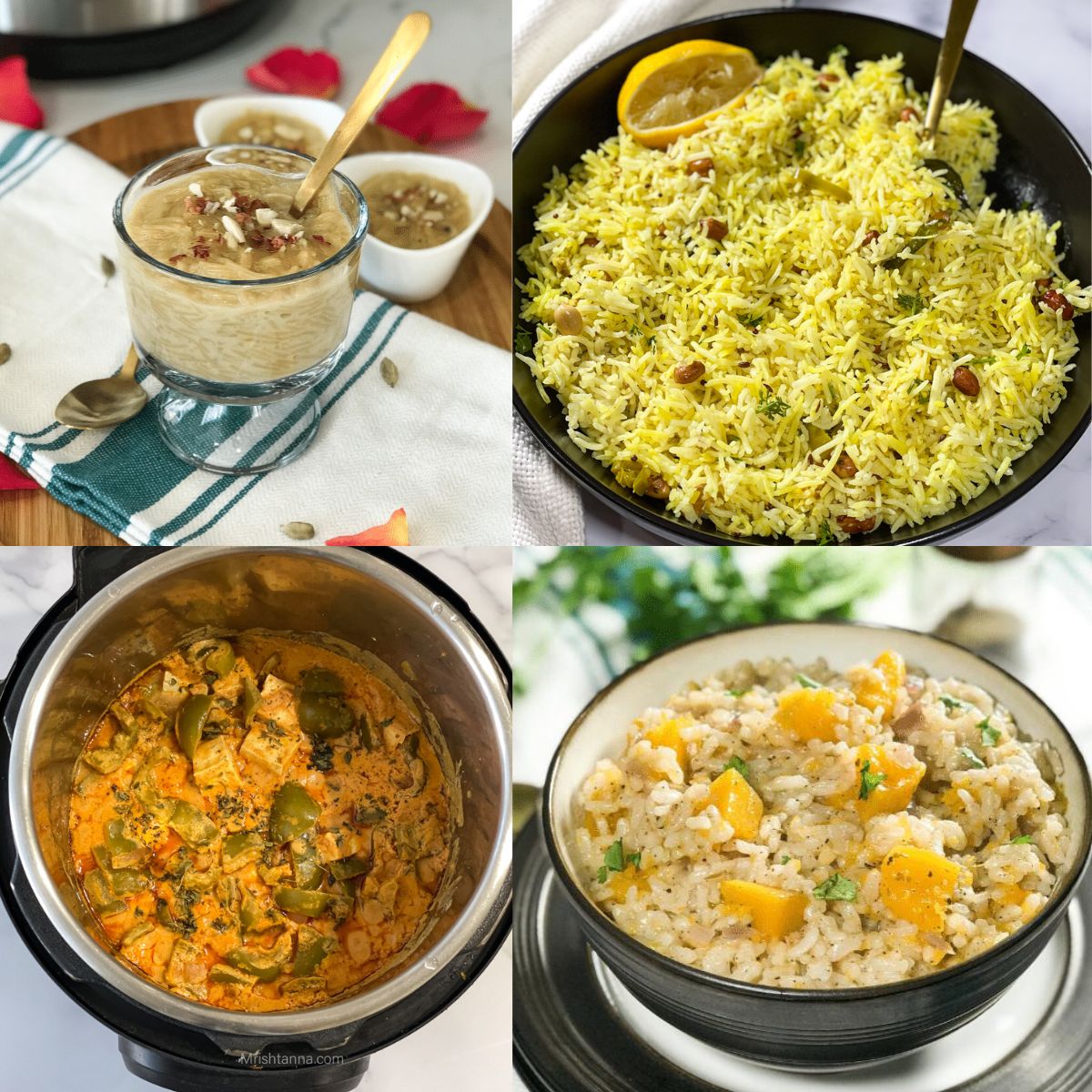 I have a great collection of dairy-free Instant Pot recipes here for you. Pick your favorites and try them out when you are in a pinch.
These recipes are all made with fresh ingredients and are 100% vegan and kid-approved.
So whether you are looking for a quick and easy dinner idea or a delicious dessert, I have you covered!
Jump to:
Let's talk about the Instant Pot
I have been using an instant pot for the last five years, and I love it! I love it so much that I decided to buy the newer model when it came out this year. It is such a versatile and multi-purpose cooker that can be used as a pressure cooker, slow cooker, rice cooker, yogurt maker, and more.
It is perfect for busy families because it cuts down on cooking time and time spent washing dishes because it opens up the option of one-pot cooking to several dishes.
Now, with my instant pot, I prepare dairy-free versions of all my favorite traditional recipes. And, since it is so quick and easy to use, I can make dairy-free Instant Pot meals even on busy weeknights!
So if you are looking for some dairy-free Instant Pot recipes, check out the list below!
Model of Instant Pot that I used
I own 6-quart IP-DUO and 6-quart Ip duo plus. I highly recommend the IP-DUO plus as it has a few more features than the previous model.
However, the dairy-free recipes I am sharing below can be made in any size or model of the Instant Pot. So, if you have a different size or model, don't worry! These recipes will still work just fine.
Vegan Instant Pot Recipes
Now let's get to the good stuff - dairy-free Instant Pot recipes!
Below, you will find a collection of our favorite dairy-free recipes that can be made in the Instant Pot.
I have included a mix of main dishes, sides, and desserts so that you can find something to fit every occasion. And I have also included some tips on how to make each recipe dairy-free.
So whether you are dairy-free by choice or necessity, we hope you find these recipes helpful!
Main dishes
These are dishes that can be stand-alone types for lunch or dinner. Or they can be prepared with a supporting side dish like a stir fry or dairy-free raita to complement the taste and flavor.
Dairy-free curries
Here are a few veganized versions of traditional and authentic recipes. The most exciting part of these recipes is the average cook time is less than 30 minutes!
Dairy-free desserts
Instant pot is not just for curries and rice recipes...you can also prepare these great-tasting, vegan desserts with the Instant Pot. These recipes make the transition to a vegan lifestyle that much easier!
You might also like
Just subscribe to my newsletter for more delicious vegan recipes such as this sent directly to your inbox.
Did you love this recipe? Rate it five stars!
And let me know what you loved about it in the comments.
Follow me on social media Facebook, Instagram, and Pinterest.