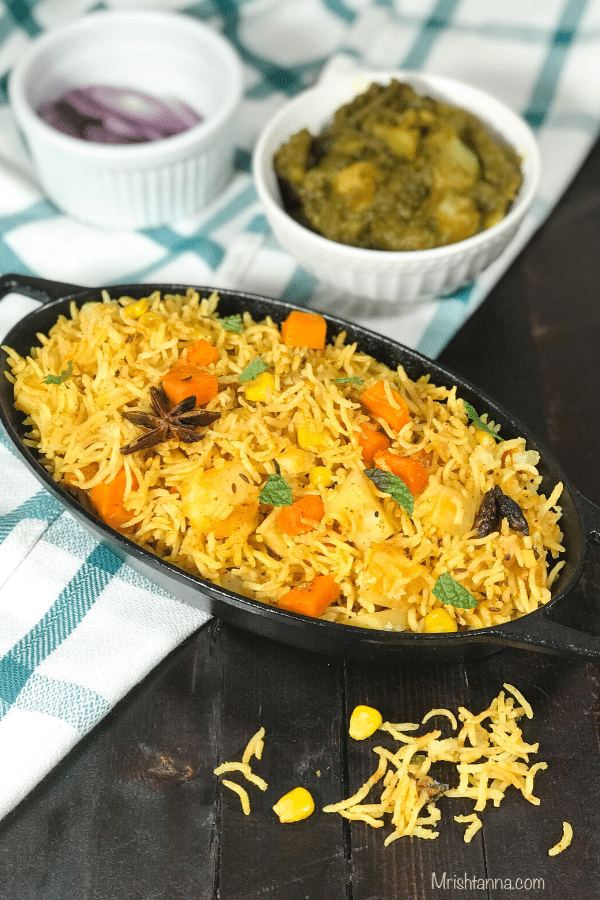 After a long hiatus, I am glad to be back and to share this wonderful Instant Pot recipe with you, just in time for the holidays. As common as the Biryani is, in Indian cuisine, it is surprising that there are not many Instant Pot recipes out there and I have received quite a few requests for this recipe.
If you are not familiar with the Biryani, it is one of the authentic and aromatic rice dishes prepared with a rich creamy base and vegetables.
Today's recipe will feature the gluten-free, vegan version of the dish prepared using the Instant Pot. Apart from slight variations from cooking with the Instant Pot, the procedure is fairly simple and the vegan version is as flavorful as the original version.
Best of all, it is a one-pot recipe! So it comes in handy as a weekday meal option too! As you follow these directions, be sure to vary the chili powder to your liking. I like to get it a little on the spicy side. I also made a few subtle changes to pack in better flavor. The details are all included here…:-)
Vegan version
Apart from being gluten-free, this recipe is also vegan. The traditional method involves using yogurt as a base for the spices and vegetables. I used vegan yogurt and it turned out very good. In addition, I also added nutritional yeast to bring the right consistency that is required for biryani.
Using the Instant Pot for Veg Biryani
Instant Pot makes everything easy and it is especially the case for a recipe such as biryani because there are a lot of ingredients to saute and cook. Having one pot to saute and cook the rice makes it incredibly easy! Look for my step by step instructions in the directions. I used 6-quart duo Instant pot for this recipe.
The vegetables you pick for the recipe is really up to you as long as they are not cut too big. It is typical to use carrots, peas and bell peppers. You could also add fried cashews and raisins for an authentic taste.
How to serve Veg biryani?
Biryani is typically served with raita and cucumber at most restaurants. Raita is one of my family favorites and I use vegan yogurt for this too. Cucumbers are a good pair if your biryani turns out too spicy!
Rice used for biryani
Basmati rice is the most popular option for Biryani and for the right reasons. Since they are not too sticky, the flavors from the biryani masala are spread out well when you cook with Basmati rice. I used the extra-long version of basmati rice for this recipe. In order to get a better texture to try soaking the rice for 10 - 15 mins prior to cooking the rice.
Try this recipe today and share your experiences here! I am curious about how you like the vegan version with dairy-free yogurt and nutritional yeast.
If this recipe interests you, please rate and comment below in the comment box. You could also check out some of my other biryani recipes like Vegetable Dum Biryani.
Try my other Instant Pot rice recipes like Instant Pot vegetable rice, Instant pot mushroom rice.
Here are the recipe details...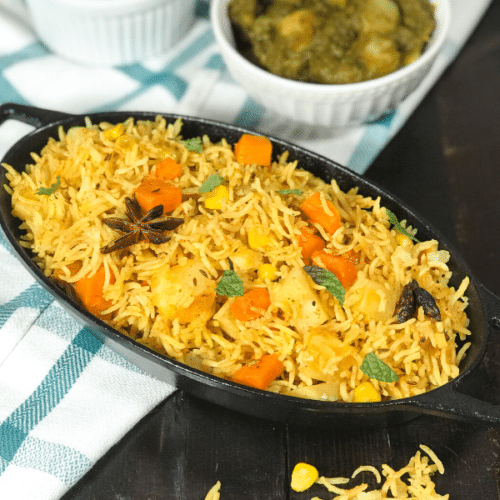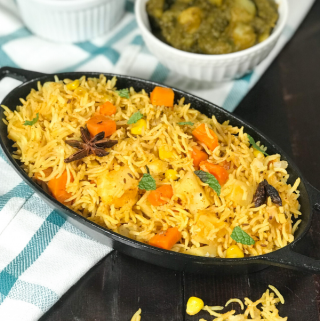 Veg Biryani - Instant Pot Vegetable Biryani
The vegetable biryani is one of the authentic and aromatic rice dishes prepared with a rich creamy base and vegetables. 
Ingredients
Instructions
Soak the basmati rice for 10- 15 mins after a good rinse.

Press 'SAUTE' mode on the Instant Pot and add vegan butter or oil to the inner pan.

As the oil heats up add cumin seeds, cinnamon, cardamom, mace, cloves, and cloves.

As the cumin seeds fry, add sliced onions and ginger-garlic paste. Saute for 2-3 minutes with regular stirring until they turn light brown in color.

Now add salt and mixed vegetables of your choice and cook for 20-30 seconds.

Add coconut yogurt, chopped cilantro, mint leaves, and the spice mix (Turmeric powder, red chili powder, cumin, and garam masala powder).

Stir well and continue to cook for about 30 seconds.

Add nutritional yeast, rinsed Basmati Rice, star anise, and water then give a good stir for an even mix.

Press the CANCEL button on Instant Pot.

Close the lid on the pot, and turn the valve from VENTING to SEALING position.

Set the pot to MANUAL/PRESSURE COOK (High Pressure) and set a timer to 5 minutes.

Let it cook for 5 minutes and let it cook with the NATURAL PRESSURE RELEASE(NPR) option. For that, you would wait for the silver button on the lid to drop before opening the lid.

Instant Pot Vegetable Biryani is ready! Serve it hot paired with raita and cucumber.
Notes
Nutritional yeast is optional for this biryani. You can use either vegan yogurt or else use 2 tsp of lemon.
Nutrition
Calories:
304
kcal
|
Carbohydrates:
66
g
|
Protein:
7
g
|
Fat:
1
g
|
Saturated Fat:
1
g
|
Sodium:
20
mg
|
Potassium:
193
mg
|
Fiber:
3
g
|
Sugar:
1
g
|
Vitamin A:
178
IU
|
Vitamin C:
1
mg
|
Calcium:
33
mg
|
Iron:
2
mg
For more delicious vegan recipes such as this sent directly to your inbox, just subscribe to my newsletter. You will also get a copy of my e-book where I have put together some simple vegan dessert recipes and dessert essentials. My readers have found it very helpful and I am hoping you will too!
Pin this recipe for later