Vegetable Dum Biriyani Recipe!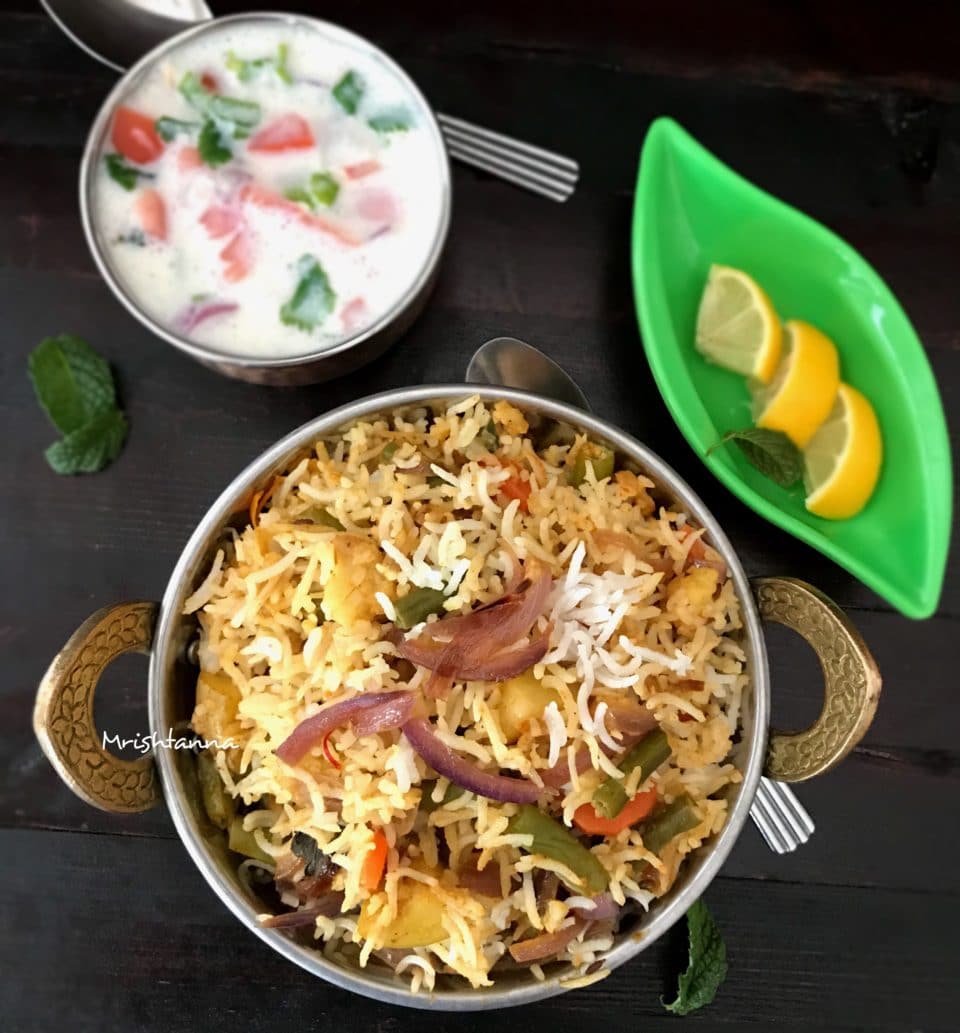 Here's an authentic Indian dish that will leave you craving for more. Vegetable Dum Biryani is one dish that brings the essence of Indian Cuisine to your table. Since my college days, I have always been very fond of Dum Biryani. Hyderabadi Dum Biryani is very popular in India. More often than not, it is a dish that uses dairy ingredients such as yogurt and cream. But now, I share the vegan version! Vegan version with no compromise in taste. I used homemade soy yogurt and I have also tried coconut milk and they are equally good.
The trick in preparing a perfect "Dum Biryani" is preparing the vegetable spice mix, layering them well and allowing them to cook for the right amount of time, under a good seal. There a few subtle details that you have to get right to prepare the perfect biryani, but the result is definitely worth the extra attention to needs.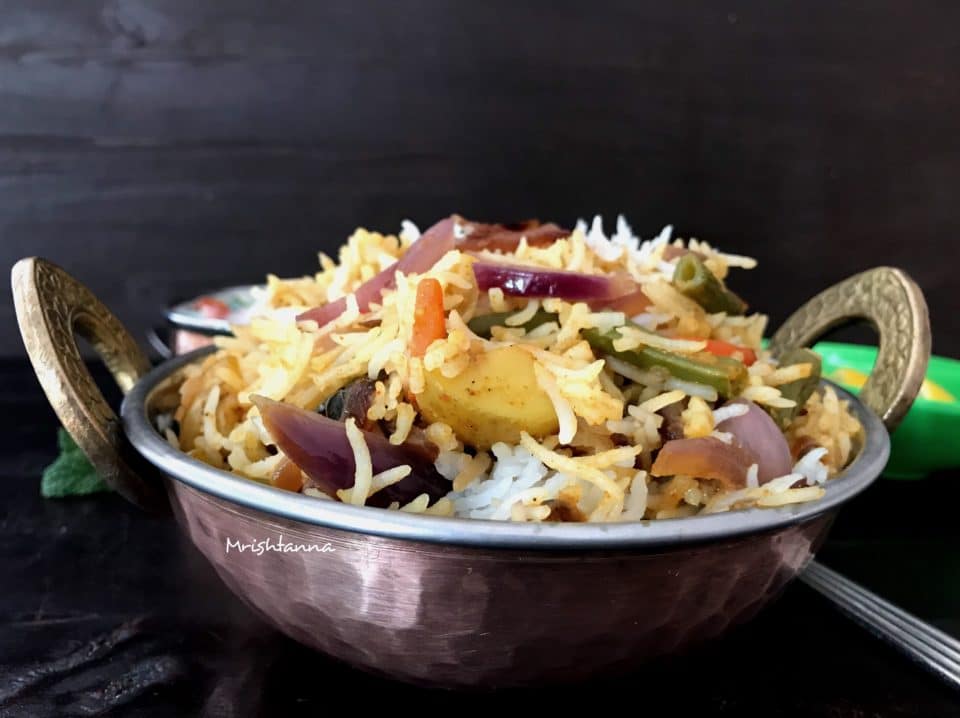 I tried to add as many details in my short video clip to make it easy for you to follow. If you have any difficulty following the procedure feel free to comment here or on my Facebook page. If you want my recipes directly at your inbox, just hit the subscribe button at the right. If you are new to my site, you should check out my simple but useful e-book where I put together some simple vegan dessert recipes and dessert essentials. Just hit the subscribe button and you will get a copy!
Here's the recipe details….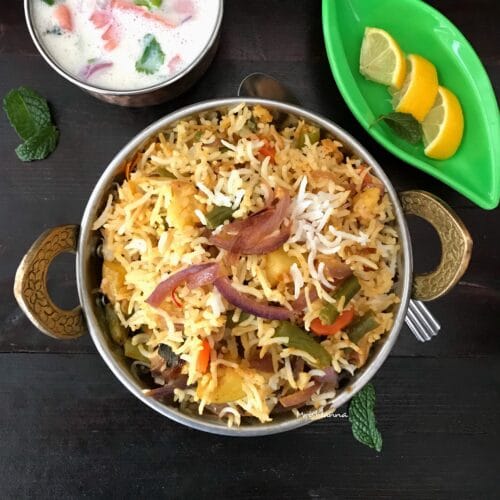 Print Recipe
Vegetable Dum Biryani
Here's an authentic Indian dish that will leave you craving for more. Vegetable Dum Biryani is one dish that brings the essence of Indian Cuisine to your table.
Ingredients
1 ½

cup

basmati rice

1

large onion

1

cup

cauliflower florets

1

cup

green beans

½

cup

carrots

½

cup

cubed potatoes

1

tsp

minced garlic

1

tsp

minced ginger

4

green cardamom

2

mace

2

small cinnamon

4

cloves

1

tsp

cumin seeds

1

tsp

red chili powder

1

tsp

Garam Masala

¼

tsp

turmeric powder

1

cup

soy plain yogurt

3

tbsp

non dairy milk

4-5

strands of saffron

Pink salt for taste

15-20

mint leaves

2-3

tbsp

olive oil
Instructions
Soak the basmati rice for 15 minutes and cook them with star anise. Use a one to one ratio for water for instant pot or 1:3 for stove pot. The rice has to be cooked grainy and never mushy. Drain off any excess water and place it aside.

Steam the vegetables and set them aside.

Slice the onions thin and fry them in oil till they turn golden and crisp. Set aside half of these for later.

In the same pan, add spices and saute till they begin to sizzle.

Add minced ginger, garlic and fry for about two minutes, or until the raw smell is gone.

Add the steamed vegetables and continue to fry for one more minute.

Add turmeric, Garam masala powder and red chili powder. Mix well and continue to fry 2 minutes or until you begin to get an aroma.

Pour Soy yogurt and mix well.

Continue to cook for another 2 minutes.

Soak the saffron strands in 3 tbsps of hot water or hot soy milk. Set aside.

To make a two layer vegetable biryani, set aside ? of the cooked vegetable mix.

On a medium size pan, layer a bed of rice over vegetable mix and add a second layer of the vegetable mix. Sprinkle some fried onions, mint leaves, soaked saffron milk.

Add another layer of rice followed by the fried onions, mint, saffron (soaked in milk) and cooked vegetables.

Place a moist clean cloth to seal the rim. You can also use a foil to seal the utensil.( I used foil)

Place the pan on a hot stove and cook for 10 minutes (dum cooking).
Notes
[social_warfare]The cooking time during "dum" can vary slightly depending on the thickness of your utensil. So you can be the best judge for that. A perfect biryani must not burn at the bottom or be moist either.
Nutrition
Nutrition Facts
Vegetable Dum Biryani
Amount Per Serving
Calories 267
* Percent Daily Values are based on a 2000 calorie diet.
Vegetable dum biryani is ready to serve with soy raita or gravy. You can mix up the rice and vegetables for an even flavor. You can also serve it without mixing for the marbled look. Just serve from the bottom to the top in portions. Make sure each serving gets a proportionate amount of vegetable mix and rice.
Save this for later use: