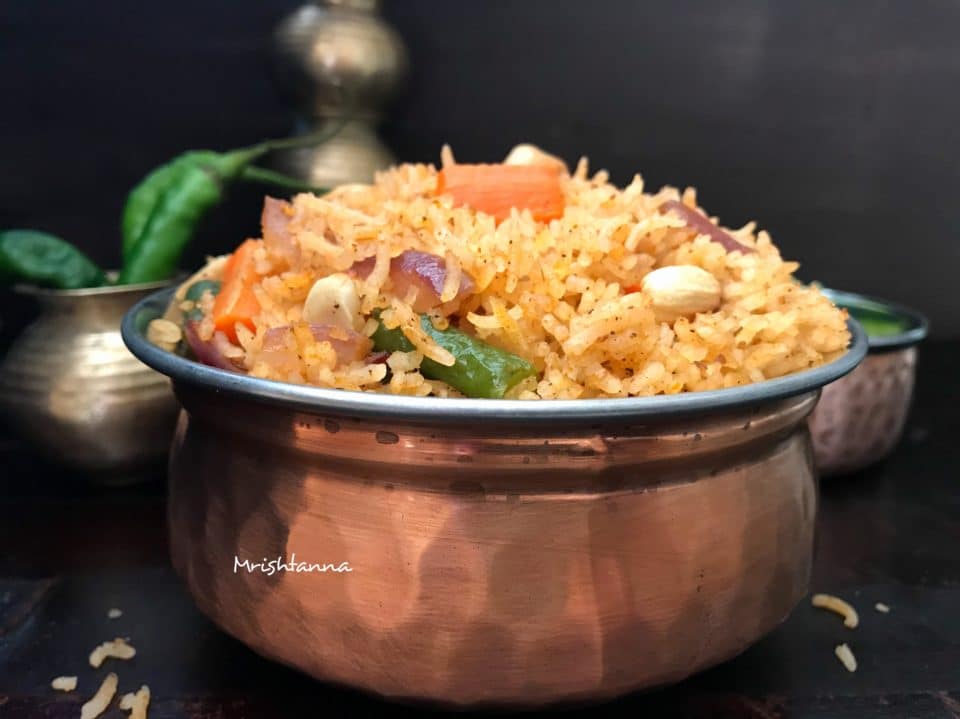 Today, I have an announcement to make along with a recipe for a time-tested, fan-favorite Indian dish prepared in an easy way. The announcement is that I have added a new gadget in my kitchen that could cut my cooking time in half! It's the new Instant Pot! I have been getting requests for recipes that can be prepared with the Instant Pot, for some time and I decided to start with a dish that is quite popular in almost all Indian restaurants. That is Vegetable Rice.
Watch my Instant Pot Vegetable Rice Video
Let's look at finer details of cooking with an instant pot to make a quick, easy and delicious vegetable rice dish or pulao. This dish is very common in every Indian house. There are a few different methods of preparing pulao or vegetable rice.
I am sharing a simple vegetable rice recipe that goes well with the lunch box as well as weekday dinner.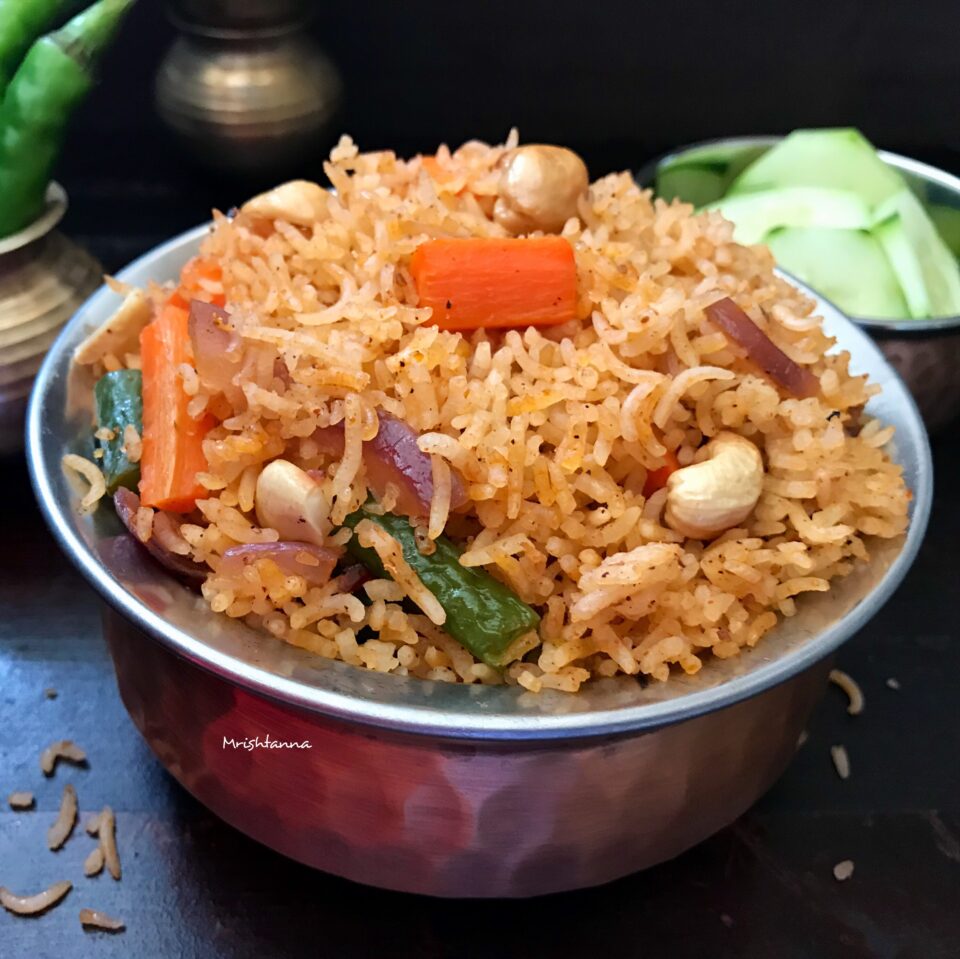 To begin with, I soaked basmati rice for nearly 15 minutes and then drained them. I set it for 4 minutes of cook time in the manual mode. The recommended ratio of rice and water is 1:1, but I went with a little extra water to make up for the vegetables that I added. That is pretty much the only customization you will need in preparing in this recipe.
Why I am getting Burn sign?
Since you are adding vegetables and lots of spice powders, there is a small chance that the pot will show a "burn" sign at the end of the cooking cycle, but this is not a reason to panic.
All you would have to do is turn it off and wait for the pressure to come down on its own and the lid will release naturally.
Few reasons to get burn signs are
Not Enough Liquid in Instant Pot
Adding more spices that stays under the bottoms of the pot.
Some food such as cream or milk scalds easily in the Instant Pot
So to avoid this add enough liquid and avoid burning pot before closing the lid.
My dish turned out beautifully and I am sure yours will too! With fewer dishes to wash, the instant pot has really made our lives easier.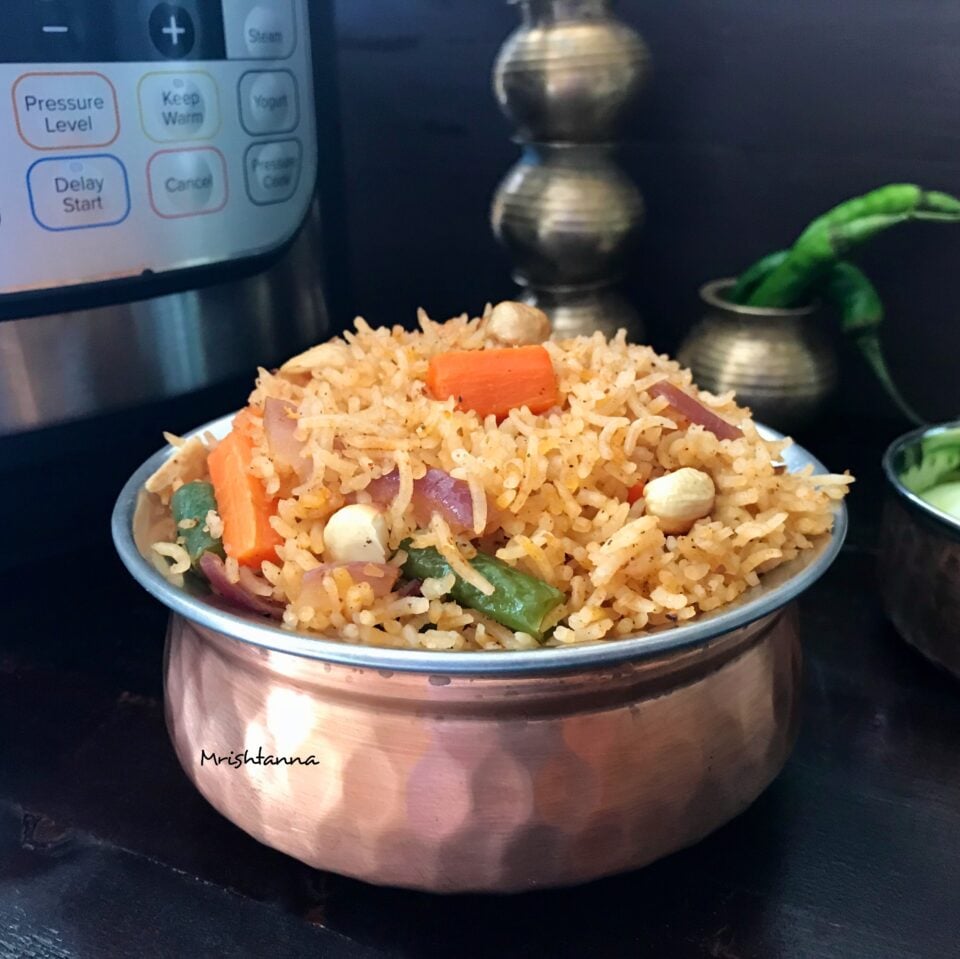 You can leave a comment here or on my Facebook page about your experience. If you want my recipes directly at your inbox, just hit the subscribe button at the right. If you are new to my site, you should check out my simple but useful e-book where I put together some simple vegan dessert recipes and dessert essentials. Just hit the subscribe button and you will get a copy!
Here are the recipe details.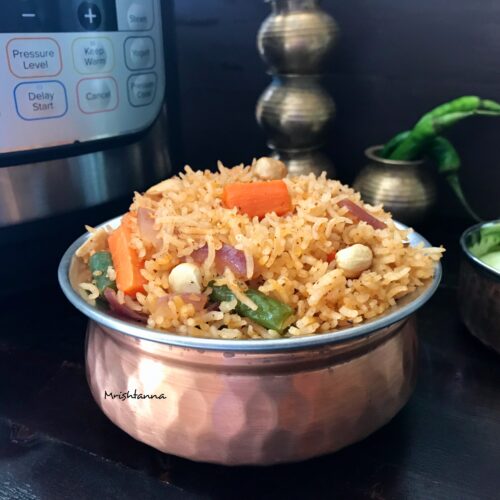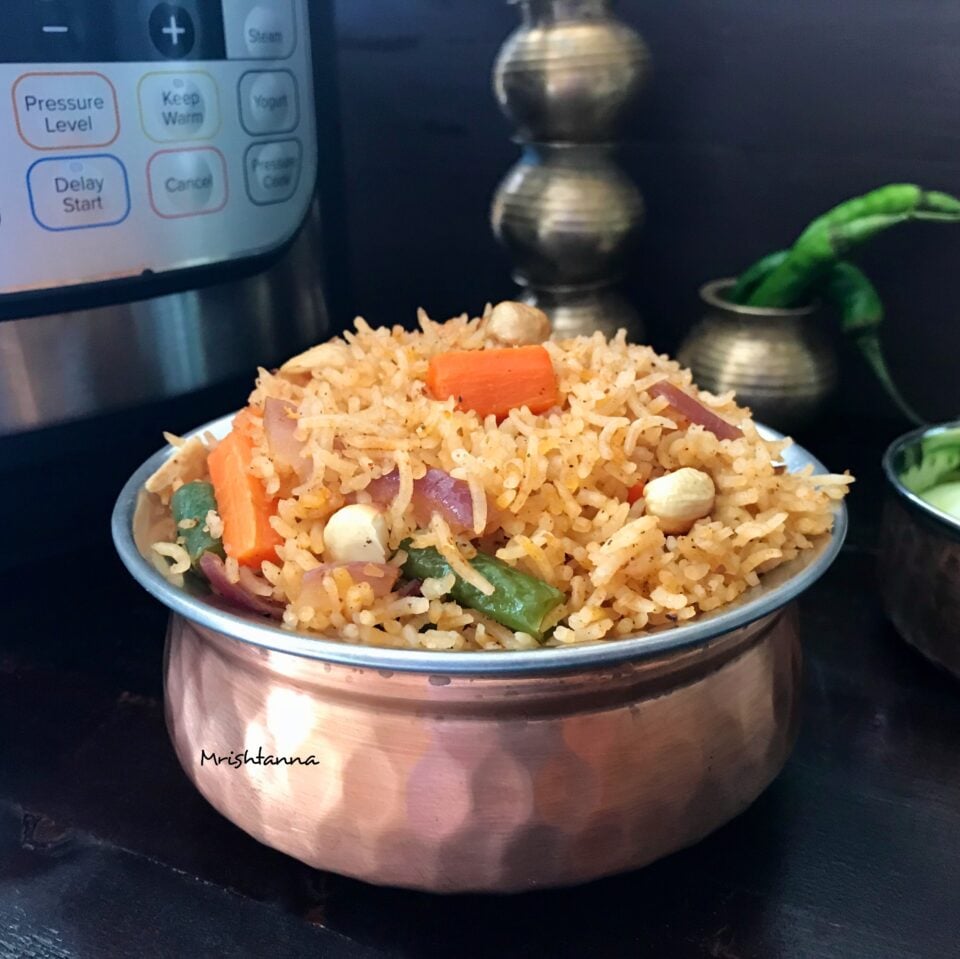 Print Recipe
Instant Pot Vegetable Rice
The best and quick vegetable rice made in Instant Pot.
Ingredients
3

Cups

basmati rice

3

cups

water

1

cup

green beans

2

large carrots

1

cup

chopped red onions

1

garlic cloves

½

inch

ginger

Salt to taste

1 ½

tbsp

ground coriander

1

tsp

cumin powder

½

tsp

red chili powder

2

cloves

powdered

½

tsp

black pepper powder

½

tsp

cinnamon powder

1

tbsp

organic tomato paste

or use 1 tomato

5-8

Tbsp

Cashew paste or use coconut cream
Instructions
Drizzle the oil to the inner pot. With the saute setting, saute ginger and garlic when the oil is hot, for about a minute with constant stirring.

Add onions and continue to cook for one more minute.

Add all the spices listed above and continue to stir.

Add tomato paste, carrots, green beans and stir well for 1-2 minutes

Add cashew paste and stir well.

Now, add rice and water as listed in the ingredients list and stir well to get an even mix.

Close the lid of the instant pot and turn the steam release handle to a sealing position. Press Pressure cooking and set the time for 4 minutes. When time is up, open the lid using 10-minutes natural release. ( that means you have to keep it warm for 10 mins)

At the end of 10 minutes, open the lid and remove the pot from the cradle.
Nutrition
Nutrition Facts
Instant Pot Vegetable Rice
Amount Per Serving
Calories 352
Calories from Fat 9
% Daily Value*
Fat 1g2%
Cholesterol 1mg0%
Sodium 17mg1%
Potassium 167mg5%
Carbohydrates 77g26%
Protein 7g14%
Vitamin A 176IU4%
Vitamin C 3mg4%
Calcium 51mg5%
Iron 1mg6%
* Percent Daily Values are based on a 2000 calorie diet.
Vegetable rice is ready to be served with your favorite side dish.