Here's a wintertime special recipe that is sure to wow you and your family! Butternut squash is one of the sweet squash varieties and this is the best time of the year to enjoy Butternut Squash. This is one of my kids' favorite too more so it has a sweet and nutty flavor.
Today's recipe is a new way of preparing a dessert with the Instant Pot. The procedure is similar to that of Indian recipe for "halwa", so I named it Butternut Squash Halwa.
As a good source of fiber, vitamin C, magnesium, and potassium, Butternut squash is a fine option to prepare a nutritious recipe. Although it is a fruit technically, butternut squash is used as a vegetable that can be roasted, sautéed, toasted, puréed for soups such as squash soup, or mashed to be used in casseroles, bread, muffins, and pies.
Some of my readers had also requested for the traditional procedure without using an Instant Pot. So I have included that too. With just a handful of ingredients, this is one of the easiest holiday dessert recipes you can prepare.
Instant Pot Butternut Squash Halwa(Pudding)
"Halwa" is usually a condensed and sweetened version of a fruit or vegetable with aromatic spices like cardamom. With the butternut squash, the dish is naturally sweet and you do not have to add a lot of sugar to it.
The Instant Pot has come in very handy for this recipe because I used it to pressure cook the butternut squash as well as prepare the Halwa. After halving and deseeding squash, I cooked it in steam for 10 mins to soften it. Once it has cooled, peeling the rind becomes easier too.
The rest of the procedure of sauteing the puree and cardamom can also be performed in the same pot. If you prefer a thicker texture, you could also add almond powder to the halwa while cooking on saute mode.
Stovetop version of butternut squash halwa
You begin by first peeling the skin off the squash, grating or chopping into cubes. Cook them on medium flame to soften the squash. If you choose to grate the squash, then you can fry it with 2 tablespoon oil or vegan butter or ghee on medium flame until it's cooked well.
It is then followed up with the sugar, cardamom, and toasted cashews and continued to cook until all moisture evaporates.
Again, you could choose to add almond powder too while it is simmering. This makes the texture a little thicker and along with crushed cardamom and toasted cashew nuts. That's pretty much the entire procedure.
Vegan Version
Apart from being gluten-free, this is also a good option for a vegan dessert. It is typical in Indian cuisine to fry the nuts and puree in ghee, but using the vegan butter and almond flour is equally good and you can barely notice any difference because the aroma of cardamom and sauteed butternut squash is binding for this recipe.
With so few ingredients required for this recipe, it is easy to try this today or during this holiday season for Christmas, New Years or any social parties for that matter.
Few of my instant pot recipes are here
Instant Pot Badam Barfi, Instant Pot Sabudana Kheer
Here are the recipe details...
📖 Recipe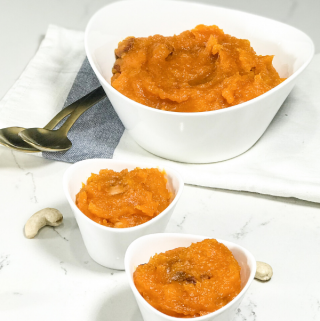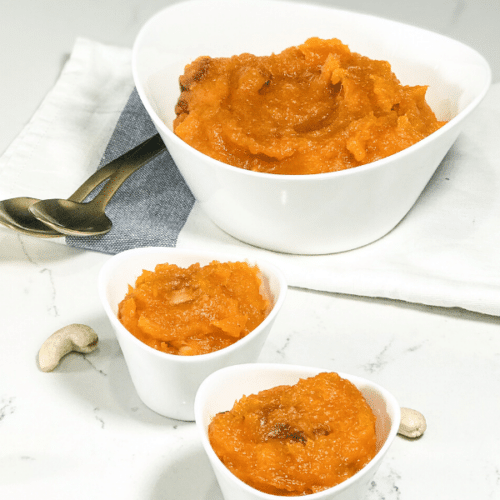 Butternut Squash Halwa (Instant Pot)
This one is a simple and delicious halwa that's is easy to make and taste great. Try my instant pot vegan version of butternut squash halwa.
Process Shot
Check above for step-by-step pictures (most of my recipes include pictures)
Ingredients
1

butternut squash

½

cup

+1 tablespoon organic sugar

2

tablespoon

vegan butter or use oil

1

teaspoon

cardamom powder

2

tablespoon

cashew nuts

1

tablespoon

almond flour -

optional
Instructions
To prepare the squash, add 2 cups water into the steel inner pot and place a trivet in it.

Place the halved, cleaned and deseeded butternut squash in the trivet.

Secure the lid and change the vent set to sealing mode. Set for 'Manual/Pressure' Cook for 15 minutes.

At the end of the timer, use the quick release option after 5 min to relieve the pressure.

Remove the squash and set it aside to cool.

Drain any remaining water from the inner pot.

Press the sauté button and add 2 tablespoon vegan butter and the butternut squash after peeling the skin off of it.

Mash them lightly with a spoon and add sugar & cardamom.

Stir-fry for 6 minutes, or until the mixture turns a little darker or when the butter or oil releases a nutty aroma.

Garnish with roasted cashew nuts and Butternut Squash Halwa is ready! It is best served as a warm dessert.
Notes
Add badam powder for a more nutty taste and for the thick consistency and texture.
If required add more sugar as per your tatse.
YOUR OWN NOTES
Nutrition
Calories:
139
kcal
|
Carbohydrates:
16
g
|
Protein:
2
g
|
Fat:
2
g
|
Saturated Fat:
1
g
|
Sodium:
5
mg
|
Potassium:
462
mg
|
Fiber:
3
g
|
Sugar:
3
g
|
Vitamin A:
13288
IU
|
Vitamin C:
26
mg
|
Calcium:
62
mg
|
Iron:
1
mg
Nutritional information is an estimation only.
If this recipe interests you, please rate and comment below in the comment box. For more delicious vegan recipes such as this sent directly to your inbox, just subscribe to my newsletter. You will also get a copy of my e-book where I have put together some simple vegan dessert recipes and dessert essentials. My readers have found it very helpful and I am hoping you will too!
Pin this recipe for later