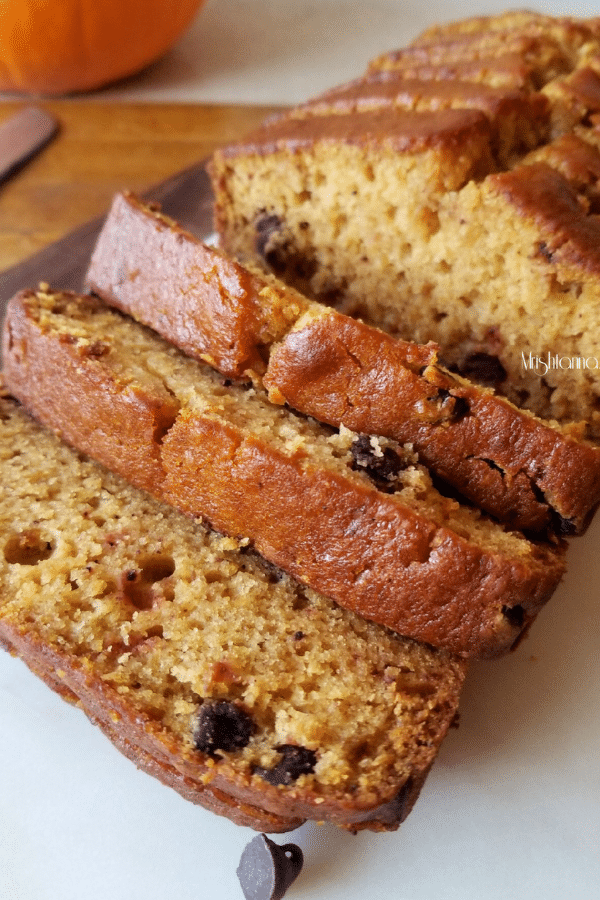 Today I am very thrilled to share the best vegan pumpkin bread with chocolate chips!
I have been loving and enjoying this kind of quick bread like the Vegan Banana Bread, Vegan Mango Bread, and Vegan Cucumber Bread.
Best egg substitute
Just like the other recipes, this vegan pumpkin bread is easy to make. But there is one thing you should remember about the aspect that makes it Vegan. "Flax Eggs"
How to make a flax egg
1 tbsp flax meal mixed well with 3 tbsp warm water. Leave to sit for a minute or so to become gloopy. (This is equal to 1 egg)
It is something you can prepare with flax meal that is readily available in any grocery store. That is the secret ingredient that brings the texture that we look for, in any bread.
Homemade fresh pumpkin puree is best!
Why homemade pumpkin puree is best because it gives freshness to the pumpkin bread and it is free from preservatives. Unless you buy pure or organic one.
Needless to say, the pumpkin flavor comes from the homemade pumpkin puree and all the other flavorful spices like cinnamon, nutmeg, cloves. Apart from these, I also added a pinch of cardamom powder for an enhanced and sweet flavor.
Talking about sweetness, I added (dark) chocolate chips to the bread as the very last step when the batter is ready to be baked. If you have never tried Pumpkin flavor with dark chocolates, you need to experience it today!

Whisk or Blend
To prepare the batter of vegan pumpkin bread you can use a power blender like Blendtec or Vitamix (only to mix wet ingredients) or you could do it by hand like I did :)…Either way, you get a delightful and moist Vegan Pumpkin Bread that you will enjoy for several days.
Just be sure that you keep it stored in an airtight container. Refrigerate it and it will stay good for up to a week.
Let me know how do you like this vegan pumpkin bread with chocolate chip. If you have time comment below and rate the recipe or feel free to leave a comment here or on my facebook page.
For more pumpkin recipe check out my recipe for Pumpkin dal Pumpkin dosa and Pumpkin rice…
For more delicious vegan recipes such as this sent directly to your inbox, just subscribe to my newsletter. You will also get a copy of my e-book where I have put together some simple vegan dessert recipes and dessert essentials. My readers have found it very helpful and I am hoping you will too!
Here are the recipe details.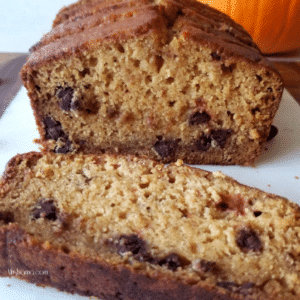 Print Recipe
The Best Pumpkin Bread
Moist and deliciously spiced vegan pumpkin bread packed with full of flavors!
Ingredients
1 ¾

cup

all-purpose flour

1

tsp

baking soda

1 ½

cup

pumpkin puree

½

cup

oil

¾

cup

organic sugar

½

cup

brown sugar

2

tsp

cinnamon powder

¼

tsp

nutmeg powder

¼

tsp

cloves powder

¼

tsp

cardamom powder

optional

¼

cup

almond milk

¼

tsp

salt

½

cup

dark chocolate chips
Instructions
Preheat oven to 350 F (180 C).

In a large bowl, mix together flour, baking soda, salt, nutmeg, cinnamon, cloves, and cardamom powder.

In medium bowl mix pumpkin puree with the sugar and whisk it until the sugar dissolves.

Add oil, brown sugar and whisk it again.

Now add the 2

flax eggs

. (2 tbsp flax meal mixed well with 6 tbsp warm water) and mix evenly.

Blend this mixture with the flour mixture and add the chocolate chips too. Mix gently.

Pour the batter into greased 9 X 5-inch loaf pan and bake in the preheated oven for 50 -60 minutes or until a toothpick inserted into the center of the loaf comes out clean.

Let it cool for 20 minutes before slicing to prevent it from breaking apart.

Vegan Pumpkin Bread is ready! Serve cold or hot with a hot cup of coffee!
Video
Nutrition
Nutrition Facts
The Best Pumpkin Bread
Amount Per Serving
Calories 643
Calories from Fat 270
% Daily Value*
Fat 30g46%
Cholesterol 1mg0%
Sodium 412mg17%
Potassium 223mg6%
Carbohydrates 67g22%
Protein 7g14%
Calcium 115mg12%
Iron 3mg17%
* Percent Daily Values are based on a 2000 calorie diet.
Save this recipe for later use