I have been a vegan for more than 3 years now and it gives me great pleasure in sharing this vegan chocolate cake recipe that I have been perfecting for quite some time and I think I have the right mix for this classic recipe.
The recipe is 100% vegan and 100% tasty! If you are not trying a vegan, plant-based solution for cakes, you should be. You will be delightfully surprised at how easy it can be.
This vegan chocolate cake can also be soy-free if you use the right plant-based milk and prepare your own frosting with soy-free butter. I have included directions for that too! The butter and egg alternatives that I have used here are nothing new. I am still getting a lot of questions about it, so I have included the procedure in the recipe notes.
Once you have the egg and butter alternative figured out, the rest is a lot easier. You will be well on your way to a simple, but delicious and decadent chocolate cake
The ingredients are simple and easy to find. Not just for the cake, but for the frosting as well. You would be surprised how easy preparing a frosting can be and how much you can save by preparing it yourself. It turned out so good that my friends that are not vegans like it too!
This two-layered cake filled with homemade buttercream frosting is just what you need for your next family reunion or a birthday party as long as you don't end up overeating it 🙂
I made this vegan chocolate cake with an 8-inch pan, but you could use a 9" pan or a square pan, or even cupcake molds. The baking time will vary depending on what you use, but the procedure is largely the same.

Vegan chocolate buttercream frosting
To prepare your own homemade frosting you have to add all the ingredients noted, in a bowl and whisk them together using an electric mixer into a smooth and creamy consistency. If you are not a big fan of frosting, sprinkle a little bit of powdered sugar.
This buttercream frosting stores in the refrigerator for up to a week. Preparing a little extra comes in handy if you are planning to make more batches of cake in less than a week. Store the frosting in a refrigerator for up to 1 week.
Egg substitute
As I said, I used flax egg for this recipe, but you could also use applesauce as a replacement. Just be sure not to skip this part because this is the reason behind the fluffy and soft texture.
Between the two options for egg substitute, I prefer using a flax egg option because that is one good way of adding flax to our diets.
Be sure to check the procedure below and also read the notes that accompany it.
Check out my other vegan cake recipe here...
Chocolate cake loaf
📖 Recipe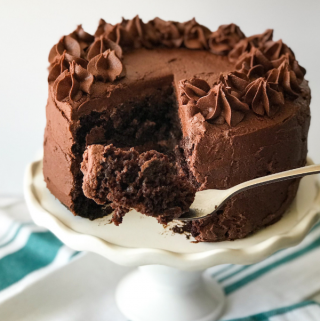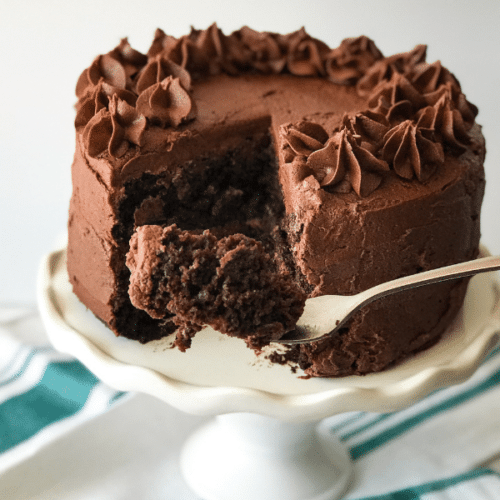 Vegan Chocolate Cake Recipe
This two-layered cake filled with homemade buttercream frosting is just what you need for your next family reunion or a birthday party
Process Shot
Check above for step-by-step pictures (most of my recipes include pictures)
Ingredients
For the chocolate frosting
Instructions
Heat oven to 350 Grease and place parchment paper under the 8 inch round baking pans.

In a bowl stir together sugar, cocoa powder, flour, baking powder, baking soda, and salt.

In a separate bowl add flax eggs, milk and vinegar mixture, oil and vanilla. Mix well.

Add wet ingredients to dry mixture and beat on medium speed of mixer 2 min.

In the end, add one cup of boiling water to the batter. As the batter thins, pour them into prepared pans.

Bake 30 to 35 min at 350F
Direction to prepare frosting
In a large bowl add sugar, cocoa powder, almond milk, vanilla extract, vegan butter and whisk into a smooth and creamy frosting.

Once the cake is cool down apply the cake frosting
Notes
Do not melt the vegan butter for the frosting.
Mix the almond milk and vinegar before pouring into the batter.
For flax egg use 2 tablespoon flax meal with 6 tablespoon warm water.
If you are using apple sauce use 5 tablespoon of it as an egg replacement.
YOUR OWN NOTES
Nutrition
Calories:
608
kcal
|
Carbohydrates:
126
g
|
Protein:
6
g
|
Fat:
13
g
|
Saturated Fat:
4
g
|
Sodium:
393
mg
|
Potassium:
282
mg
|
Fiber:
6
g
|
Sugar:
95
g
|
Vitamin A:
539
IU
|
Calcium:
34
mg
|
Iron:
4
mg
Nutritional information is an estimation only.
Pin this recipe for later use