Ultimate Vegan Mango Bread Recipe !
Have you ever tasted a wonderful recipe when you traveled far away from home? And did you try re-creating the recipe based on what you remembered? Well that's what happened to me, after I tasted the Mango Bread in Maui, a few years back. It was an all day road trip to Hana and we stopped at several road side snack shops on our way to taste the local pineapples, toasted coconuts and mangoes. But the one thing that stayed in my mind was Mango Bread.
Sure, there is nothing special about bread, but you have got to taste it to believe how heavenly it can be. It was like I had never tasted a bread that is fluffier yet richer in taste and flavor. I stopped at the same place on my way back to ask them about the ingredients, but they were all gone by that time (No surprise there). Since then I said to myself, I am not giving up until I perfect this recipe in my own vegan style.
As you might have noticed from my recipes, a replacement for eggs is not hard to find. I have tried Aquafaba in the past with good success. For today's recipe I have used Flax seed meal and it turned out even better than Aquafaba. Apart from the fluffy texture it provides, flax seeds come with immense health benefits with zero cholesterol. Check my ingredient list to find out the procedure for using flax meal as an egg replacement.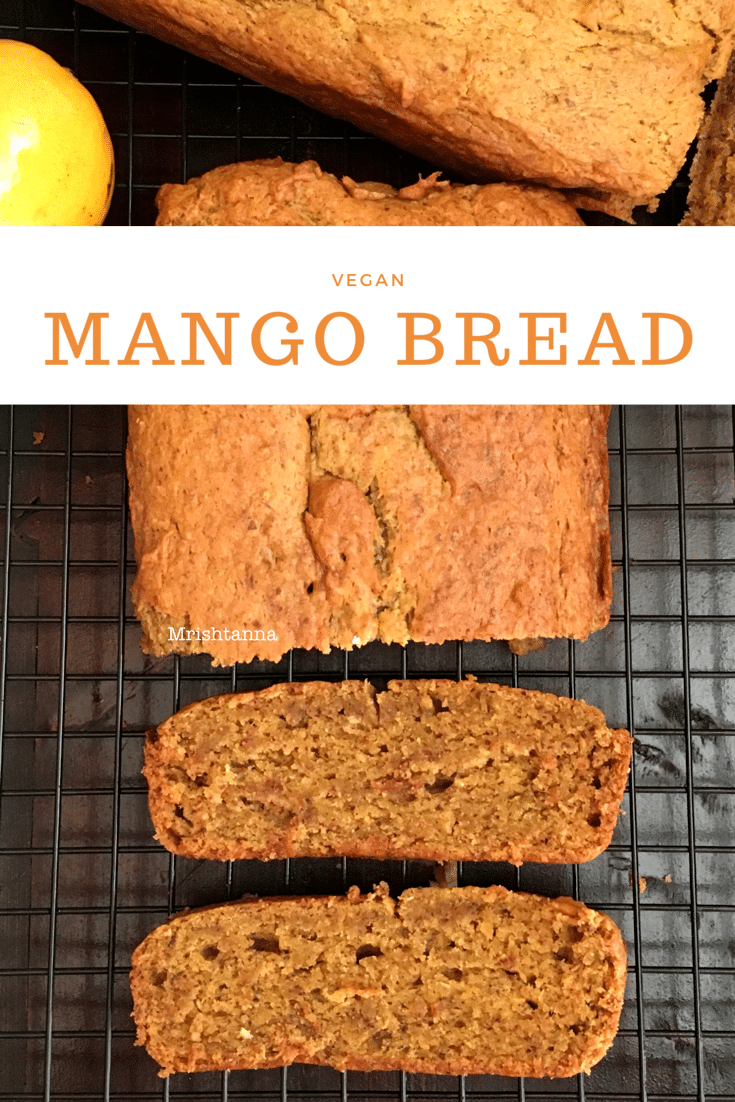 A tropical flavored bread with no cholesterol or high fructose corn syrup. How much better can it get? Here's the recipe, but do not forget to share this with your friends. Mark my Facebook Page for quick reference or better yet, pin my recipe on Pinterest. I hope you will enjoy this recipe as much as I did.
For more recipes please subscribe through email. Thanks for visiting my blog.
Vegan Mango Bread Recipe 
Ingredients
4

Mangoes or 2 cups chopped Mangoes

¼

cup

brown sugar

1

cup

organic sugar

2

cups

All purpose flour

3

flax egg

1 tbsp flax meal in 3 tbsp warm water=1 Flax egg

1

tsp

vanilla essence

¼

cup

grated coconut

¼

tsp

salt

2

tsp

baking soda

1

tsp

cinnamon powder

1

cup

coconut oil
Instructions
Preheat oven to 350F (175C). Lightly grease two 9x5 inch loaf pans with vegan butter.

In a large bowl, mix the dry ingredients: Flour, Baking soda, Salt and Cinnamon.

In a blender, pulse the chopped mangoes for 30 seconds.

Add brown sugar, organic sugar, coconut, vanilla essence and flax eggs and pulse for another minute.

Blend this mixture with the flour mixture and stir until the mixture is homogenous.

Pour into the trays and bake them for 40 minutes.

Check to see if a toothpick inserted into the center of the loaf comes out clean. If not bake for few more minutes and try again.

Take the bread out of the oven and let it cool for 20 minutes before slicing.
Serve warm or room temperature with a refreshing glass of spiced soy milk chai (Masala Tea). Believe me, it is heavenly!