Deliciously spiced, Vegan Masala Chai that's ready under 8 minutes.
Try this today!
Hailing from an Indian household, making chai has never seemed like a chore to me. Ever since I sipped it for the first time this day, Chai has been my favorite beverage. Off late, I have been posting vegan recipes and my friends have often asked me if I have a recipe for a vegan chai. Well, the answer is a resounding "Yes"!
There are several alternatives for milk, but getting the right one that hits the right note can be a challenge. If that sound like a problem you have experienced, you will be excited about this recipe today.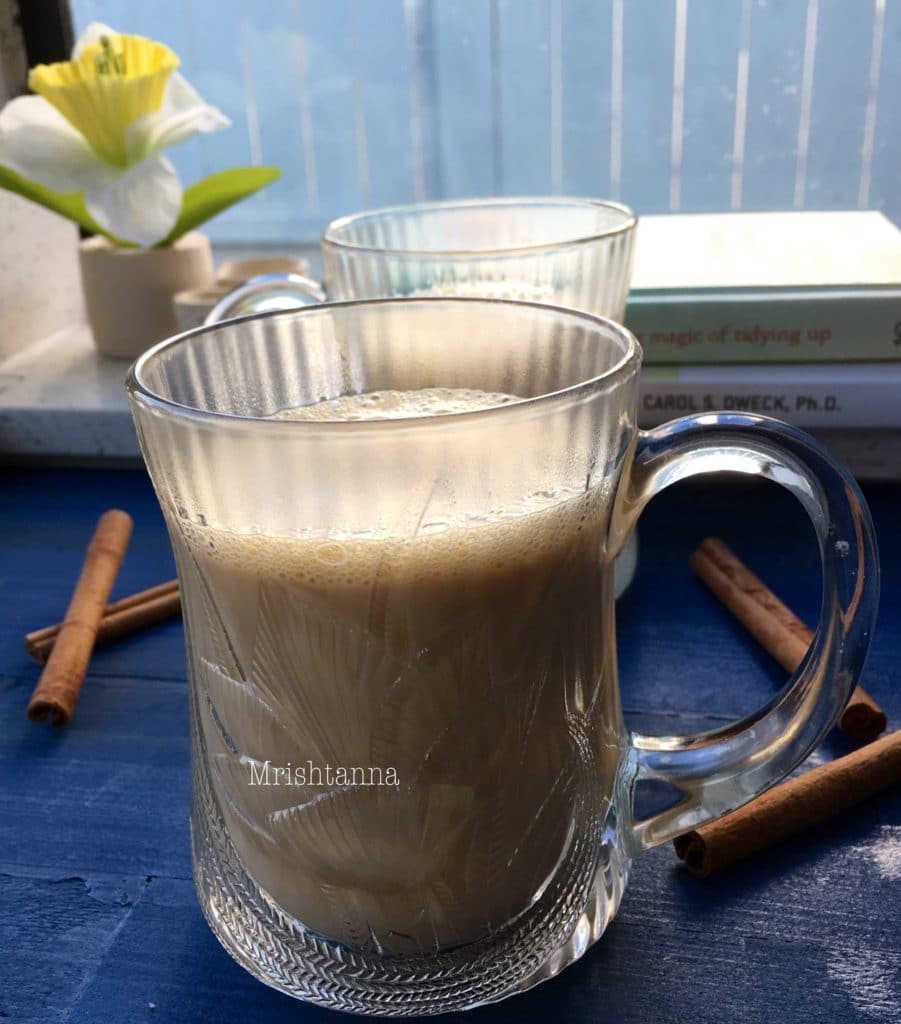 Soy milk with a mild hint of spices I have listed below gives an energy boost with no compromise in taste. I try my chai without sugar, but you could adjust the sweetness with a little cane sugar. So, here's the recipe for Vegan Chai.
As always, let me know how you like it and if you have any questions. Thanks!
Ingredients:
1 cup soy milk( vanilla flavored) or any choice of dairy-free milk
1 cup of water
2 teaspoon tea powder ( red label brand)
1 pod of cardamom
¼ teaspoon cinnamon powder
¼ teaspoon dry ginger powder
1 teaspoon Sugar (optional)
Step by step direction
Place a vessel with 1 cup water over medium heat and add 2 teaspoon of tea powder. Crush all the spices and add them to the boiling water. Meanwhile, warm the soy milk in the microwave or stove top.
Do not boil the soy milk because it tends to curd. After about 2-3 minutes, sieve the tea powder and mix with soy milk. If you prefer sugar on it add sugar. Now Vegan Chai is ready.
Vegan Chai goes very well with a toast or  cookies.
Check out my other recipes
Sprouted Green Gram Salad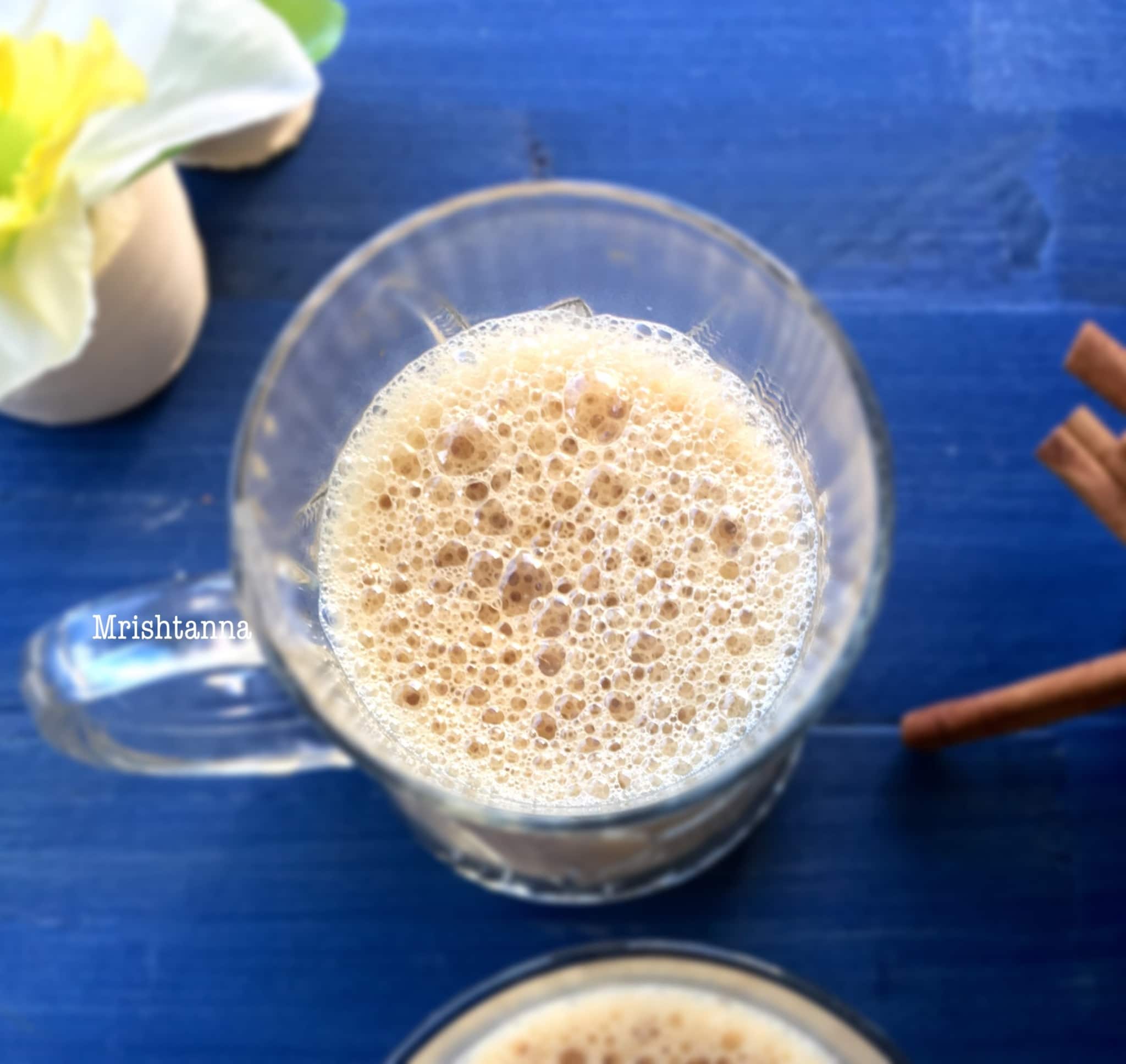 Vegan Masala Chai (Indian Tea)
Deliciously spiced, Vegan Masala Chai that's ready under 8 minutes.
Ingredients
1

cup

soy milk

-

vanilla flavored or any choice of dairy free milk

1

cup

water

2

teaspoon

tea powder

-

red label brand

1

pods of cardamom

¼

teaspoon

cinnamon powder

¼

teaspoon

dry ginger powder

1

teaspoon

Sugar

-

optional
Instructions
Place a small saucepan over a medium flame and add water, oat milk.

Add crushed clove, cardamoms, and ginger. (using a mortar and pestle)

Add tea powder and mix well. Let it come to a boil over medium heat.

As the tea comes to a boil, the color of the vegan chai will change and all the spice flavors are released.

After a minute, remove the pan from heat and strain the vegan chai into a cup using a fine mesh strainer.

Now, add sugar to suit your taste preference. Stir well and serve hot!

Enjoy the vegan cups of chai with Indian snacks like samosa, chakli, etc.
Notes
Add any whole spices that you like for example use fennel, cinnamon sticks, black peppercorns.
You can always modify the quantity for spices. If you dont like to add more cardamom, reduce it to just one. Likewise, the quantity of ginger can be adjusted to suit your taste. 
Indian chai is a beverage that should be enjoyed hot. Reheated chai does not taste good as the fresh ones do. 
For the best vegan chai use plain oat milk from Costco or the Silk brand original oat milk. f you like to venture out further, feel free to use other plant-based milk like almond milk, coconut milk, soy milk, and cashew milk.
For the cup size, you could use any size of your choice, but be sure to use the same cup to measure the water. 
I mixed half a cup of water for every cup of oat milk to get the right consistency. You could skip the water altogether or add more water as per your taste. 
Vegan Masala Chai with almond milk is also a good choice and this will be thinner compared to oat milk. Be sure to add less water, if you use almond milk.
YOUR OWN NOTES
Nutrition
Calories:
73
kcal
|
Carbohydrates:
6
g
|
Protein:
5
g
|
Fat:
2
g
|
Saturated Fat:
1
g
|
Sodium:
65
mg
|
Potassium:
166
mg
|
Fiber:
1
g
|
Sugar:
5
g
|
Vitamin A:
664
IU
|
Vitamin C:
8
mg
|
Calcium:
165
mg
|
Iron:
1
mg