Finally, a fresh homemade juice recipe that kids of all ages will love!
If you are looking for a delicious way to improve your health, this Carrot Apple Celery juice is perfect for you!
This juice contains nutrients that will boost your immune system, improve eyesight, and also tastes great.
In fact, they are so tasty that even your kids will drink them without fuss. Slightly sweet and perfectly balanced, with a delicate tinge of ginger.
It's one of the simple recipes that doesn't need added sugar, has high water content, and delivers vitamins that exceed daily values recommended by dieticians.
Jump to:
Unlike my cantaloupe juice, mint juice, and dragon fruit juice, I used a juicer to prepare this carrot celery apple juice.
A masticating juicer like the one I have helps to extract maximum nutrients and flavor from the ingredients.
This Carrot Apple Celery Juice is easy to prepare and packs a healthy punch. So, give it a try and enjoy!
Why this recipe works
Carrots are a great source of vitamin A, while apples provide antioxidants, and celery helps to reduce inflammation in the body.
It's a great combination of health benefits and taste.
Carrots and apples also provide natural sweetness, while the celery gives it a slight zest. With this combination of ingredients, you get all the benefits without adding sugar or sacrificing taste.
Fresh fruit juices can help you avoid added sugar in meals. Just replace a soda with a healthy recipe like this one.
Plus, ginger juice adds a beautiful flavor that pairs well with carrots and apples.
The list of ingredients is very short, and the juice can be prepared in less than 10 minutes.
Ingredients Note
You will need only four ingredients to make this healthy carrot and celery juice.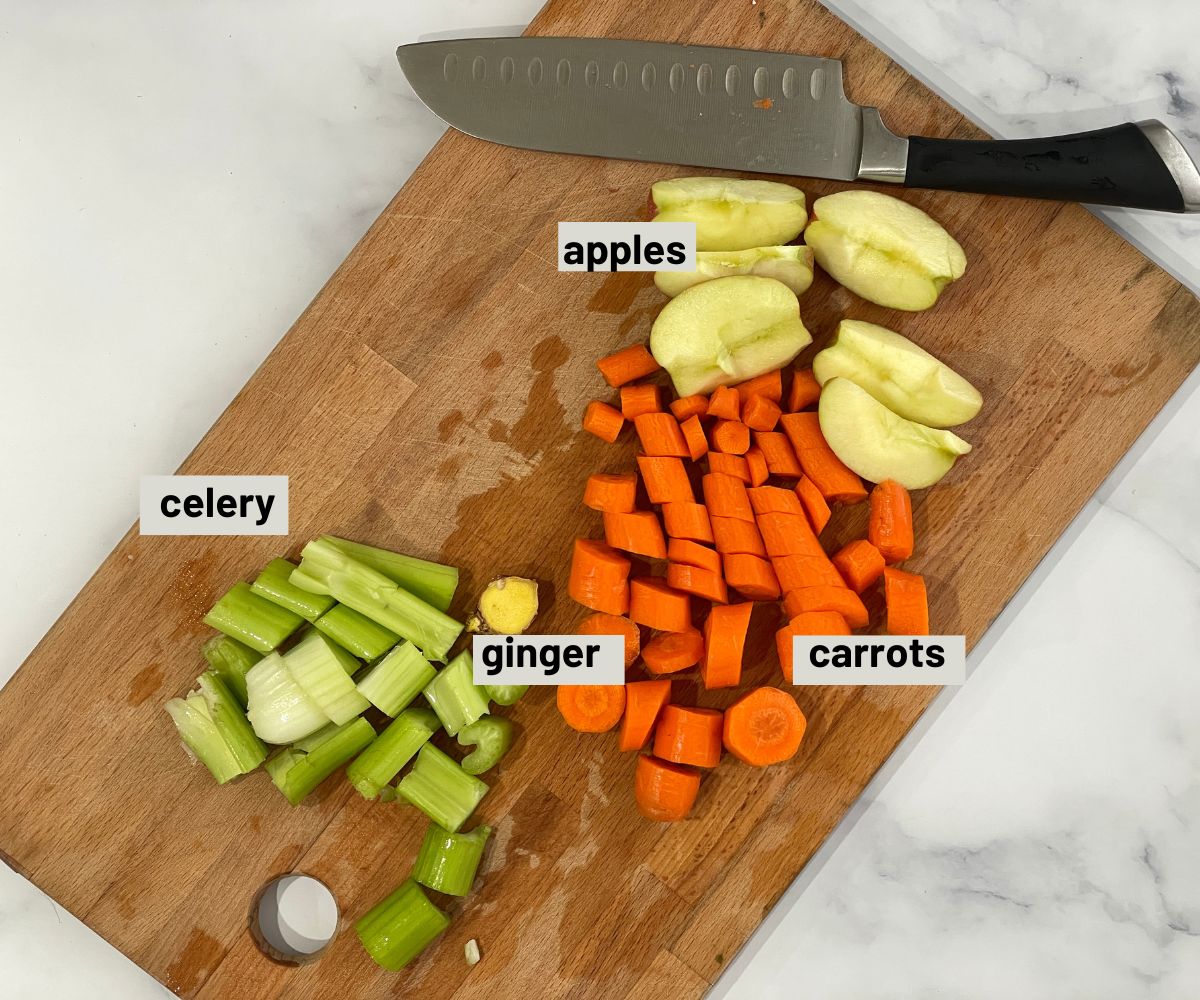 Carrots: Use fresh and organic carrots.
Apple: Use your favorite kind of apple, as they all work equally well. I used gala apples as they appeared the freshest.
Celery stalks. Look for bunches that show no darkening at the base. Wash them well to get rid of all dirt.
Ginger. A little goes a long way in adding flavors.
How to make this juice
Start by washing and rinsing your fruits and vegetables.
Depending upon the size of the juicer, cut your carrots and apples into small cubes that fit the juicer.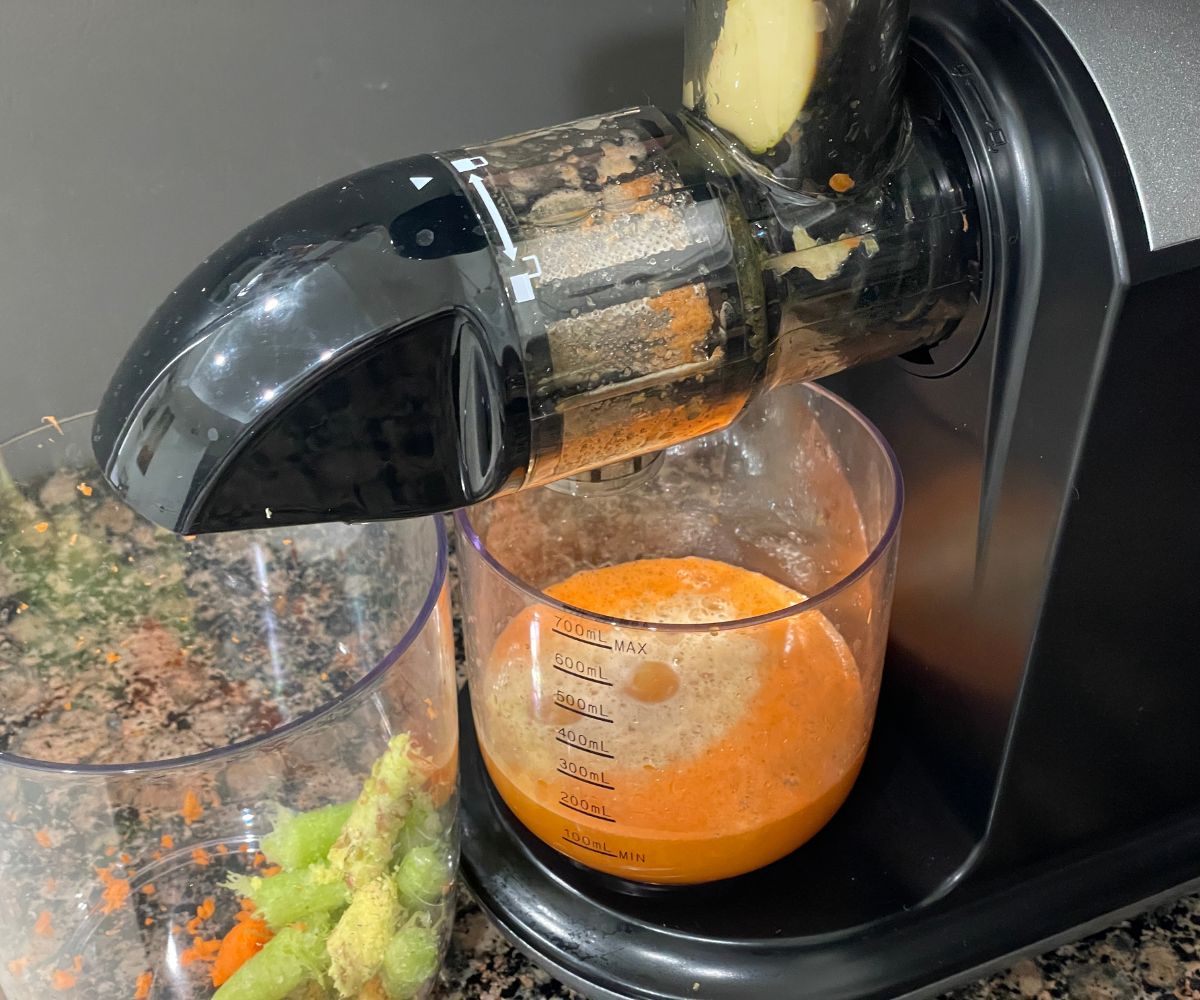 Juice all the ingredients one by one and collect the fresh juice in a separate glass.
Stir the juice before serving to mix all the ingredients well.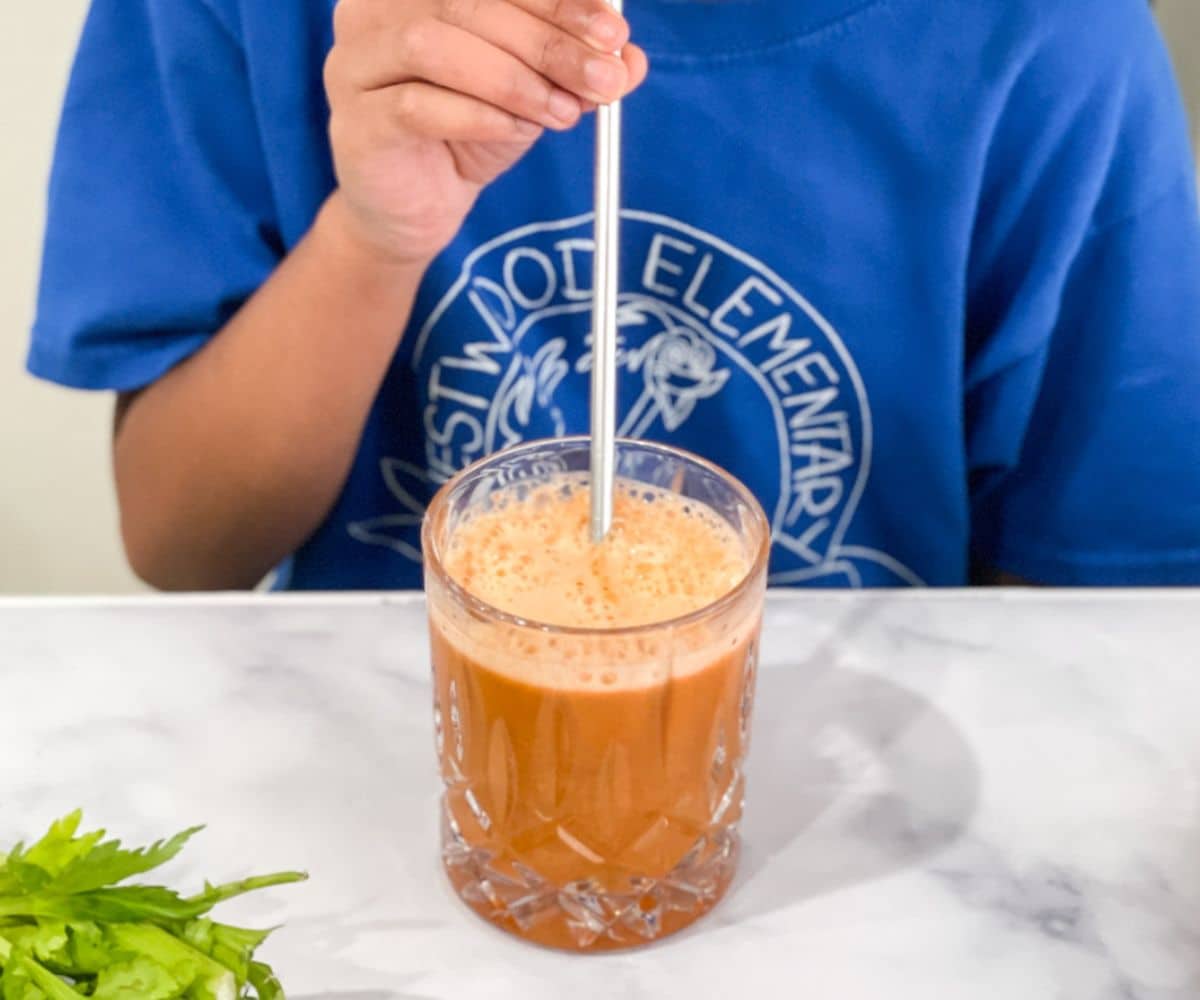 Serve immediately or refrigerate for up to 12 hours. Enjoy!
Serving Suggestions
This Carrot Apple Celery Juice is naturally sweet and perfect for breakfast or an afternoon snack. You can also serve it with a slice of toast or a vegan tofu scramble.
Tips
Always clean the fruits and vegetables before use.
If you don't have a juicer, you can use a blender and strain the juice with a fine-mesh strainer or nut milk bag before serving.
If you have to save them for later, be sure to store them in a jar that does not let light pass through. Apple juice tends to oxidize in glass containers.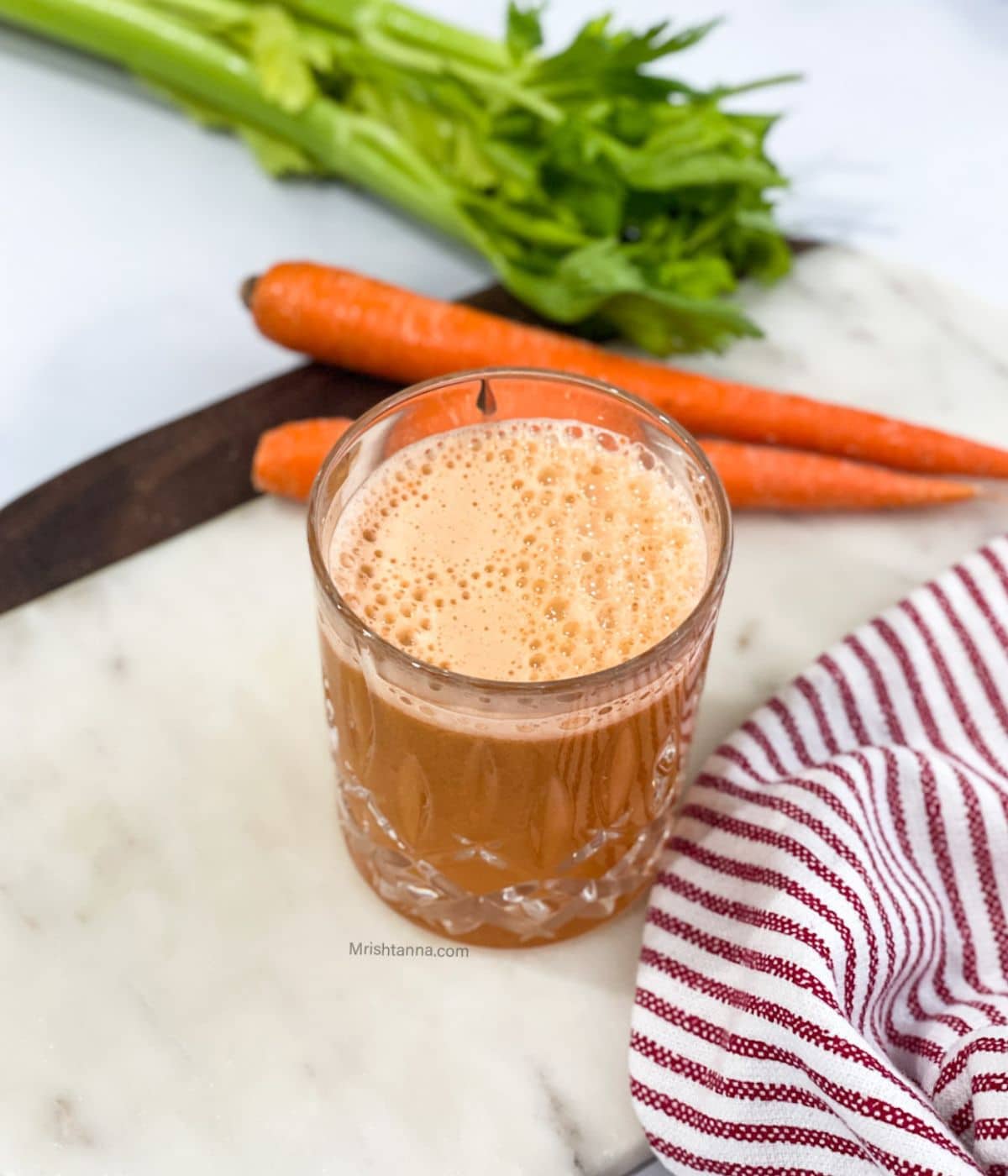 Related recipes
Just subscribe to my newsletter for more delicious vegan recipes such as this sent directly to your inbox.
Did you love this recipe? Rate it five stars!
And let me know what you loved about it in the comments.
Follow me on social media Facebook, Instagram, and Pinterest.
📖 Recipe