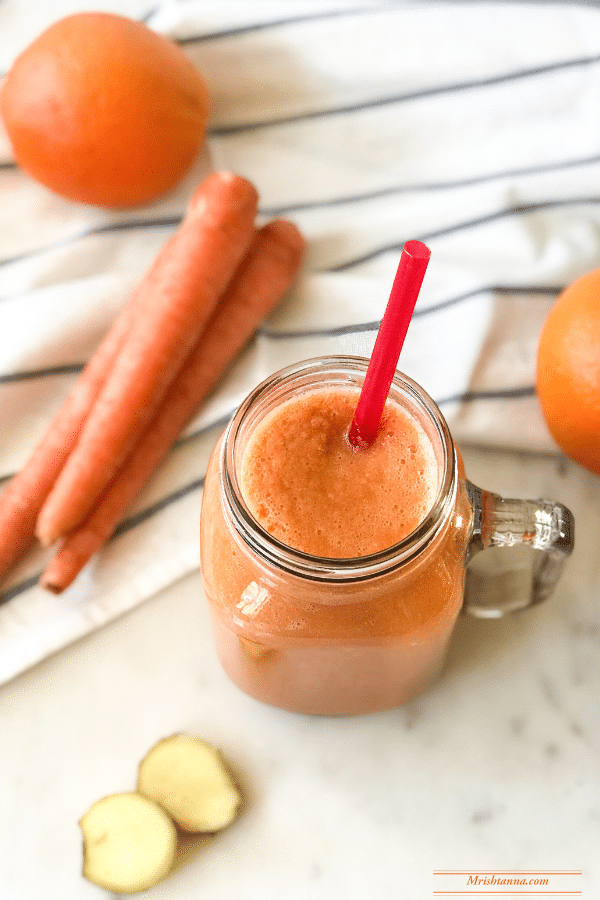 Physical workouts come in varying intensities and the food we eat after a workout is equally important as the workout itself. On that note, today's recipe is one for all aerobic athletes and yoga aficionados. Sometimes the simplest of foods are also the easiest to prepare and also nutritious and today's recipe for Carrot Smoothie is one of those! It is a smoothie with one subtle change that you may not find in other recipes.
Jump to:
Following the positive response I got for the Berry Banana Smoothie, I want to share more recipes that I prepare on a regular basis. This Carrot Smoothie is one that I prepare to drink after an hour-long walk or a run. I have also had it after yoga sessions and the experience is always refreshing.
I did a little bit of research into what really complements carrots to make it a post-workout smoothie and made some necessary changes!
what makes this smoothie a post-workout smoothie?
As far as fibers go, carrots offer that in a sizable quantity. What's missing is some anti-inflammatory properties that help muscles rebuild. So that calls for Ginger and Turmeric! Both of these help in reducing muscle pain and speeding the recovery process after a workout.
Turmeric seems to gather a whole lot of attention for the powerhouse of nutrition it offers. The goodness from turmeric can be a separate chapter in itself and I will let you do your own research on that... 🙂 As far as the taste goes, Carrots can be a little bland sometimes and need a tinge of tartness or sweetness. So, I added orange for every 2 carrots. Apart from that, add a cup of almond milk or raw almonds to bind all of them together for one powerful smoothie!
Start your mornings with an intense or moderate workout followed with this smoothie that can fuel you for a good 4 hours. Spring and Summer are the best seasons for bringing your fitness goals to reality and a low-calorie smoothie such as this Carrot Smoothie is one thing that will keep you motivated. For me personally, this smoothie has helped me outlast 60-minute yoga sessions and also stay energetic throughout the day.
How to make it sweeter
A few options if you want to make your smoothie a little sweeter are
Coconut water

Ripe banana

Agave or maple syrup
If you have a power blender like Blendtec, preparing this smoothie should be really simple. In case you do not have a power blender, then you may have to slice or dice the carrots before you put them in the blender.
If this recipe interests you, or you tried please rate my recipe and comment.
For more delicious vegan recipes such as this sent directly to your inbox, just subscribe to my newsletter. You will also get a copy of my e-book where I have put together some simple dessert recipes and dessert essentials. My readers have found it very helpful and I am hoping you will too!
check out my other recipes
Here are the recipe details….
📖 Recipe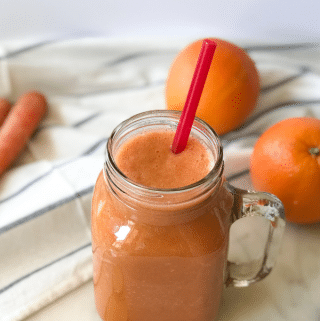 Post Workout Carrot Smoothie
The sweet flavor of orange and nutritious carrots meets with turmeric and ginger makes a refreshing smoothie recipe.
Ingredients
2

large carrots

1

orange

½

inch

ginger

1

tsp

grated turmeric root or ¼ tsp turmeric powder

¾

cup

Almond milk

2

tsp

Agave -

optional
Instructions
Put Blend all the ingredients into the blender and blend into a smooth consistency.
Nutrition
Pin this recipe for later use