Let's blend in with the festive season with one of the popular recipes for sweets...Karjikai" or the "Karanji" recipe! If you have never heard of it, do not worry because you have all the help you need right here.
Karjikai recipe is one deep-fried sweet delicacy you can prepare tonight because the ingredients are rather simple and easily available.
It's quite common for Indians to prepare this karjikai recipe for festivals like Diwali or Ganesha Chaturthi.
It goes by different names in different parts of India, like 'Karjikai' or 'Karanji' or 'Gujiya', but the core ingredients for the sweet stuffing are the same and guaranteed to wow your guests with the crunchy exterior and softcore.
The softcore prepared with shredded coconuts, jaggery, and nuts is wrapped inside crescent-shaped pastry sheets prepared with all-purpose flour and deep-fried to a golden brown, irresistible consistency.
There are a few variations in the stuffing ingredients and the one I am sharing today is a simple one with jaggery and coconut. It does not get simpler than that.
If you are looking for more Diwali sweets, check out my other recipes for badam burfi, 7 cup sweets, rava ladoo, almond/badam ladoo recipes.
Jump to:
Ingredient notes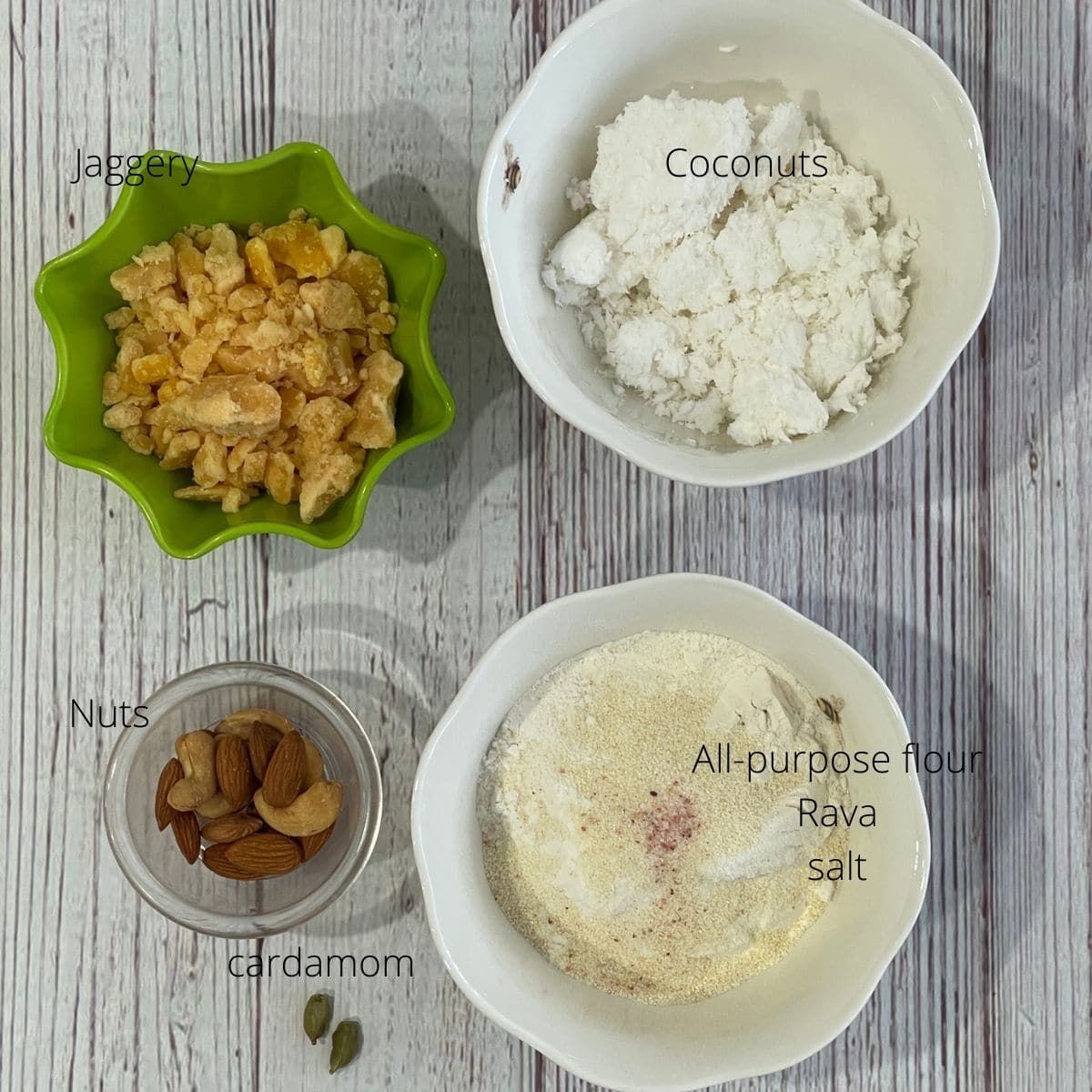 All purpose flour: Look for flour with no lumps. If possible, sift them once or twice to get rid of any nodules.
Grated coconuts: Fresh grated cocnuts work the best but frozen is also good. Be sure to thaw them to room temperature before you use them for this dish.
Jaggery: Using grated jaggery helps in expediting the mixing process. Using a small block will extend the cooking time when you mix them with coconut.
See the recipe card for quantities.
Instructions
Prepare dough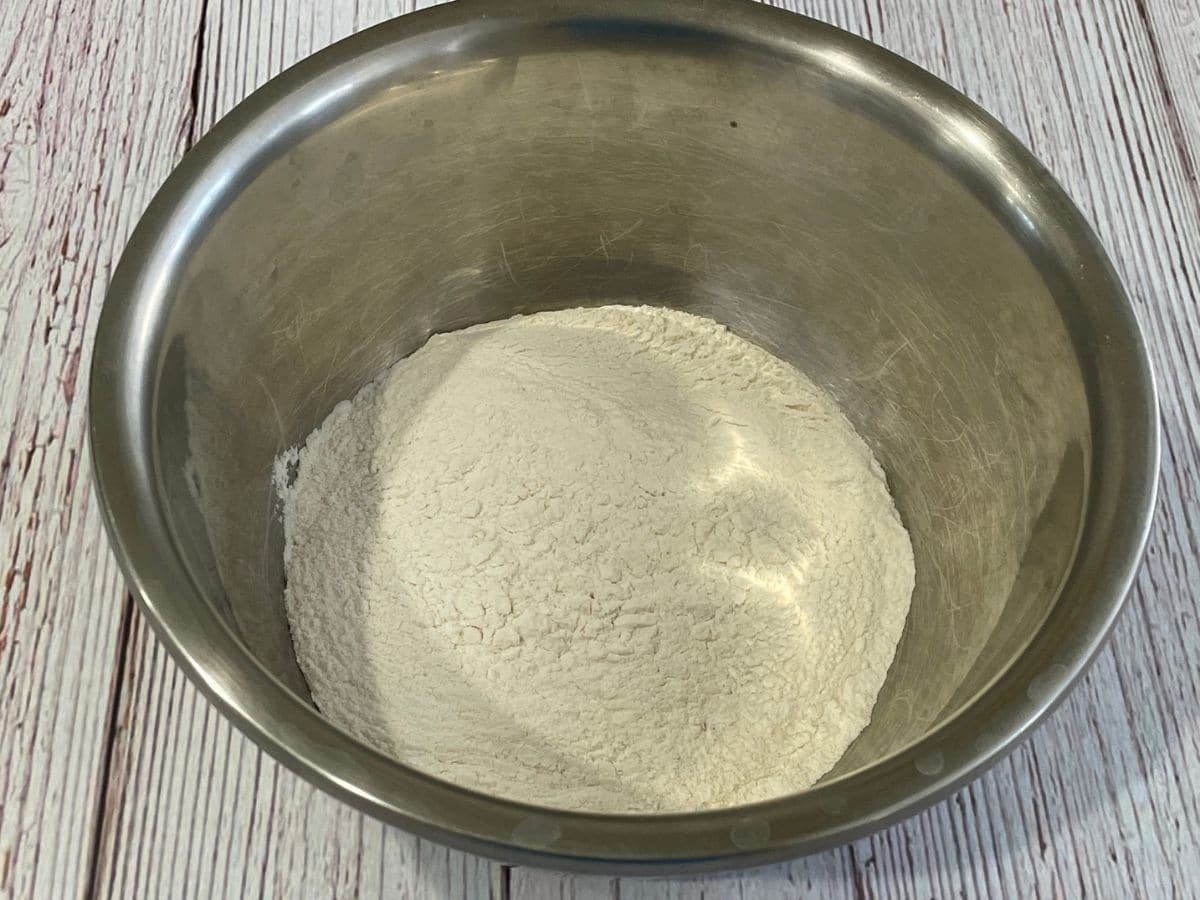 In a large mixing bowl mix all-purpose flour (maida), Sooji, and salt.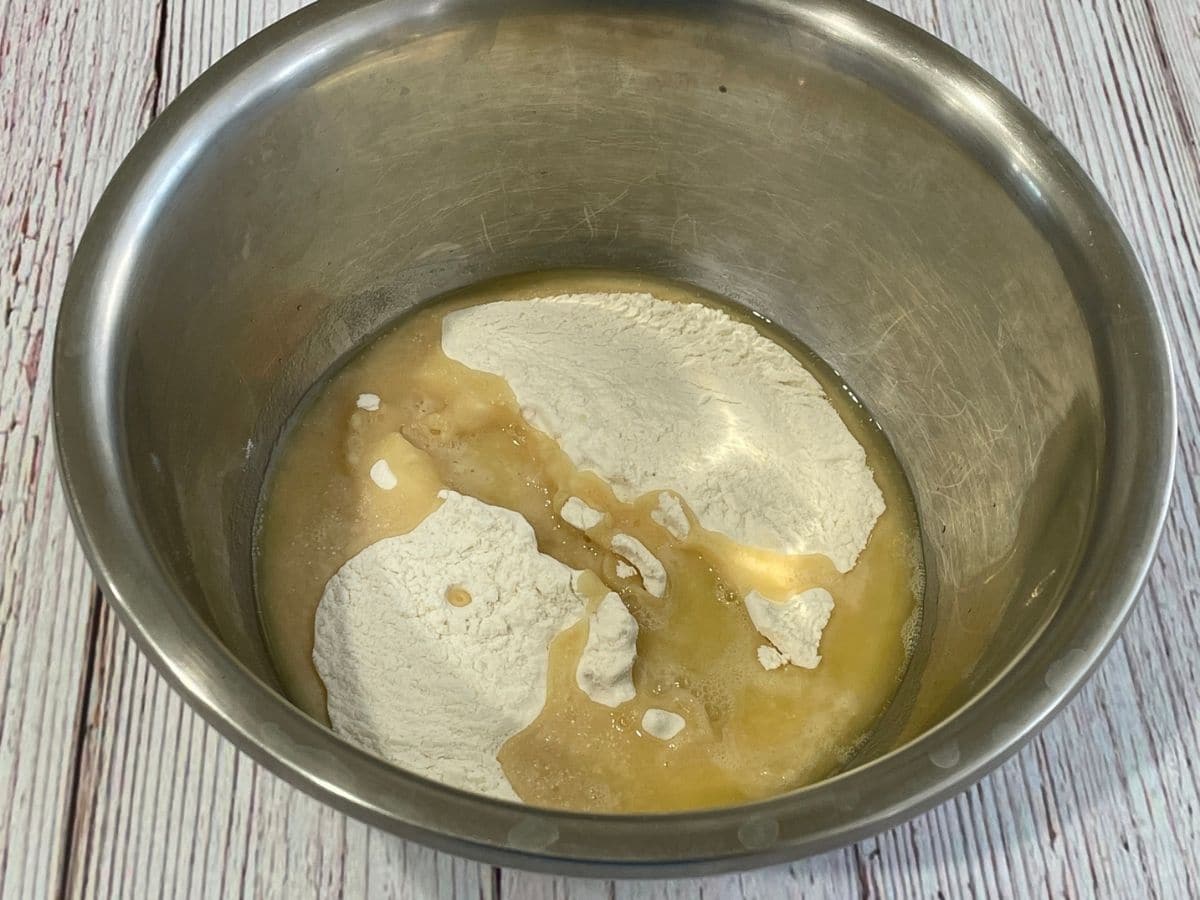 Heat the cooking oil over medium heat and pour it over the all-purpose flour.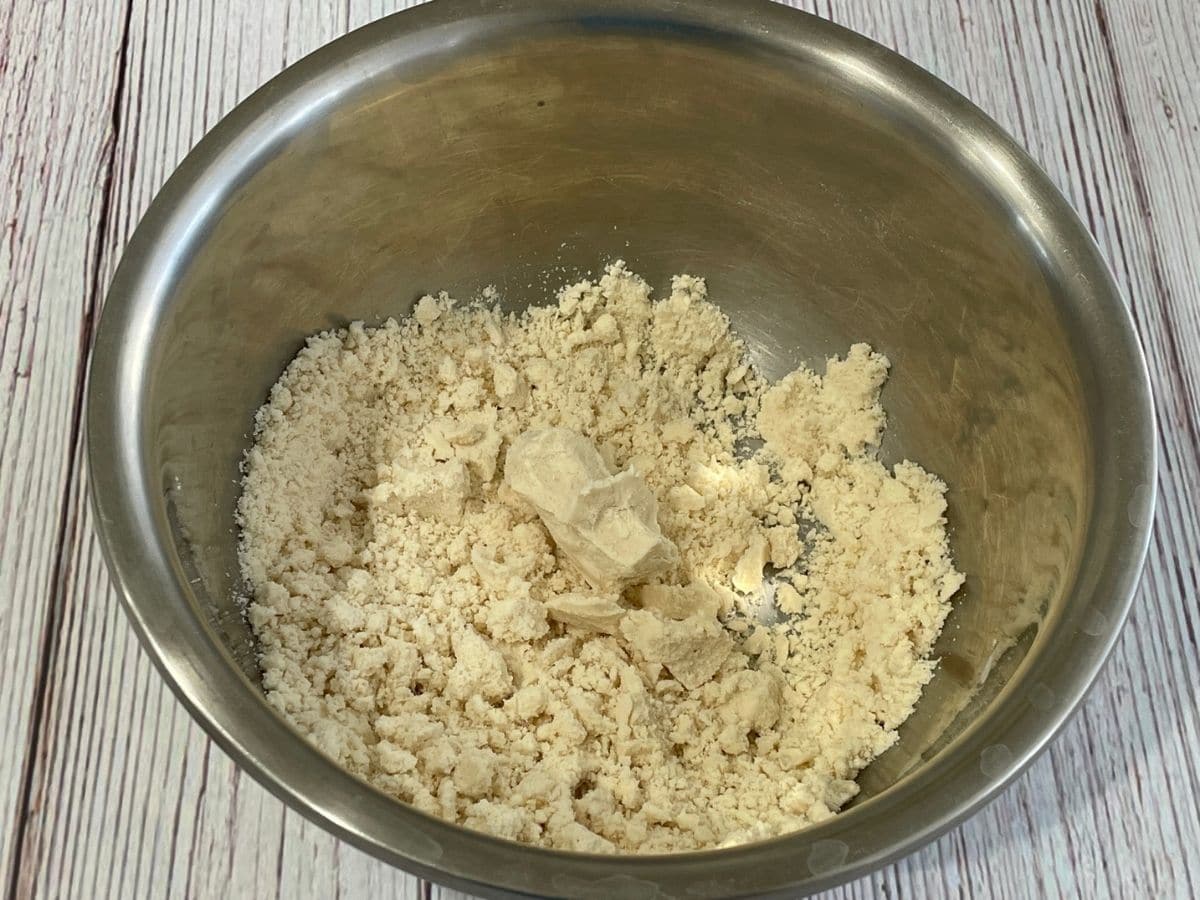 Mix well (safely) and crumble the dough well with your hands.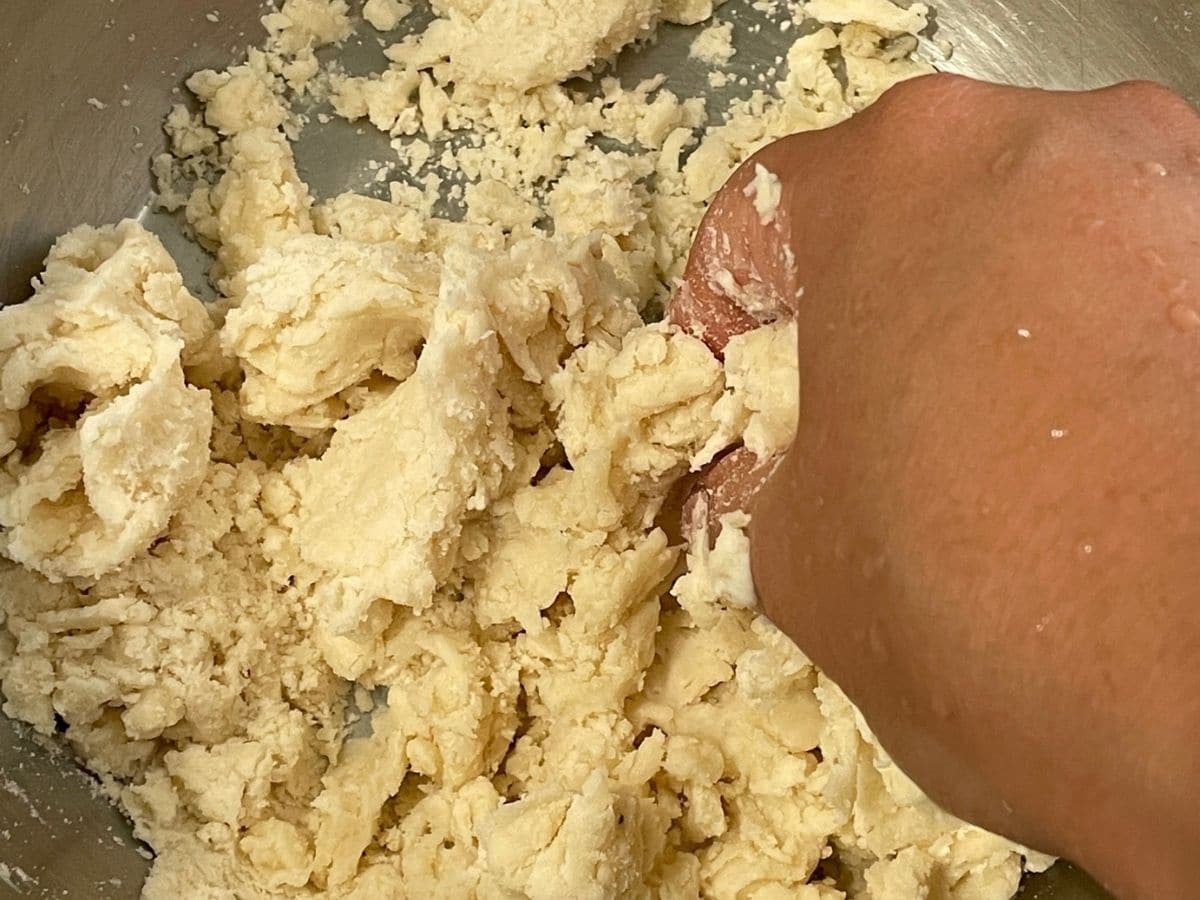 Now add water gradually, little by little, and start to knead the dough. Continue to knead until the dough is soft and consistent. Cover with a moist cloth and rest for 10 minutes.
Preparing Karanji stuffing: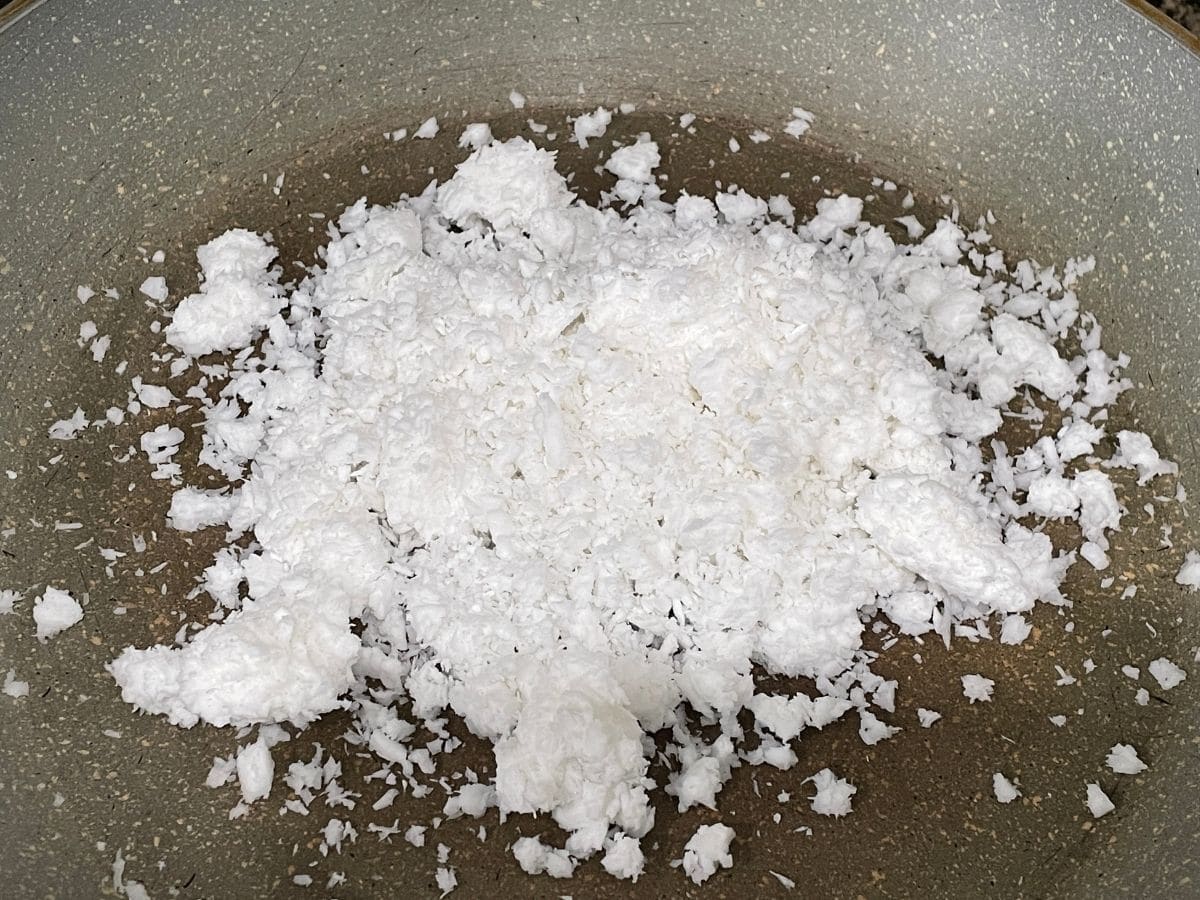 Place a pan over medium heat add frozen or fresh grated coconut.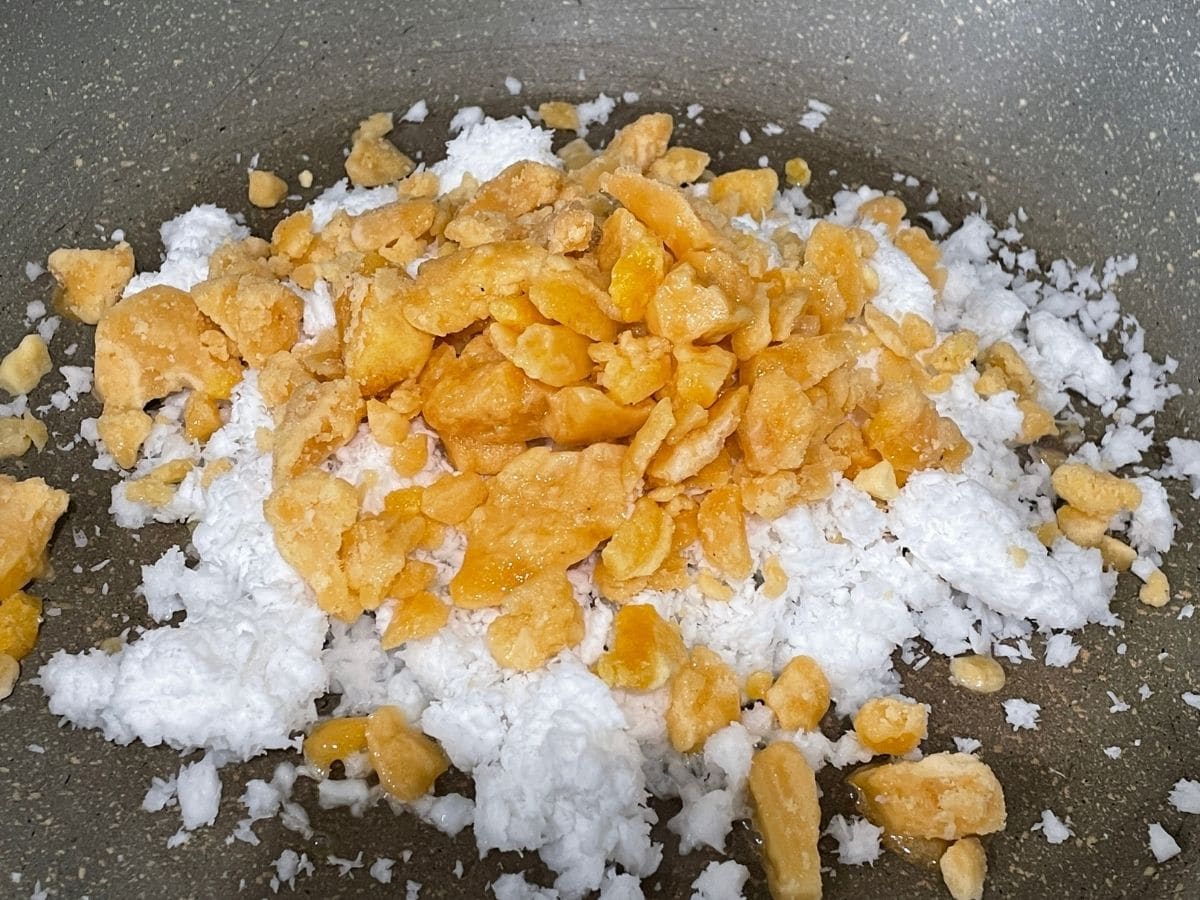 Then add jaggery and 1 tablespoon water. As the jaggery dissolves, continue to stir the coconut and jaggery to get an even mix.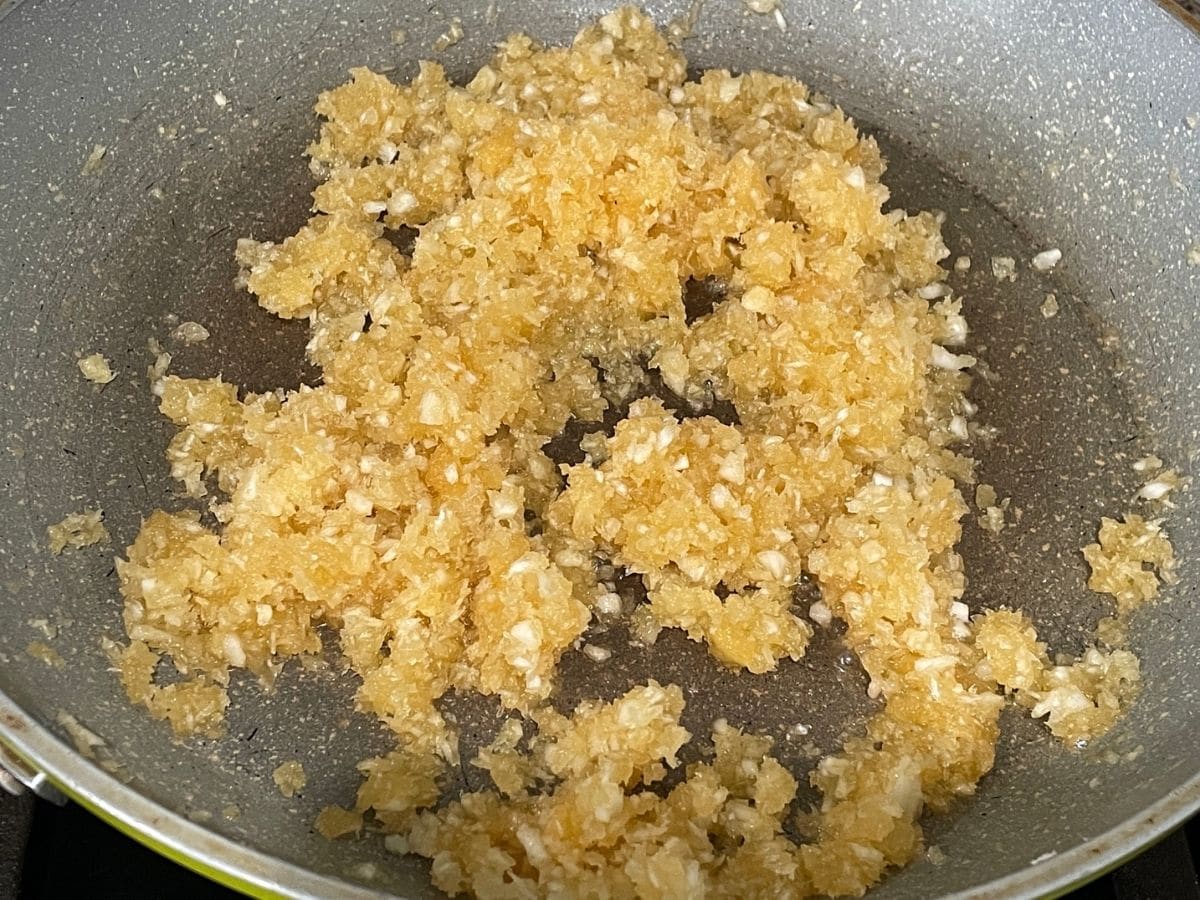 To avoid any of the stuffing from sticking to the bottom, stir continuously as you mix the ingredients. This forms a moist mixture.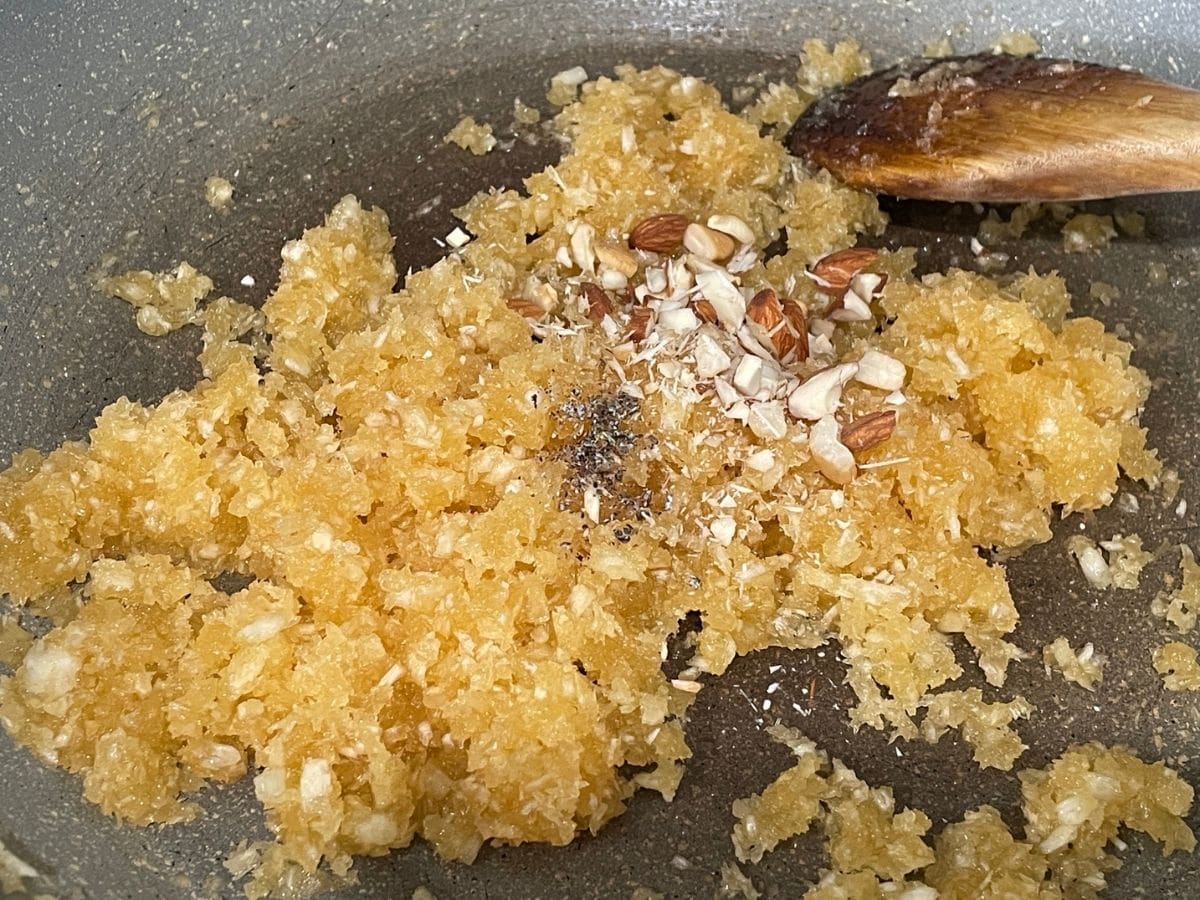 Add cardamom powder and chopped nuts and mix well to get it evenly distributed.
The stuffing is ready now. Place it aside and let it cool down to room temperature.
Bringing it together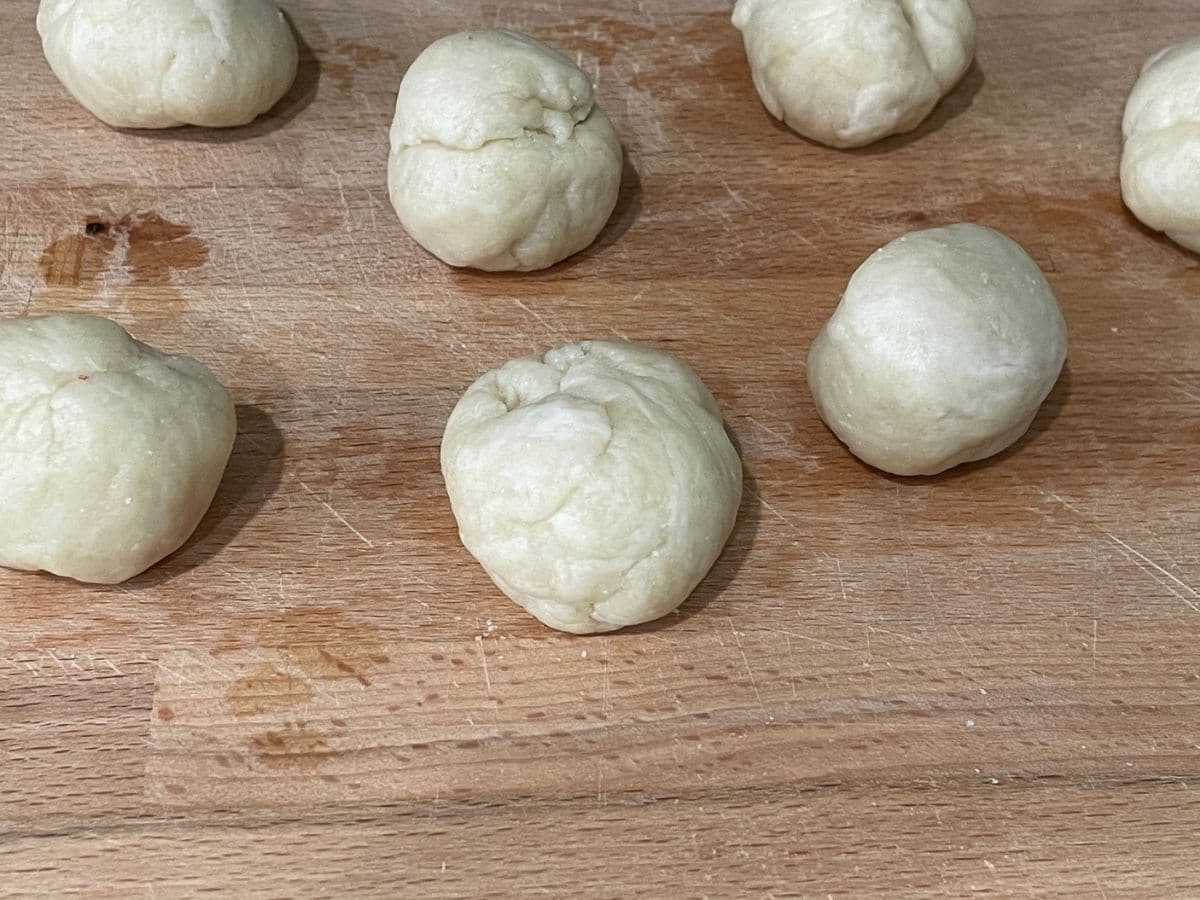 Knead the dough gently and roll/flatten a lemon-sized ball into a thin circle.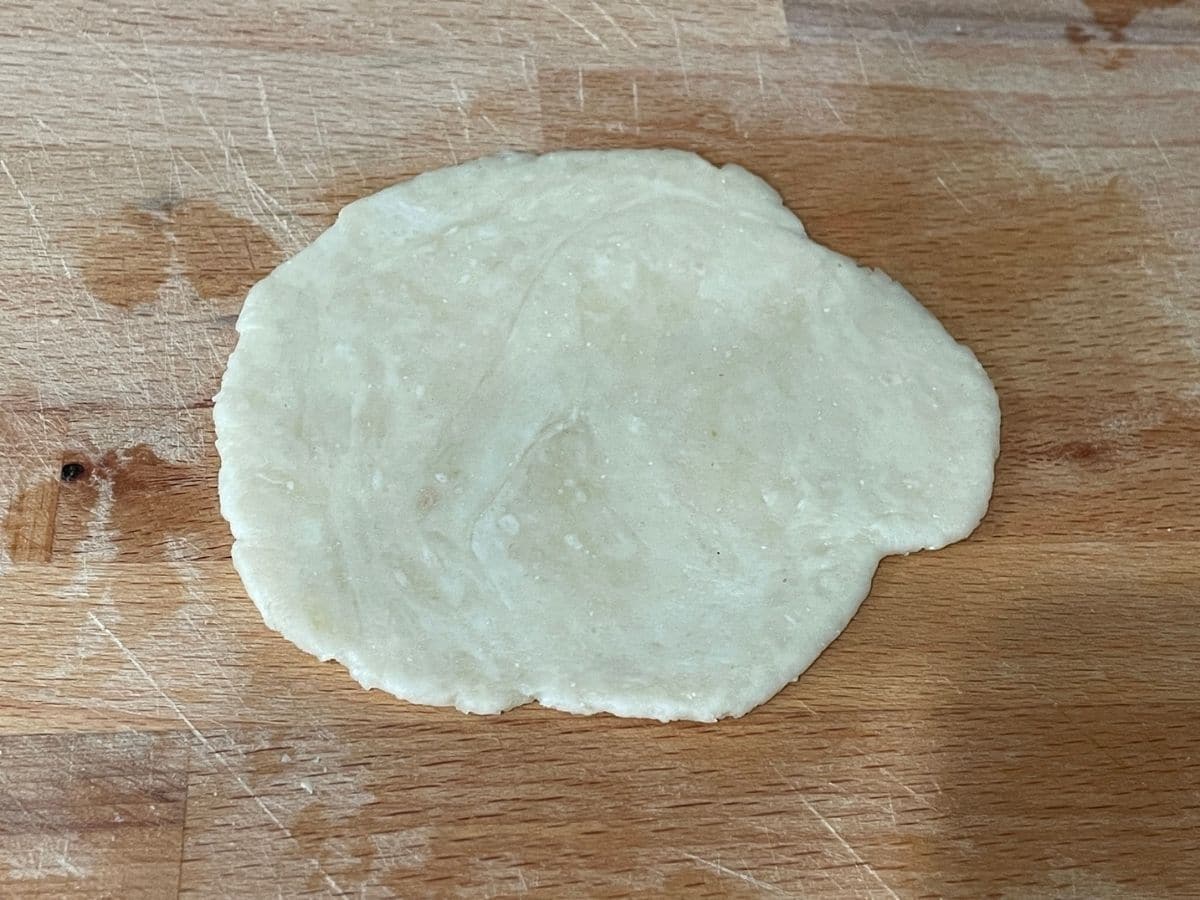 Generally, the thinner the better, but thick enough for you to fold them in later. Rolling them thin is very important to get a crispy texture for Karjikai.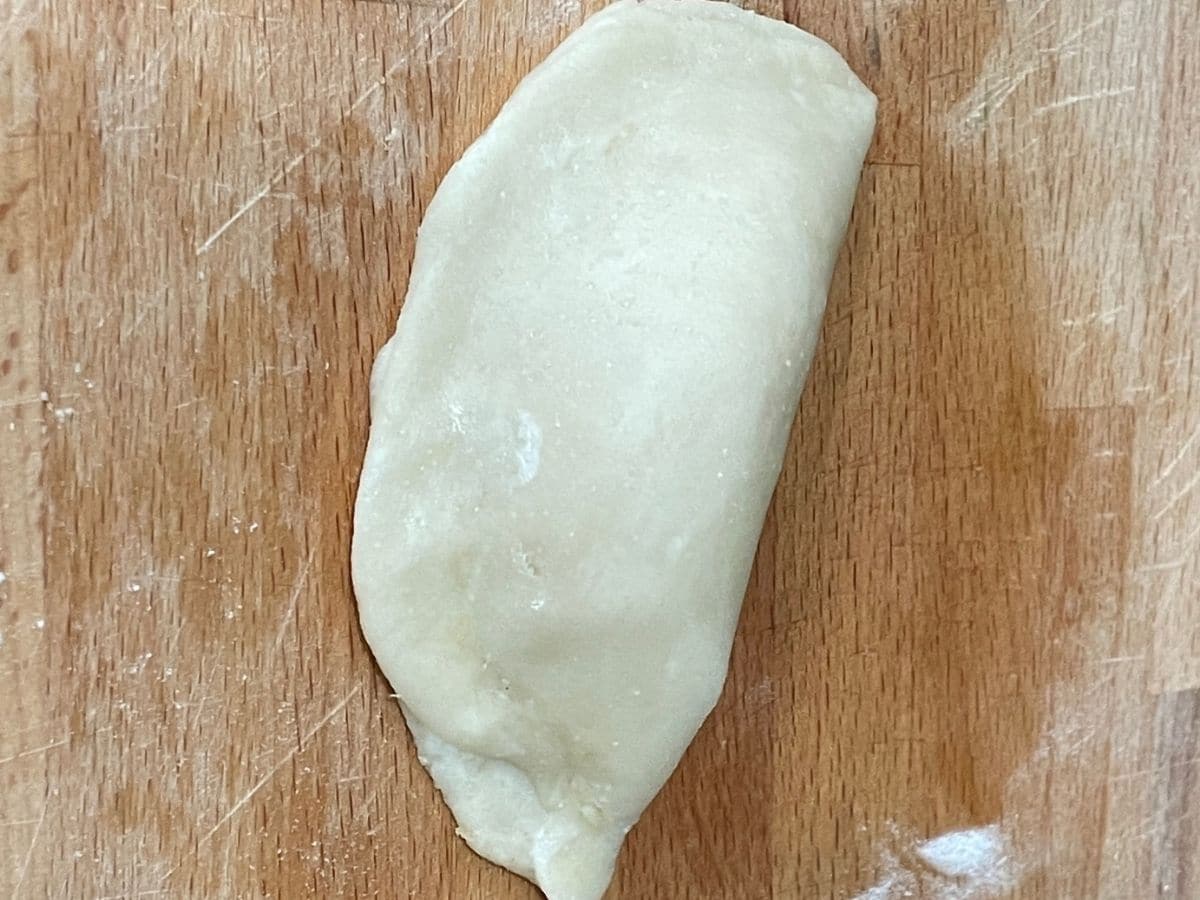 Apply water to the edges and put the stuffing in the center.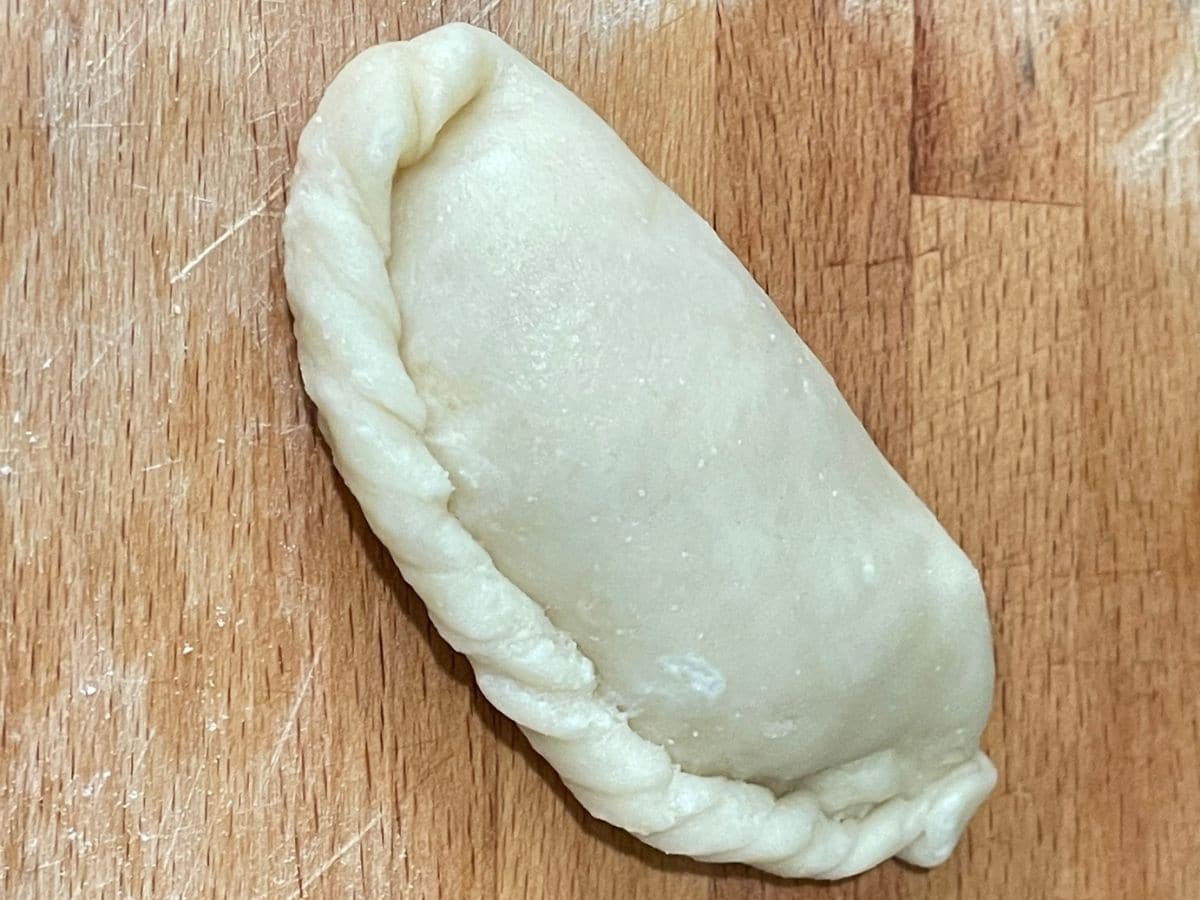 Fold it, press, and seal the edges for a neat little puff. Alternately, you could also use Karanji molds for this purpose.
Storage
The best part about these golden nuggets is that they last 5-7 days easily when they are stored in an air-tight container. So, you can easily enjoy the karjikai recipe longer without losing its crispiness.
Top tip
Do not panic if you cannot fold or seal the karjikai as shown in the pictures. Seal the two edges and pinch them with the backside of a fork. This should be an easy hack for a perfect gujiya shape. 
Make sure the dough is moist and not hard. The moist dough will help in getting the right shape and folding easily.
Adding Sooji or rava makes them crispy. Be sure not to skip it.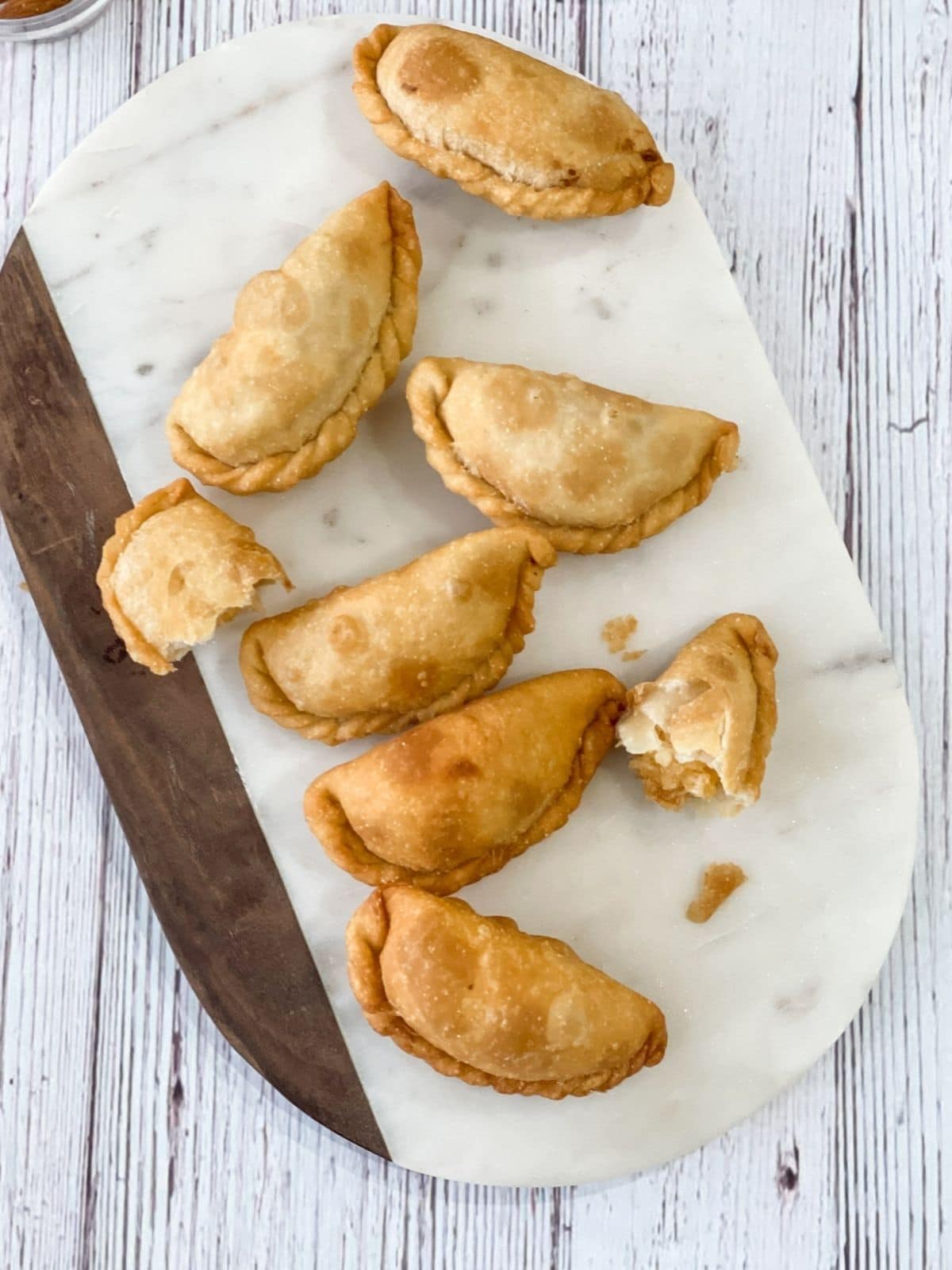 You might also like
Did you love this recipe? Rate it five stars!
And let me know what you loved about it in the comments.
Just subscribe to my newsletter for more delicious vegan recipes such as this sent directly to your inbox.
📖 Recipe