The sweet corn curry base is a mixture of tomatoes and onions in a blend of Indian spices. But the spices do not necessarily make the recipe spicy because the coconut milk base and corn balance them out. The result is a sweet and savory curry that your family will enjoy!
Jump to:
One of the best times to enjoy corn is in the second half of summer and today's recipe is just what you need to enjoy sweet and delicious corn in a curry base. It is one recipe you can start and finish in one hour or less. Corn recipes range from salads to soups and bisque but this recipe adds a new Indian dimension with a curry base. 
I have posted step by step pictures for a detailed version of the recipe, based on the requests I have received from some of my readers. I have a few modifications to the original version of corn curry to make it 100% vegan.
The corn curry is a mixture of tomato and onion and the creaminess comes from coconut milk. There is hardly any difference in the taste and the proof for that came from my kids. I am sure this will become your kids' favorite too, especially if the corn is sweet like they usually are in summer. 
Now, if you do not prefer sweetness, you can always spice it up with more chili powder than what I have used here. Part of the taste is also from the way it is cooked.
Using a cast-iron skillet will ensure that the onions are caramelized and bring out the natural sweetness. Even if you do not have a cast-iron pan, make sure that the onions are caramelized as you prepare this recipe.
About this curry
The simple and easiest way to prepare Sweet Corn Curry is to make it a one-pot dish without any need for blending. Just saute the ingredients and add coconut milk and corn kernels. Simmer the corn kernels in a creamy, rich gravy prepared with spices, tomatoes, onion, and coconut milk. Cook for a few minutes that's all there is to it! How simple is that? 🙂 And the result is a mouth-watering vegan curry that is gluten-free and soy-free.

Serving suggestions
I recommend this recipe paired with chapati, steamed rice, or roti. It is quite common to make the curry spicier if you are pairing it with rice. I have not tried to pair them with a tortilla. Perhaps you could try that and share your experiences with me. 
Vegan variations
I used canned coconut milk for this recipe, but you could also use almond milk or cashew milk. If you are a vegan or looking for an alternative to cream or milk, you have plenty of options. I used a little bit of almond powder in addition to the ⅓ cup of coconut milk.

If you do not have almond powder or cashew paste, just go with a cup of coconut milk. Using just coconut milk will probably make the curry thinner, but there is no compromise in the taste. 

You can add a few vegetables like bell peppers (capsicum), spinach, and peas. Just make sure that they are cooked and simmered in the gravy. The recipe here is only with onions and tomatoes, and I will share the variations in the future. 
Check out my other recipe here
If you have time comment below and rate the recipe in the comment box below. Follow me on social media's Facebook, Instagram, and Pinterest.
For more delicious vegan recipes such as this sent directly to your inbox, just subscribe to my newsletter.
📖 Recipe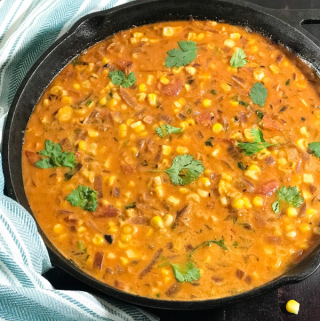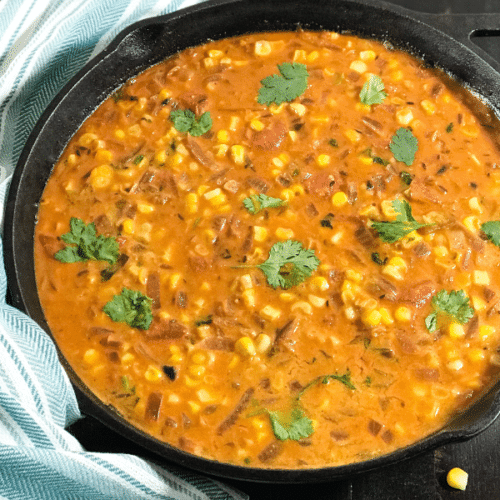 Sweet Corn Curry
The curry is a mixture of tomato and onion and the creaminess comes from coconut milk.
Process Shot
Check above for step-by-step pictures (most of my recipes include pictures)
Ingredients
2

cups

cooked fresh corn

1

onion

14

oz

canned organic tomatoes

1

teaspoon

cumin seed

1

bay leaf

½

teaspoon

turmeric powder

2

teaspoon

Ginger garlic paste

1 ½

teaspoon

coriander powder

½

teaspoon

red chili powder

2

tablespoon

almond powder/meal

Salt to taste

⅓

cup

of canned coconut milk

¼

teaspoon

garam masala

2

teaspoon

dry methi leaves / kasoori methi

Cilantro for garnish

-

optional
Instructions
Place a cast-iron pan over medium heat and drizzle a few teaspoons of coconut oil.

As the oil heats up, add one bay leaf and cumin seeds.

When the cumin seeds sizzle, add chopped onions and saute them until they turn translucent.

Now, add canned tomatoes followed with coriander powder, red chili powder,and turmeric powder. Cook for 2-3 minutes.

Add almond powder or almond meal and stir nicely to avoid any lumps.

When you get the creamy texture, add cooked corn( I Cooked corn in instant pot for 8 min)and stir well.

Add 1 ½ cup water, salt and stir well.

Let it simmer for about 8 minutes.

Now, add coconut milk, garam masala, and kasoori methi. Mix well and turn off the heat as the flavors soak in.

Garnish with cilantro and serve the sweet corn curry paired with steamed rice, roti or naan.
YOUR OWN NOTES
Nutrition
Calories:
102
kcal
|
Carbohydrates:
7
g
|
Protein:
1
g
|
Fat:
1
g
|
Saturated Fat:
1
g
|
Sodium:
2
mg
|
Potassium:
33
mg
|
Fiber:
1
g
|
Sugar:
1
g
|
Vitamin C:
1
mg
|
Calcium:
11
mg
|
Iron:
1
mg
Nutritional information is an estimation only.
Save this recipe for later use