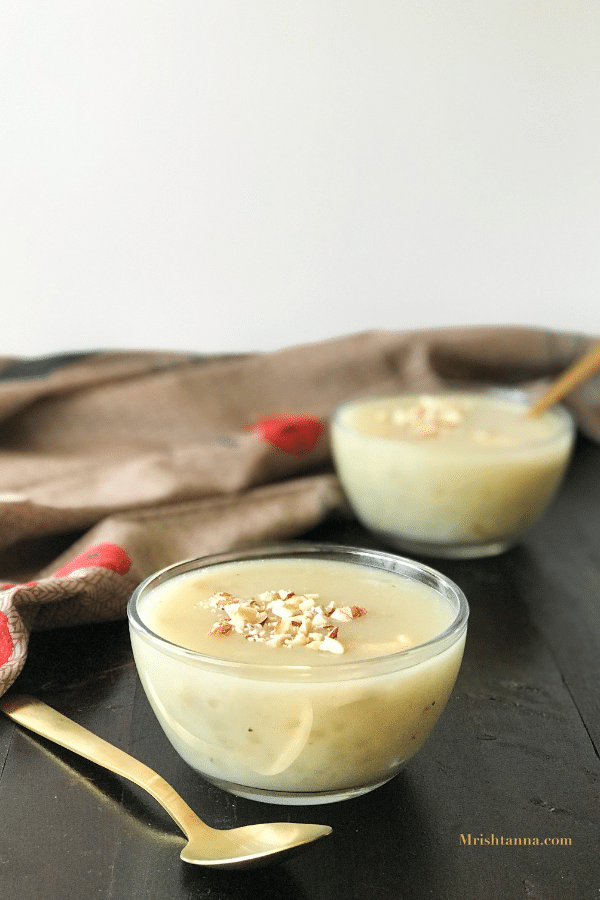 I am sharing a recipe that goes back to basics of Indian desserts but prepared with the Instant Pot. Tapioca pudding a.k.a Sabudhana Kheer. This is one of India's popular recipe and is usually prepared as a dessert during festivals. The original recipe is made with boiling the tapioca pearls in milk, with sugar and cardamom. However, my vegan variation with the Instant Pot is a refreshing look at this old time recipe.
A little of memories from the past….When I was little I remember my mother use to make this kheer and I liked it chilled than when it was warm. The traditional way of serving this recipe is warm after a sumptuous meal, but the chilled version can be equally good when the cashews soak up all the flavor. The vegan version isn't that much different apart from the substitution of milk with coconut milk.
I have not tried any other plant-based milk because the flavor from coconut is a big part of this recipe. This comes close to the other Kheer recipe from my childhood that is prepared with milk, sugar and split yellow mung beans.
What is Sabudana? The different names of sabudana.
Sabudana balls are translucent spheres; a product of tapioca, a starch extracted from the cassava root. There is probably a  place where I was, this is called "Sabakki". Another popular name is "Sago" and "Tapioca pearls".

Why should you use the Instant Pot for sabudana kheer 
The good part about using the instant pot is the fact that you have a one pot solution to steam cook and prepare the recipe. Cooking the tapioca pearls in a traditional pressure cooker can be difficult at times, especially if the pearls are not cooked completely in one attempt. The instant pot makes it easy to cook them to perfection in 10 minutes. Tapioca pearls cook better after soaking them in cold water for about 10 minutes. If you do not plan to use an Instant Pot, be sure to cook them for at least 3 whistles.
Useful tips to make your Sabudana kheer really good!
Before soaking the tapioca pearls, wash them twice to remove the starch coating. Starch coating tends to make them sticky.

I used canned coconut milk. You can also use fresh coconut milk to improve the taste.

I used Jaggery to sweeten the Kheer. You can also use sugar or coconut sugar as a variation.

Adding Saffron strands and garnishing cardamom powder and nuts brings a ton of authentic flavor to the dish.
How to store soaked sabudana, sago
If you soak tapioca pearls but cannot use them one same day, just drain them and store in an airtight container. Tapioca pearls stay good for up to 3 days. The finished kheer recipe stays good in the refrigerator for up to 4 days.
Sabudana kheer or tapioca pudding becomes thick after 30 mins in room temperature. You can add more milk if you prefer to eat thin consistency. Enjoy!
You may like my other instant pot recipes...Instant pot jam, Instant Pot Vegetable rice, etc.
Here are the recipe details….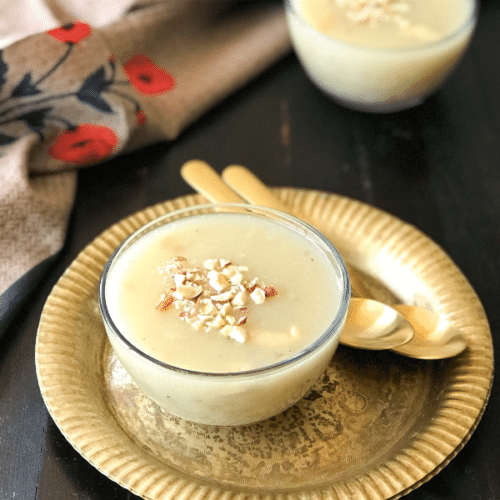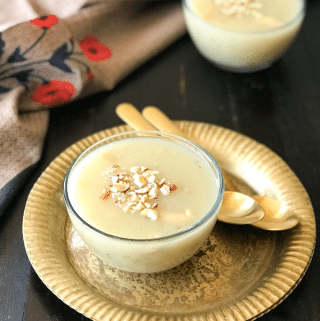 Sabudana Kheer - Tapioca Pearl Pudding
Sabudana Kheer is one of India's popular recipe and is usually prepared as a dessert during festivals. Here is my vegan version of that recipe and made in Instant Pot.
Instructions
Soak the clean and rinsed sabudana for 10 minutes.

Drain them well and put them inside the instant pot and add 2 cups of water. Cook for 10 mins under high pressure (manual mode).

Use the natural release method to let them cook and open the lid.

Press the "saute" setting and add 1 can of coconut milk, 2 tbsp cashews, a ½ cup of jaggery, 4 saffron strands. Stir well.

Add a few more teaspoons of sugar, if you prefer it sweeter.

After 2 mins of boiling add cardamom powder and switch the instant pot off.

Let it cool a little and Sabudana kheer is ready! Serve hot or chilled.
Video
Nutrition
Serving:
1
cup
|
Calories:
215
kcal
If sabudana kheer recipe interests you, or if you made this please rate and comment my recipe below.
For more delicious vegan recipes such as this sent directly to your inbox, just subscribe to my newsletter. You will also get a copy of my e-book where I have put together some simple vegan dessert recipes and dessert essentials. My readers have found it very helpful and I am hoping you will too!
Pin This recipe for later use