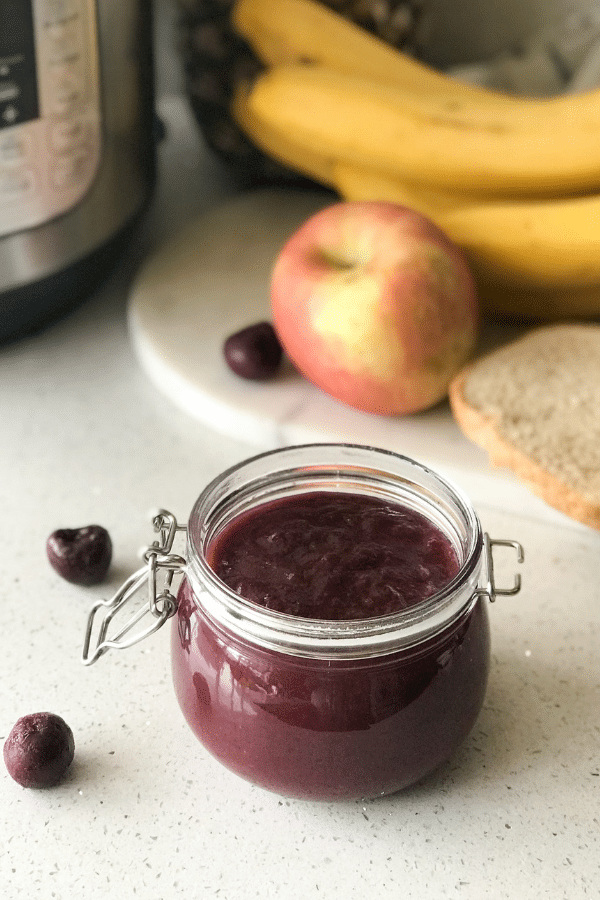 Are you ready for a homemade jam recipe with the Instant Pot?! When it comes to homemade food, there is something more than just the fresh taste and nutrition that you get out of it. It is even more so when it is a dish that you have always bought in stores in the past and never tried making it on your own. The homemade jam recipe that I am sharing today is one such recipe.
I have tried a few versions of homemade jam, but this is by far the best homemade jam that you can make in Instant Pot. Needless to say, I am a big fan of the Instant Pot and I have tried several dishes with it, but never really thought of using it to prepare the homemade jam. It is really a lot easier than you think. I made Strawberry Jam and Berry Jam and both turned out very good in the Instant Pot. This recipe is for mixed fruits version that my kids always crave for. The result was just too good to be just reading about. You've got to try it today!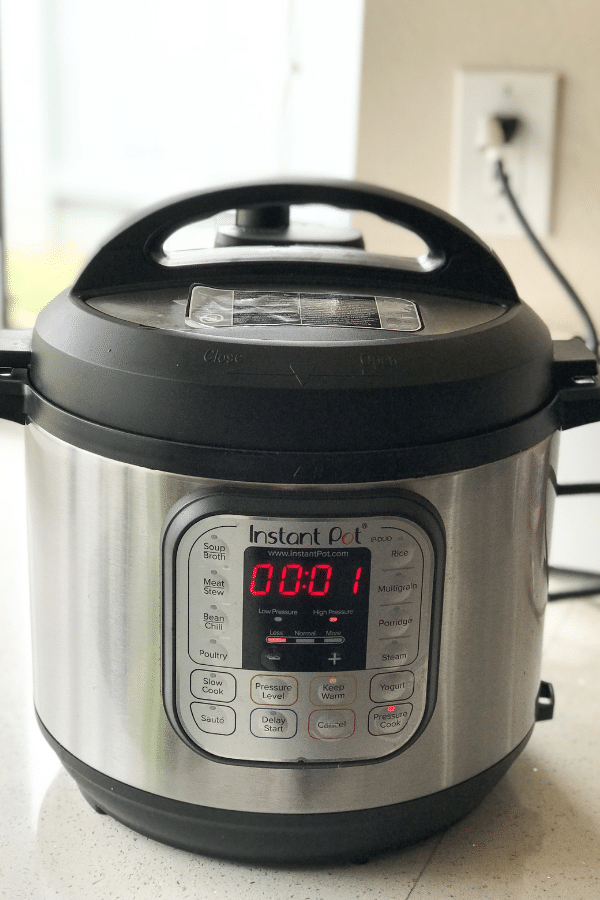 Homemade jam recipe takes a longer time to cook on stove top. With an Instant Pot, it takes less than 30 min. Another reason to use the Instant Pot is that you use fewer pans to prepare it. That means fewer dishes to wash and less of a mess!
What is good about this homemade jam?
Look at the ingredients in Jam or jelly at any store and you will find the ingredient called "Pectin". Although it is a natural ingredient, it is added in relatively larger proportions to thicken the jelly. The homemade jam is made without using commercial pectin. Just the amount that is naturally available in berries and apples. Not only that, this homemade jam recipe made with little sugar. All the sweetness is from the fruits and little sugar. You could also prepare this recipe with agave syrup or no sugar if you pick and choose fruits that are not sour.
My tips for making jam in Instant Pot
Jam can be made with Agave syrup or Maple syrup instead of sugar. Replace the sugar with 3 tbsp of agave syrup and reduce the juice quantity or increase the cornstarch quantity to thicken the jam.

Instead of cornstarch, you can add chia seeds to thicken the jam. But my kids do not like the chia seeds in the jam.

For this instant pot jam recipe, I used pineapple juice. You can use any kind of fresh juice for your recipe.
Storage and life of  jam recipe
Homemade Jam can be stored in the refrigerator for up to three months! Just be sure to store them airtight and that it remains dry. Always use a clean and dry spoon to scoop them.
Mixed fruits that I used In this Recipe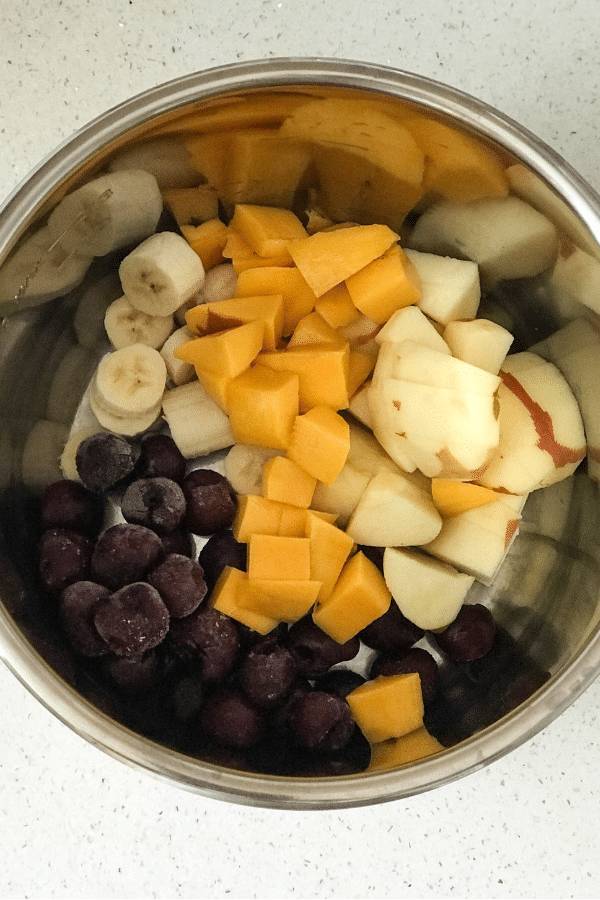 There is virtually no limit to the variety of fruits that you can add. I used banana, apple, mango, frozen cherries for this recipe. I also added a pod of cardamom during the process to add some aroma. If you choose to do it, be sure to take them out before you proceed to mash the fruits.
If this recipe interests you, look for similar recipes in my blog such as tomato jam. For more delicious vegan recipes such as this sent directly to your inbox, just subscribe to my newsletter. You will also get a copy of my e-book where I have put together some simple vegan dessert recipes and dessert essentials. My readers have found it very helpful and I am hoping you will too!
Here are the recipe details.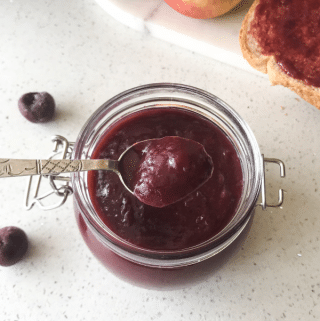 Print Recipe
Instant Pot Jam Recipe (Mixed Fruit Jam)
Easy Homemade instant pot jam is made without pectin. This jam is quick, delicious, spreadable and kids favorite.
Ingredients
1

ripe mango

1

large ripe banana

1

apple

½

cup

frozen cherries or strawberry

½

cup

sugar - 3 tbsp agave syrup

½

cup

pineapple juice - any pure juice is good to use

1-2

tsp

cornstarch

1

cardamom pods

optional

Pinch

of salt
Instructions
Peel the skins of mangoes and banana and cut them into cubes.

Finely chop all the other fruits. If you are using any frozen kind, let them thaw to room temperature for at least 10 minutes.

In the inner pot, put the chopped fruits, ½ cup sugar, and ½ cup pineapple juice, cardamom pods. Close the lid and set the pressure valve to the sealed position and set the timer for one minute.

Release pressure naturally for at least 15 minutes. DO NOT flip the pressure valve.

Release the pressure valve carefully and remove the lid.

Using a hand blender or a masher, blend/mash the mixed fruits until all the fruits chunks disappear.

Turn Instant Pot to 'saute' function and allow the mashed fruits to come to a simmer/boil.

In a small bowl combine two tablespoons water with 1 tsp cornstarch. Slowly pour this into the fruit mix and stir well. ( if you want to skip the cornstarch, boil another 10 min)

Let it simmer for 5 minutes or until the mixture thickens.

Turn the instant pot off and allow mixture to cool down.

Mixed Fruit Jam is ready! Store it in a dry mason jar and refrigerate!
Pin This Recipe For Later Use