Vegetable Poha – Spiced Flattened Rice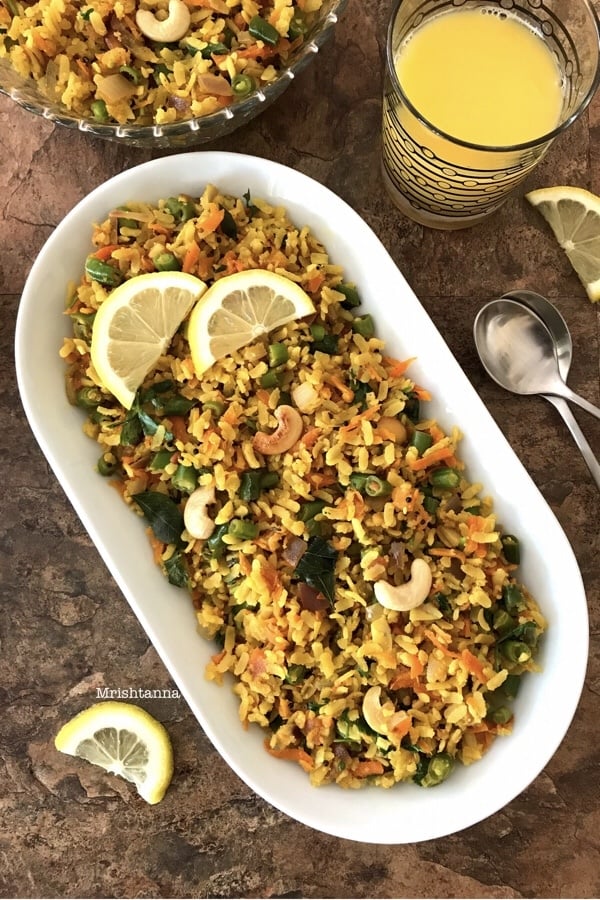 Vegetable Poha is a quick breakfast or snack food made of beaten rice or flattened rice from the Indian cuisines. Growing up in South India, Poha was a staple diet in my household. I never really appreciated the goodness of Poha until I realized how easy it is to cook and how nutritious they are. Based on a quick survey of readers I could see that not many people actually know what Poha or Flattened Rice is. So, I take this opportunity to show you how you can prepare this yummy and easy meal that can be a perfect lunch option for kids or for a weekend breakfast.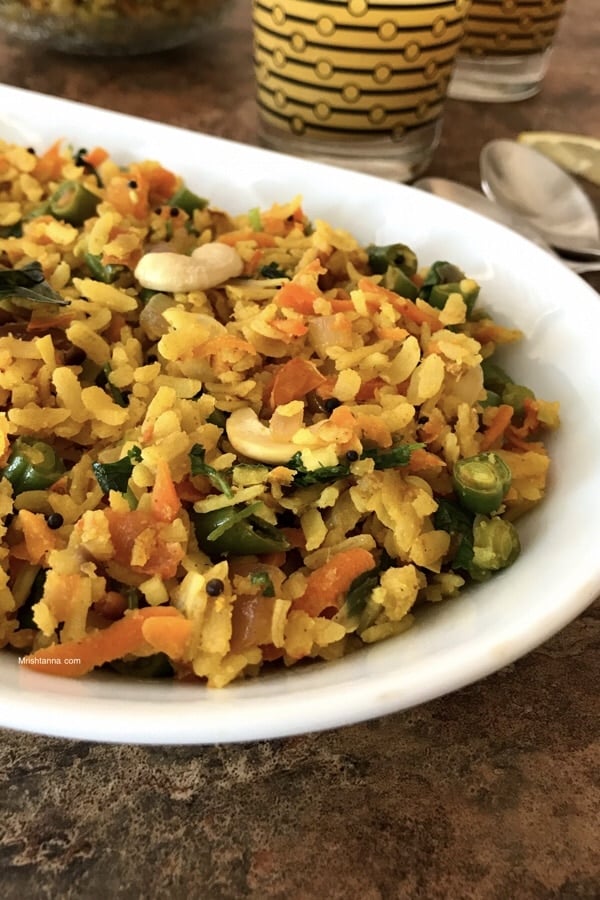 Flattened rice comes in as many varieties as there are types of rice. It comes in varying thickness too. Generally speaking the thinner it gets, they are lighter on the stomach and hence easily digestible. Poha from brown rice is known for the low glycemic index and generally used for breakfast. Cooking these flattened rice is a lot easier and lot faster than cooking rice, but the procedure is entirely different. Dry spices mixed in with a base of green spring vegetables forms a good medium to mix in slightly soaked Poha to make this recipe.
The choice of vegetable is really up to you. I chose to have carrots, tomatoes and green beans in my recipe for a bright and colorful mixture. You can try Parsnips or Chinese long beans too. As long as you allow enough time for the vegetables to soften, the Poha takes care of the rest. You can find Poha or flattened rice in any Indian grocery store and also on Amazon. You don't have to plan ahead. As long as you have some vegetables and Indian spices, you are all set.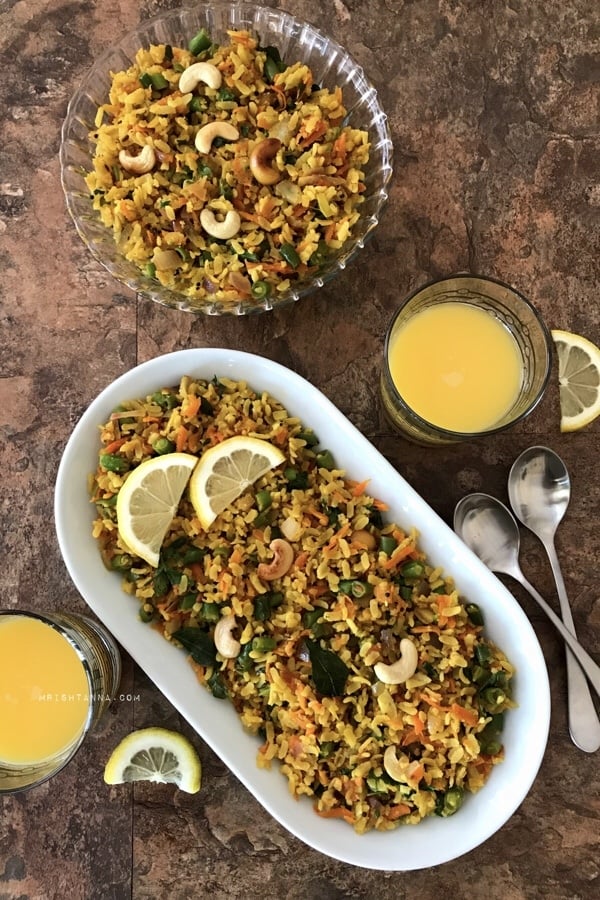 For more delicious vegan recipes such as this sent directly to your inbox, just subscribe to my newsletter. You will also get a copy of my e-book where I have put together some simple vegan dessert recipes and dessert essentials. My readers have found it very helpful and I am hoping you will too!
Here are the recipe details.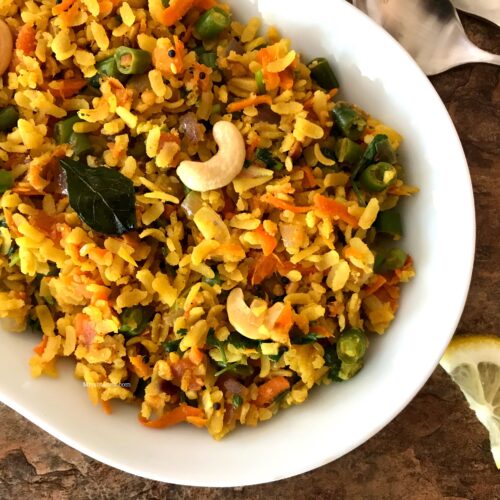 Print Recipe
Vegetable Poha - Spiced Flattened Rice
Vegetable Poha is a quick breakfast or snack food made of beaten rice or flattened rice from the Indian cuisines.
Instructions
Soak the

Poha

in water for 5 to 8 minutes. Strain the water and place it aside.

Place a pan over medium heat and saute the cashews over vegetable oil.

Add mustard seeds, cumin seeds, urad dal and saute until they sizzle or pop.

Add ginger, chilies, and curry leaves and saute for 30 -40 seconds.

Add onions and saute until they turn translucent.

Add grated carrots, beans, and tomatoes. Add salt to taste.

Cook for 2 minutes and then add spices like turmeric,

chili powde

r, and

Garam Masala

. Cook for about 5 minutes until the raw smell is gone.

Now, add the strained Poha and cook for 5 minutes over low heat.

Switch off the heat and drizzle few teaspoons of lemon juice and garnish with Cilantro before serving.
Nutrition
Nutrition Facts
Vegetable Poha - Spiced Flattened Rice
Amount Per Serving
Calories 101
Calories from Fat 36
% Daily Value*
Fat 4g6%
Sodium 159mg7%
Potassium 103mg3%
Carbohydrates 9g3%
Protein 1g2%
Vitamin A 365IU7%
Vitamin C 61.9mg75%
Calcium 20mg2%
Iron 0.6mg3%
* Percent Daily Values are based on a 2000 calorie diet.
Vegetable poha or spiced flattened rice is ready to serve.
check out my video
Save this recipe for later: