If there is one side dish that can pair with several breakfast options, that's today's dish that I am sharing with you ...Coconut Chutney. As common as this recipe is, and as many times I have prepared this as a part of other recipes, I have never shared the recipe exclusively.
Afterall a versatile recipe such as this deserves our attention! On top of the original recipe, I am also sharing a few tried and tested variations that you should try today!
Coconut chutney is the perfect pairing primarily for South Indian breakfast recipes such as Dosa, Idli, Pongal and even vada. It is a combination of green chilies, ginger, and other spices ground with shredded coconut.
Depending on the main dish that you are serving there are subtle variations that you can make to get the best tasting dish. My family likes all the versions but the original version stands above the rest.
Best Chutney Dosa and Idli
You could prepare a chutney that is spicy, or tangy or balanced by adjusting the ingredients. The original version, prepared with just shredded coconut, green chilies and tempering is the one that pairs well with dosa and idli. It is common to add curry leaves as a part of the tempering, but since my kids tend to leave the curry leaves out, I make a small variation by grinding the curry leaves along with the coconut.
Curry leaves give extra flavor and aroma to the chutney. Apart from that, there are tons of health benefits that kids miss out when they leave the leaves out.
Coconut chutney made without chana dal
Using chana dal in coconut chutney as a thickener seems to be quite common, but the original recipe for coconut chutney does not call for that! It is possible to bring the perfect consistency for chutney without using chana dal.
I have received this request from several friends and I am glad to share this version without the chana dal. As a matter of fact, I have tried the chana dal version very rarely because getting the right consistency depends more on the quality of coconut than anything else.
Variations of coconut chutney
Like I said before, Coconut chutney can be made with lots of variations. Let us look at some more of these variations. I hope that you find something new here that you can try today.
Coriander seed - By adding coriander seeds and two red chilies to the grated coconut, it makes yet another authentic coconut chutney. This version suits well for dosas that do not involve fermenting batter, like wheat dosa or Rava dosa.
Coriander/Cilantro - Just skip the curry leaves and add cilantro leaves to the grated coconut while blending. This adds immense flavor and renders the chutney green. Just like the coriander seed chutney, this recipe suits well for dosas that do not involve fermenting batter.
Roasted Peanut - If you love peanuts, add some roasted peanuts to the shredded coconut and you have a chutney that suits well for almost any dosa.
The bottom line is that it is all about personal preference. The recipe that I have shared is like a base recipe. You can change it as per your taste, preference and the type of the main dish you are preparing.
How do I store coconut chutney?
This is yet another common question when it comes to preparing chutney. Chutneys are best enjoyed fresh but they can last up to a week if it is stored in an airtight container and refrigerated.
If you are looking to prepare a big batch of coconut chutney, be sure to freeze the chutney in smaller quantities before you temper. Now all you need to do is thaw the chutney and add the tempering. Frozen chutney can last up to a month!
Check out my other chutney recipes
If you would like to try other chutney recipes, be sure to check out these recipes. These recipes are based on vegetables and pair well with dosas or steamed rice as well.
Here are the recipe details….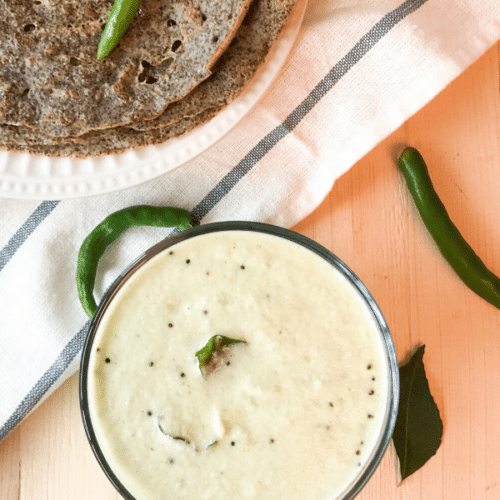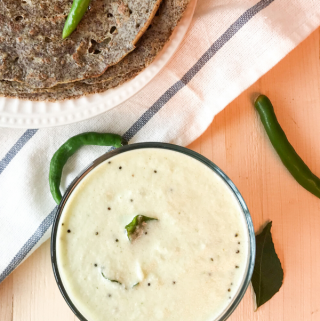 Coconut Chutney
Coconut chutney is the perfect pairing primarily for South Indian breakfast recipes such as Dosa, Idli, Pongal, and even vada.
Instructions
Blend the coconut, curry leaves, green chilies, ginger, salt and water into a smooth paste. Pour into a bowl.
Prepare the tempering:
Place a pan over medium heat and add two tablespoons of oil. As the oil heats up, add mustard seeds, urad dal, and one red chili.

Saute until the mustard seeds crackle. Switch off the heat and add asafoetida powder. Then add it to the coconut mixture.

Coconut chutney is ready! Mix the tempering well and serve with your main dish!
YOUR OWN NOTES
Nutrition
Calories:
197
kcal
|
Carbohydrates:
9
g
|
Protein:
2
g
|
Fat:
18
g
|
Saturated Fat:
16
g
|
Sodium:
70
mg
|
Potassium:
167
mg
|
Fiber:
5
g
|
Sugar:
3
g
|
Vitamin A:
86
IU
|
Vitamin C:
15
mg
|
Calcium:
7
mg
|
Iron:
1
mg
If this recipe interests you, please rate and comment below.
For more delicious vegan recipes such as this sent directly to your inbox, just subscribe to my newsletter. You will also get a copy of my e-book where I have put together some simple vegan dessert recipes and dessert essentials. My readers have found it very helpful and I am hoping you will too!
Pin this recipe for later use