How To Make Dosa Batter And Dosa in instant Pot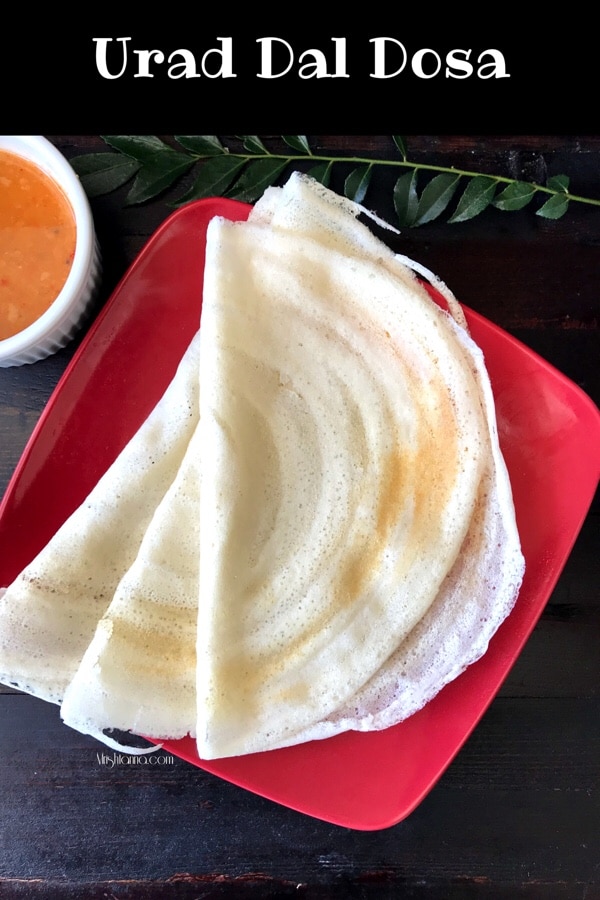 It is quite common for a person of Indian or even South Asian descent to love Dosa but not everyone is aware of the tricks of preparing the perfect crispy dosa. This popular breakfast is not only healthy but also delicious when you serve with chutney or sambar.
I must admit that since I grew up eating this breakfast delicacy all through my childhood and watching my mother prepare it, I must have learned this by observing and imitating. I did not expect to receive a recipe request for preparing the Dosa batter.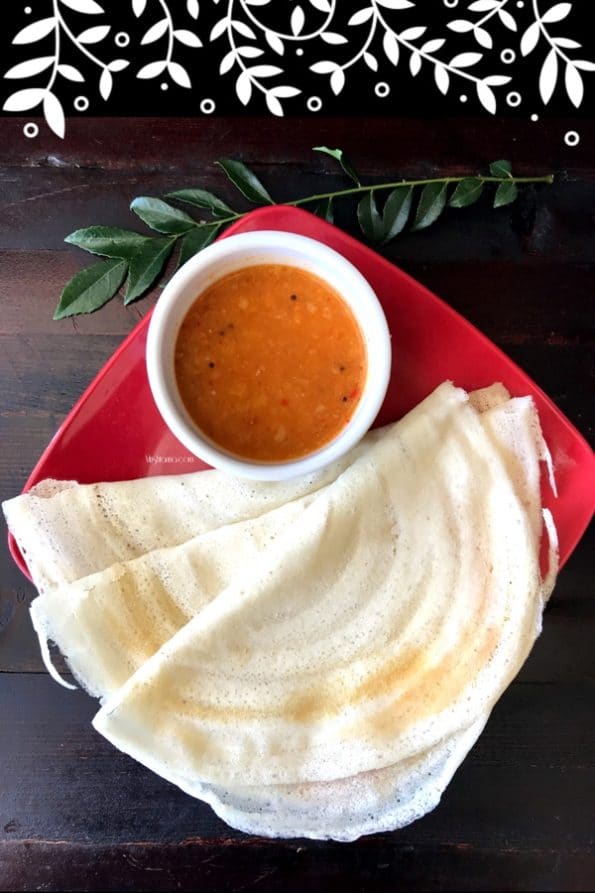 The hard part that most people fail at is in fermenting the batter. Today, I share the details of preparing the perfect batter and crispy dosa. Not just that, I show you the directions to prepare the batter with the Instant Pot.
Using an Instant Pot helps in maintaining warm temperatures that sustain fermenting. This comes in handy during the winter. So you can enjoy crispy dosas in all seasons! The trick in fermenting is to use an accurate ratio of Rice and Urad Dal.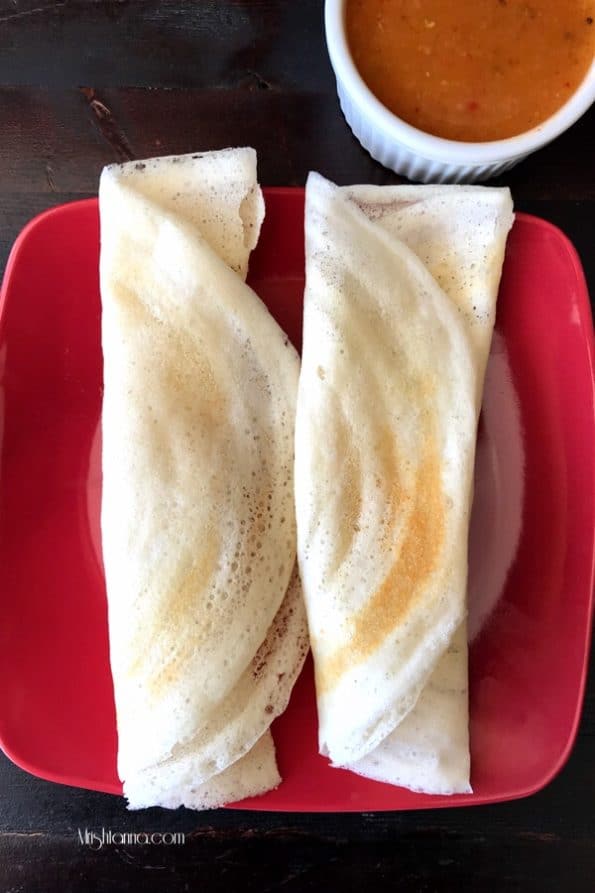 Fermenting takes longer if you are short on Dal. Likewise maintaining a warm temperature matters a lot. If you do not have an Instant Pot, you can let the batter ferment inside your oven and turning the light on overnight.
Best Griddle or Tawa For Dosa
To cook the batter, I typically use a non-stick griddle or cast iron pan. I find that cast iron pans bring the best results, but I ran into a few glitches in my videos. So, I have used a non-stick griddle in this recipe. I recommend my readers to use cast iron Tawa for best results.
How to make Uttapam
Uttapam is yet another healthy breakfast recipe from South Indian cuisine prepared with common rice and urad dal batter used for preparing Idli and dosa. I made an uttapam with this batter. However, unlike dosa, Uttapam is a little thicker and is topped with different types of vegetables like onion, tomato, capsicum, carrot, green chili, etc.
For more delicious vegan recipes such as this sent directly to your inbox, just subscribe to my newsletter. You will also get a copy of my e-book where I have put together some simple vegan dessert recipes and dessert essentials. My readers have found it very helpful and I am hoping you will too!
Here are the recipe details.
Check out my video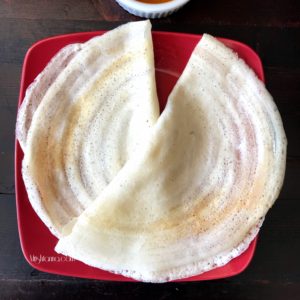 Print Recipe
How To Make Dosa Batter And Dosa
This popular breakfast is not only healthy but also delicious when you serve with chutney or sambar.
Ingredients
2

cups

idli rice or use parboiled rice

½

cup

urad dal

1

tsp

methi seeds

Salt to taste
Instructions
Direction to prepare and ferment batter:
Separate the grains from water and blend them to a smooth consistency, pouring water just as needed. Check my video for consistency.

Transfer this to the inner pot in your Instant Pot and press the Yogurt setting. Let it sit for about 8 hours.

Gently stir the fermented batter once and add water to thin it down just a little to bring it to a pouring consistency.

Add salt to taste.
Directions to prepare Dosa:
Grease a dosa pan or tawa with few drops of oil. If using a non-stick pan, you do not need any oil.

Heat the pan on a medium flame for about 7-9 minutes and pour a ladle full of batter in the center of the Tawa and swirl quickly to cover the base of the pan.

Drizzle oil and allow to cook on medium-high heat with a cover on top.

Cook until the top appears cooked and sides turn golden.

Flip the dosa when the edges begin to rise from the pan.

Cook on both sides if you desire.

Repeat the procedure with the remaining batter.

Serve them hot with sides such as coconut chutney or Onion Sambar. Good luck!
Notes
Do not Close the IP lid. Use always glass lid when fermenting. This method is best during the winter season. 
Nutrition
Nutrition Facts
How To Make Dosa Batter And Dosa
Amount Per Serving
Calories 80.67
Calories from Fat 1
% Daily Value*
Fat 0.13g0%
Sodium 1mg0%
Carbohydrates 8.33g3%
Protein 4.5g9%
Vitamin C 0.7mg1%
Calcium 10mg1%
Iron 1.26mg7%
* Percent Daily Values are based on a 2000 calorie diet.
Save this for later use