My recipe today is focused on a protein-packed superfood. I am still surprised why this food has never made it to top charts in western cuisine, despite the amount of protein and nutrients it packs in every serving. I have hardly seen a recipe for this outside of India. It's called Green gram dosa or Green Moong dal dosa. It's a fairly common food in India.
It is a small variation of a popular recipe: Pesarattu dosa. Typically the batter for this dosa is made just from moong dal and other spices, but I have added a little rice to make it more crispy and tasty.
In Karnataka state, India this dosa is popular as "Hesarukalu dose". This dosa can be served with any side dish but I like to eat with coconut chutney.
Pesarattu dosa or Green Gram Dosa
Pesarattu Dosa is really a crepe that resembles dosa. It is made from a mixture of green gram (moong dal) and supporting ingredients, but in contrast to a dosa, it doesn't include urad dal. Pesarattu is among the well-liked signatory morning meal recipes of Andhra Pradesh in India. It is normally paired with ginger or tamarind chutney and makes an excellent and nutritious breakfast option.
Although this Green Moong dal dosa is commonly known as Pesarattu, there are slight differences between the two. If you skip the rice and use onions as stuffing inside the dosa, it would be a traditional pesarattu dosa. I skipped the onion part and I added to rice while blending the moong dal to bring more solidity to the batter. This makes the batter a little smoother and easier to cook evenly.
Tips to make green gram dosa
Even though the procedure for green gram dosa is very simple, here are some tips and suggestions to make it one of your best dosas yet...
Add ½ cup of idli rice with moong dal and then ground together. Rice helps to give a nice texture to

moong dal dosa

. You could also add rice flour instead of rice.

Sprouted moong beans can be used instead of the soaked variety to make it healthier and nutritious. Yellow moong dal also works for this recipe. But the dosa would look like a 'cheela'.

You could add other flours like ragi, wheat, or chickpea instead of rice.

Fried or raw onions can be used as a stuffing to the dosa and served with Chutney.

Lastly, I have added green chilies and ginger while grounding the batter. This not only adds extra heat and flavor to a dosa but also helps in digestion.
With hardly any prep work involved, this vegan and gluten-free (depending on what flour you add) would be one protein-rich breakfast option. There is no need for fermenting for the batter either. Just grind the soaked green gram with chili, ginger together and your batter is ready!
If this recipe interests you, look for similar recipes in my blog such as the neer dosa or the wheat dosa, Moong dal oats dosa.
here are also several variations of chutney you can try with your favorite dosa such as coconut chutney, or bell pepper chutney. Try them all! Happy Cooking!
Here are the recipe details….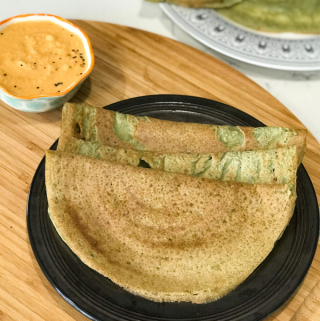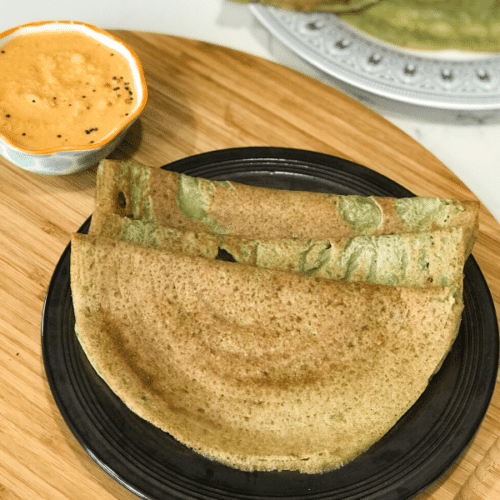 Green Gram Dosa - Hesaru Kalu Dosa
Green Gram Dosa is a small variation of a popular recipe: Pesarattu dosa. Typically the batter for this dosa is made just from moong dal and other spices, but I have added a little rice to make it more crispy and tasty.
Ingredients
2

cups

Green Gram/ Moong dal

½

cup

Long grain rice or idli rice

1

inch

ginger

2 -3

green chilies

Salt
Instructions
Soak raw moong dal and rice in water for 6- 8 hours, in a large bowl.

Blend the moong dal, rice with chopped ginger and green chili with sufficient water, and bring it to a fine consistency. Too much water will dilute the taste.

Add salt to taste.

Place a cast-iron skillet over medium heat. When it's hot, pour a teaspoon of oil and let it heat up a little before spreading it thinly over the skillet.

Spread the batter and cover the lid for a few seconds.

When the dosa turns crispy and cooked on the top, remove from the Tawa and fold.

Green Gram Dosa is ready! Enjoy with coconut chutney and sambar.
Notes
The nutrition values I show here are my best estimates. Please be sure to check your preferred nutrition calculator, if you are relying on accurate calculations in your diet.
YOUR OWN NOTES
Nutrition
Serving:
2
Dosa
|
Calories:
147
kcal
|
Carbohydrates:
8
g
|
Protein:
3
g
|
Fat:
2
g
|
Saturated Fat:
1
g
|
Sodium:
1
mg
|
Sugar:
1
g
Nutritional information is an estimation only.
For more delicious vegan recipes such as this sent directly to your inbox, just subscribe to my newsletter. You will also get a copy of my e-book where I have put together some simple vegan dessert recipes and dessert essentials. My readers have found it very helpful and I am hoping you will too!
Pin this recipe for later use