With the school season in full swing now, I think it is time to share an Instant Pot classic recipe that seems to be an all-time kid favorite ...Mac and Cheese!
I am going to prepare this dish with the Instant Pot and as usual with vegan ingredients. True to its simple nature, this Vegan Mac and Cheese made from scratch with simple ingredients that are easily available. 
My kids always prefer to eat mac and cheese any day and any time if there were a choice among pasta dishes. So I have prepared this recipe several times, but it never occurred to me that I should share it until now. And also I got a few requests from readers about preparing it with Instant Pot.
Since I use the Instant Pot for almost all dishes nowadays, I thought I would give Mac and Cheese a shot too. To my surprise, it turned out amazing with even less work compared to the original version.
But it is not without its challenges...getting the right consistency with vegan ingredients and with the Instant Pot is a little tricky. But I have listed the steps here and I hope it is a breeze for you and you will enjoy the recipe and share your success.
Instant Pot
It's super easy to make vegan mac and cheese in instant pot. First, you have to cook the pasta with water and salt for half of the time mentioned in the pasta box.
When pasta is ready, you just add the prepared plant-based vegan sauce to it. Sometimes, I add a little water or milk and cook with the 'saute' setting. Then stir it for about 40 seconds to a minute. That is all it takes to prepare delicious and sumptuous Vegan Mac and Cheese!
Stovetop version
The stovetop version isn't much different because it is the sauce that brings the real creaminess to it. Bring a large pot of salted water to boil and cook the pasta as per directions on the package. As the pasta cooks, blend the ingredients for the sauce: Soaked cashews, 1 cup water, steamed carrot or raw, lemon juice, nutritional yeast, turmeric, garlic powder, and salt. Blend to a smooth consistency and mix in with the cooked pasta. Stir well and serve with steamed broccoli as a topping! Simple as that...

Tips and variations
Soak the cashews for 30 minutes in hot water to get a creamy texture.

Skip the carrots if you are not a fan of them! I added them to the nutrition they bring.

Add mustard powder to the sauce mix, if that appeals to you. My family members do not have a liking towards mustard. So, I skipped it...

If you prefer more liquidy sauce, add more almond milk or any plant-based milk.
If you like Pasta recipes try my other related recipes.
Here are the recipe details….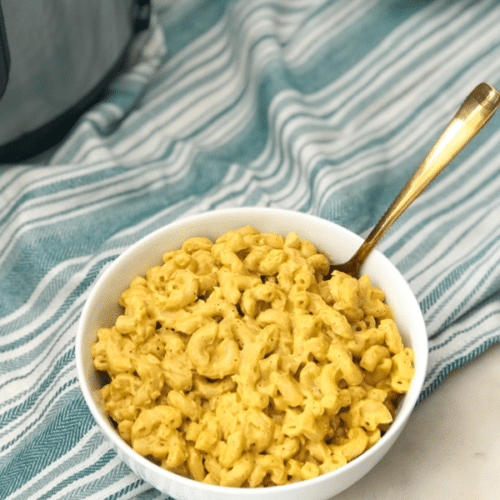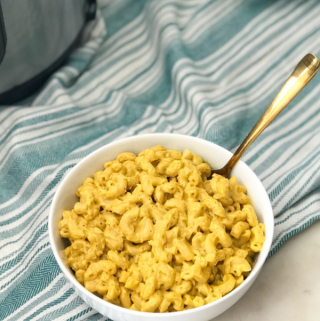 Instant Pot Vegan Mac and Cheese
This vegan mac and cheese are creamy and delicious. This homemade Instant Pot mac and cheese made with soaked cashews and nutritional yeast sauce.
Instructions
Soak cashews in hot water for about 15 minutes.

Place the uncooked macaroni in the inner pot with water and salt.

Place the lid on the pot and set it to 'sealing'.

Cook on manual function, high pressure for 5 minutes followed by a quick release.

While the pasta cooks, add the soaked cashews, 1 cup water, steamed or raw carrots, lemon juice, nutritional yeast, turmeric, garlic powder, and salt to a high powered blender and blend to a smooth consistency.

Add the vegan butter and the prepared sauce and stir well with cooked pasta.

Add a little more almond milk and stir well if you do not get the right consistency the first time.

Stir well until it is smooth and creamy. Season as necessary to taste.

Vegan Mac and Cheese is ready! Serve them warm and enjoy with your little ones!
YOUR OWN NOTES
Nutrition
Calories:
429
kcal
|
Carbohydrates:
65
g
|
Protein:
16
g
|
Fat:
12
g
|
Saturated Fat:
2
g
|
Sodium:
22
mg
|
Potassium:
384
mg
|
Fiber:
4
g
|
Sugar:
3
g
|
Vitamin A:
152
IU
|
Vitamin C:
1
mg
|
Calcium:
24
mg
|
Iron:
3
mg
If you have time comment below and rate the recipe in the comment box below.  Follow me on social media's Facebook, Instagram, and Pinterest. 
For more delicious vegan recipes such as this sent directly to your inbox, just subscribe to my newsletter. You will also get a copy of my e-book where I have put together some simple vegan dessert recipes and dessert essentials.
Pin this recipe for later use