It is back to basics today as I share time tested Indian recipe for Spinach Dal a.k.a Dal Palak in Indian cuisine. This is one good option for combining the goodness from lentils like Moong or Masoor dal and the vegetables of your choice.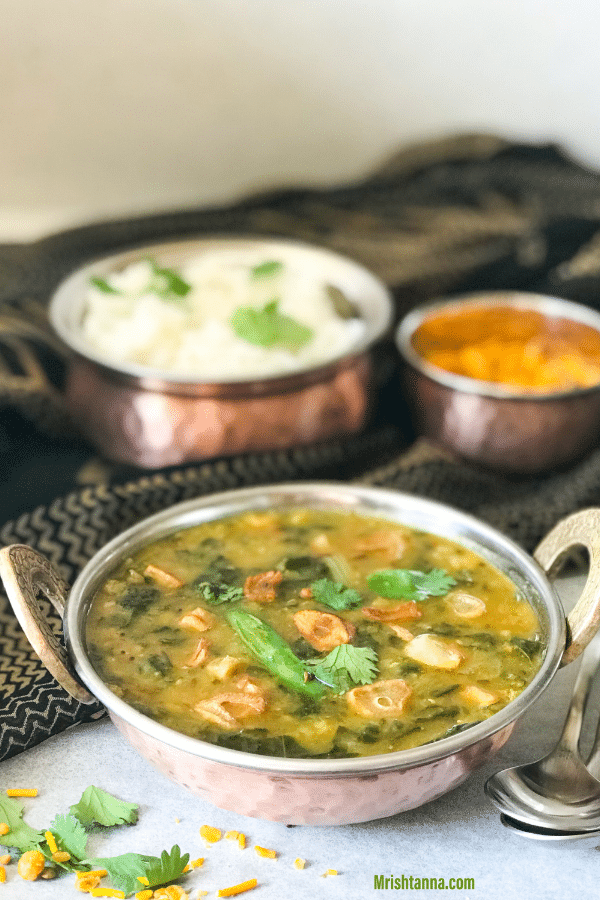 Jump to:
Preparing with spinach is by far the most common way, but red chards, beet leaves, methi leaves are also very good options.
This would be one of the easiest and one of the nutritious recipes you can find online and I am sharing the procedure to prepare this with the Instant Pot to make it even easier! As simple as Spinach Dal is, it is one of my family's favorite options as a pairing for Chapathi or Naan. It is also a good option to go with steamed rice or quinoa and a side of sauteed vegetables.
How to cook in an instant pot?
Even before I purchased the wonder gadget, the Instant Pot, I had never cooked on the stovetop. I had always used a pressure cooker. But even that seems like a lot of work when you consider the fact that you could saute, fry and pressure-cook the ingredients with the same pot. For the detailed recipe check out the recipe box below.
What is Dal Palak?
Dal palak is nothing but lentils cooked with spinach & tempered with basic Indian spices. If a dish has been around for several decades like Dal has, you know if has to be good! With a full serving of proteins and fibers (from vegetables), this recipe comes close to a balanced meal by just pairing it with rice or rotis. You will notice that you would not feel hungry for an extended period after a meal like this.
without garlic and onion
There is a common misconception that if you are allergic to garlic and onion or if you are observing fasting, Dal is not a good option. If you are avoiding onions or garlic for any reason, you can just skip the onion and garlic part in the procedure. As long as you add the basic tadka or temper it with cumin and mustard seeds, the Dal palak can still be delicious...
Lentils that can be used
For Dal Palak recipe, you can use Moong Dal (Split Green Gram) or Tuvar dal or Toor dal (split red gram) or Masoor dal ( split red lentil). I have used masoor dal in this recipe just because it is lighter and a lot easier to cook. But I have shared recipes where I used a combination of all three types. If you are using any lentil other than Masoor dal, be sure to increase the cooking time on the Instant Pot.
Spinach dal on the stovetop
Even if you don't have an Instant pot or electric pressure cooker, you can prepare this spinach dal on a stove top or in a pressure cooker too. Check out the recipe for Spinach Dal for more details. I had used a regular pressure cooker to cook the dal and stove top for the rest of the cooking. If you do not have a pressure cooker, you can cook the lentils over stove top too. Just be sure that the lentils are soft to the core before adding them to the dish.
Tips
Rinse the masoor dal before cooking

Use baby spinach or chopped spinach for dal

Saute onions and spices before adding spinach and lentils

Add tempering or tadka at the end for an authentic Indian flavor.

Adding Sauteed or fried garlic gives extra flavor to the dal.

You can double the size of dal and store it in a refrigerator for up to 5 days if you intend to prepare the dish again.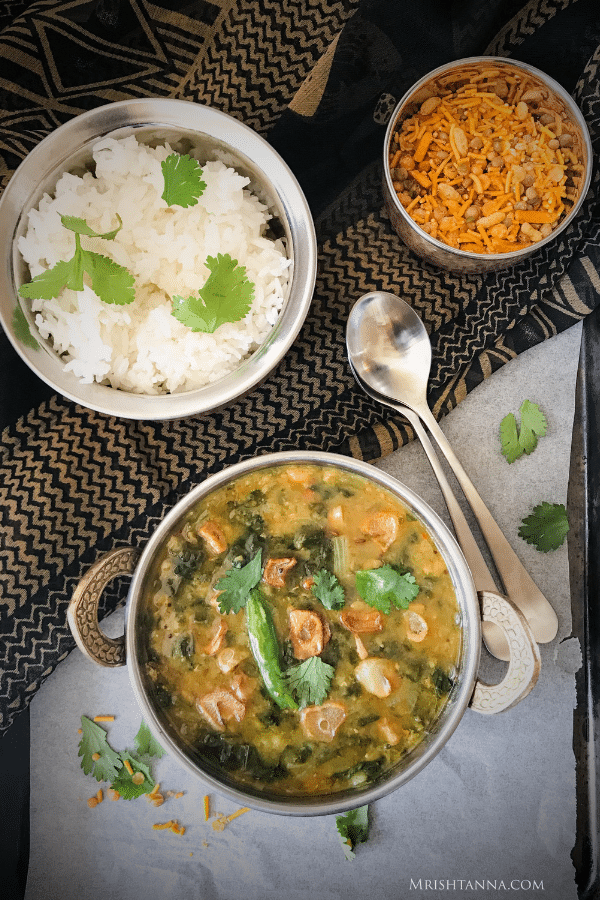 Check out my other recipes
For more delicious vegan recipes such as this sent directly to your inbox, just subscribe to my newsletter.
If you have time comment below and rate the recipe in the comment box below.  Follow me on social media's Facebook, Instagram, and Pinterest. 
📖 Recipe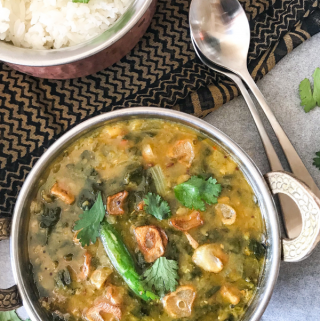 Dal Palak - Instant Pot Spinach Dal
Dal Palak is one of the easiest and one of the nutritious recipes you can find online and I am sharing the procedure to prepare this with the Instant Pot to make it even easier!
Instructions
Wash and chop the spinach leaves and place them aside.

Rinse the lentils in clean water and place it aside.

Add 2 tsp oil to inner pot in Instant Pot and tap on 'saute' mode.

As the oil heats up, add 1 tsp mustard seeds, ½ tsp cumin seeds, and 2 cloves. Saute for about 20 seconds.

Add sliced garlic and fry them until they turn golden.

Add ginger, green chilies and saute for another 20 sec.

Add chopped onions and fry them until they turn translucent.

Add chili powder and turmeric, coriander powder and continue to saute for 30 seconds.

Add the chopped spinach, salt, and rinsed masoor dal. Mix well.

Add 3 cups of water and close the lid of the instant pot.

Turn the steam release handle to sealing position and tap "manual" and set the time for 4 minutes.

When the time is up, open the lid using "natural release".

Garnish with chopped cilantro and your Spinach Dal is ready for the table!

Serve it hot paired with a cup of steamed rice or chapati!
Nutrition
Calories:
54
kcal
|
Carbohydrates:
7
g
|
Protein:
1
g
|
Fat:
2
g
|
Saturated Fat:
1
g
|
Sodium:
105
mg
|
Potassium:
33
mg
|
Fiber:
2
g
|
Sugar:
2
g
|
Vitamin A:
65
IU
|
Vitamin C:
5.4
mg
|
Calcium:
11
mg
|
Iron:
0.4
mg
Pin this recipe for later use