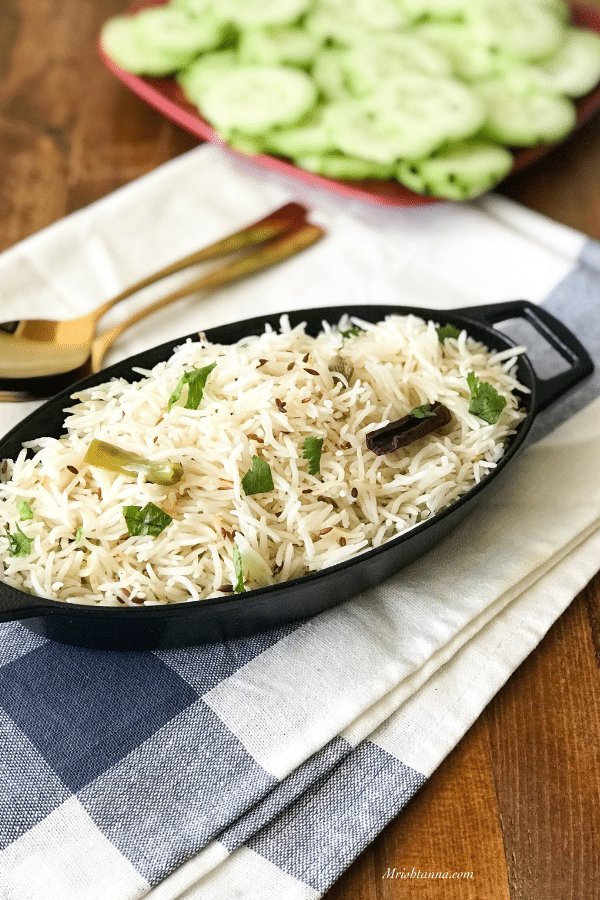 Think simple and think sumptuous and today's recipe that I am sharing for Instant Pot jeera rice is just that! It is by far one of the easy and flavorful rice dishes you will prepare.
Jeera rice or cumin rice is one of the oldest recipes for flavored Indian rice. It is nothing but fluffy rice steam cooked with cumin and other spices. I prepared this with Basmati rice in an instant pot pressure cooker. As simple as it sounds, the dish is complete only when you find the right complement to pair it with.
If cooking rice in Instant Pot is overwhelming for you, you are not alone. I still get a lot of questions from my readers about the finer details of cooking rice in an instant pot.
If this is still overwhelming, I am sharing other ways to prepare Jeera rice with a traditional rice cooker. The procedure is largely the same except for a few sequences of steps. But the end result is what you are after and that is the restaurant-quality fluffy rice with every rice grain in perfect texture and packed with cumin flavor.
How to make jeera rice - 3 ways
With the Instant Pot
Cooking with the Instant Pot is so easy that even bachelors like it! It is just like how you would use a traditional steam cooker except for the fact that you have one pot for sauteing and cooking and the procedure is made simple with pre-programmed buttons. If you don't have an Instant pot, just follow the same method that I have detailed below, with a pressure cooker.
Using a stovetop pan or pressure cooker
If you do not have an Instant Pot or a pressure cooker, you can always use any pan over a stovetop to cook rice. First cook plain basmati rice on the stovetop, with just enough water to make them soft but not mushy. Then saute all the spices with oil in a different pan then mix the cooked basmati rice. You could also add more veggies and fried onions for additional flavor.
Using leftover rice
If you have leftover rice, Jeera rice is a wonderful way to perk up the flavor and serve it in a creative way! Just steam the rice for 5-10 minutes and follow the same procedure for sauteing the spices and add them to the rice.
Few tips and suggestions to make cumin rice
First and foremost, the look and appeal for any rice dish start with the kind of rice you use. The best option for this recipe is to use long grain basmati rice. Basmati rice packs in its own natural aroma.
To make more interesting add a few other spices like cardamoms, cloves, bay leaves, and cinnamon sticks. You can even add green chilies if you prefer a spicy note to the dish.
Best side dish
Jeera Rice or Cumin Rice needs an equally aromatic and complementing side dish to make it a sumptuous meal. It is quite common to pair it with mixed vegetable dal as it brings a full serving of vegetables and protein. Apart from any kind of Dal, Jeera rice can also be paired with Indian style pickle or vegan yogurt.
I hope that you will enjoy this dish as much as I and my family did. In my next recipe, I will share the recipe for making your own Dal fry with the Instant Pot. So be sure to come back!
Check out my other Instant Pot rice recipe here
Here are the recipe details….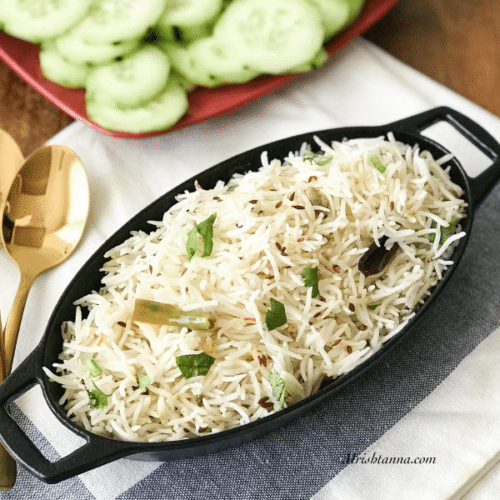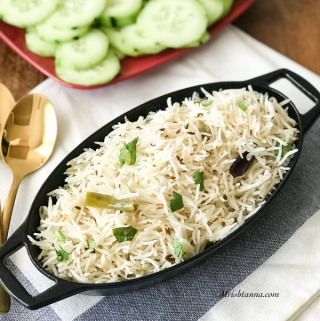 Instant Pot Jeera Rice - Cumin Rice
Jeera rice is one of the oldest recipes for flavored Indian rice. It is nothing but fluffy rice steam cooked with cumin and other spices.
Instructions
Wash the basmati rice with clean water to remove all the starch and then soak them in water for 15- 30 mins.

Add vegan butter or oil to inner pot in Instant Pot and press the 'sauté' setting.

As the oil heats up, add cumin seeds, cloves, cardamom, and bay leaf. Saute for 30 seconds.

Now add green chilies, cinnamon stick and continue to stir for at least another 10-15 seconds.

Add the soaked and drained basmati rice along with salt and mix them well.

Add 2 ¼ cups water and give it a good stir one last time.

Close the lid of the instant pot and turn the steam release handle to "sealing" position.

Select the pressure cooking option high pressure and set the timer for 4 minutes.

When time is up, open the lid using natural release.

That's it! Instant Pot jeera rice is ready! Serve it hot with a side of dal or Indian curries.
Nutrition
Calories:
226
kcal
|
Carbohydrates:
44
g
|
Protein:
5
g
|
Fat:
1
g
|
Saturated Fat:
1
g
|
Sodium:
93
mg
|
Potassium:
40
mg
|
Fiber:
2
g
|
Sugar:
1
g
|
Vitamin A:
16
IU
|
Vitamin C:
4
mg
|
Calcium:
23
mg
|
Iron:
1
mg
Save this recipe for later use
If this recipe interests you, please comment and rate my recipe below in the comment box. For more delicious vegan recipes such as this sent directly to your inbox, just subscribe to my newsletter. You will also get a copy of my e-book where I have put together some simple vegan dessert recipes and dessert essentials. My readers have found it very helpful and I am hoping you will too!