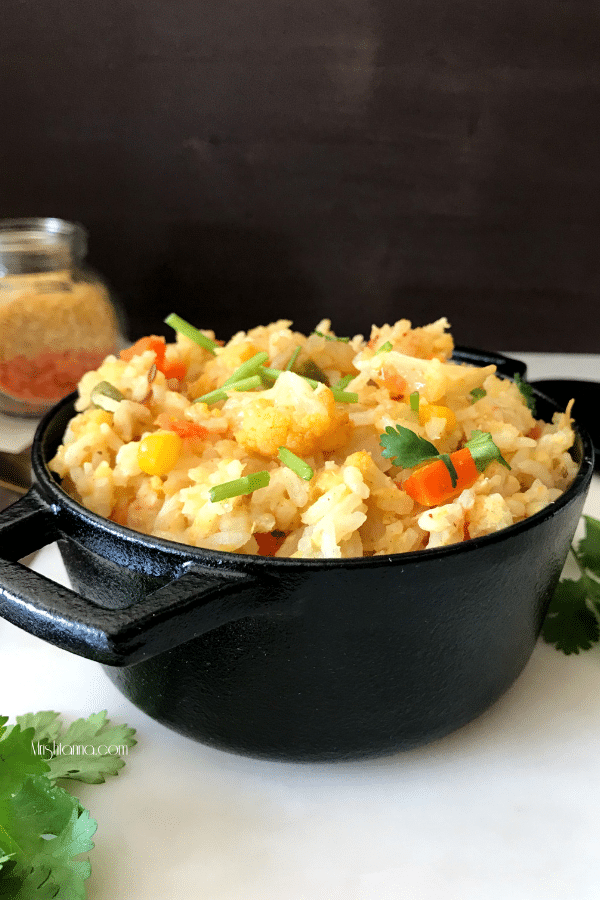 Today, I am sharing a recipe for a spicy concoction in Indian style. Learn how to make Masala Khichdi using an Instant Pot with the help of short video and detailed step by step directions. This nutritious one-pot dish is a combination of rice and lentils, vegetables, and some powerful spices.
I realize that vegetable is a fairly generic term, but that is the beauty of it! You can add all kinds of veggies based on your or your family's preference. I try and mix up the veggies to get a colorful Khichdi that will kindle any appetite.
Jump to:
Pressure cooker vs Instant Pot
Boiling the rice and veggies separately can be challenging sometimes. Which is why I used the Instant Pot. Preparing the Khichdi using the Instant Pot instead of the traditional pressure cooker method is a game changer. After you notice how easy and clutter-free it can be, you will not try it any other way...
Health Benefits
Khichdi is a healthy and nutritious option that is packed with protein and a host of nutrients. You can prepare it with or without the spices and either way, it is one easy to digest vegan, gluten-free, soy-free, nut-free recipe that fits well for any age group.
When I mention vegan, the question I am often asked is if it is possible to make Khichdi without clarified butter a.k.a ghee?
The answer is yes! Without any compromise in taste, Masala Khichdi can be prepared with plant-based oils. If you have not tried it that way, just follow my step by step directions and you will not be disappointed.
Types of Rice and lentils
To make Khichdi, short-grain rice is the best bet. However, I have used Jasmine rice for this recipe, because it cooks easily and blends with the flavors better than most rice varieties and brings the right consistency. You could also try this with brown rice. But be sure to adjust the cooking time accordingly.
My favorite lentil for this recipe is Moong Dal. Plain rice and moong dal khichdi are best for babies. You can see the recipe for that in veg recipes of India. But I have used masoor and Toor Dal (Split Red Gram) in the past too. Regardless of which one you choose, the protein per serving is still pretty high. Masoor Dal (Split Red Lentil) adds a bright color to the dish and hence ends up being the most common choice.
The right consistency
The best and authentic khichdi recipe calls a mushy and soft texture. But it really comes down to your preference. Like I mentioned before, using Jasmine rice helps in getting the consistency that I am going for. If you are not using an Instant Pot, be sure to separate the boiled veggies from the water before you mix them.
Khichdi in different languages
Here's a fun fact...this popular one-pot meal is called by different names and with slight variations. Although Khichdi is the most common, it is also called as khichuri. In the southern parts of India, it is known as Pongal. The British call it Kedgeree.
If this recipe piques your interest, look for similar recipes in my blog such as the Cracked Wheat Khichdi. For more delicious vegan recipes such as this sent directly to your inbox, just subscribe to my newsletter. You will also get a copy of my e-book where I have put together some simple vegan dessert recipes and dessert essentials. My readers have found it very helpful and I am hoping you will too!
Here are the recipe details.
📖 Recipe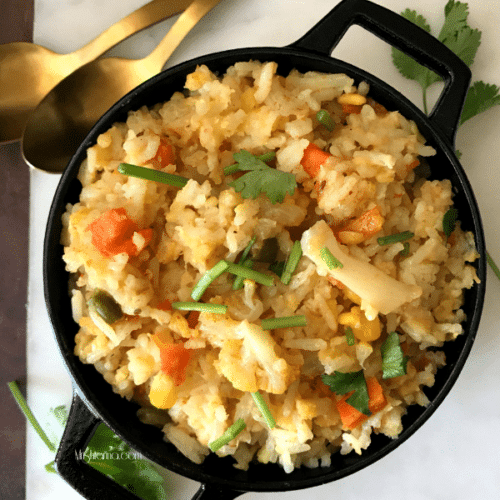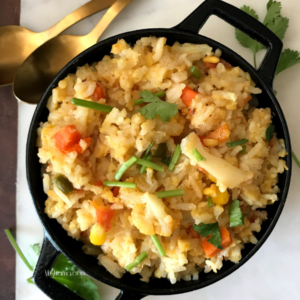 Masala Khichdi - Instant Pot
Learn how to make Masala Khichdi using an Instant Pot with the help of short video and detailed step by step directions. This nutritious one-pot dish is a combination of rice and lentils, vegetables and some powerful spices.
Instructions
Add oil to inner pot in Instant Pot and press the saute setting.

Follow up by adding onions, grated ginger, and green chilies. Stir constantly for a minute.

Add tomatoes and continue to stir for at least a minute.

Add all the spices and stir continuously for 1-2 minutes.

Now add all veggies and salt and continue to mix them well to get an even coat of spices on the veggies.

Add rinsed rice, lentils, (moong dal & masoor dal ) and water. Give it a good stir one last time.

Close the lid of the instant pot and turn the steam release handle to the sealing position. Select the pressure cooking option and set the time for 7 minutes.

When time is up open the lid using natural release.

Instant Pot Masala Khichdi is ready! Mix and serve hot with your favorite chips or Indian pickles!
Nutrition
Calories:
297
kcal
|
Carbohydrates:
50
g
|
Protein:
7
g
|
Fat:
8
g
|
Saturated Fat:
6
g
|
Sodium:
104
mg
|
Potassium:
130
mg
|
Fiber:
3
g
|
Sugar:
1
g
|
Vitamin A:
125
IU
|
Vitamin C:
9
mg
|
Calcium:
33
mg
|
Iron:
1
mg
Save this recipe for later use