Make Your Own Vegan Butter or Homemade Dairy-Free Butter In 10 minutes flat 🙂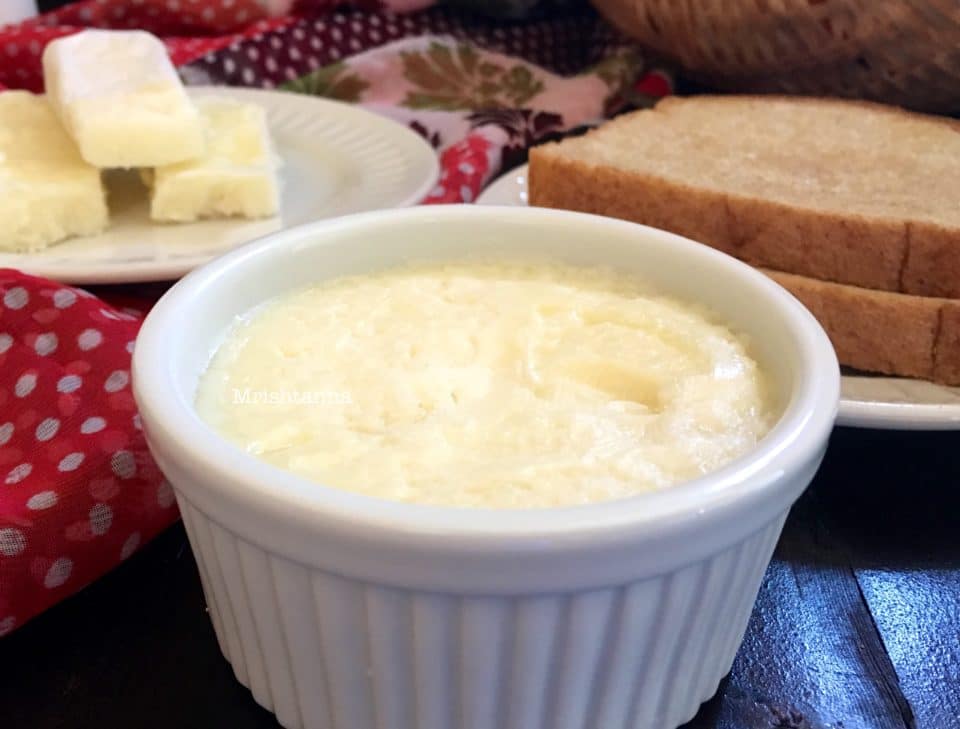 How to make your own vegan butter- I know it sounds next to impossible, but you can make your own butter with less than 10 minutes of preparation. All the while feeling good about the fact that your food is free of cholesterol and cruelty to animals. Vegan butter is a super healthy alternative for all your desserts and pastries. Just imagine the recipes or dishes that you have avoided just because it is too buttery or too unhealthy. Well, the possibilities with your own homemade vegan butter are virtually endless and you do not have to curb your cravings for that special dessert anymore.
Thus far, I have tried several recipes with this and I am yet to be disappointed. Most important of all, it comes in very handy for the breakfast toasts I have to prepare for the kids. The homemade butter applies just as well as the real version. It has a consistency that just melts in your mouth. I have tried the store-bought versions of vegan butter and I would definitely say that my homemade version will stand up to it.
Better yet, the homemade version will be free of Lecithin. So it is again, a healthy alternative.
The basic idea of making homemade vegan butter is not anything new but I have tried this with several alternate ingredients and they work very well. Check out the list of ingredients in my recipe and you will see that I have listed options that I have tried that work. Also, check out my video and share it with your friends and family. Replacing butter with this vegan, homemade butter could be a great gift of health!
This vegan butter is perfect for making homemade vegan naan.
For more recipes please subscribe through email. Thanks for visiting my blog.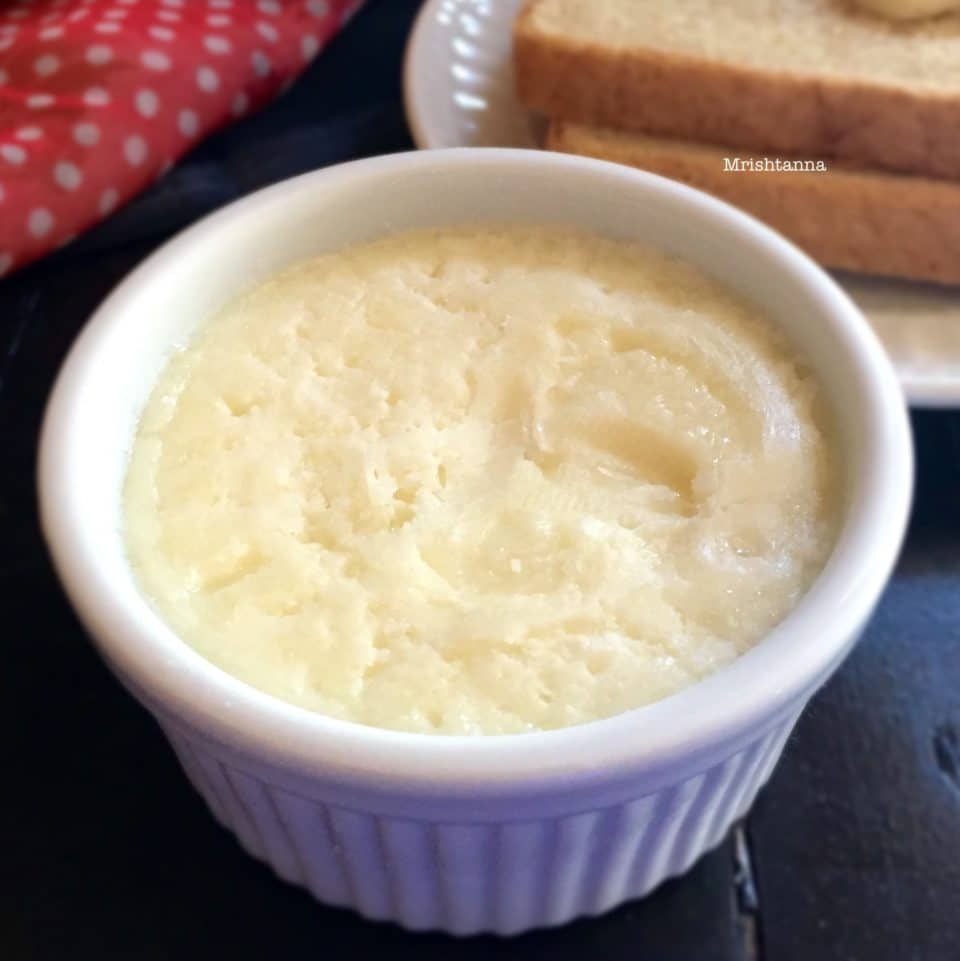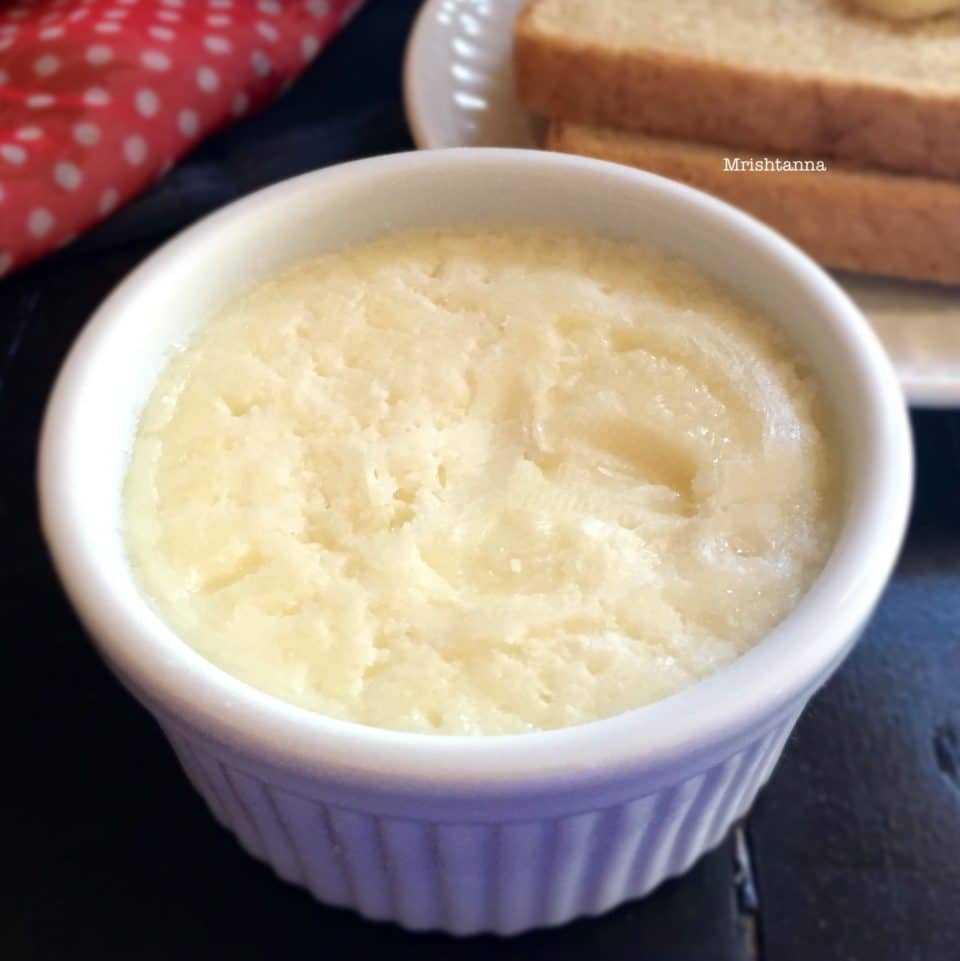 Check out my other recipes
Chocolate Peanut Butter Coconut Cups
If you have time comment below and rate the recipe in the comment box below. Follow me on social media's Facebook, Instagram, and Pinterest.
For more delicious vegan recipes such as this sent directly to your inbox, just subscribe to my newsletter.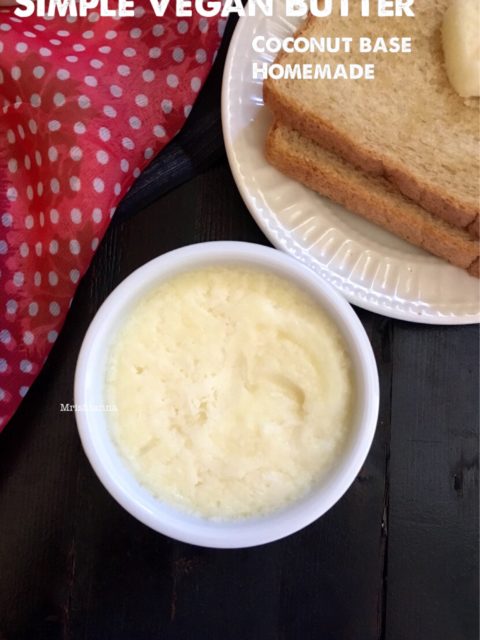 Simple Vegan Butter
Homemade Vegan Butter is easy and perfect for toast or baking recipes.
Ingredients
1

cup

organic refined coconut oil

¼

cup

olive oil

½

cup

plain Soy Milk or Almond Milk

1

teaspoon

cornstarch or Oats flour or Chickpea flour

¼

teaspoon

salt

-

optional
Instructions
If the refined coconut oil is solid (Depending on your weather), melt it in low heat.

Blend all ingredients together in low speed setting for 2 minutes

As the flour binds the oil and milk together, neatly scrape them off the blender with a silicone spatula

Set it in a small pan in the refrigerator and let it solidify.
Video
YOUR OWN NOTES
Nutrition
Calories:
78
kcal
|
Carbohydrates:
2
g
|
Fat:
2
g
|
Saturated Fat:
1
g
|
Sodium:
23
mg
|
Iron:
1
mg
Nutritional information is an estimation only.
Your homemade Simple Vegan butter is ready! Cut them into long sticks or little cubes!