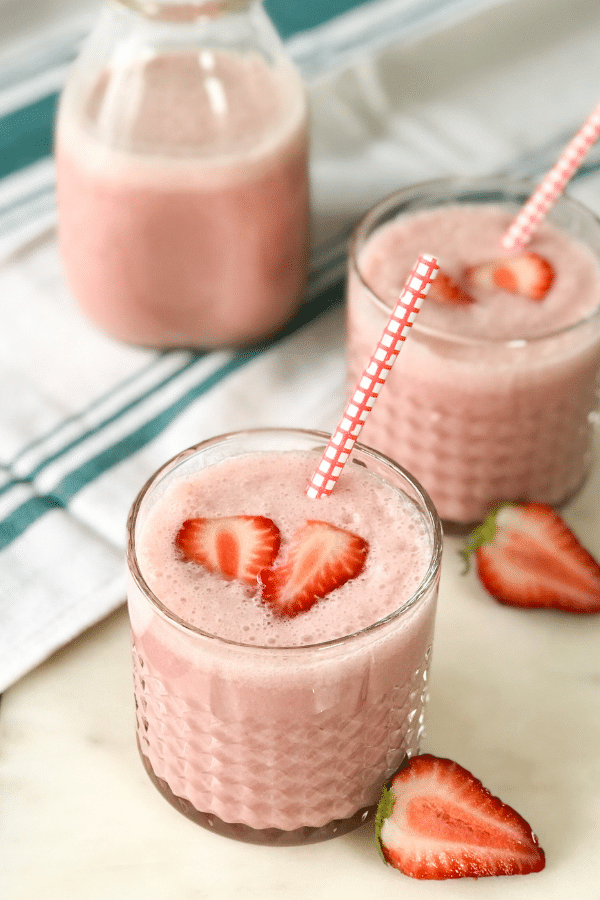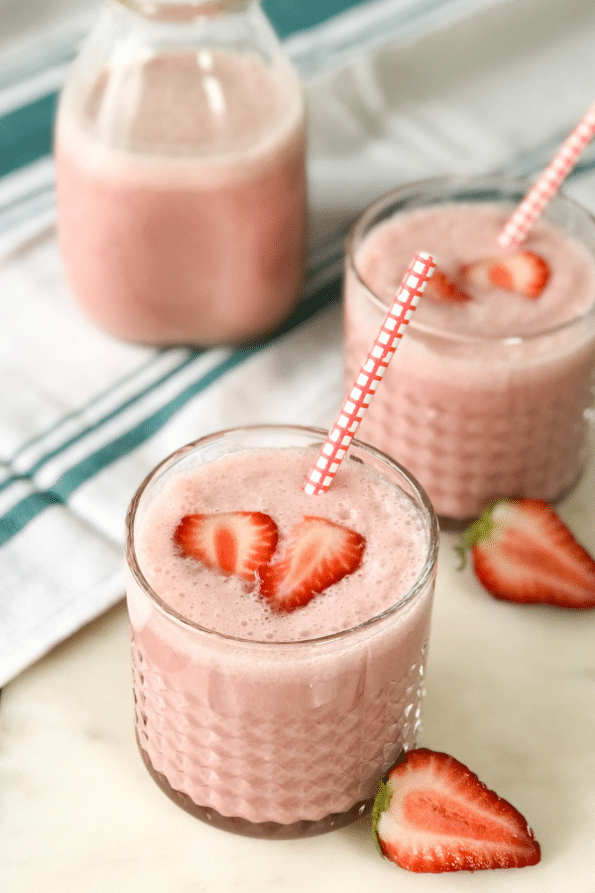 Learn how to make thick and creamy Strawberry Lassi with today's recipe! With real homemade vegan yogurt, plant-based milk, maple syrup and a hint of cardamom, there is no other authentic summer recipe that you can prepare at a moment's notice.
Lassi can be enjoyed as a beverage just by itself or at the end of a sumptuous meal. The most common Lassi recipe in Indian cuisine is either Sweet Lassi or Mango Lassi. The recipe I am sharing is a vegan, gluten-free, refined sugar-free variation with Strawberries.
Why Strawberries?
Spring and Summer are great seasons to enjoy fruits and the time to enjoy strawberries is soon narrowing down by the end of June. With a full serving of vitamin C, strawberries complement the probiotic content in the vegan yogurt to make this Lassi a nutritious one.
What is lassi?
If you are not familiar with the name, Lassi is a popular yogurt-based drink in Indian cuisine. The most basic form of lassi is a blend of yogurt, water, salt, and some aromatic spices. You could add any fruits to that then its called by its names like mango lassi, or strawberry lassi, etc.
How to make strawberry lassi
The directions cannot be any simpler than this. Blend all the ingredients together in a blender or hand mixer until you get a creamy and smooth texture just like a smoothie. If you prefer a thinner consistency, you can add a little water or plant-based milk.
Serve them chilled or add ice cubes for cold lassi. One variation within this recipe that you could try is to add rose syrup instead of cardamom. Needless to say, my kids loved the Lassi and the rose syrup variation.
Tips to make best strawberry lassi
Always use fresh yogurt. I used homemade vegan yogurt.

Although fresh strawberries are preferred, frozen berries are fine too.

Any kind of plant-based milk is acceptable. I used almond milk for this recipe.

Use maple sugar or agave syrup as a sweetener.

Enjoy them fresh although they store in the refrigerator for up to two days.
Try this nutritious and probiotic drink this summer, for any party or around your family for wholesome entertainment. If this recipe interests you, please rate and comment below.
Here are the recipe details….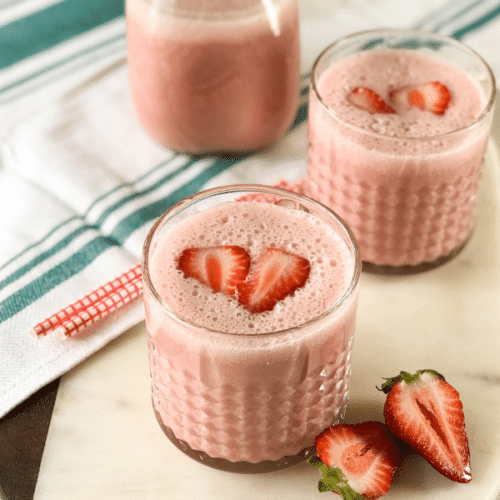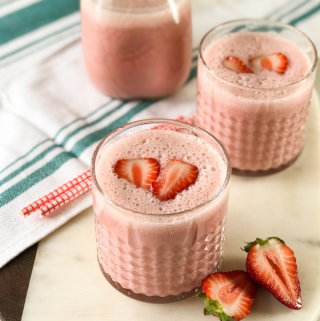 Strawberry Lassi(Vegan)
Strawberry Lassi can be enjoyed as a beverage just by itself or at the end of a sumptuous meal.
Instructions
Add all the ingredients to the blender and blend in to smooth.

If required, add little more almond milk or cold water to make it thinner.

Garnish with fresh sliced strawberries.
Notes
I used homemade coconut milk yogurt. You can use any kind of vegan yogurt of your choice.
Adjust the quantity of maple syrup, if you prefer to choose the rose syrup.
YOUR OWN NOTES
Nutrition
Calories:
90
kcal
|
Carbohydrates:
11
g
|
Protein:
1
g
|
Fat:
3
g
|
Sodium:
109
mg
|
Potassium:
21
mg
|
Fiber:
1
g
|
Sugar:
6
g
|
Calcium:
110
mg
For more delicious vegan recipes such as this sent directly to your inbox, just subscribe to my newsletter. You will also get a copy of my e-book where I have put together some simple vegan dessert recipes and dessert essentials. My readers have found it very helpful and I am hoping you will too!
Save this recipe for later use