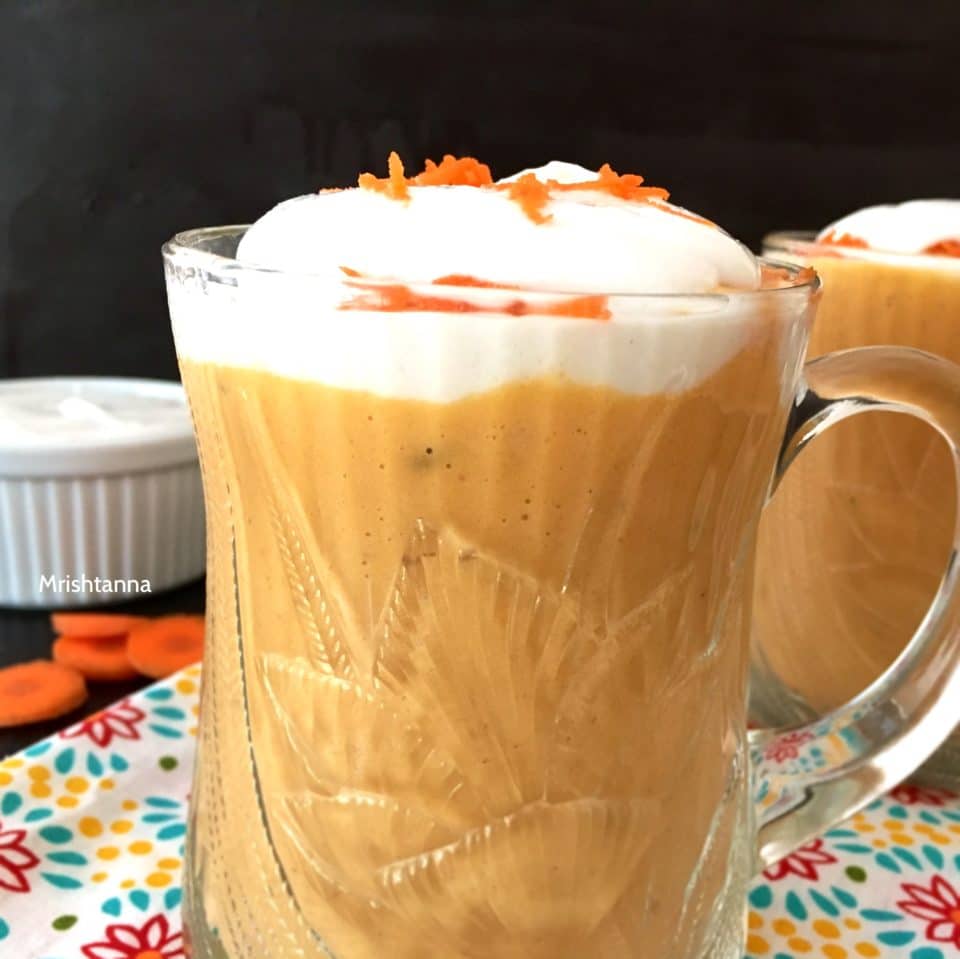 Sweet, cool, and refreshing milkshakes represents the best recipes that let us enjoy summer. Today, I plan to share the recipe for a milkshake with a not so common ingredient...Carrots! Not just that, it is a milkshake that is NOT loaded with sugar or dairy ingredients! Don't you think that's incredible?!
I am excited to share this with you today. I cannot wait to hear from you about this and how much you like it.
You can hardly find milkshakes that come in flavors other than vanilla, chocolate, or strawberry. So I came up with the idea of using carrots. I don't think I have to go at length about the goodness of carrots. A recipe such as this is an easy way to add a serving of this super veggie to your diet.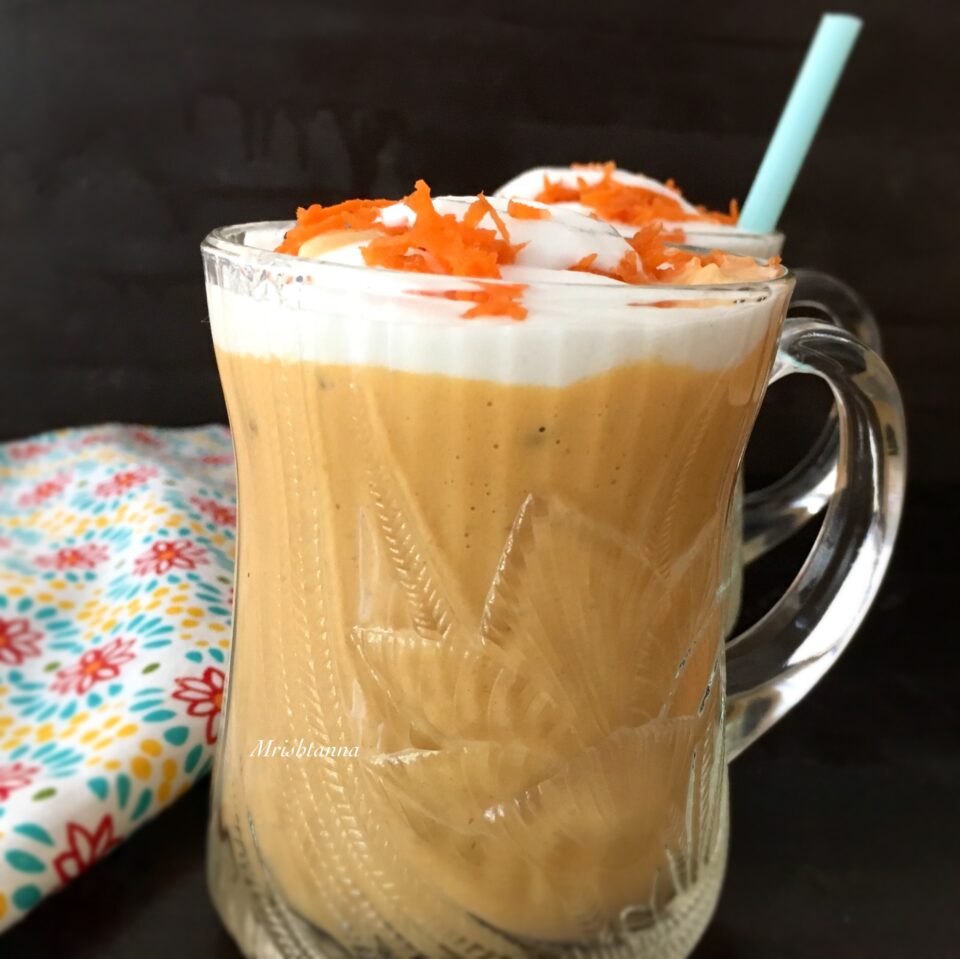 Carrot Milkshake - Vegan
Vegan Carrot Milkshake is very easy to prepare and relatively quick recipe if you have all the ingredients prepped. I steamed the carrots to soften them, but you can also use them raw if you prefer so. Next, I substituted the sugar with pitted dates and used non-dairy milk. I used soy milk, but there are several options for non-dairy milk.
So, you can go with your favorite. With these wonderful and healthy substitutions, you can enjoy your milkshake without any guilt! Last but not least, I made my own vegan whipped cream to top the milkshake. The vegan whipped cream procedure can be a little lengthy. But long story short it is a mix of coconut cream and a little powdered sugar. If you want to keep your milkshake completely free of table sugar, you can leave that out.
Check out my video for step by step procedure. If you like it please leave a comment here or on my Facebook page. If you prefer getting my recipes directly in your inbox, just hit the subscribe button at the right.
Here's the recipe...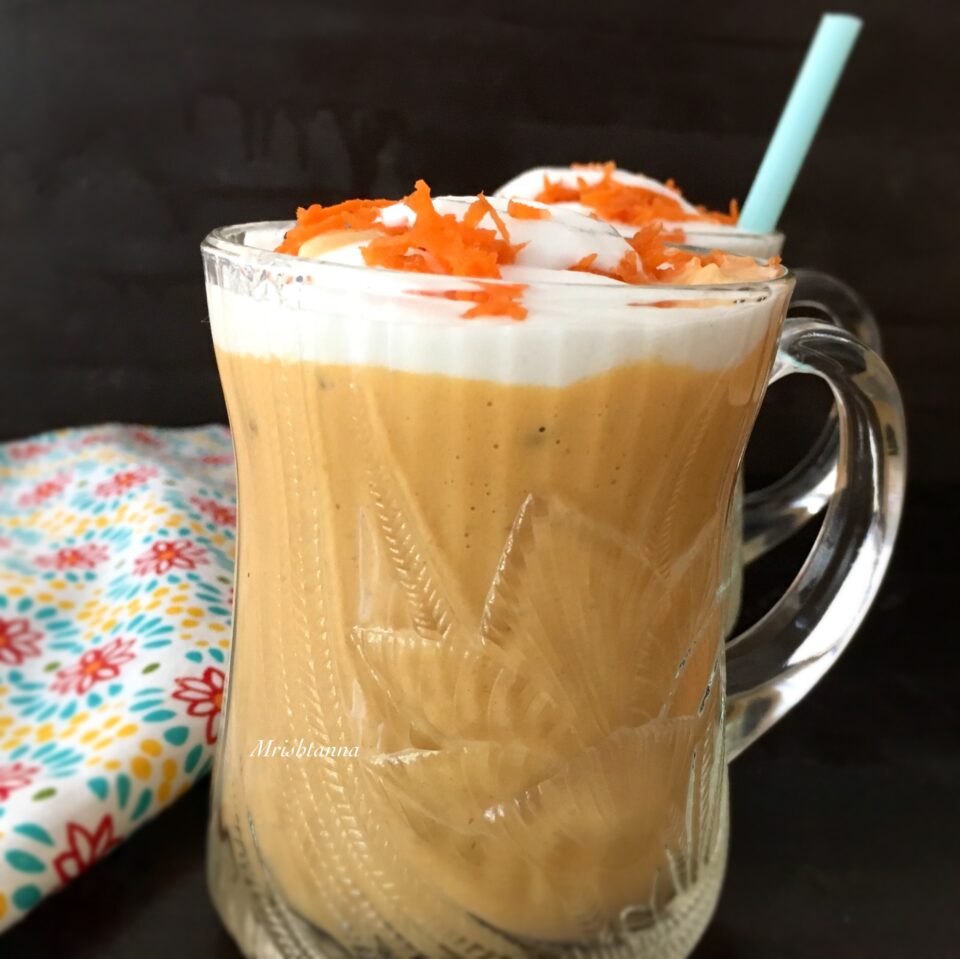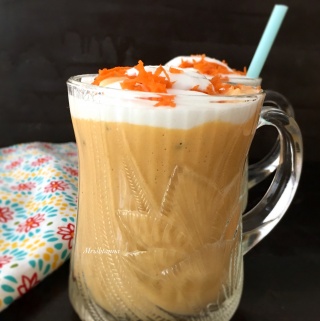 Carrot Milkshake - Vegan + Video
Sweet, cool and refreshing milkshakes represents the best recipes that let us enjoy summer.
Ingredients
6-7

medium sized carrots

¼

cup

soaked cashews

10-12

pitted Dates

1 ½

cup

plant based milk

¼

tsp

crushed cardamom

-

optional

¼

cup

crushed ice

1

cup

filtered water

3

tbsp

whipped Cream

-

optional
Instructions
Soak the cashews for an hour.

Steam the carrots and let them cool to room temperature. (optional)

Blend all the ingredients to a consistency of a smoothie.

Garnish with crushed cardamom and whipped cream.
Video
Nutrition
Calories:
86
kcal
|
Carbohydrates:
3
g
|
Protein:
2
g
|
Fat:
1
g
|
Saturated Fat:
1
g
|
Cholesterol:
3
mg
|
Sodium:
4
mg
|
Sugar:
1
g
|
Vitamin A:
23
IU
|
Calcium:
3
mg
Pin this recipe