Learn how to make soft brown rice idli batter and idli. This idly is fermented and steamed in Instant Pot(pressure cooker)
Today I am going to share a variation of the south Indian Idli that I shared in March. The feedback on the Idli recipe was enormous and several readers asked if it is possible to cook this with brown rice and if there is an easy way to prepare these breakfast treats. So here it is...Brown Rice Idli!
Just like my older post for Idli, I have shared the Instant Pot version to prepare the batter as well as to steam boil them. Although there a little bit of planning and preparation that go with preparing Idlis, it is always worth the wait and effort. Now that we know it is possible to prepare this champion breakfast option with brown rice, it gives me great pleasure in sharing it.
Apart from using brown rice, the other variation is that I have shared a new way to prepare them without Idli molds! That's right...a lot of my readers expressed regret not having the molds that I show in pictures. But that is ok now….keep reading here and I show you all the details for the perfect Brown Rice Idli you can prepare right away!
Jump to:
Instant Pot Brown Rice Idli
A common question I get is why I chose to use Instant pot for fermenting batter? I have typically found it difficult to get an evenly fermented batter for dosa or idli. It is usually because of unstable ambient temperatures. So, I tried it with the Instant Pot and got these amazing results. But be sure to try it with a small batch first. Once you have the fermented batter, steaming them is really easy and quick.
Getting on with the actual procedure, first, you have to soak the ingredients for 5 hours then blend them separately. Then mix them evenly and ferment the batter using the Instant Pot. For that, you pour the batter inside the instant pot and use 'yogurt' mode for 9 hours. At the end of 9 hours, your batter will be ready! NOTE: Do not seal the Instant pot lid during the fermentation process. Use a lid to cover that lets a little air through.
Once the batter is fermented, steam them using idli molds for 7 - 10 minutes. Your soft and nutritious idli will be ready. Read the detailed procedure in the recipe box below.

Make idli without a pressure cooker
After grinding batter, place the idli batter in a warm place like inside the oven (preheat the oven for 10 min and turn it off) overnight.
Usually, fermented idli batter is steamed in an idli pan in 15- 20 mins. The pan is usually greased lightly before pouring on the batter. Place the Idli mold in a steamer without a pressure seal. The sweating from the steam is enough to cook the Idlis in 15-20 minutes.

Side dishes for idlis
Idli can be served with pudina chutney or tomato chutney. Check my recipes for more details. Pairing Idlis with sambar is another hugely popular style.
Idli Batter Shelf Life
Idli batter has a decent shelf life. It can stay fresh, refrigerated for 2 -4 days. However, let the batter come to room temperature anytime you cook them on the stove or in the Instant Pot.
Recipe FAQs
How to grind the idli batter?
The procedure for making idli batter is as simple as soaking and the ingredients and blending them to a fine consistency. In traditional Indian homes, using a stone grinder is common but any high power blender is just fine as long as the final consistency is smooth and fluffy.
But always remember to grind the ingredients separately. Start with the rice for a coarse consistency, and then urad dal and poha into a smooth consistency. Mix the individual batters evenly and add salt at the end.
Can I make dosa with the same idli batter?
Yes! You can make dosas too! This idli batter is a good fit for soft and tasty dosas. I have tried this with the leftover batter the next day and it was totally delicious. That's a lot of variety with just one batch of batter.
Which rice is good for idli?
I used Kerala Matta rice to get the perfect fluffy texture to the idlis, but you can use any kind of brown rice.
Tips and tricks
First and foremost, you can steam idlis without the molds. Just use paper cups! The Idlis will look like little cups but tastes just the same. You can always cut them into small circular shapes as I have shown in the pictures. This tip applies to regular white idli as well.

I used Kerala Matta rice to get the perfect fluffy texture to the idlis, but you can use any kind of brown rice.

Always grease the molds and paper cups before pouring the idli batter.

To get soft and fluffy idlis, do not overmix the batter for idli.

Adding salt before fermentation will help by not having to mix the batter a whole lot.

Add water to the batter as required. If you are not able to move your spoon around the batter easily, add a little water.

While grinding the batter, add water gradually to avoid getting runny batter.
If you are familiar with recipes with fermented rice batter, check out similar recipes like
If you have time comment below and rate the recipe in the comment box below. Follow me on social media's Facebook, Instagram, and Pinterest.
For more delicious vegan recipes such as this sent directly to your inbox, just subscribe to my newsletter.
📖 Recipe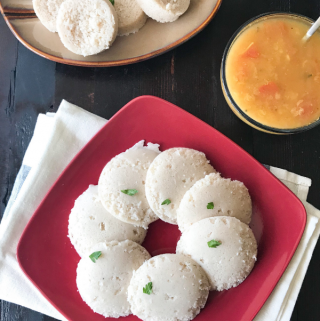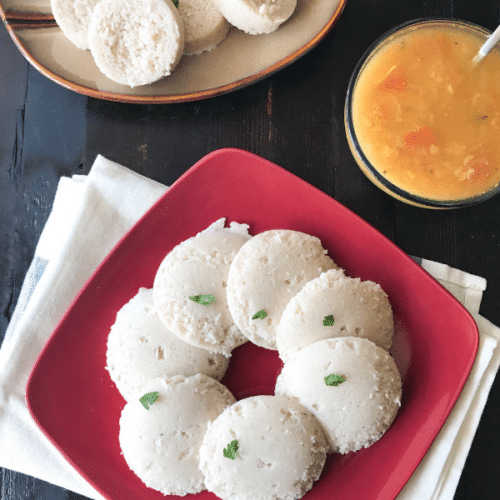 Brown Rice Idli - Instant Pot Soft Brown Rice Idli
Learn to make soft brown rice idli batter and idli. This idly is fermented and steamed in Instant Pot(pressure cooker)
Equipment
Instant Pot (pressure cooker)
Instructions
To make Idli batter:
Wash the dal and rice in clean water, and soak them in separate bowls for 4-6 hours. Soak the Poha for 30 minutes before grinding or blending.

Strain the water and blend the rice, dal, and poha separately adding just a little water.

Mix all the batter and add salt.

Now pour the batter in the inner pot in Instant Pot (Alternatively, you could also place the batter in a warm place in the kitchen)

Press the yogurt setting in Instant Pot and let it sit for about 9 hours.

Idli batter will be fermented and ready for cooking in the molds. Gently stir once.
Directions to prepare Idli
Transfer the fermented batter to a bowl and add water to the cleaner inner pot and turn on the "saute" mode to boil water.

While the water is heating, grease the idli molds with oil. Or if you are using paper cups, grease them with a thin layer of oil.

Add a small amount of batter in each mold and stack them in Instant Pot.

For paper cups: add ¾ cups of batter inside the paper cups then place the batter filled cups in a vessel and place the vessel inside the inner pot.

Close the lid and set the Instant Pot in "steam mode" in "venting" position. The timer function on the instant pot does not work in the venting position. So you have to use a separate timer.

In 5- 8 minutes, (10-12 minutes for paper cups), hot steaming Idlis will be ready.

Repeat steps 2 through 5 for the remaining batter.

Hot Steaming Idlis are ready to be served! Pair them with coconut chutney or sambar for a delectable experience.
Notes
IMPORTANT: Normally it takes anywhere from 9-12 hours for the batter to ferment naturally, in warm temperatures. Use Instant Pot for fermenting batter during the winter or cold weather.
Do not seal the Instant pot during fermentation procedure. Use a plate or a glass top.
YOUR OWN NOTES
Nutrition
Calories:
138
kcal
|
Carbohydrates:
21
g
|
Protein:
5
g
|
Fat:
1
g
Nutritional information is an estimation only.
Save this recipe for later use