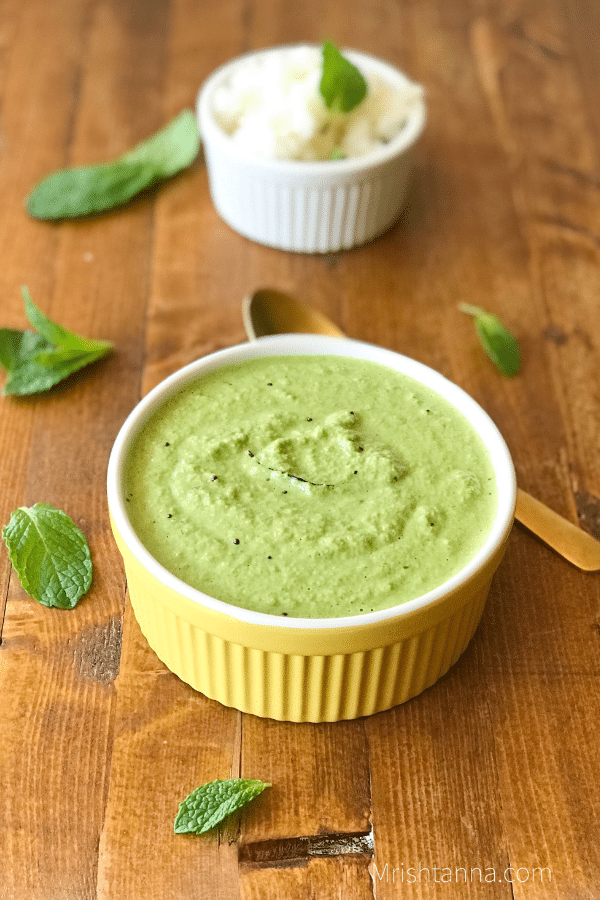 Here's a blueprint recipe for an authentic Indian "chutney" that is popular when you are hosting a social gathering as well as in street food snacks...Mint Chutney! It is hard to imagine Indian street food without a flavorful chutney on the side. Sometimes there is a sweet and tangy sauce and sometimes it is something as flavorful and fresh like Mint Chutney a.k.a Pudina Chutney. So, let us take a look at how to prepare the authentic Indian mint chutney.
Needless to say, it is made from Mint leaves (homegrown), but what is less known is that it also has supporting ingredients like coconut, coriander seeds and chilies that are sauteed together for an explosion of flavor. The recipe I am sharing today is not just for pairing with snacks. It is good for Rice, Dosa or Idlis too. This used to be and still is one of my daughter's favorite chutney recipe.
As I did a little research on Mint Chutney popularity, I discovered a few lingering questions among readers that are quite common. Let us look at some of them...

Is Pudina Or Mint Chutney nutritious?
Yes! Mint is known to soothe upset stomach and aid in digestion. I have at least one planter in my garden for Mint. It is one of the herbs that are easy to grow in any climate and thrives in summer.
Does Pudina chutney need coconut?
The recipe I am sharing today does have coconut unlike what you find in most books or sites. The version without coconut pairs well with snacks and this version pairs well with snacks as well as rice, or Dosas, etc.
Other Chutney Recipes & mint recipes you may like...
Things to look for the best mint chutney recipe
Before preparing this recipe, be sure to wash the leaves thoroughly. Remove any stems or twigs and pat dry with a towel to avoid sputtering when you saute the leaves.

Instead of sauteing the leaves, you could also blend them raw with the other seasonings. Needless to say, the taste will be different and it is best to serve them fresh.

Mint Chutney needs to be refrigerated after the first day. You can store them for up to a week in the refrigerator. If you need it for a longer duration, it is better to store them in the freezer.
The procedure for Mint Chutney is very simple as you can see from the step by step instructions and pictures. Be sure to try this and pair it with Idlis and post your comments below. I  look forward to hearing from you!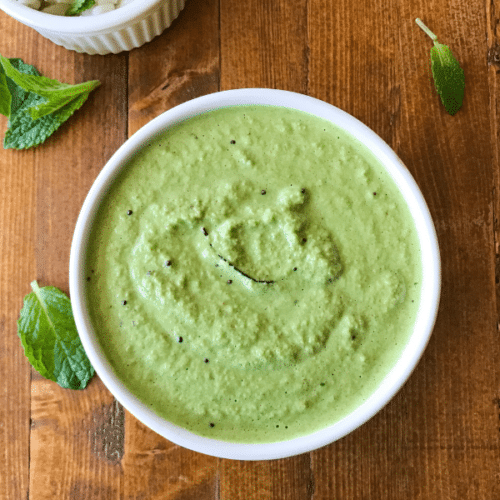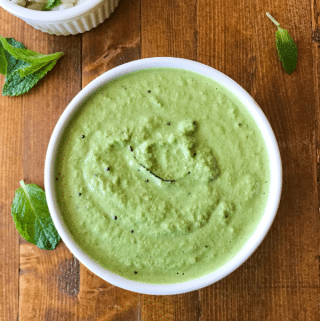 Best Pudina Chutney | Mint Chutney Recipe
Mouthwatering and nutritious Mint chutney is served best with South Indian breakfast and snacks.
Instructions
Place a pan over medium heat and add coconut oil. As the oil heats up, add chana dal and saute for 10-15 seconds.

Now, add coriander seeds and saute for 20 seconds.

Add clean, washed mint leaves and green chilies and fry for about 45 seconds or until you get a nice aroma from the mint leaves.

Switch off the heat and let it cool.

Now, blend the mint mixture with grated coconut, salt and 2 tsp of lemon juice and approximately ½ cup water. Blend into a smooth consistency.

To prepare the tadka or tempering: Place a pan over medium heat add 1 tsp of coconut oil. As it heats up, add ½ tsp mustard seeds, ½ tsp urad dal and 1 red chilli. Fry until they start to sizzle and pour them over the chutney.

Mint Chutney is ready to serve with your favorite meal or snack!
Nutrition
Serving:
1
Tbsp
|
Calories:
38
kcal
If this recipe interests you, please rate and comment below.
 For more delicious vegan recipes such as this sent directly to your inbox, just subscribe to my newsletter. You will also get a copy of my e-book where I have put together some simple vegan dessert recipes and dessert essentials. My readers have found it very helpful and I am hoping you will too!
Pin This recipe for later use