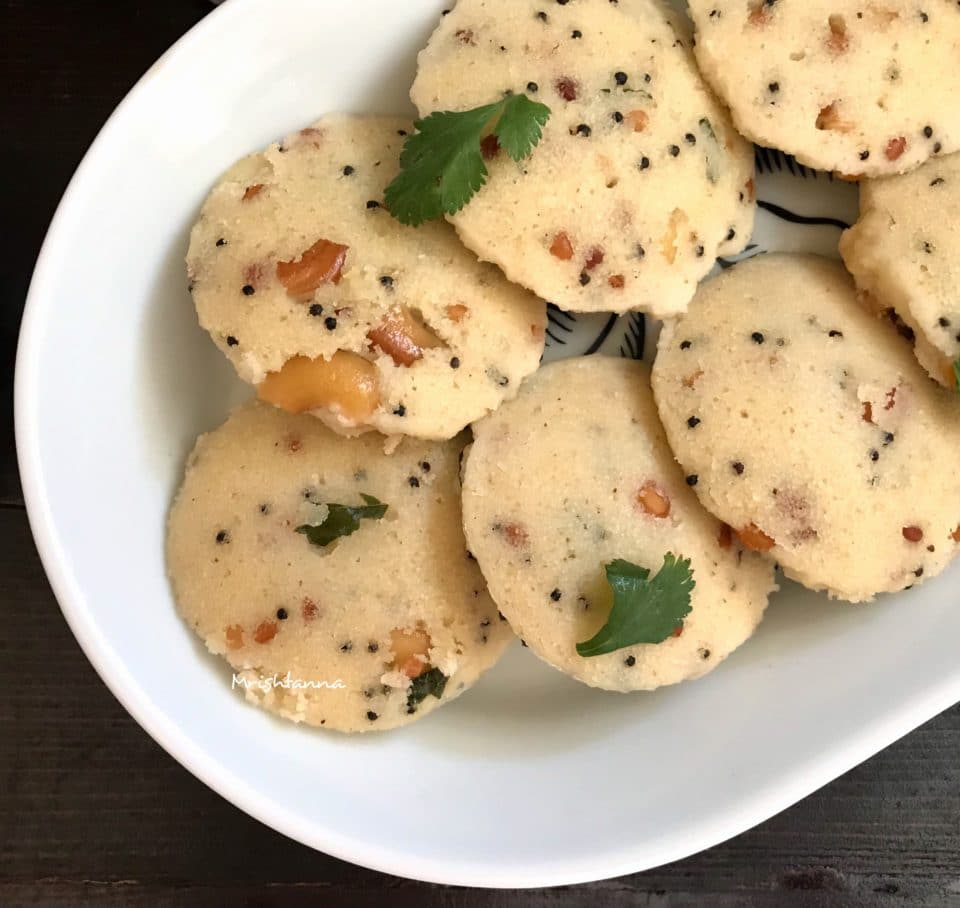 Here's a recipe for fixing an authentic south Indian breakfast in less than an hour! Just like a few of my recent recipes, I have prepared this using my instant pot. This Instant Rava idli paired with coconut chutney, or sambar primarily in south India.
My recipe is a variation from the rice version. I am using Suji or more popularly called as Rava in India.
How To Make Quick Rava Idli
Recipe for Rava idlis are not uncommon, but preparing them in a quick-fix way with instant pot is one you cannot find on very many sites. There are a lot of store-bought options readily available in the market that requires you to just add water and steam.
However, nothing can beat the taste of authentic preservative-free, soft and fluffy homemade Rava Idli.
Most of my friends avoid preparing this dish altogether because of all the prep time involved. Here's how you can add this simple breakfast to your list. No more lengthy fermentation procedures or remembering rice-dal ratios.
Rava idlis are also different from rice idlis in that they are steamed along with the condiments, spices, and nuts. The procedure is quite simple in that you have to gather up the spices and saute them with your favorite nuts. I like using cashews for something like this. Almonds and peanuts are also good options.
Once you have your dough ready, it is a matter of minutes to steam them with the instant pot. Let me know if you have any questions about the settings in Instant Pot. I have also added an Amazon link for the idli mold that comes in very handy for such recipes.
Idli Rava mix
Let me first share the procedure for preparing the Rava idli mix. Once you have this, the rest of the procedure is easy. With this mix handy, you could then prepare it ahead of time and only mix the wet ingredients right when you need it. When you are ready to make them, just add curd, baking soda, salt, and water.
Dry Rava idli mix can be stored in a cool dry place for up to 3 weeks! Just check out the instructions list up to the third step and you have your Rava Idli Mix.
Baking soda or Fruit salt (Eno)?
Rava idli recipe can be prepared by adding ¼ teaspoon baking soda, or Eno to the batter. Sometimes, I have also skipped both of these, and the Rava Idlis still turned out very fluffy.
It is really up to you to suit it to your preference but generally speaking, adding baking soda or fruit salt such as ENO rises the dough as it cooks and gives a fluffy texture.
Vegan Quick Rava Idli
The common recipe for Rava idli is not vegan. However, I made subtle changes to it and prepared it without using any dairy. I used plant-based yogurt instead of the dairy version and could barely tell any difference. Any kind of plant-based yogurt works. I had shared two different versions in the past. One with soy yogurt and one with coconut milk yogurt.
But again, it is not absolutely necessary to add any kind of curd or yogurt. If you don't have any curd handy, you can still make Rava idli without curd. Just mix in 2 teaspoons of lemon and 1 teaspoon of fruit salt (ENO) powder.
Note: If you do not have an Instant Pot, you could still prepare these using an Idli steamer or any steam cooker. The cooking time does not change with a steam cooker (10 mins).
If this recipe interests you, look for similar recipes in my blog.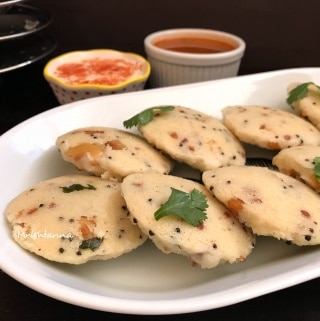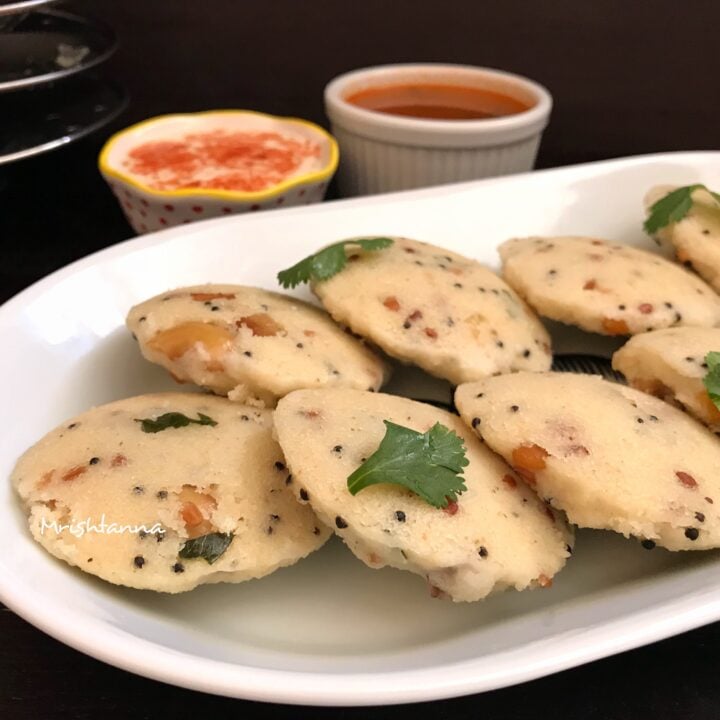 Quick Rava Idli - Instant Pot Rava Idli Recipe
Idli is a savory rice cake that's paired with coconut chutney, primarily in south India. My recipe is a variation from the rice version. I am using Suji or more popularly called as Rava in India. 
Ingredients
1

Cup

rava (a.k.a semolina or cream of wheat)

½

Cup

soy yogurt

-

or coconut yogurt

1

teaspoon

mustard seeds

1

teaspoon

Bengal gram/ channa dal

1

teaspoon

urad dal/ split black-gram

10

cashews

1

strand

curry leaves

Pinch of asafoetida

2

tablespoon

oil

Salt

1

Cup

water

-

If required add more water

½

teaspoon

baking soda -

or fruit salt(ENO)
Instructions
Place a pan over medium heat and add oil.

As it starts to heat up, add and saute mustard seeds followed by Bengal gram and urad dal and saute until they turn golden.

Add cashews and saute until they are golden brown.

Add asafoetida powder and curry leaves and saute for 30 sec.

Add rava and saute for about 8-10 minutes which is when you will get a nice aroma.

Switch off the heat and let it cool.

In a medium-sized bowl, add the following to the rava mixture: Salt, Soy yogurt, and water. Mix well and place it aside for 10 minutes.

Heat water in a steamer, or instant pot. (press saute mode and heat water.)While the water is heating, grease the idli molds with oil.

Add the small amount of batter to each mold.

Place the idli stand in the instant pot and close the lid. Set it to the Steam mode and in venting position and let it steam for 10 - 12 minutes. 

After 12 minutes of steaming, take out the idli stand from instant pot and let it cool. Then remove the idli from the mold. Serve with chutney!
Video
Notes
Time on the Instant pot does not work in the venting position. So you have to monitor your timer.

 

If you do not have an Instant Pot, you could still prepare these using an Idli steamer or any steam cooker. The cooking time does not change with a steam cooker (10 mins).

 
Note: The
nutrition values I show here are my best estimates. Please be sure to check your preferred nutrition calculator, if you are relying on accurate calculations in your diet.
YOUR OWN NOTES
Nutrition
Calories:
270
kcal
|
Carbohydrates:
8
g
|
Protein:
3
g
|
Fat:
19
g
|
Saturated Fat:
2
g
|
Sodium:
14
mg
|
Potassium:
50
mg
|
Fiber:
1
g
|
Sugar:
4
g
|
Vitamin A:
38
IU
|
Vitamin C:
27
mg
|
Calcium:
75
mg
|
Iron:
1
mg
Nutritional information is an estimation only.
Quick Rava Idli is ready! Serve them hot with your favorite chutney! Check my video and post your comments here!
Pin this recipe for later use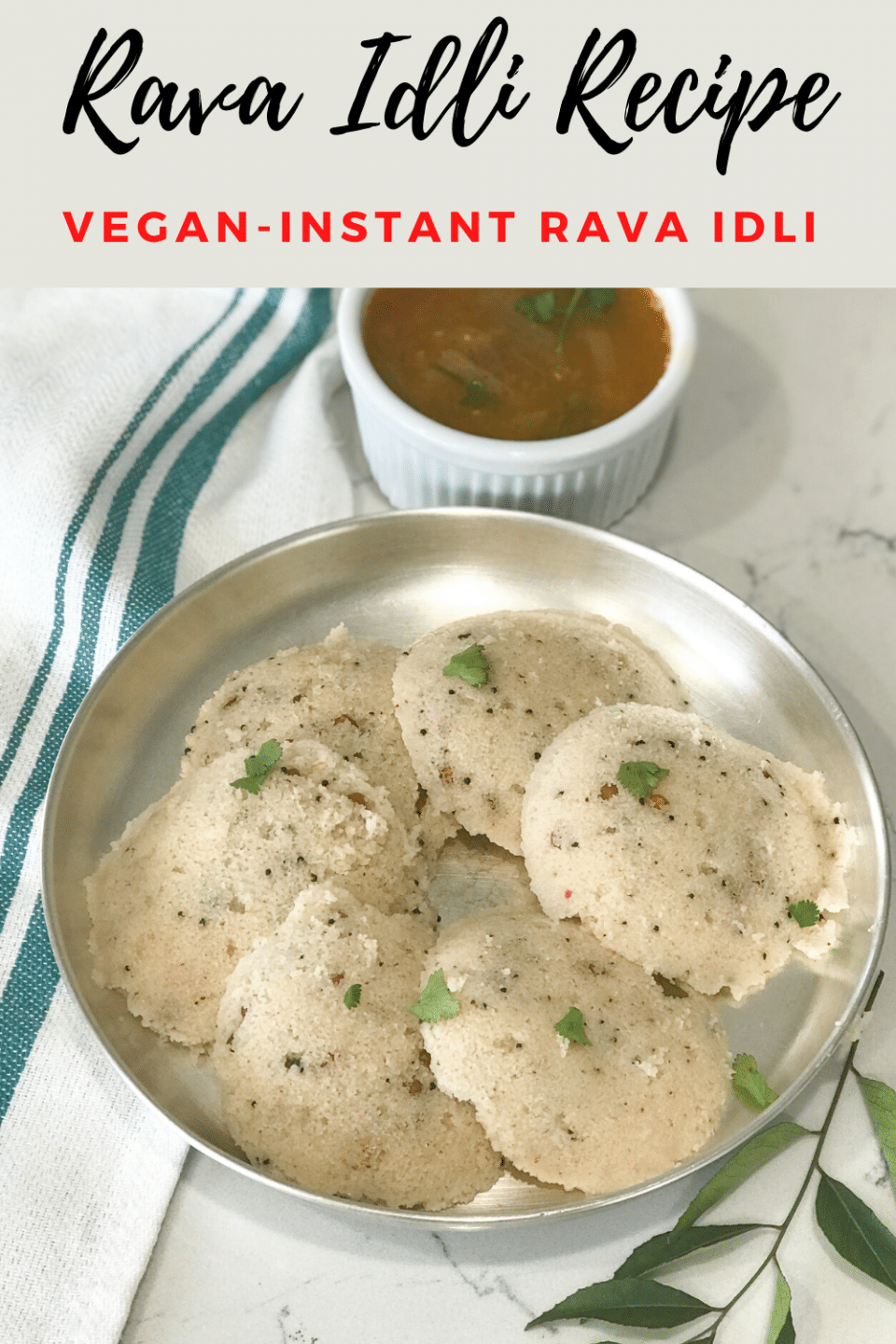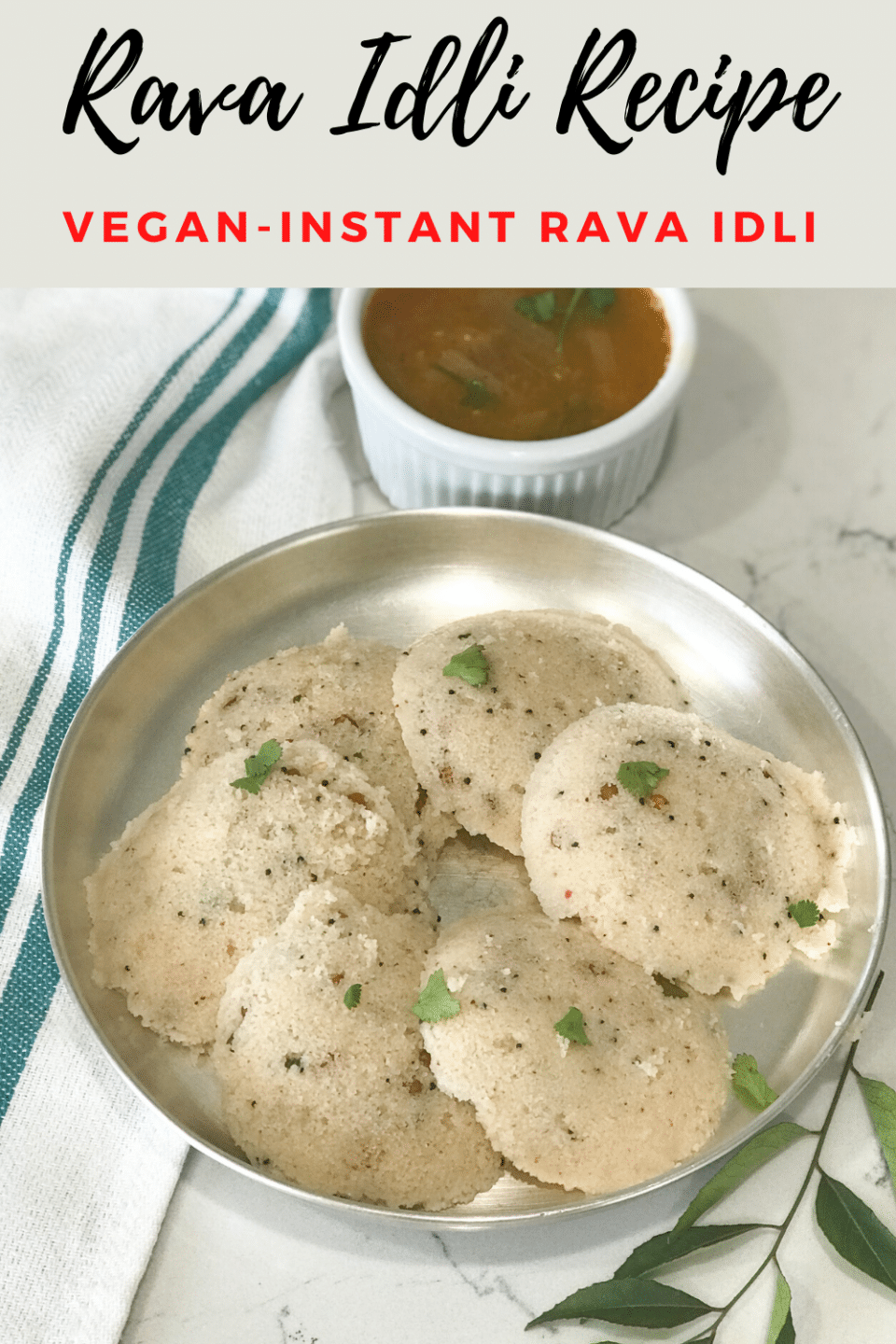 For more delicious vegan recipes such as this sent directly to your inbox, just subscribe to my newsletter. You will also get a copy of my e-book where I have put together some simple vegan dessert recipes and dessert essentials. My readers have found it very helpful and I am hoping you will too!