Sesame Juice is great  for summer !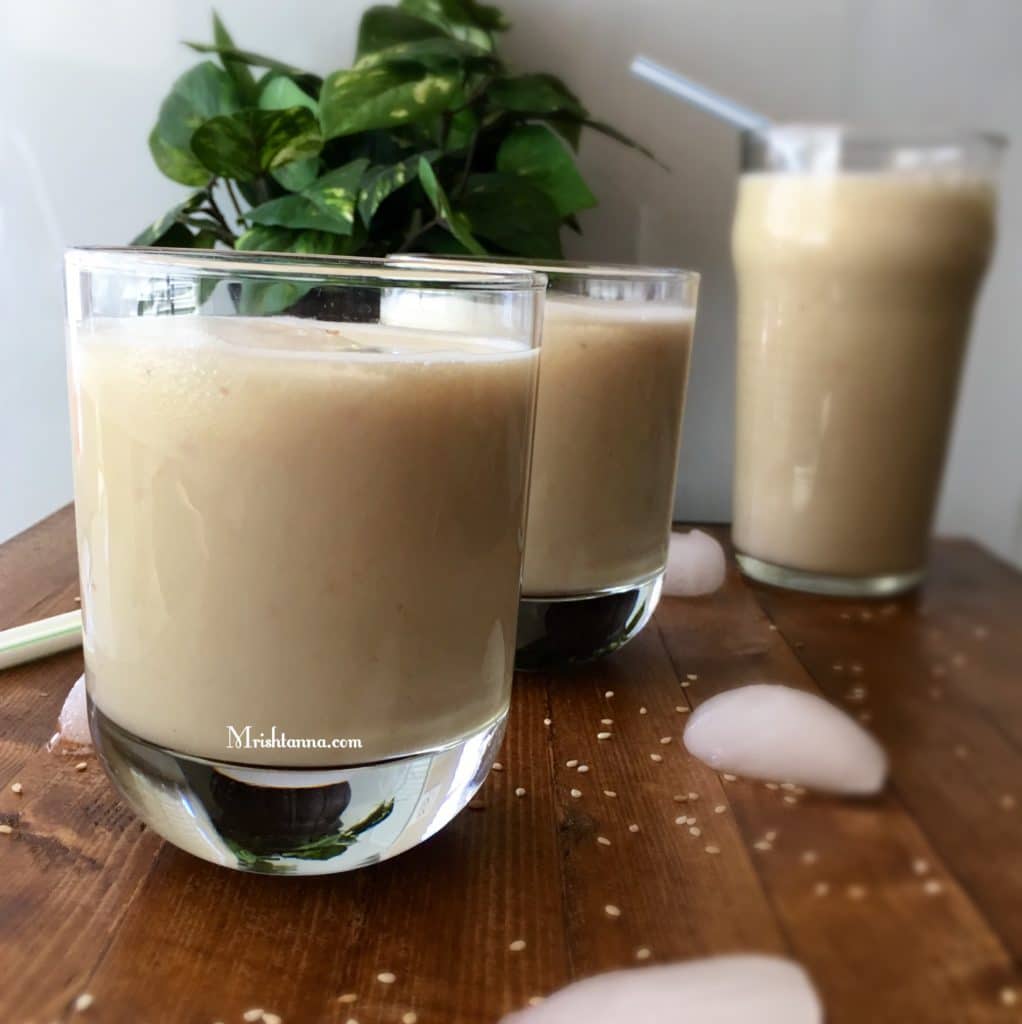 How to make authentic Sesame Juice? If you've never had it or heard of it, Sesame juice or Ellu juice ( Ellu means Sesame In Kannada language) can best be described as a refreshing, creamy-ish, coconutty drink that is served chilled, pleasantly sweet and great for something to sip on in the summer heat.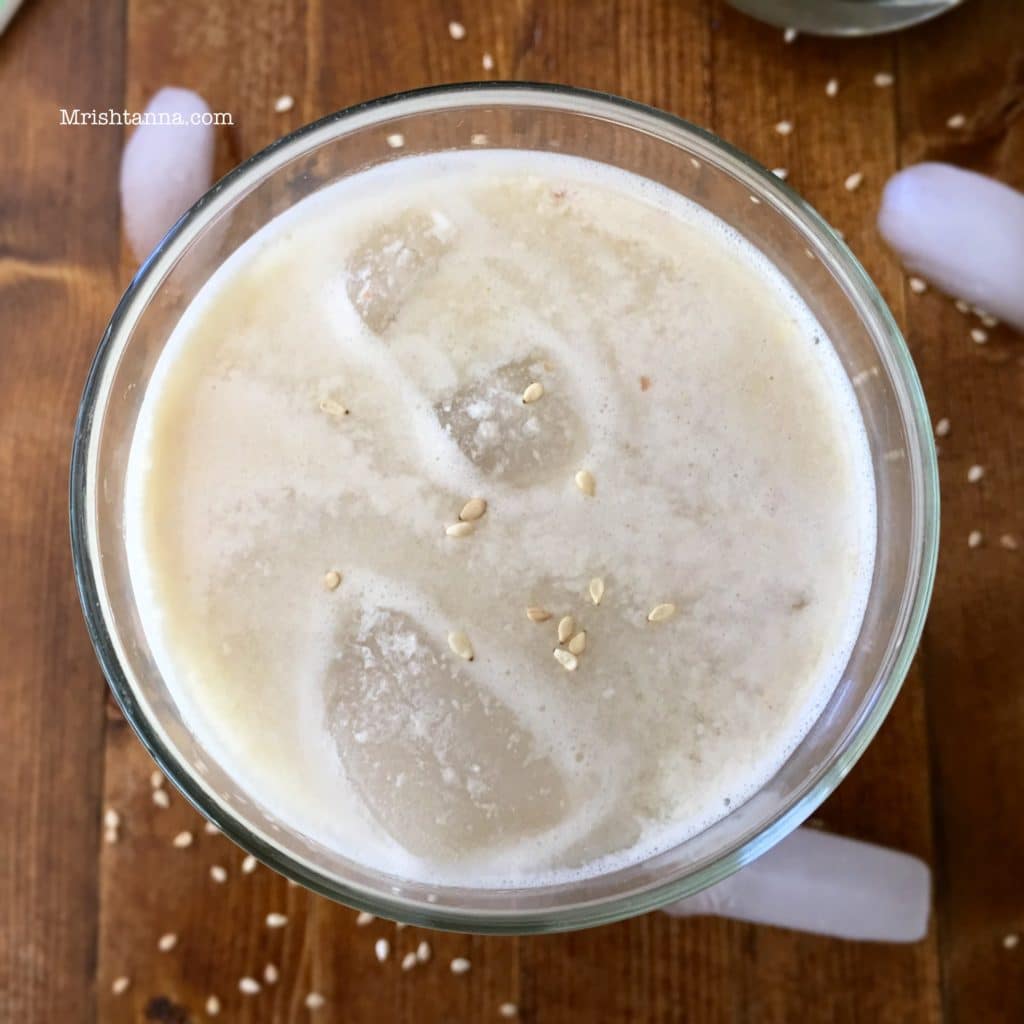 Think along the lines of a coconut milk with cardamom. The beverage has an exotic history that traces back to ancient times, but more importantly for me, it is one of my childhood favorites. The nutritional benefits from Sesame makes it even more worthwhile for the summer time. Sesame can cool your body from within and reduce side-effects from spicy foods. Grab a glass of sesame juice right after a spicy meal and you will experience it yourself.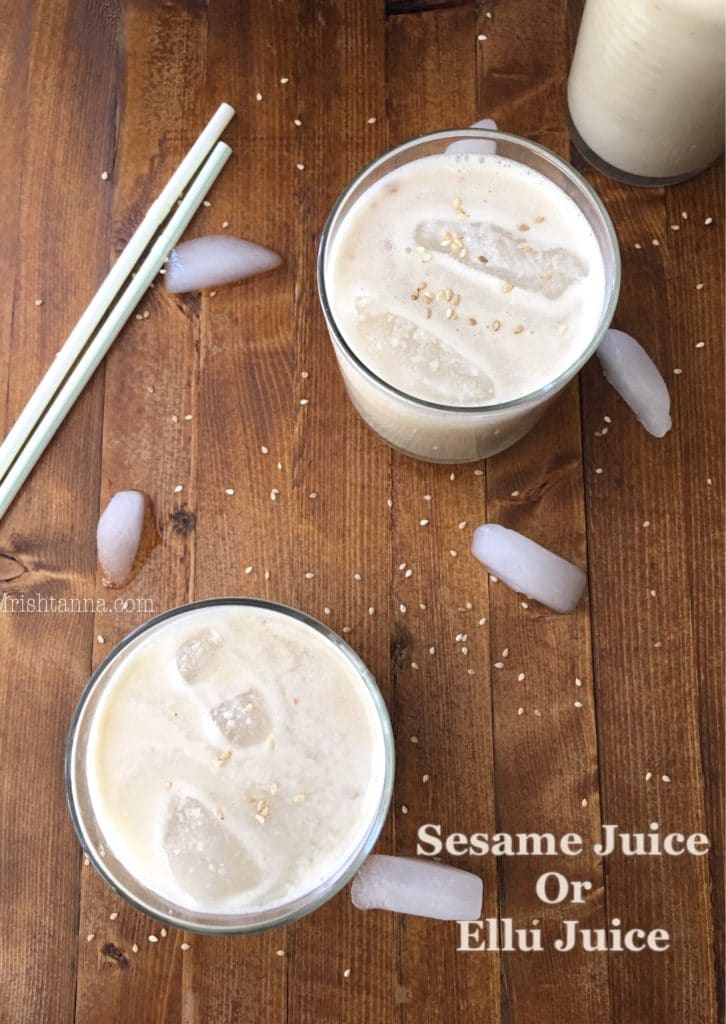 As for what goes into the authentic drink, it is a measured mix of sesame, coconut, jaggery and cardamom. You could also try variations by mixing a handful of soaked (overnight) almonds or cashews as you prefer. Black sesame is another option but you will need lot more jaggery  and coconut to neutralize the nutty flavor. Soaking the sesame is important to soften the seed and add to the creaminess.  You will notice that I have used sesame for some of my recipes. Check out "Karnataka Cuisine" categories for more recipes using sesame.

Sesame Juice | Ellu Juice
Ingredients
1/2

cup

white sesame

1/2

cup

grated coconut

1/2

cup

grated jaggery

see notes for other options

1

tsp

cardamom powder
Instructions
Soak the white sesame for 15 - 30 minutes. Rinse and drain the water.

Grind the sesame and coconut with 1 1/2 cup of water to a coarse consistency.

Strain and collect the liquid with a strainer. Repeat this procedure once more to extract all juice out of the sesame. (Add 1 cup of water to the sesame paste, when you strain for the second time)

Blend the jaggery with 1/2 cup water and mix it with the sesame-coconut concentrate.

Add cardamom powder and mix well.
Notes
You can use sugar, brown sugar instead of jaggery. But add as per your preference.
Sesame juice is ready. Serve chilled with ice.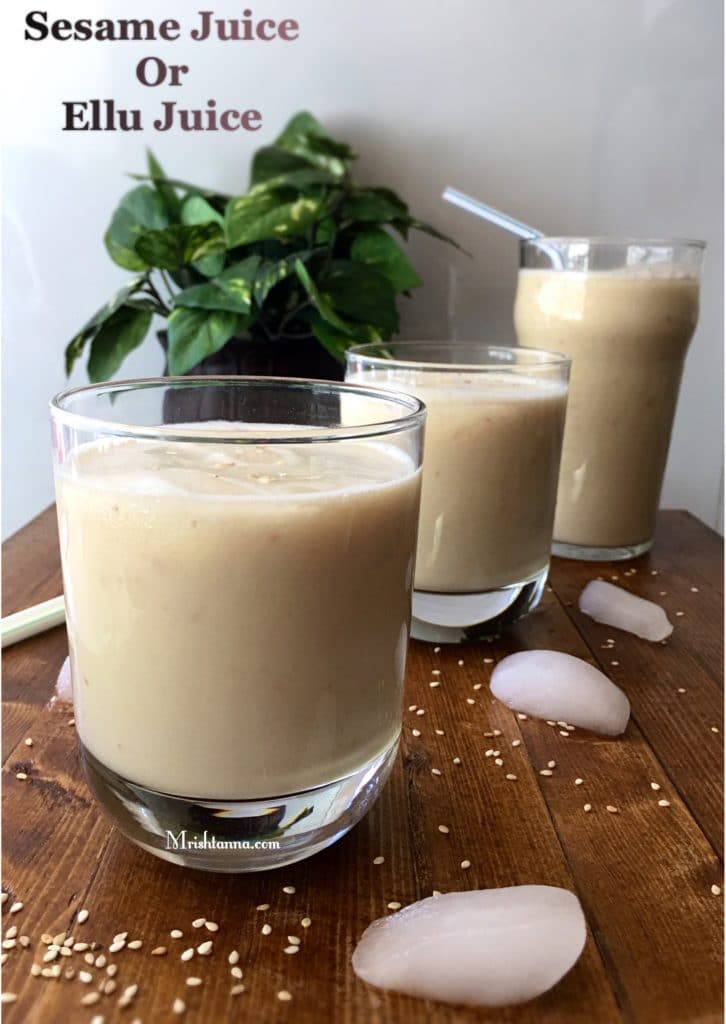 PS: I will be on vacation for the next few weeks. I will miss connecting with you, but we can still stay in touch through my facebook page, twitter feed or Pinterest! If you are looking for a udupi or vegetarian recipe, feel free to get in touch with me!