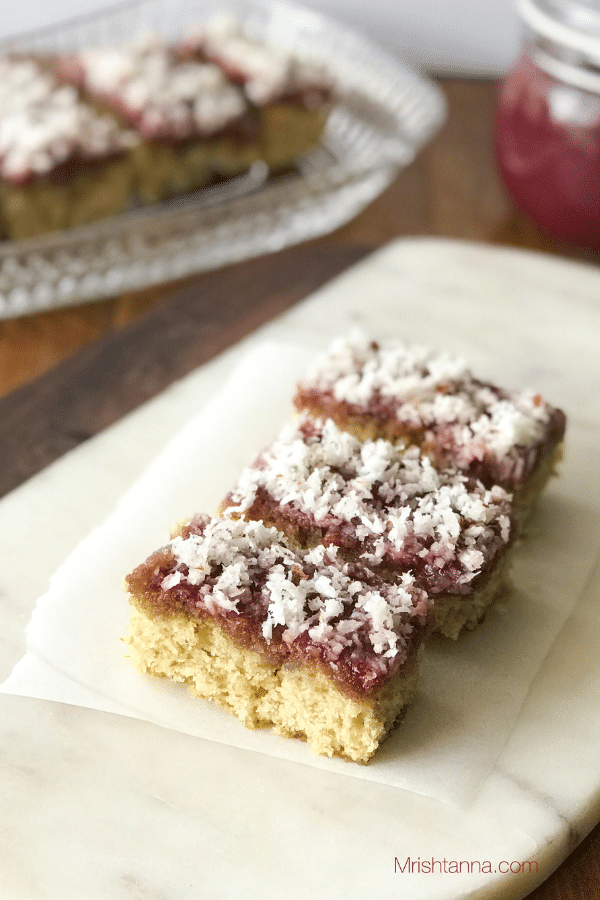 If you have kids running around the house during spring break, rest assured that they will be hounding you constantly for a snack every hour and sometimes more frequently.  For them, it is a holiday and every holiday is meant to be celebrated with food. It behooves you to plan ahead for this pressing demand and be ready to serve. Today's recipe was a result of one such plan.
I am very excited to share my latest and favorite childhood cake recipe: The good old Vegan Honey Cake. It is a dessert whose name is enticing and inviting and its mere appearance mouth-watering.  Coming up with a vegan version of this wonderful cake was not at all challenging. It was, in fact, a piece of cake (pun intended). The honey cake doesn't need honey. Finding a replacement for eggs was more of a challenge, one I have tackled in several of my recipes such as mango bread.  
Note: I updated this post with new pictures and a few tips to help you. I also use a homemade mixed fruit jam instead of the store-bought kind…
Vegan Honey cake Video
Old Pic: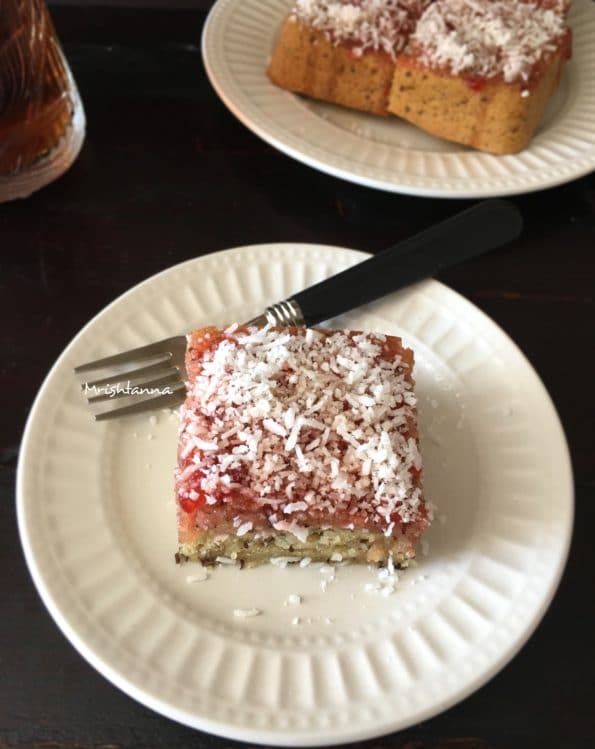 Tips and tricks for  honey cake
For this recipe, I used flax meal as a replacement for eggs and Soy milk as a replacement for dairy milk.  You could also use almond milk or coconut milk. I went a little creative and used maple syrup instead of sugar syrup.  
That is all it took to switch to a vegan version of the Honey Cake. Achieving a nice and fluffy texture was not at all difficult. I was pleasantly surprised at how moist the cake turned out.
Vegan Honey Cake is a simple, yet very flavorful cake.  The recipe is easy to follow and would make a wonderful picnic snack or satisfy a late night craving.  The unmistakable flavor of maple syrup and mixed fruit jam gives this tender cake a lovely finish.
You could also garnish with sliced almonds if you prefer a nutty flavor. I chose to garnish with coconut flakes just like I remember from my childhood days.  You are only limited by your creativity when it comes to garnishing this cake.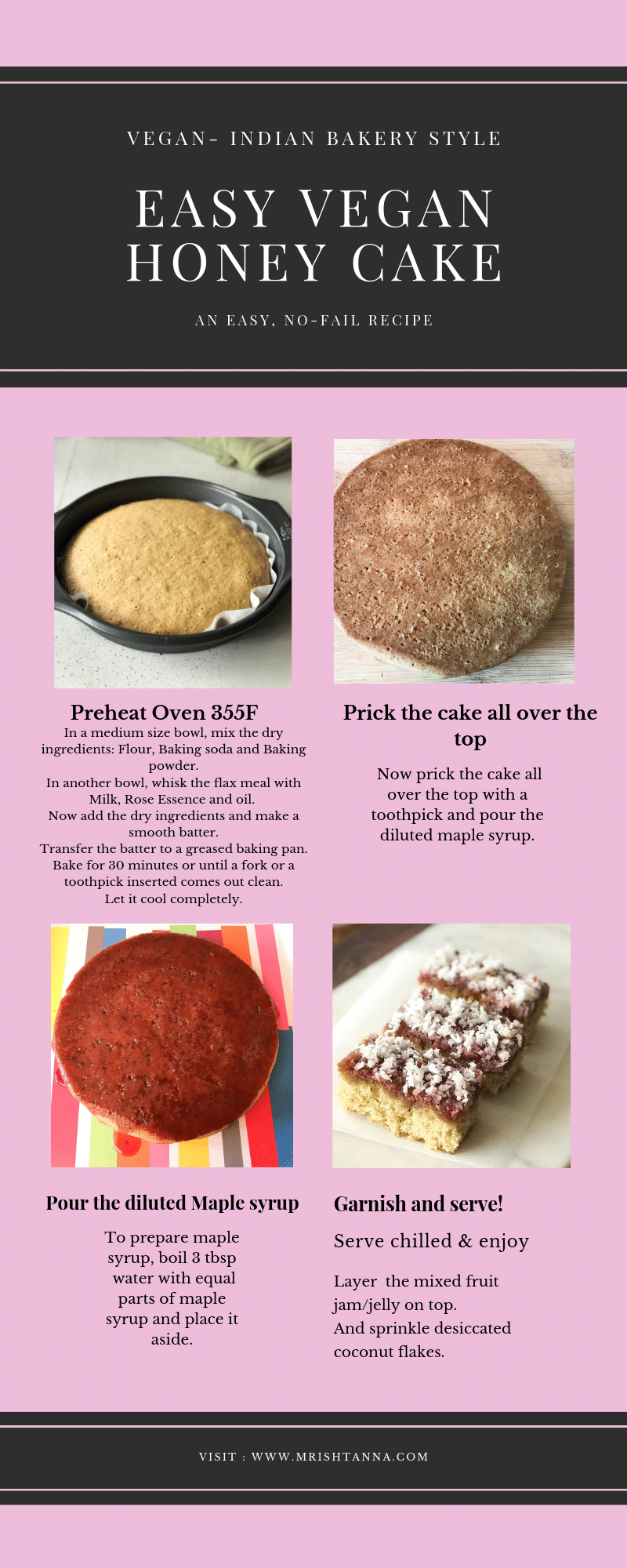 I hope my quick video will guide you through the steps. Check it out and try the recipe today. If you like it, please leave a comment here or on my Facebook page.
If you prefer getting my recipes directly in your inbox, just hit the subscribe button at the right.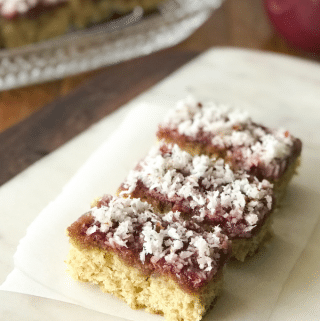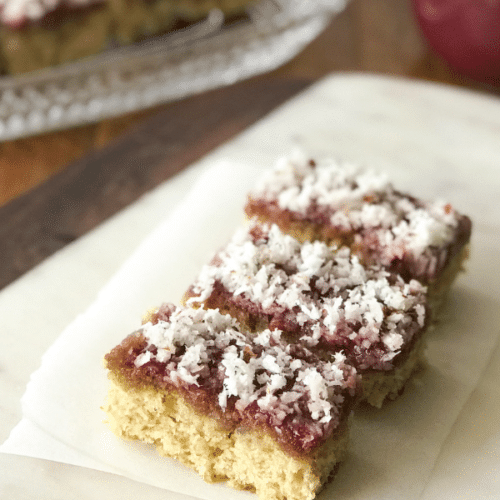 Print Recipe
Easy Vegan Honey Cake Recipe
Vegan Honey Cake is a simple, yet very flavorful cake. The recipe is easy to follow and would make a wonderful picnic snack or satisfy a late night craving.
Instructions
Preheat oven to 355 F.

In a medium size bowl, mix the dry ingredients: Flour, Baking soda and Baking powder.

In another bowl, whisk the flax meal(see notes) with Milk, Rose Essence, sugar and oil.

Now add the dry ingredients and make a smooth batter.

Transfer the batter to a greased baking pan.

Bake for 30 minutes or until a fork or a toothpick inserted comes out clean.

Let it cool completely.

To prepare maple syrup, boil 3 tbsp water with equal parts of maple syrup and place it aside.

Now prick the cake all over the top with a toothpick and pour the diluted maple syrup.

Layer the mixed fruit jam/jelly on top.

And sprinkle desiccated coconut flakes.
Notes
Flax meal(egg): For 2 tbsp flax meal add 6 tbsp warm water. keep it aside for 10 minutes before use.
Nutrition
Serving:
1
slice
|
Calories:
130
kcal
Cut into desired shapes and serve chilled. Vegan Honey Cake is ready!
Pin This recipe for later use