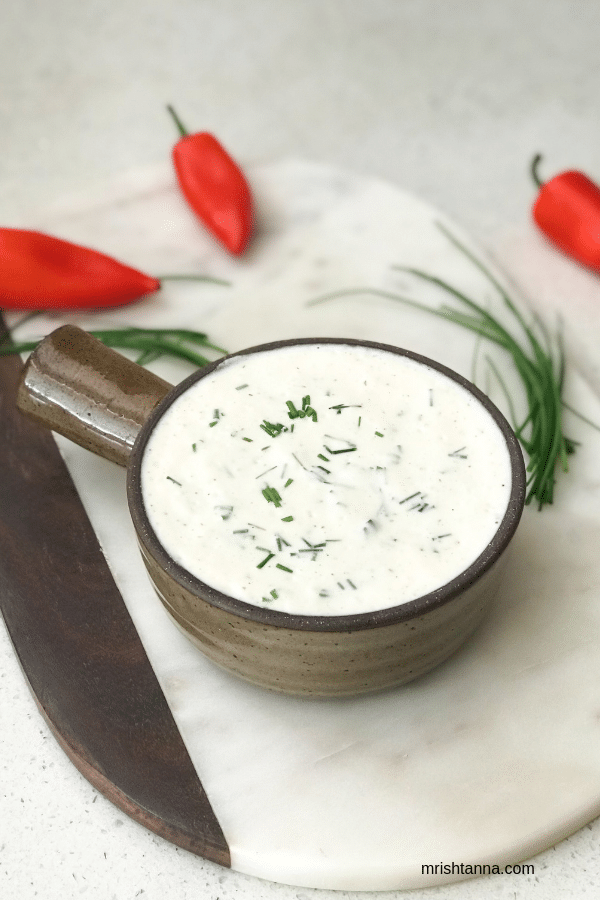 Today's recipe for homemade vegan ranch dressing is a sure hit for Vegans all over the world!  A simple, delicious and oil-free vegan ranch recipe for enjoying your favorite salads, sandwiches, burgers or even vegan buffalo wings. Not just that, my kids have also tried it with carrots, celery and steamed broccoli and the vegan ranch stood up to the test!
It is amazing how simple ingredients such as cashews, silken tofu and a handful of herbs can taste as good as or even better than the non-vegan variety. It is yet another example of how our food does not need any animal products to make them tasty or convenient. This vegan ranch is easy to prepare with very minimal prep time involved and long shelf life without adding any harsh chemicals.
Tips and Notes
You can prepare your own variations with subtle changes in the ingredients. For example, you can add fresh herbs like dry dill leaves and go lighter on the garlic and vice versa. I prepared this vegan ranch with cashews soaked overnight, 8 oz silken tofu, and dried dill leaves. You could also add minced onion instead of onion powder. If you forget to soak the cashews overnight, be sure to soak them in warm water for at least 4 hours.
If you are allergic to nuts then skip the cashew part and just use the silken tofu to prepare the recipe. Apart from soaking the cashews, there is no other prep work involved with this recipe.  
How long can we store vegan ranch dressing?
The homemade vegan ranch can be stored in an airtight container for up to 3 weeks.  However, before you start your recipe, please be sure to check the expiry date on silken tofu.
How can we use this ranch dressing?
Ranch dressing comes in handy for all kinds of salads and has taken the place of the vinaigrette dressing in my refrigerator now.  However, salad is just the beginning.! Ranch dressing pairs well as a vegetable dip as well as a dip for chips! Ever since I prepared this recipe, we are so obsessed with it. You have got to try it and share your thoughts about what your favorite pairing is!
Is vegan ranch dressing healthy?
Absolutely! With just cashews, tofu and herbs there is hardly any preservatives or chemicals that is usually added in the store-bought varieties.  Being dairy-free is one other aspect that makes it free of cholesterol!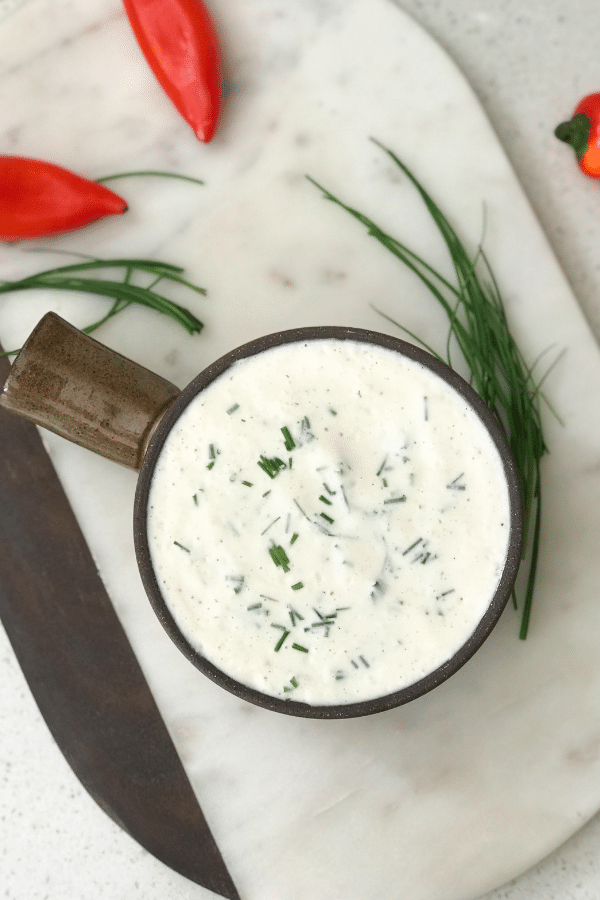 Can we prepare a soy-free version?
The answer is yes! If you are allergic to tofu, you can prepare the recipe with just soaked cashews. But keep in mind that you have to increase the number of soaked cashews for this variation.
You can also check my vegan butter recipe and cashew and almond cream recipe in my blog.
If this recipe interests you, or you made it. Please comment and rate the recipe below in the comment box. For more delicious vegan recipes such as this sent directly to your inbox, just subscribe to my newsletter. You will also get a copy of my e-book where I have put together some simple vegan dessert recipes and dessert essentials. My readers have found it very helpful and I am hoping you will too!
Here are the recipe details.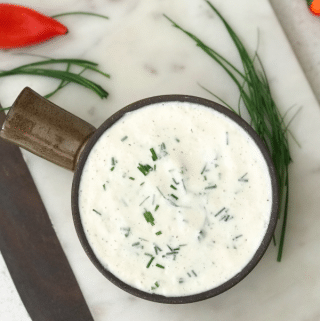 Print Recipe
Homemade Vegan Ranch Dressing
A simple, delicious and oil-free vegan ranch for enjoying your favorite salads, sandwiches, burgers or even vegan buffalo wings.

Instructions
Put all the ingredients above, in the blender except chives.

Blend them into a smooth consistency and add salt and chopped chives.

Store it in a refrigerator for at least 15 minutes before using it.
Notes
Soak the cashews at least 4 hours in warm water before using it in the recipe. The cream texture of cashews makes all the difference in the recipe.
Nutrition
Nutrition Facts
Homemade Vegan Ranch Dressing
Amount Per Serving
Calories 130
* Percent Daily Values are based on a 2000 calorie diet.
Pin this recipe for later use