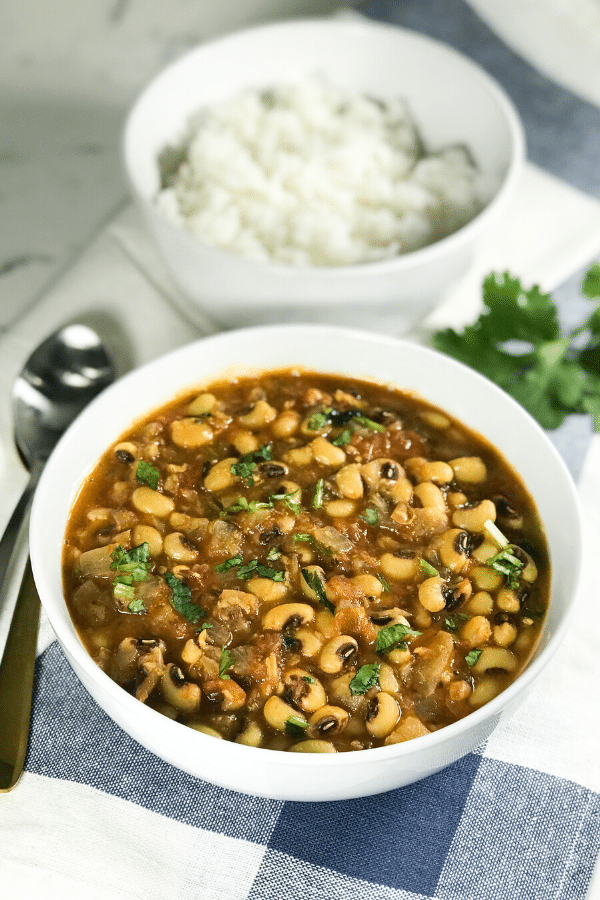 Here is an ideal recipe if you are looking for a spicy and flavorful way to cook Black Eyed Peas. side dish for accompanying steamed rice.
Usually, blackeyed peas are believed to be a lucky charm to start the new year, so my hope is that this recipe brings you good luck throughout the year. With the Instant Pot, this classic Indian recipe is so much easier than you think.
The nutrition that Black-eyed peas bring to the table is unmatched by any other bean. Every cup of black-eyed beans provides the protein equivalent of two standard size protein bars along with the recommended daily fiber for a person.
So you can enjoy a small serving and not feel hungry for hours. Imagine how that can help you in your weight loss goals!
Apart from their flavor and nutritional value, which makes them stand apart from other beans is that they are very easy to prepare. Soaking them overnight will reduce the cooking time, but you do not need to do that as they cook fairly quickly.
Since they are so easy to prepare, you do not have to buy the canned version at all. That makes it all the healthier!
This curry is a medley of flavors from a number of spices but the level of heat you need is in your control. I tend to go a little high on the cayenne pepper to match my family preference. If you prefer a milder taste, you could lighten up the chili powder or you could also make it a little creamier with coconut milk.
When you decide to prepare this recipe, be sure to serve it as the main course with basmati or cumin rice.
Punjabi lobia masala
In certain parts of India, this is also referred to as Lobia Masala Curry and served with Roti or Naan.
In Karnataka, where I grew up we prepare the 'Mangalore style Curry' locally referred to as "Gasi" and tastes quite different from the Lobia Masala Curry.
These two recipes are my top favorites for cooking Black Eyed Peas. I will share the recipe for "Gasi" on another day. For now, let us just focus on preparing the Punjabi style lobia masala.
Black-eyed peas curry made with tomato onion base and spices. This is also known as lobia masala.
Black-eyed peas are also called "lobia" in northern India. So, this recipe is also known as "Punjabi Lobia Masala" and typically paired with Roti more commonly than rice.
I have included directions for the stovetop method as well as the Instant Pot version and the list of spices form the most important part of the recipe.
Be sure not to skip or change the quantities of any of the spices noted herein.
Tips & FAQ
Adding coconut is optional and can be skipped if you do not prefer to. As an alternative to coconut, you can add coconut milk.

Lobia or black-eyed peas do not require to be soaked before pressure cooking. You can soak it for 1-2 hours to speed up the cooking process. But for this recipe, I soaked for just 10 min in warm water as I was preparing other vegetables.

Using any kind of onion is ok for this recipe. I used yellow onions. And it tastes just as authentic as the red onion version.

You can choose canned tomatoes instead of freshly chopped ones.

Using fresh ground spices will enhance the taste, however, if you do not have ready access to whole spices, the store-bought version will work just fine. To grind the spices, I used a coffee bean grinder.
Stovetop method
For the stovetop version, you have to soak the black-eyed peas for 1 hour and cook in a pressure cooker with enough water for 4 whistles and set it aside.
Heat a few tablespoons of oil in a pan on medium flame.
Add the cumin seeds and let it crackle. Then, add the ginger-garlic paste and cook until the raw smell fades away. Add the finely chopped onions and saute until it turns light brown.
Now, add the chopped tomato and simmer for 3 minutes. Add the red chili, turmeric and cumin powder, coriander powder, mix well and let the mixture cook until the oil leaves the sides.
Now, add the cooked lobia along with the water in which it has been boiled and simmer for 5 minutes. Switch off the flame, sprinkle garam masala and garnish with the cilantro leaves.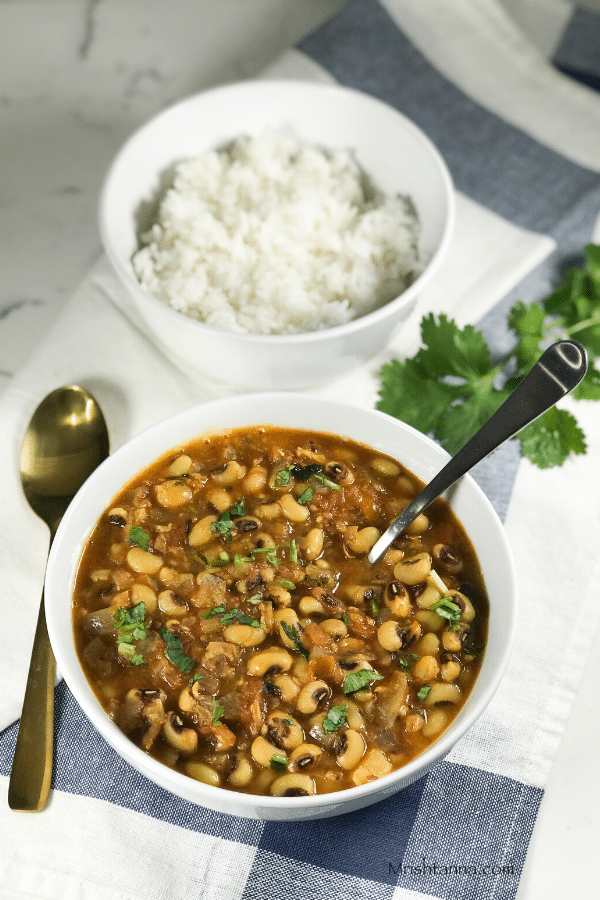 That is all there is to it! Serve it hot, paired with Roti or Naan. See detailed instructions for the Instant Pot Method.
I have included quick videos to help you, but please note that adding the chili powder was inadvertently skipped! So be sure not to miss that!
Here are some more Instant Pot Recipes
Here are the recipe details….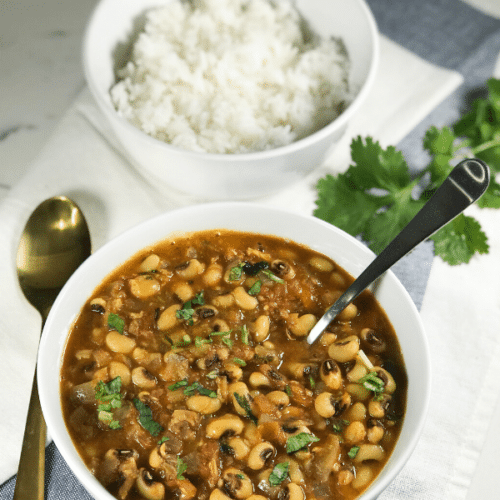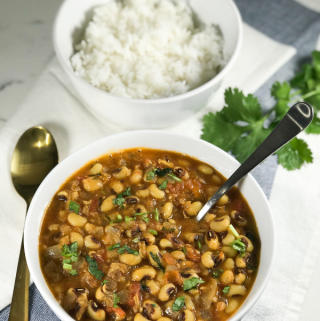 Instant Pot Black Eyed Peas Curry | Lobia Masala
Black-eyed peas curry made with tomato onion base and spices. This is also known as lobia masala.
Instructions
Press 'SAUTE' mode on Instant Pot and add a couple of teaspoons of oil.

As the oil heats up, add cumin seeds. When it starts to crackle, add minced garlic cloves, and chopped ginger.

Now add chopped onion. Saute for 40 seconds and continue to stir.

Add chopped tomatoes. Saute for 2 minutes.

Add all the spices and again continue to stir well.

Add rinsed black-eyed peas, salt, and water. Stir well.

Press CANCEL button on Instant Pot.

Close the lid on the pot, and turn the valve from VENTING to SEALING position.

Set the pot to MANUAL/PRESSURE COOK (High Pressure) and set the timer to 12 minutes.

Wait for NATURAL PRESSURE RELEASE(NPR) which is when the silver button on the lid drops.

Add the garam masala powder, cilantro and mix well.

Black Eyed Peas Curry is ready. Serve hot paired with Naan, roti or rice.
Video
Notes
You can soak the black-eyed peas for 1 hour to 3 hours to reduce the cooking time but it is not mandatory.
At the end of the recipe, you could also add coconut milk to make it creamier and richer.
Be sure to add red chili powder to suit your taste preference. I noticed that the video clip does not show that step, but you will need that for sure!
To thicken the curry you can mash a little bit of black-eyed peas once it cooked. 
Nutrition
Calories:
95
kcal
|
Carbohydrates:
15
g
|
Protein:
5
g
|
Fat:
2
g
|
Saturated Fat:
1
g
|
Sodium:
10
mg
|
Potassium:
299
mg
|
Fiber:
4
g
|
Sugar:
4
g
|
Vitamin A:
469
IU
|
Vitamin C:
9
mg
|
Calcium:
26
mg
|
Iron:
2
mg
If this recipe interests you, please rate and comment below.
For more delicious vegan recipes such as this sent directly to your inbox, just subscribe to my newsletter. You will also get a copy of my e-book where I have put together some simple vegan dessert recipes and dessert essentials.
My readers have found it very helpful and I am hoping you will too!
Pin it for later use