If you a fan of Cauliflower and Indian curry, you are in for a treat today because I am sharing one of the easiest and tastiest Cauliflower masala recipes you can prepare.
I say it is easy because I am preparing it with the Instant Pot and like always it has made cooking all the more fun.
I love preparing this gobi masala because it pairs well with brown rice or white rice as well as Naan or Phulka rotis.
In this family-friendly Indian dish, Cauliflower florets are sautéed with spices and simmered with chickpeas in an aromatic tomato-onion base. With the ingredients handy, you would be able to complete this dish in 30 minutes or less! That's about the time you need to prepare the rice…
The taste and spiciness of this dish will vary a bit depending on how big or small the chilis are. Generally speaking, smaller chilis tend to be spicier than the larger ones...If you are looking for a mild or medium dish, go easy on the chilis.
Cauliflower masala a.k.a "Gobi" Masala in India, is quite common in restaurants but I have several variations from the original recipe including the way it is prepared with Instant Pot. Unlike other gobi masala recipes, you don't need lots of spices to prepare this version.
Most Gobi Masala recipes use cream or dairy to thicken the base and I have used cashew nuts. You could also choose to add coconut cream, but it tends to bring in flavors that you do not generally expect in Cauliflower curry. Last but not least, I added chickpeas to add some "protein" balance to the dish.
How to serve
Cauliflower masala is best served with Chapati, Naan, Rice dishes or even plain steamed rice. My favorite way to enjoy Cauliflower curry is with Chapati or Roti. I also like to pair it with Biryani or Vegetable fried rice...It is an amazing and tasteful experience!
Unique from other gobi masalas
First and foremost, this is prepared with the Instant Pot.

I used far less oil to prepare this than any standard Gobi Masala recipe or even the ones you see in a restaurant.

This recipe is Vegan and Gluten-free. You could also make it nut-free if you chose to use coconut cream instead of cashews.

Spices are quite different from other gobi masala recipe
Try these variations to spice up your dinner and let me know how it turns out. I hope your experience will be as special as mine!
PS: If you are using coconut cream instead of cashews, use just the top layer of chilled coconut milk. That way, you are using only the fat or cream of coconut milk.
As I said, this is one of the easiest Indian cauliflower curry recipes you will find.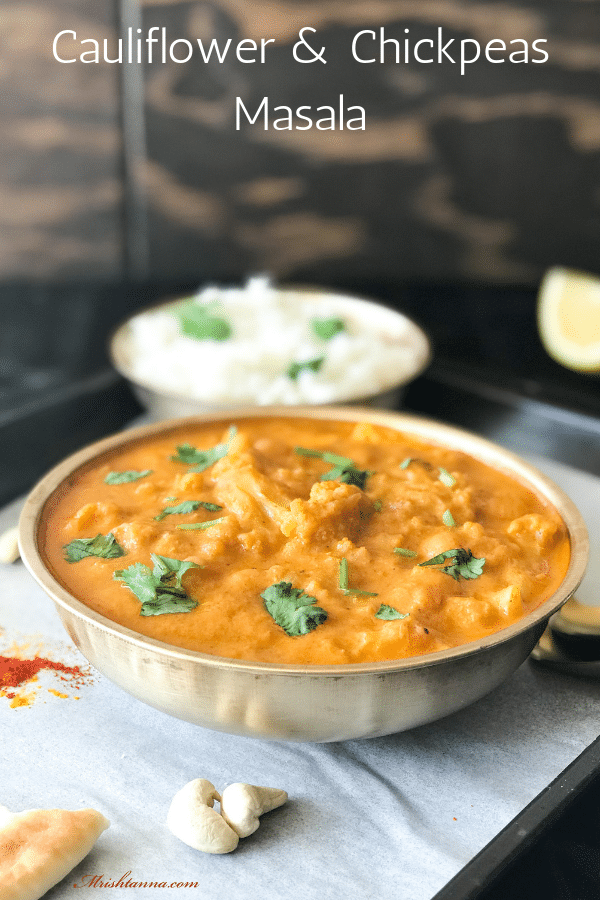 You might also like
If you are interested in trying other Cauliflower recipes I have shared in the past, check out my recipes for Cauliflower stir fry, Cauliflower paratha, Cauliflower buffalo wings.
If you make this recipe or any of my recipes, don't forget to rate it and comment below. I would LOVE to hear about your experience, and your comments make my day!
Just subscribe to my newsletter for more delicious vegan recipes such as this sent directly to your inbox.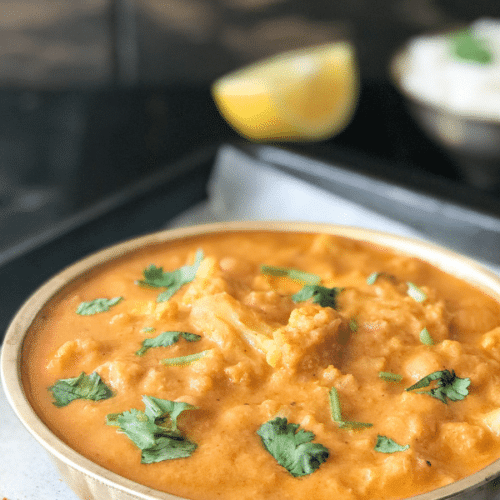 Cauliflower Masala - Instant Pot & Stove top
Cauliflower masala is best served with Chapati, Naan, Rice dishes or even plain steamed rice.
Instructions
Instant Pot Directions:
Add 2 teaspoon oil to inner pot and press saute mode. As the oil heats up, add ½ inch cinnamon, 4 cloves, 2 teaspoon fennel seeds. Saute for 20 sec.

Add ginger, and green chilies. Saute for another 20 sec.

Add chopped onions, and fry until they turn translucent and then add tomatoes and continue to saute until the tomatoes soften.

Add chili powder and turmeric and cook for 30 sec. Turn off the instant pot and add cashews. Stir well.

Blend this mixture to a fine consistency (with a hand blender or regular blender). This will form the base of the dish.

Again press saute mode and saute the cauliflower florets for 30 sec and add the blended mixture to it.

Add the chickpeas, salt and a little bit of water (¼ - ½ cup)and stir well.

Close the lid of the instant pot and turn the steam release handle to sealing position. Tap "manual mode" and set time for 1 minute.

When the time is up, open the lid using "quick release".

Now, garnish with cilantro and serve hot paired with a cup of steamed rice or bread.
Stovetop direction
Soak the cauliflower florets in warm water for 10 minutes and keep them aside.

In a small pan, saute, cinnamon, cloves and fennel seed (saunf) in 2 teaspoon of oil until the fennel seeds turn golden brown.

½ inch cinnamon,

4 cloves,

2 teaspoon fennel seed - saunf

Now, add minced ginger and green chili. Sauté for another 30-45 seconds.

½ inch ginger,

2 green chilies

Follow up with chopped onions. When onions turn transparent, add chopped tomatoes.

1 large onion,

2 medium tomatoes

Add cashews and continue to cook. In about a minute, take it off the heat. Add ½ cup water and blend into a smooth paste.

2 tablespoon cashews or ¼ cup coconut cream

Place a medium size pan over medium heat and fry the cauliflower florets with 2 teaspoon oil.

When the florets turn golden, add turmeric powder and chili powder.

¼ teaspoon turmeric powder,

½ teaspoon red chili powder

Add the blended masala paste to the florets and continue to cook over medium heat. Add salt to taste.

In about 2 minutes, add the canned chickpeas. Add water, if required and continue to cook for 3 - 4 min.

Garnish with cilantro (coriander leaves).

2 tablespoon chopped cilantro
Notes
If you are using coconut cream instead of cashews, use just the top layer of chilled coconut milk. That way, you are using only the fat or cream of coconut milk.

Stovetop cooking time is different from the Instant Pot. It may take 30 - 35 minutes
Soak the cauliflower florets in warm water for 10 minutes before using them in any recipe, because it helps to clean the florets. Follow this step for both instant pot and stovetop procedure
YOUR OWN NOTES
Nutrition
Calories:
113
kcal
|
Carbohydrates:
4
g
|
Protein:
6
g
|
Fat:
4
g
|
Saturated Fat:
1
g
|
Sodium:
130
mg
|
Potassium:
11
mg
|
Fiber:
1
g
|
Sugar:
1
g
|
Vitamin A:
160
IU
|
Vitamin C:
4
mg
|
Iron:
1
mg
Pin this recipe for later use