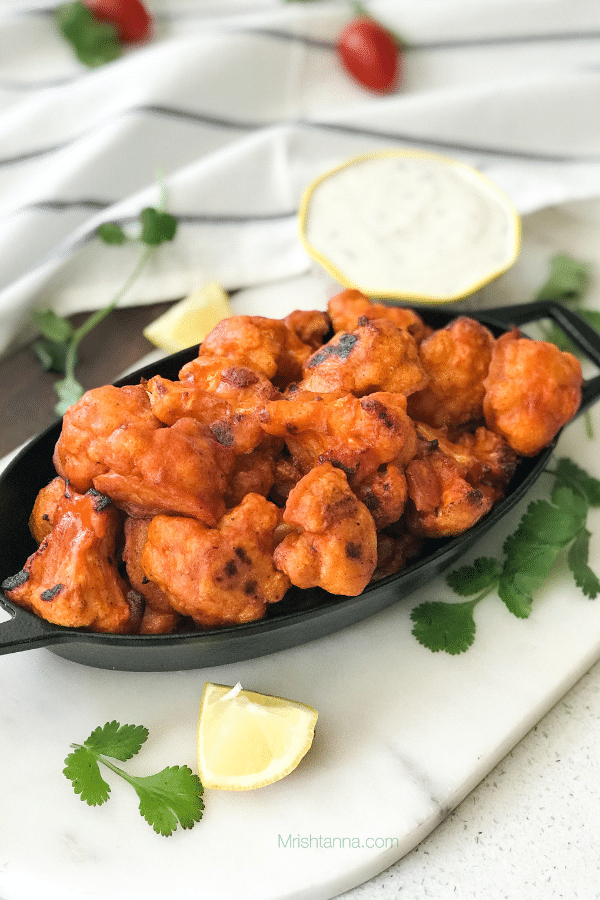 Homemade recipes are second to none and I am sharing the best homemade Vegan Cauliflower Buffalo Wings you will crave for! The best part about this recipe is that it is vegan with no compromise in taste and it can be as spicy as you want it to be. Homemade vegan buffalo wings taste way better, and they are so much fresh tasting than the restaurant version that you will never feel like ordering them at a restaurant anymore!
The first time I tried this, the pieces did not stand a chance around my kids, to last more than a minute 🙂 After all, they helped me in preparing the cauliflower florets.
Are Cauliflower Buffalo Wings 100% Vegan?
Yes, I used only vegan ingredients entirely including the ranch. They are all simple ingredients you can find in any grocery store. If you are not able to find vegan butter, you can even prepare one yourself! Check my recipe for vegan butter here.
Can this be prepared as a gluten-free version?
This version of Cauliflower wings uses cornstarch and gram flour. If you are looking for a gluten-free version, you can choose gluten-free all purpose flour. There is very little difference between the two.
Is this too spicy?
Cauliflower wings are not as spicy as you think. You can always make it as spicy as you prefer by varying the amount of hot sauce you add. The ingredients I show here was moderately spicy and I'd call it 7 on a scale of 10.
My four-year-old did not have any issues gobbling them. Just keep in mind that the baking process makes it a little milder. If it turns out too spicy, you could always pair it with vegan ranch dip.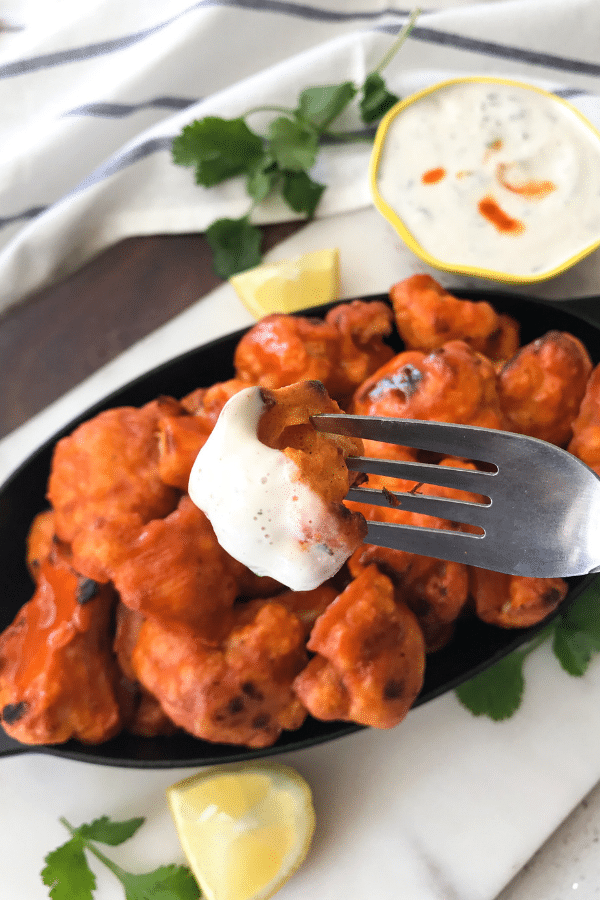 How to make Vegan Cauliflower Buffalo Wings
This is one of the easier recipes I have shared in the recent past. Before we go into the steps, be sure to soak the cauliflower florets in warm water with salt for about 10 minutes. This not only makes the florets cleaner but also makes them softer that will help you later.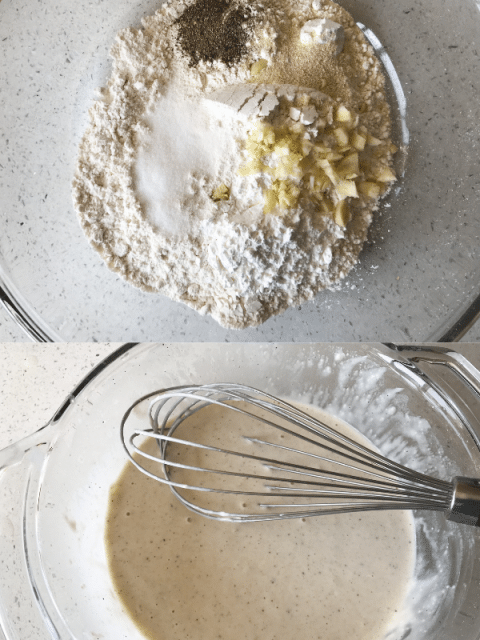 Once you have that, you can mix together the dry ingredients to prepare the batter with almond milk.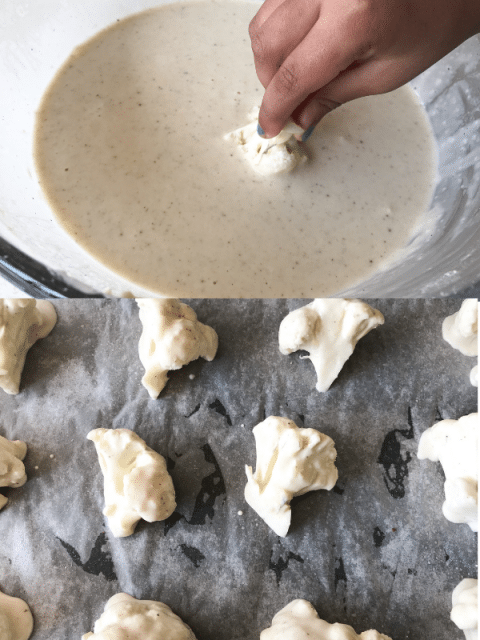 The florets are then dipped or brushed with batter and baked for 20 minutes. After the initial baking step, brush the florets with hot sauce then again pop them again in the oven and bake for another 10 minutes.
I am probably missed taking a picture of this step. My apologies. But check out the rest of the pictures to make it easy to follow.
This version of Cauliflower Buffalo wings is sure to be a crowd pleaser snack and a perfect option for game days or any party. Try it today and feel free to leave your comments in the comment box.
If this recipe interests you, look for similar recipes in my blog such as the cauliflower stir fry.
For more delicious vegan recipes such as this sent directly to your inbox, just subscribe to my newsletter. You will also get a copy of my e-book where I have put together some simple vegan dessert recipes and dessert essentials. My readers have found it very helpful and I am hoping you will too!
Here are the recipe details….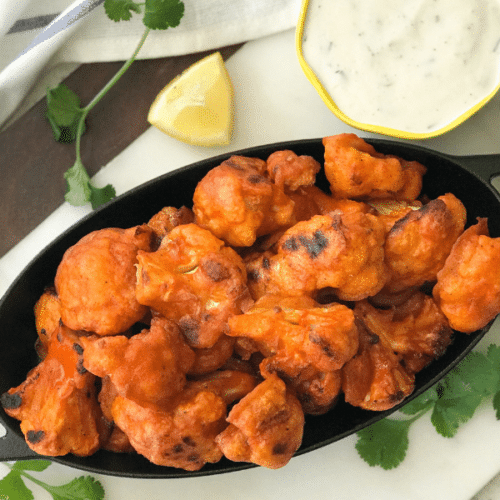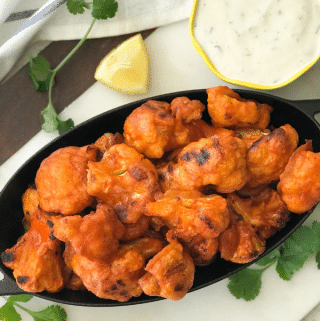 Vegan Cauliflower Buffalo Wings
This version of Cauliflower Buffalo wings is sure to be a crowd pleaser snack and a perfect option for game days or any party.
Instructions
Preheat the oven to 450F.

Line a large baking sheet with parchment paper.

Cut cauliflower into bite-sized pieces and wash in warm salt water. Drain the cauliflower and place it on the paper towel to remove excess water.

In a large bowl add 4 tbsp flour, 2 tsp cornstarch, 1 garlic (crushed), 1 tsp onion powder, ½ tsp black pepper, and salt. Whisk well to get an even mixture.

Add ½ cup of almond milk to the dry ingredients and give them a good mix. (If required add more)

Add the cauliflower florets to the batter and toss well to get an even mix.

Remove the pieces of cauliflower, one by one, and tap off the excess batter a few times on the edge of the bowl.

Place on the prepared baking sheet and make sure they are not touching each other.

Bake for 20 minutes. Flip them over and bake for 10 more minutes, until golden brown.

While the cauliflower florets are in the oven, prepare the hot sauce mixture.

To prepare hot sauce: Melt vegan butter in a saucepan over medium heat. Once melted, add the hot sauce and stir well. Do not overcook it. If prefer spicier add more hot sauce. (You can add coconut oil instead of vegan butter)

Brush the buffalo and vegan butter hot sauce on each cauliflower wing or toss them in a bowl, then return to the pan.

Put them back in the oven for 15 minutes. Remove, and serve with

Vegan Ranch dressing

for a heavenly taste!
Nutrition
Pin this recipe for later use