Baked Broccoli samosa is Perfect for evening snack time!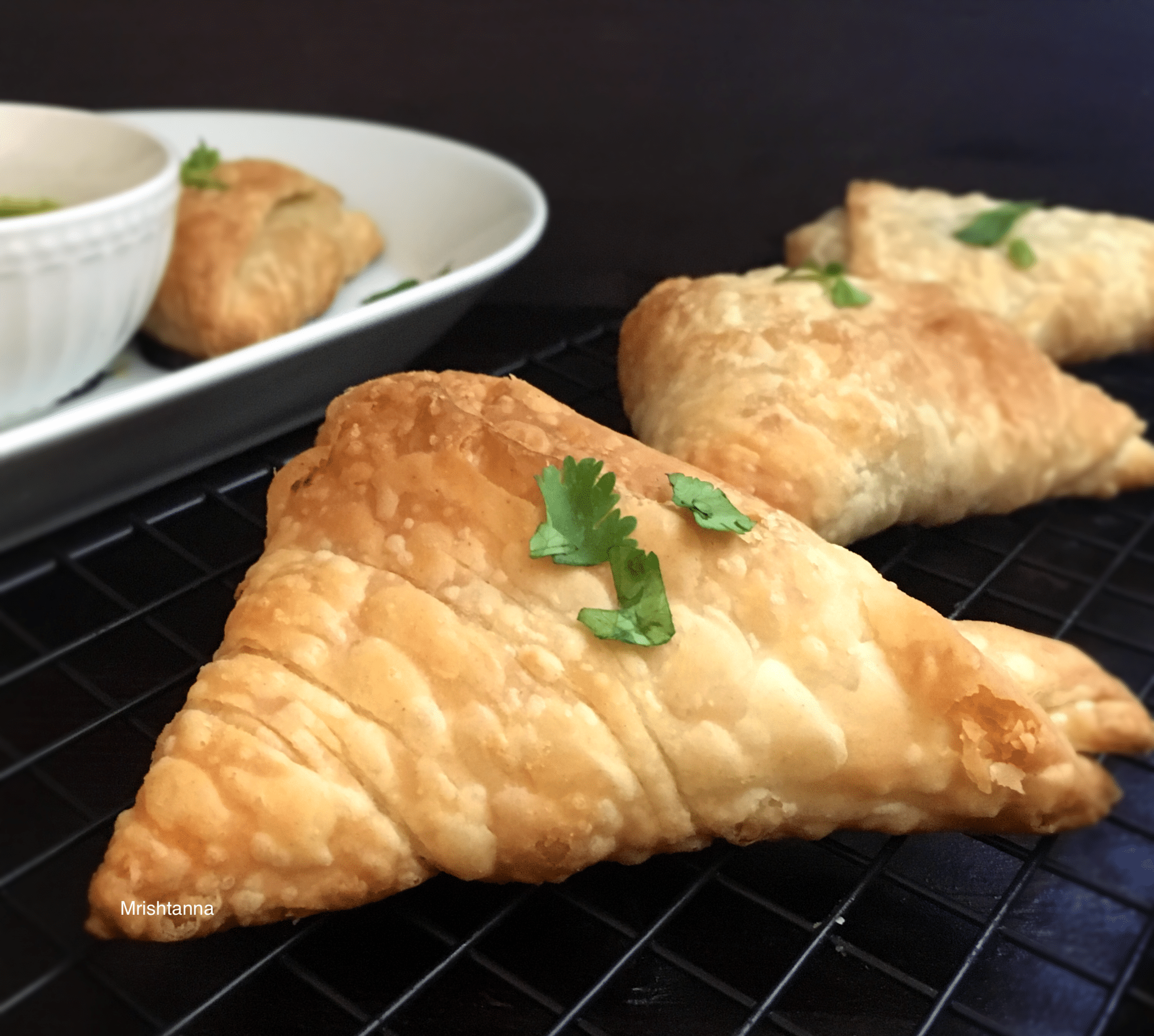 You can never go wrong with an appetizer like Samosas if you are cooking Indian. I am going to show you how you can prepare Samosa just like a native chef would…except for the fact that it is going to be a healthier version and it does NOT involve deep-frying. Just check my video and you will see what I mean.
These golden triangular samosas pack a lot of flavor in every bite. As my name suggests, I use Broccoli florets as well as conventional veggies like potatoes and carrots.
This is another smart way to add broccoli to your kid's diet without having to convince them to eat it. In fact, I had to limit them to just a few¦:-)
Before you start to make baked broccoli samosa, you should make sure you have the ingredients on hand. Most importantly, you will need the butter-free pastry dough to get the right texture.
Check the links at the end to help you choose the ones you are missing. After you watch the video, you will also notice that you can actually vary the size of samosas to suit your guests. You can prepare to bite-size nuggets to pack in just the right amount of masala inside.
Once you learn how to make them, you will realize it is not really as complicated as it looks. Once you have the vegetables steamed, it is really a matter of 15 minutes to get your stuffing ready for baking.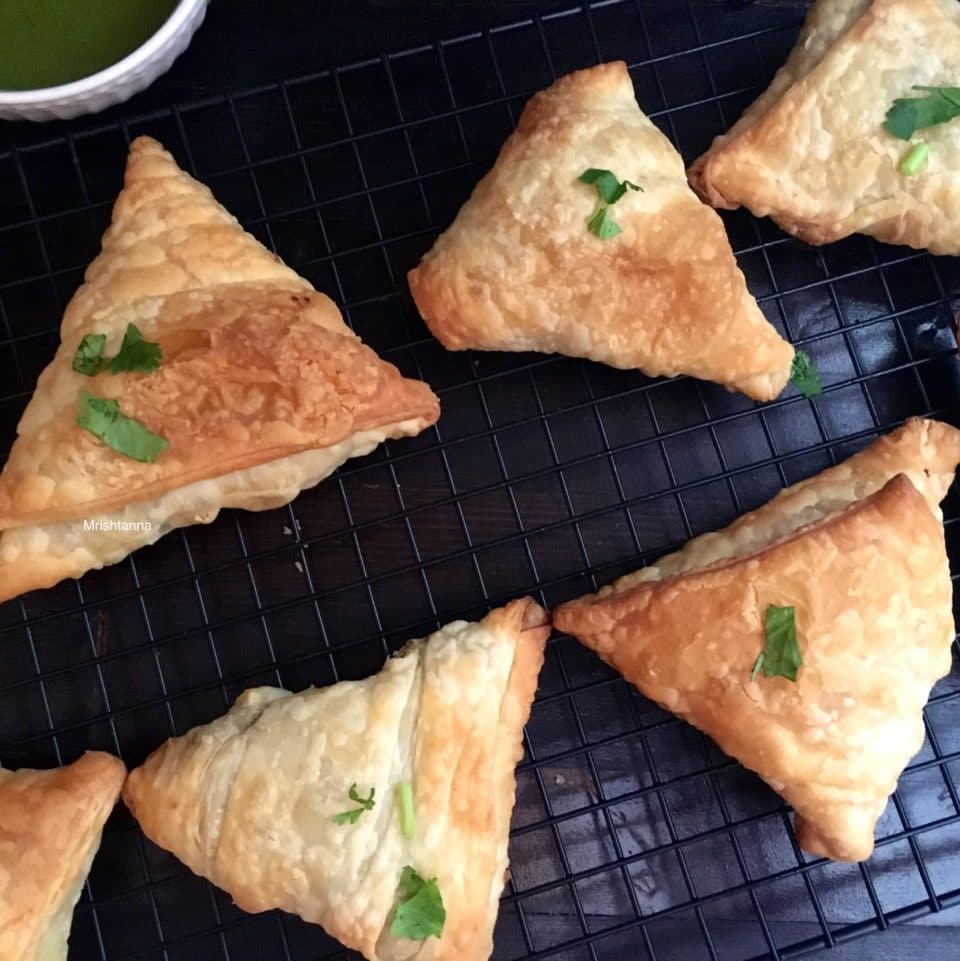 Read the step by step directions below for more details.
I hope you will like it as much as my family did and I hope it will leave your friends asking for more! If you like it please leave a comment here or on my Facebook page. If you prefer getting my recipes directly at your inbox, just hit the subscribe button at the right.
Here is the recipe…
Baked Broccoli Samosa 
Please flatten the dough before making samosa. My pastry dough is very thin layered.If not, you have to flatten it.
Ingredients
1

big head of broccoli

2

medium potatoes

1

medium size carrot.

Puff Pastry dough

Salt to taste

2

tbsp

Chickpea water

a.k.a Aquafaba

1

tsp

oil

1

tsp

red chili powder

1

tsp

garlic powder

2

tsp

onion powder

1/4

tsp

Mango powder

1

tsp

Garam Masala

1/2

tsp

cumin powder

2

tbsp

flour
Instructions
Steam the veggies until they soften and let them cool.

Preheat oven @ 425 F.

In a small bowl, mix 1 ½ tbsp water with 2 tbsp all purpose flour and mix well. This will form the flour paste.

In a medium size bowl, add all the dry ingredients (spices) to the steamed veggies. Gently mash them and mix evenly. This will form the stuffing for samosas.

Now take the pastry dough (After it thaws to room temperature) and make rectangular pieces, like I show in the video.

Fill the right amount of stuffing, and fold it diagonally to make a triangle and repeat as required.

Brush the corners with the flour paste you prepared in step 3.

As a last touch, grease the patties with a little Aquafaba and oil.

Bake for 20 minutes or until it turns golden brown.
Nutrition
Nutrition Facts
Baked Broccoli Samosa 
Amount Per Serving
Calories 35
Calories from Fat 9
% Daily Value*
Fat 1g2%
Sodium 8mg0%
Potassium 23mg1%
Carbohydrates 4g1%
Protein 1g2%
Vitamin A 119IU2%
Vitamin C 1mg1%
Calcium 3mg0%
Iron 1mg6%
* Percent Daily Values are based on a 2000 calorie diet.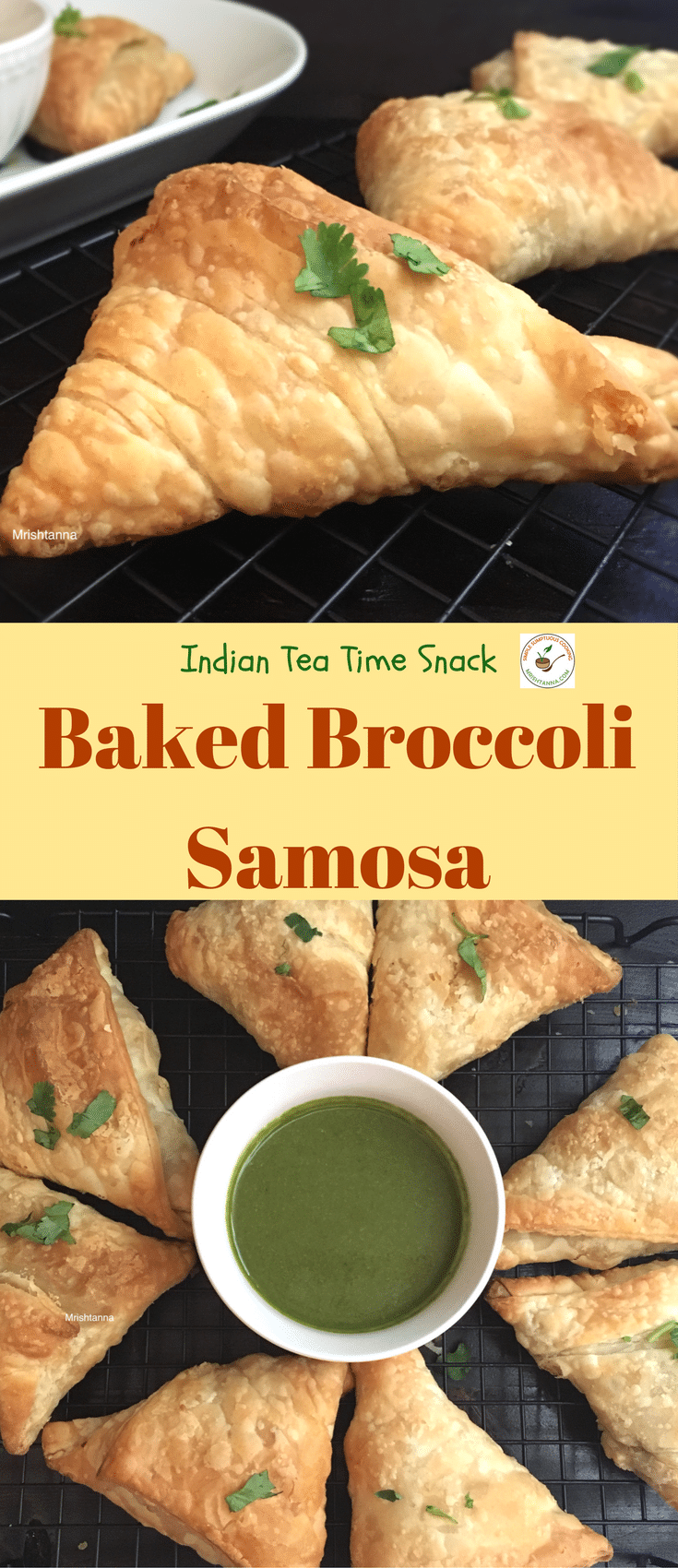 Products from Amazon.com
‹
›