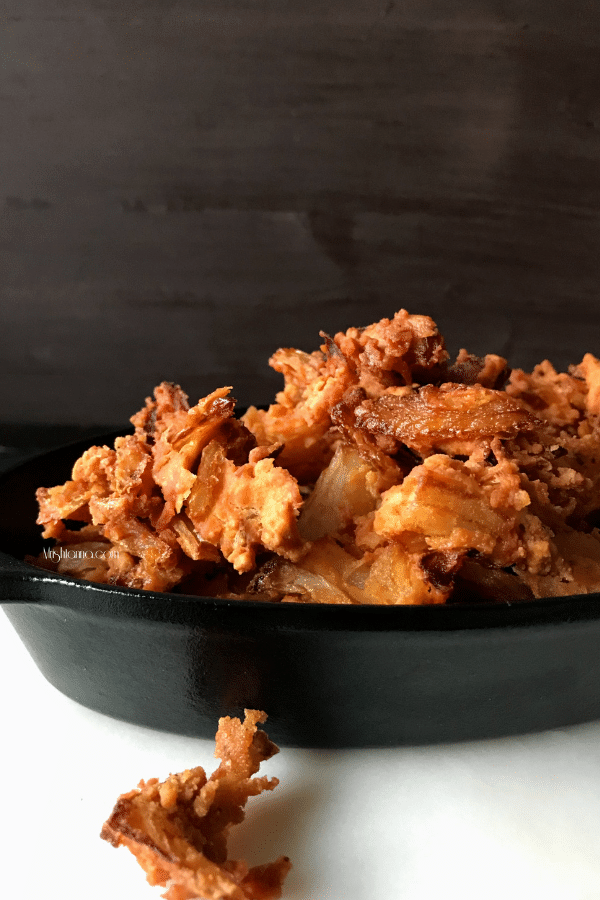 If there is one way of cooking that is a fan favorite in all cuisines, that is fried food. Although not innately healthy, there are good and bad ways of preparing any fried food recipe and today I am sharing a good way to prepare your new "favorite†fried onion snack….Onion Pakoda!
Since I prepare this Onion Pakoda pretty frequently, I decided to refresh the recipe I shared in the past with more pictures and better details. It's my mom's recipe and I loved every crispy bite of it growing up and I know you will enjoy it too.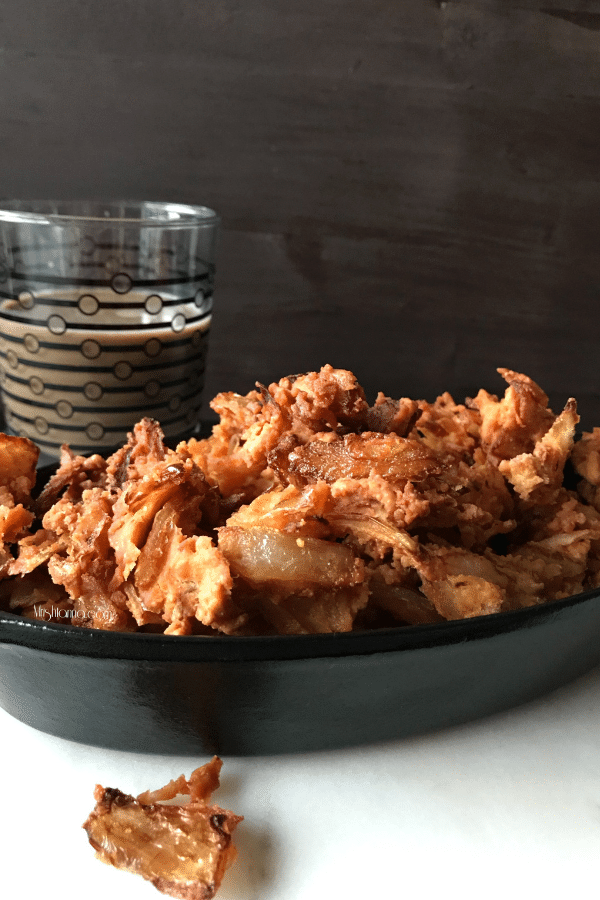 Onion Pakodas are a good snack for a cold wintery day and best tasting when they are served hot. The authentic Indian Pakodas are spicy but it can be customized to suit your taste. Apart from the spicy taste, the fried onions take care of the rest of the work. Try the recipe when you are hosting a big group for football games and you will see them disappear in two minutes.
How To Make Onion pakoda crispy?
The trick is in slicing them really thin and having the right mix of spices to onions. The right mix of Besan flour, rice flour, and onions. It is important that you add just the right amount of water and adding them gradually as needed. Even before you add any water, you should let the moisture inside the onions do the job for you.
You do this by first mix onion with flour, salt and a little bit of warm oil. Rest it for 10 minutes and you will notice the onions release the moisture within and help in mixing the dough. If your dough is still dry, then add water gradually in tablespoons. The rest of the procedure is explained in the steps below. I hope it turns out crunchy and yummy for you as it did for me!
Here is an example of onion pakoda batter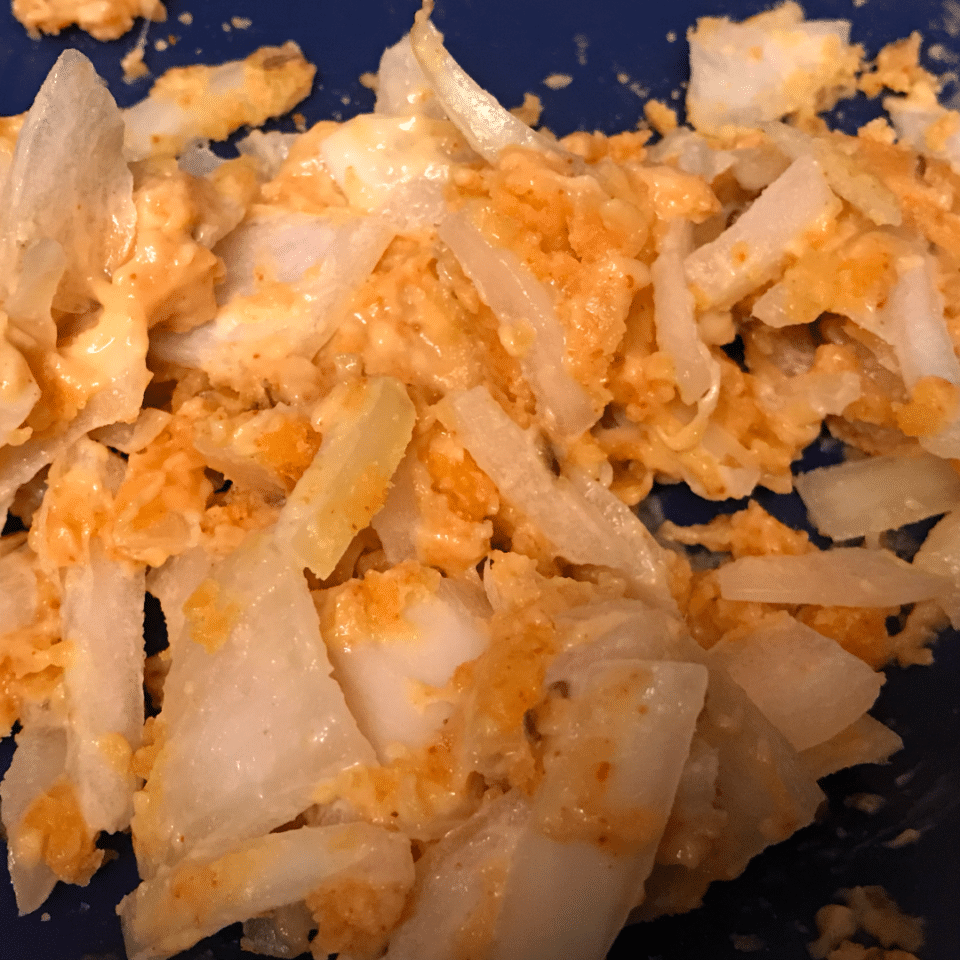 If this recipe interests you, look for similar recipes in my blog such as the Sesame Ribbon Pakoda. For more delicious vegan recipes such as this sent directly to your inbox, just subscribe to my newsletter. You will also get a copy of my e-book where I have put together some simple vegan dessert recipes and dessert essentials. My readers have found it very helpful and I am hoping you will too!
Here's the recipe details….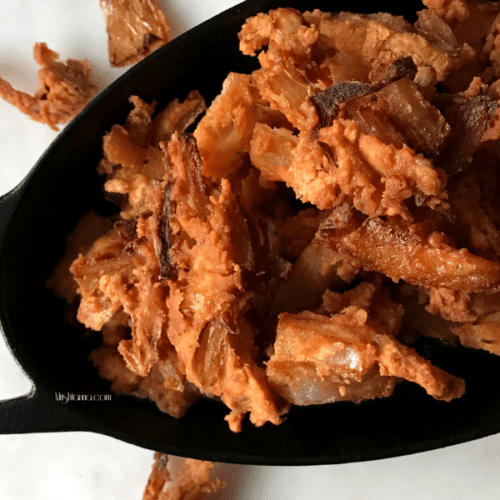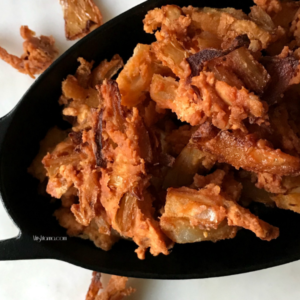 Onion Pakoda - How To Make Onion Pakora
Onion Pakodas are a good snack for a cold wintery day and best tasting when they are served hot.
Instructions
Heat 2 tbsp of oil in a small pan and add to the dry mixture.

Add the chopped onions to the flour and mix well (without adding water) and keep it aside for 5-10 mins

The dough begins to soften. Add 1-2 tsp water if it is not too soft yet.

Prepare the frying vessel over medium heat and start to fry the dough in bite-size lumps. If you are not sure if the oil is ready to fry, just test it with a small piece of dough. If the oil is ready, the dough rises to the top almost immediately.

Fry the onion pakoda until it gets golden brown color.

Serve with hot tea or coffee!
Nutrition
Save This Recipe For Later Use