Are looking for a tangy dish that can be prepared with little or no preparation? This South Indian Style Lemon Rice Recipe is packed with flavor and is just for you! In fact, this is one of those comfort foods that everyone loves which is vegan and family-friendly.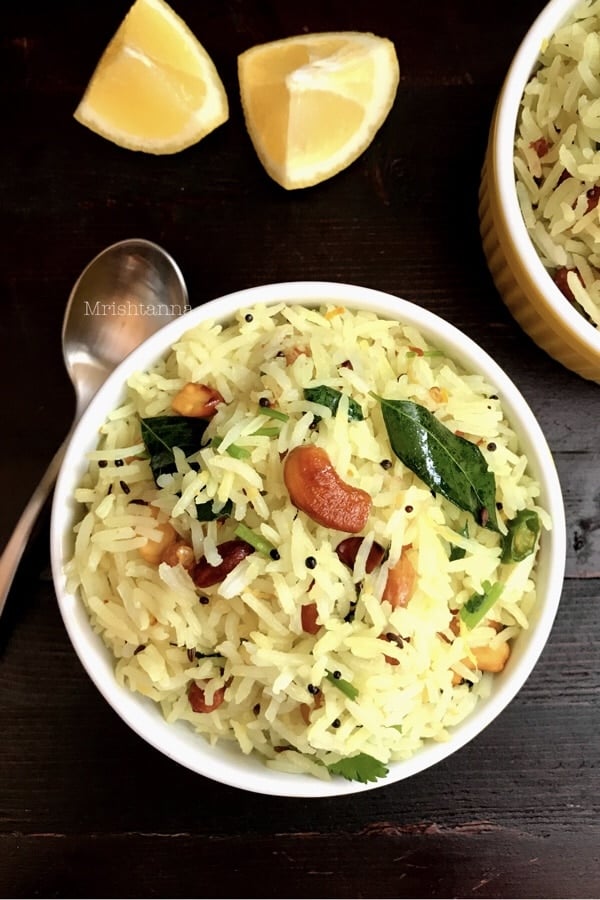 Jump to:
About this recipe
Lemon rice is full of flavor and is a huge upgrade to plain rice. I received a specific request for this lemon rice recipe as the majority of my readers always mention how they prefer recipes that are quick and easy to prepare with ingredients already stored at home.
In South Indian cuisine, lemon rice is popular for its simplicity and rich flavors which is a dish you can simply eat year-round. Lemon rice is essentially steamed rice that is mixed in with stir-fried spices and infused with fresh lemon juice. However, there are so many variations out there, but this South Indian version is the favorite in my household.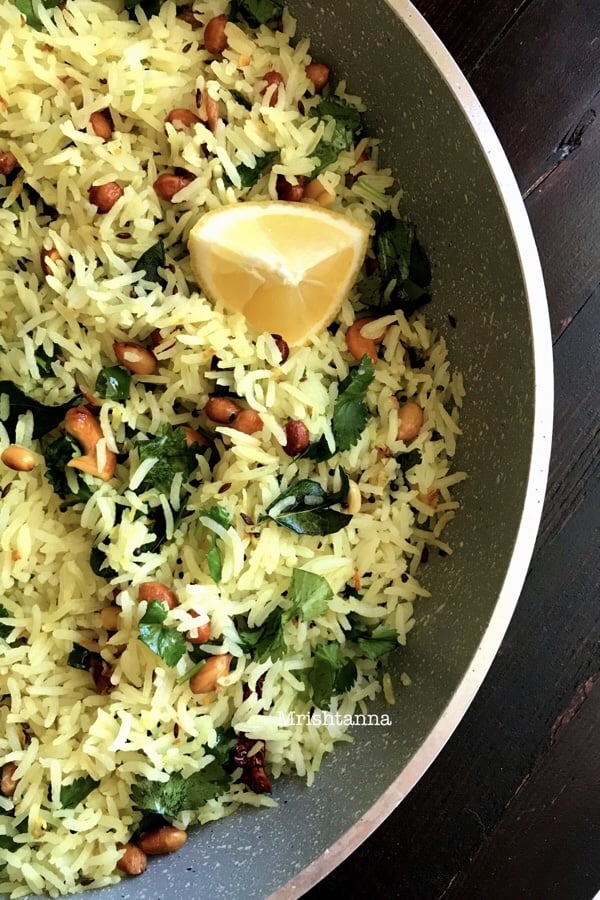 It's filled with cashew and peanuts that make it so amazing!
Ingredient Notes
Lemon Juice: Using freshly squeezed lemon juice is the main highlight of this dish.
Spices: To add more flavor, I use plenty of spices which are turmeric, mustard seeds, cumin seeds, red chilli, green chilli, ginger and curry leaves.
Nuts: This recipe uses peanuts and cashews for that extra crunch.
How to make lemon rice
Some more subtle changes I made to bring out the true authentic flavor and aroma is to use fresh turmeric root instead of the powder. The result is a tempting meal that is full of flavor in every bite.
Check out my video for the lemon rice recipe in the recipe card.

Recipe FAQs
Is this recipe vegan-friendly?
Yes, this lemon rice recipe is vegan friendly and contains so much flavor from the spices, nuts and lemon.
Can you eat as a main course?
Yes, this is a great main course which can keep you feeling full and contains nuts that are packed with nutrients.
Can you use turmeric powder instead of grated turmeric roots?
Yes, it is fine to use turmeric powder, but we use grated turmeric roots to bring out the authentic flavor and aroma.
How long can I store lemon rice?
This lemon rice can be refrigerated for up to 3-4 days.
Expert Tips
For true and authentic flavor, use fresh spices and freshly squeezed lemon juice.
Try it with basmati rice like I did or with jasmine, sona masoori rice. An easy and simple rice dish such as this will come in handy on busy weekdays and also a perfect option for kids' lunch boxes. Try it today and let me know how you like it.
If you love this nutty lemon rice recipe, why not try:
Just subscribe to my newsletter for more delicious vegan recipes such as this sent directly to your inbox.
Did you love this recipe? Rate it five stars!
And let me know what you loved about it in the comments.
📖 Recipe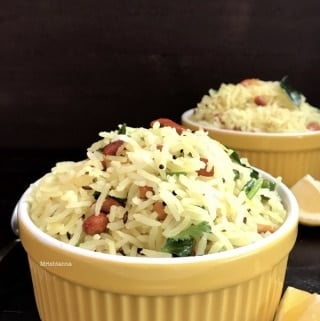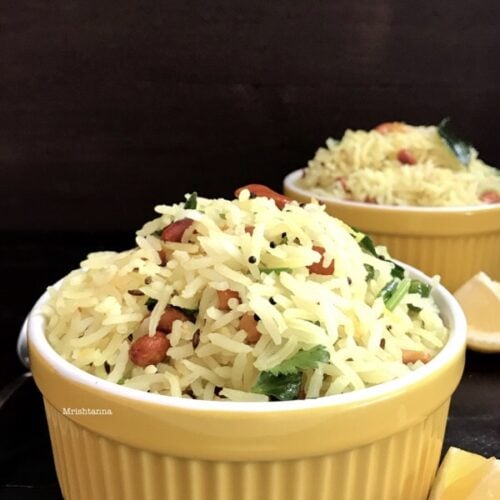 Indian Lemon Rice Recipe
Indian Lemon Rice is one of those comfort foods most everyone loves for different reasons.
Process Shot
Check above for step-by-step pictures (most of my recipes include pictures)
Ingredients
1 ½

cup

basmati rice

¼

cup

peanuts

2

tablespoon

split cashew nuts

1

teaspoon

mustard seeds

1

teaspoon

cumin seeds

1

dry red chili

2

green chilies

2

tablespoon

coconut oil

3

teaspoon

grated ginger

2

teaspoon

grated turmeric roots

1

strand curry leaves

3

teaspoon

lemon juice

Salt to taste

2

tablespoon

Cilantro for garnishing
Instructions
Soak the basmati rice for 15 mins in cold water.

Cook the rice with lots of water. Later drain the water after rice is cooked and place it aside. You could also steam the rice in a pressure cooker instead. Use a ratio of 1:1.5cup of water for every cup of rice.

Place a pan over medium heat add oil. As the oil heats up, add peanuts, and cashews. Fry them to a crispy consistency.

¼ cup peanuts,

2 tablespoon split cashew nuts,

2 tablespoon coconut oil

Add mustard and cumin seeds and saute them until they start to sizzle. Now, add dry red chilies and curry leaves and saute for another 30 seconds.

1 teaspoon mustard seeds,

1 teaspoon cumin seeds,

1 dry red chili,

1 strand curry leaves

Add grated turmeric, ginger, and chopped green chilies and cook for a minute.

2 green chilies,

3 teaspoon grated ginger,

2 teaspoon grated turmeric roots

Add salt to taste and mix in the cooked rice. Give it a good mix until the flavor is evenly distributed.

Switch off the heat and squeeze some fresh lemon juice.

Add chopped cilantro and mix well.

2 tablespoon Cilantro for garnishing
Video
YOUR OWN NOTES
Nutrition
Calories:
292
kcal
|
Carbohydrates:
48
g
|
Protein:
8
g
|
Fat:
12
g
|
Saturated Fat:
7
g
|
Sodium:
81
mg
|
Potassium:
166
mg
|
Fiber:
3
g
|
Sugar:
1
g
|
Vitamin A:
7
IU
|
Vitamin C:
4
mg
|
Calcium:
36
mg
|
Iron:
1
mg
Nutritional information is an estimation only.
Pin it for later