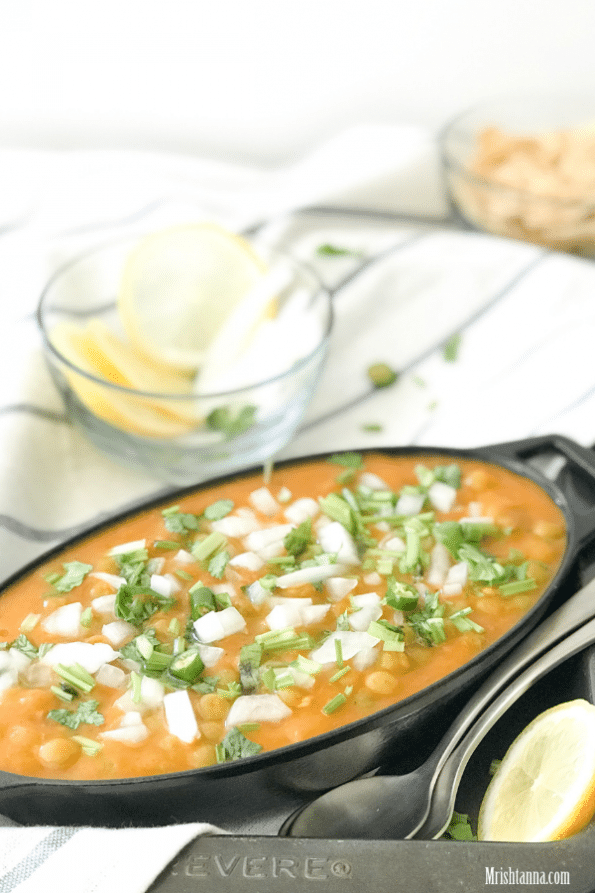 Who doesn't like street food, especially if it is homemade! Matar chaat is a hugely popular Indian street food that can also double up as a side dish to pair with Rotis and Chapatis.
Today, I am sharing an Instant Pot and regular version for this spicy and savory dish. As much as we crave for street snacks, the way they are prepared is always a reason to be wary of them. But when you prepare an authentic version right in your home, it is one snack you cannot resist and makes an excellent option for a house party!
With the perfect packaging of heat and protein in one savory combination, Matar Chaat is perfect for all seasons of the year. Like most recipes in Simple Sumptuous Cooking, this recipe is simple, easy to follow and can be customized to your taste preference. Based on some of the comments I have received, I have also listed separate instructions for Instant Pot and the original way.
You would need a pressure cooker to cook the peas (Matar) nevertheless, but with an Instant Pot, you can prepare the entire dish with just one pot.
Variety of Peas for chaat
There are two types of dried peas generally available. One variety is green and the other is yellow. Both have very different taste and flavor. I have used dry green peas for this recipe today. You could also prepare this with canned or frozen peas, but the dried version is definitely better in terms of nutrition and taste.
Just soak the dry peas in hot water for a couple of hours and you have a delicious snack for the evening. You can also use frozen green peas for this recipe but be sure to read the recipes notes before you start cooking.

How to cook green peas?
First, you need to soak the dry green peas overnight or for 2 hours in warm water. Without soaking the green peas, it takes longer to cook and the texture does not turn out as good either.
I cooked the soaked peas first in an instant pot using pot in pot(PIP) method. For 1 ½ cup dry green peas I added ¾ cup water. Cook for 5 min in high pressure.
For the stove top version, cook the peas in a regular pressure cooker. Cook them till you hear 2 whistles and let it cool down naturally. If you are using yellow peas, the timings may vary and it takes a shorter time than green peas. If you are using frozen peas you can skip this part.
How to eat matar chaat?
Like I said before, this can be eaten as a snack with sprinkled raw onions and cilantro or you can even pair it with naan or veggie Tikki for a hearty meal. It is also a great recipe when you are entertaining guests at home. Just boil the peas and keep them ready in the refrigerator, a few days ahead of time and you can prepare this savory dish in less than 30 minutes!
Check out my other green peas recipe
If you are a fan of peas in Indian recipes, check out my recipes for Matar pulao and Tofu Matar.
Tips to make better matar chaat
Soak the dried green peas at least 2 hours in warm or hot water.

Do not overcook the green peas to avoid making them too mushy.

If you want the chaat to have a thicker consistency, add 1 boiled, mashed potato. (Cook potato along with soaked peas).

Use red onions instead of white or yellow onions for better taste.

You can always add water to thin the matar chaat.

Serve Mata Chaat warm or hot garnished with chopped onions and cilantro.
Here are the recipe details…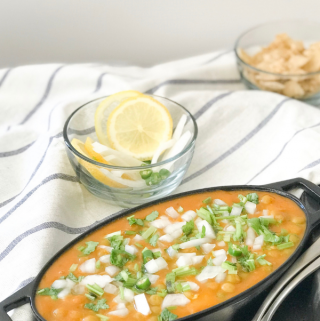 Print Recipe
Matar Chaat - Dry Green Peas Recipe
With the perfect packaging of heat and protein in one savory combination, Matar Chaat is perfect for all seasons of the year.
Ingredients
2

tsp

of Saunf 

fennel seeds

2

tomatoes

small

2

carrots

2

onions

1 for while serving(garnish)

1

potato

optional

1/2

cup

cilantro/coriander leaves

1 1/2

cups

dried green peas

1-2

tsp

of red chili powder

Customize per your liking

salt to taste

2

tsp

of oil

vegetable or olive oil

1

bay leaf

Salt to taste

¼

tsp

mango powder

amchur

¼

tsp

chaat masala

optional
Instructions
Directions for Instant Pot
Soak the green peas in warm water for 2 hours.

Cook them in ¾ cup water using the Pot-in-pot (PIP) method: Add water inside the inner pot and place a small steel vessel with peas using a trivet.

Close the lid of the instant pot and turn the steam release handle to sealing position. Tap "manual mode" and set time for 5 minutes.

When the time is up, open the lid using "natural release". (You could open after 10 mins, but only after turning the steam release handle to venting side.)

Now use the inner pot for frying, by wiping the pot dry.

Press 'saute' button and add 2 tsp of oil, 2 tsp fennel seed and fry for about 20 seconds.

Add 1 onion (chopped) and saute until it turns translucent.

Add 2 tomatoes (chopped), 2 grated carrots and continue to saute for another minute or until the carrots soften.

Add 1 cup water and turn the heat off. Use a hand blender or a regular blender to blend them into a smooth gravy.

Press 'saute' setting on the Instant Pot and add salt, red chili powder, bay leaf, mango powder to the gravy and cook for a minute.

Now add boiled peas along with water (¼ cup - ½ cup) and cook for 2 minutes.

Finally, add chaat masala at the end and switch off the heat.

Matar Chaat is ready! Serve it hot topped with chopped raw onions and chopped cilantro.
Directions for stovetop
Soak peas overnight or about 2 hours in warm water.

Boil peas until they are soft (preferably in a pressure cooker).

Place a vessel over medium heat and sauté the saunf seeds.

When the saunf sizzles, add one chopped onion and continue until onions are transparent.

Add carrots and continue until carrots soften.

Add chopped tomatoes and continue to cook for about 2 minutes.

Allow it to cool to room temperature.

Blend the mixture to make a smooth puree (Add water if necessary).

Place the puree over medium heat and add boiled peas, chili powder, bay leaf, mango powder, and salt to taste. Add water if required (½ - 1 cup).

Continue to stir until it boils, and add chaat masala.

Set aside for a couple of minutes and serve hot topped with chopped raw onions and finely chopped cilantro.
Equipments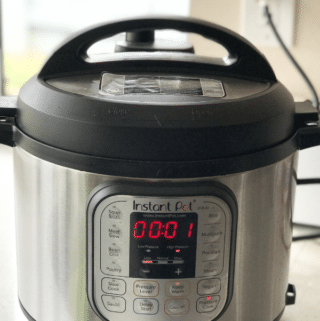 Instant Pot
Notes
While you cook the gravy, add approximately ½-1 cup water.
If you are using frozen green peas, be sure to cook them for a longer time in the 'saute' setting.
Use remaining 1 onion for while serving the matar chaat
Took only a few pictures for step by step directions 🙁
Nutrition
Nutrition Facts
Matar Chaat - Dry Green Peas Recipe
Amount Per Serving
Calories 256
Calories from Fat 18
% Daily Value*
Fat 2g3%
Sodium 31mg1%
Potassium 847mg24%
Carbohydrates 44g15%
Protein 16g32%
Vitamin A 4680IU94%
Vitamin C 13mg16%
Calcium 56mg6%
Iron 2.9mg16%
* Percent Daily Values are based on a 2000 calorie diet.
If this recipe interests you, please rate my recipe and comment below. For more delicious vegan recipes such as this sent directly to your inbox, just subscribe to my newsletter. You will also get a copy of my e-book where I have put together some simple vegan dessert recipes and dessert essentials. My readers have found it very helpful and I am hoping you will too!
Pin this recipe for later use