A fully ripe mango is a delicacy by itself but when you mix in another tropical addition like coconut, the taste is truly divine. So I am excited to share an updated recipe for Aam Ras a.k.a Mango Rasayana with better photos and video instructions.
This is one recipe I have grown up with and also one that I will never be tired of. You can find several mango based recipes at this site, but none as dear to me as this Mango Rasayana.
Rasayana is a dessert made using mango, coconut milk, and jaggery. It is unique to the state of Karnataka, India, and is a part of the menu in every house during the beginning of the mango season (late March). It can be served with dosa, chapati, idli, or as a dessert by itself.
Mango Rasayana | Aamras
This mango dessert is popularly known as 'Aam Ras' and also called 'Mavina Hannina Rasayana' in Kannada. It is made with Mango pulp or shredded mangoes, coconut milk, and jaggery. Although it is traditionally served with Neer dosa, it also tastes so good with "Akki Shavige" and Rotis.
With simple ingredients such as these, this ought to be one of the easiest desserts you can prepare. For the best results, it is important to use the right variety of mango for this recipe. Not all varieties are good for any mango based recipe.
The best mango for this recipe would be Alphonso variety. But if you are not able to get those, Ataulfo mangoes work well too and they are readily available.
Coconut milk adds a nice tropical addition to the mango. You could also add plain milk or almond milk at the end just to adjust the consistency, but coconut milk gives you the authentic flavor and the best tasting dish.
Moreover, since I prefer to make it a vegan delicacy, I have used only plant-based milk option.
Apart from the mangoes, jaggery, and coconut milk, there is one other key ingredient you cannot do without. And that's Cardamom.
One little teaspoon of cardamom powder is all you need for the entire recipe, but it packs a punch of aroma that makes it truly authentic!
Few Key Tips
Get the pulpy mangoes, so your Aam Ras will have a thick consistency.

Replacing Jaggery with sugar is an option but use jaggery for the authentic taste.

I used full fat coconut milk from a can. You could also use fresh home-made coconut milk instead of store-bought ones. Home-made coconut milk is prepared using freshly squeezed ground coconuts.

Mash or blend the half of the shredded mango to get the yellowish color and thick texture.

Adding a pinch of salt to balance the sweetness from mangoes.
Here are a few more recipes that you might like it
Mango turmeric mini cheesecake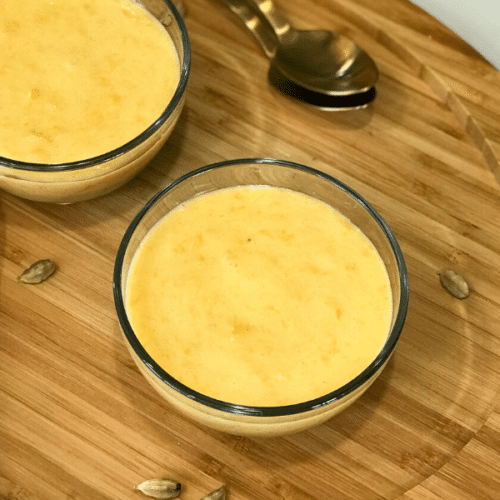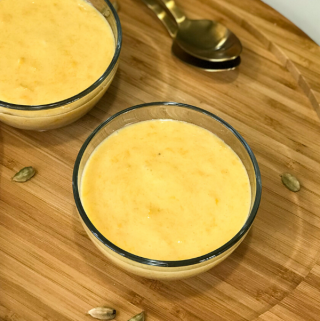 Mango Rasayana - Aamras
This mango dessert is popularly known as 'Aamras'. It is made with Mango pulp or shredded mangoes, coconut milk, and jaggery.
Ingredients
7

ripe mangoes

2

cup

jaggery or use 1 cup sugar

Pinch

of salt

1

teaspoon

cardamom powder

½

cup

of cold water
Instructions
Peel the mangoes, ensuring no skin is left on them.

Cut the mangoes into cubes and shred them into fine pieces. Discard the seed.

In a big bowl, add the shredded mangoes, jaggery or sugar, coconut milk, salt, and cardamom powder and mix them well. Add cold water and give a nice stir once again.

If you prefer more liquidity, add more coconut milk or cold water. Mango Rasayana is ready.

Refrigerate for an hour before serving with dosa, chapati, idli, or as a dessert. Happy Cooking!
Notes
The nutrition values I show here are my best estimates. Please be sure to check your preferred nutrition calculator, if you are relying on accurate calculations in your diet.
YOUR OWN NOTES
Nutrition
Calories:
222
kcal
|
Carbohydrates:
4
g
|
Protein:
2
g
|
Fat:
16
g
|
Saturated Fat:
14
g
|
Sodium:
10
mg
|
Potassium:
175
mg
|
Fiber:
3
g
|
Sugar:
16
g
|
Vitamin C:
2
mg
|
Calcium:
11
mg
|
Iron:
1
mg
If this recipe interests you, rate, and comment below. For more delicious vegan recipes such as this sent directly to your inbox, just subscribe to my newsletter.
You will also get a copy of my e-book where I have put together some simple vegan dessert recipes and dessert essentials. My readers have found it very helpful and I am hoping you will too!
Pin it for later use