There is no better season to cook pumpkin than early fall. The best pumpkins are out in the grocery store (or your backyard) and there is no better time to share the unique pumpkin recipe that needs no baking. The naturally sweet taste of pumpkins makes them kids favorite as well.
Pumpkin Dal is a mighty concoction of cubed pumpkins along with protein-rich pulses and spices. Pumpkin is one of the low-calorie vegetables you can find. It is a storehouse of several vitamins and antioxidants. Today's Pumpkin Dal is a low-fat option for cooking pumpkins compared to baked pies or muffins.
For this recipe, I used split pigeon pea, but you can substitute it with moong dal or any other pulse you prefer. Low Fat Pumpkin Dal pairs very well with roti (Indian bread) or steamed rice.
The recipe is easy to prepare if you have a pressure cooker. Setting it up for three whistles ensure a well-cooked Dal. If you do not have a pressure cooker, be sure to cook them until their cores are soft. Undercooked lentils change the texture of the dish and turned to make them very dry.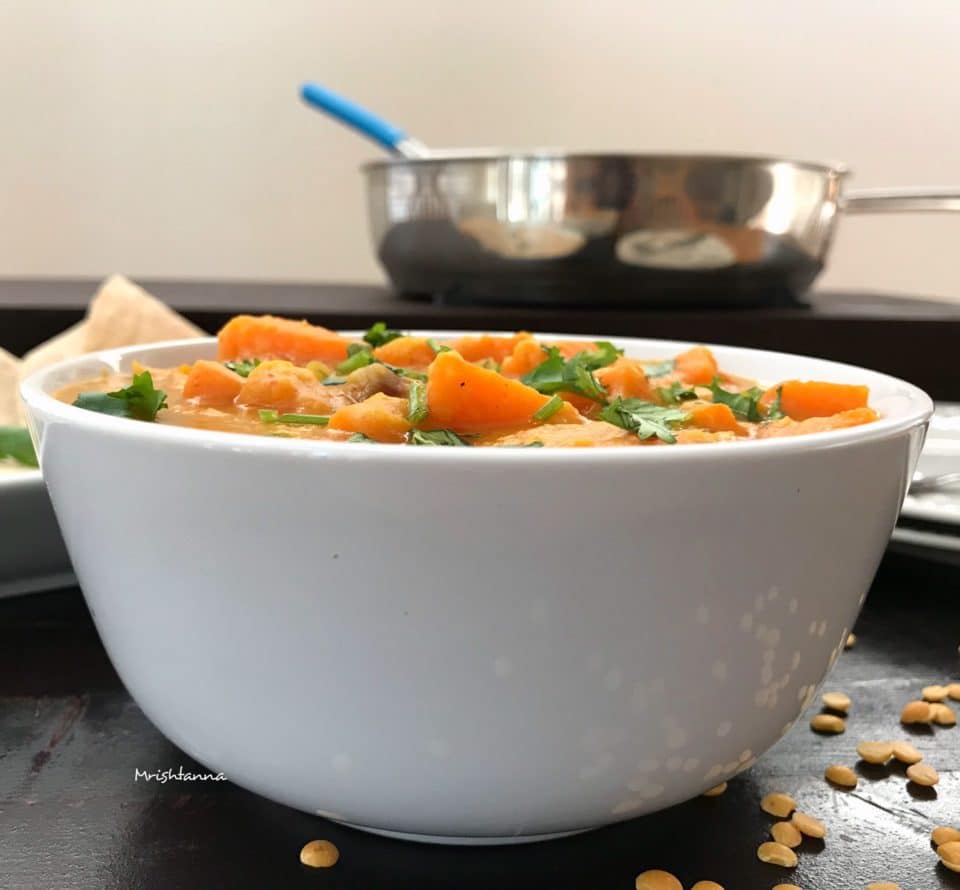 There is a little bit of work involved in cutting the pumpkins, but they are definitely worth it. Cutting them too small will probably overcook them. Be sure to cut them about 1 inch or a little smaller. You do not need a pressure cooker to cook them. Pumpkins cook rather fast. When you can poke through them with a fork, they are ready. If you are looking for a low-fat recipe for the upcoming pumpkin season, look no further. Try this today!
Recipe for Sambar Powder
Check out my other dal recipe – Spinach dal, Chana dal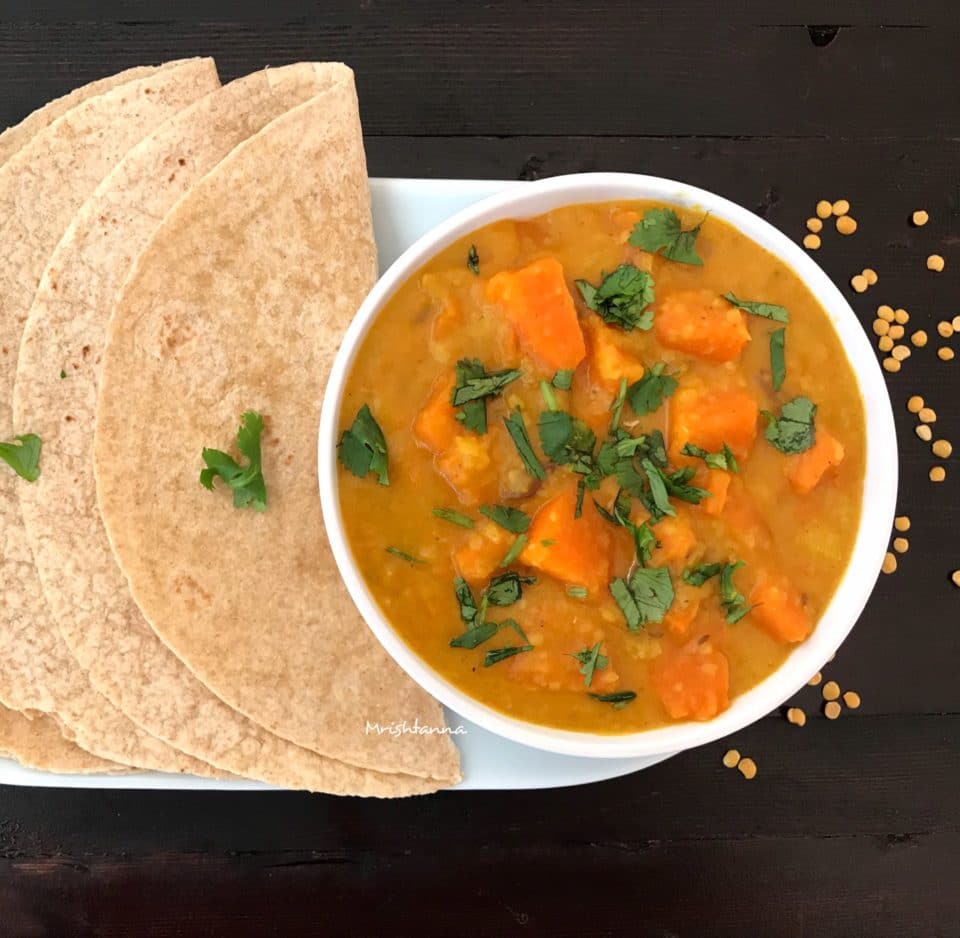 Feel free to leave comments here or on my facebook page. You can also subscribe to my newsletter and you will get my recipes sent to your inbox.
Apart from simple vegan recipes such as this, I have put together some simple vegan dessert recipes and dessert essentials in the form of a short e-book. Just sign up for my newsletter if you have not done so already and you will get a copy. Here are the recipe details….
Low Fat Pumpkin Dal
Pumpkin Dal is a mighty concoction of cubed pumpkins along with protein-rich pulses and spices.
Ingredients
2 ½

cup

cubed pumpkin

1

medium sized onion

2

garlic clove

2

tbsp

of minced ginger

Salt to taste

¼

tsp

turmeric powder

½

tsp

red chili powder

1

tbsp

Sambar/ curry powder

½

tsp

Garam Masala

1

cup

dry toor dal

split pigeon pea

3

tbsp

cilantro

2

tsp

lemon juice

1

tsp

cumin seeds

2

tbsp

olive oil
Instructions
Cook the dal with 1 ½ cups water, in a pressure cooker (3 whistles) or on a stovetop until their cores are soft.

Place a deep pan over medium heat and drizzle 2 tbsp of olive oil.

As the oil heats up, add cumin seeds followed by ginger and garlic. Saute for a minute.

Add chopped onions and continue to saute until they are transparent.

Add the cubed pumpkins and close the lid.

Cook them until the pumpkin pieces are soft.

Remove the lid and add the spices (Turmeric powder, Chilli powder, Sambar powder, and Garam Masala) one by one and continue to stir well.

Now, add the cooked toor dal and salt to taste.

Mix well. Add a little more water, if it appears too thick.

Cover the lid and simmer for 6-8 minutes.

Add lemon juice and chopped cilantro and switch off the heat.
Nutrition
Calories:
260
kcal
|
Carbohydrates:
4
g
|
Protein:
1
g
|
Fat:
7
g
|
Saturated Fat:
1
g
|
Sodium:
7
mg
|
Potassium:
9
mg
|
Fiber:
1
g
|
Sugar:
1
g
|
Vitamin A:
120
IU
|
Vitamin C:
1
mg
|
Calcium:
8
mg
|
Iron:
1
mg
Pumpkin dal is ready to serve. Serve hot with steamed rice or Indian bread.