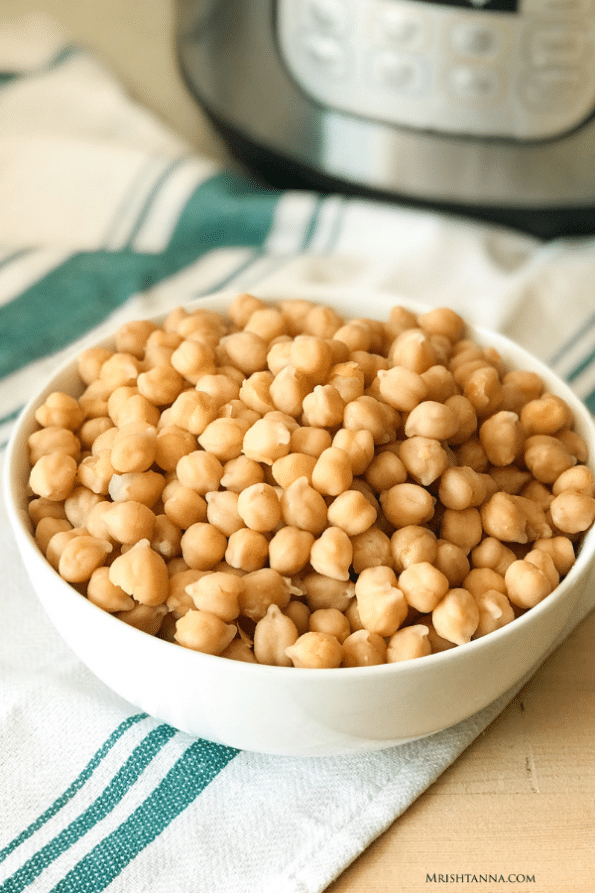 If you are looking for a recipe, you are wrong! I am addressing a question that I often get from my readers whenever I share a recipe with Chickpeas – the right way to cook them! So I decided to share what I know about this powerhouse of a food.
Not only that, but I am also sharing this new found way to cook them with the all-new Instant Pot! I was surprised how easy it is to cook chickpeas with the Instant Pot to a soft and smooth texture just like they ought to be.
How to cook chickpeas in instant pot?
Cooking Chickpeas in Instant Pot is an easy and simple process. First, you have to soak and rinse with water and then cook them under pressure. I have found it to be very easy and helpful if you cook a big batch of chickpeas.
I cooked almost a pound of dry chickpeas in one batch and used for 2 recipes. They store very well in the refrigerator and can be a mainstay ingredient for several recipes like salad, hummus, and curry.
I cooked them under pressure for 12 min. But a lot depends on how long you soak them in water. Most chickpeas require about 3 hours of soak time in order to achieve the consistency that you need.
Soak Vs Non soak chickpeas
I typically cook soaked chickpeas because they take less time compared to non-soaked kind. Soaking them overnight brings the best results although it is a little difficult to plan it that way. However, soaking for at least 3-4 hours is the bare minimum. Moreover, soaked chickpeas is good for digestion compared to non-soaked chickpeas. So I strongly urge you to soak them before you cook.
Where can you buy or get cheap dry chickpeas?
Like most commodities, you get them really cheap when you buy the dry variety in bulk. The shelf life of the dry chickpeas is amazing! It will last for months as long as you keep them dry. So you just have to buy them once for a season and you are all set! I usually buy the dry kind in bulk at Target or Sprouts.
Tips to cook chickpeas in Instant Pot(pressure cooker)
Look for a rounded variety that has a light brown hue.

Rinse them clean after soaking.

Cook without adding salt to reduce cook time

Cook with plenty to water enough to rise above the chickpeas by about an inch or so.
What can you make with cooked chickpeas?
As I said, there are several varieties of dishes that you can prepare with Chickpeas. A protein-packed superfood such as chickpeas makes a good selection to prepare snacks as well as meals. Here are some of the few that come to my mind…
Salad

hummus

burrito

Tacos
If this "How to" recipe interests you, please rate the recipe and comment below.
Here are the recipe details….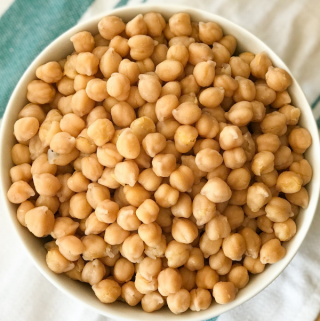 Print Recipe
Instant Pot Chickpeas - Garbanzo Bean
Cooking Chickpeas in Instant Pot is an easy and simple process. First, you have to soak and rinse with water and then cook them under pressure.

Ingredients
2 ½

cup

dry chickpeas

5-6

cups

water
Instructions
Soak the chickpeas in water for 3 hours.

Rinse them with water and put them inside the inner pot of instant pot.

Add 5 cups of water. Close the lid of the instant pot and turn the steam release handle to sealing position. Tap "manual mode" and set time for 12 minutes.

When the time is up, open the lid using "natural release".

You can drain the excess water and store it in an airtight container. (Refrigerate for a week or freeze for a month)
Notes
If you are not soaking the chickpeas then cook for 45 min in manual mode and open the lid using natural release.
Nutrition
Nutrition Facts
Instant Pot Chickpeas - Garbanzo Bean
Amount Per Serving
Calories 302
Calories from Fat 45
% Daily Value*
Fat 5g8%
Sodium 13mg1%
Carbohydrates 50g17%
Protein 16g32%
Vitamin C 4.3mg5%
Calcium 43mg4%
Iron 3.5mg19%
* Percent Daily Values are based on a 2000 calorie diet.
For more delicious vegan recipes such as this sent directly to your inbox, just subscribe to my newsletter. You will also get a copy of my e-book where I have put together some simple vegan dessert recipes and dessert essentials. My readers have found it very helpful and I am hoping you will too!
Pin this recipe for later use