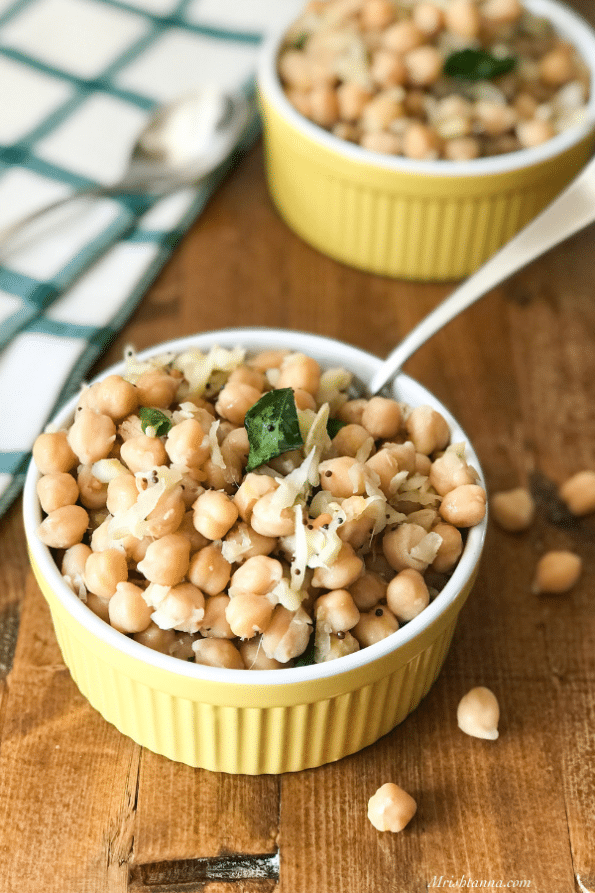 After a brief hiatus in sharing new recipes, I am back today with one that is easy to prepare and something you can try right away. It is one of the easiest recipes with Chickpeas – Mango Chickpeas salad a.k.a Sundal in India. Sundal is a typical south Indian dish made in almost every house during festivals.
But it does not have to be just during festivals for you. A nutritious, low-fat recipe such as this needs excuses to prepare. It barely has any stir-fried ingredients and uses very little oil during preparation. Mango Chickpeas Salad can be enjoyed as a snack or a starter salad to make any meal a sumptuous one.
How to cook chickpeas?
Chickpeas or Chana Dal can be cooked in a pressure cooker or in the Instant Pot. Using canned chickpeas can speed up the process and comes in handy if you do not want to use or do not have a pressure cooker. You may want to check my article from a few weeks where I showed how to cook Chickpeas in Instant Pot. If you missed it, check it out here! The procedure is quite simple and does not even need the chickpeas to be soaked.
Types of Chana that can be used for sundal
For this recipe, there are a couple of types of chana that work well…Kala Chana & Kabuli chana. They are fairly common and you can find them in any Asian grocery store. For this recipe, you will notice that I have used Kabuli chana also known as Chickpeas.
Variations of Mango Chana Sundal
Once you master this recipe, the variations you can try are limitless! You can replace chickpeas with peanuts (groundnuts), black chana, kidney beans (rajma), mung bean (green gram) or any other legumes or combination of grams.
Mango chana sundal or mango chickpea salad
'Sundal' is nothing but cooked chickpeas tossed in spices and grated coconuts. Mango Chana sundal is pretty much a variation of this original recipe with grated mango (raw) instead of coconut. Raw green mangoes give the sweet and sour taste that pairs very well with the spices. This is probably one of the salads with a high protein content that can keep you off other unhealthy snacks for a long time.
The best part I liked about the recipe is the shortlist of ingredients that it needs. If you are not able to find raw mangoes for this recipe, you can always revert back to using grated coconuts instead. If you prefer a spicy note, just add more chilies. Try this today and let me know if you share my excitement for this protein-packed salad!
Here are the recipe details….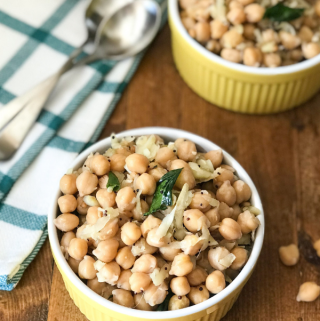 Print Recipe
Chana Sundal- Mango Chickpea Salad
'Sundal' is nothing but cooked chickpeas tossed in spices and grated coconuts. Mango Chana sundal is pretty much a variation of this original recipe with grated mango (raw) instead of coconut.
Ingredients
1

cup

grated raw mango

2 ½

cup

cooked garbanzo bean or use canned chickpeas

2

tsp

grated ginger

4

green chilies

1

strand curry leaves

Salt

2

tsp

coconut oil

1

tsp

mustard seeds

½

tsp

urad dal

1

red chili

optional
Instructions
Place a pan over medium heat or use instant pot to saute the spices. I have used the Instant pot for this procedure.

Press saute setting and add oil to the inner pot. As the oil heats up, add mustard seeds, urad dal, and red chilies. When it starts to sizzle, add grated ginger and curry leaves. Saute for 20 seconds.

Add grated mangoes and salt. Stir well and saute for 30 seconds.

Add cooked chickpeas then continue to stir. Continue to saute for at least another 30 seconds.

That's it! Mango Chickpea sundal is ready! Serve it warm with a side of hot coffee or tea!
Notes
This can be made in stovetop too. Same procedure, use any kind of pan instead of Instant Pot.
Nutrition
Nutrition Facts
Chana Sundal- Mango Chickpea Salad
Amount Per Serving
Calories 196
Calories from Fat 36
% Daily Value*
Fat 4g6%
Sodium 151mg6%
Potassium 36mg1%
Carbohydrates 31g10%
Protein 3g6%
Vitamin A 107IU2%
Vitamin C 22mg27%
Iron 1mg6%
* Percent Daily Values are based on a 2000 calorie diet.
If this recipe interests you, please rate or comment on this post below. For more delicious vegan recipes such as this sent directly to your inbox, just subscribe to my newsletter. You will also get a copy of my e-book where I have put together some simple vegan dessert recipes and dessert essentials. My readers have found it very helpful and I am hoping you will too!
Pin this recipe for later use