Luscious Vegan Papaya Mousse!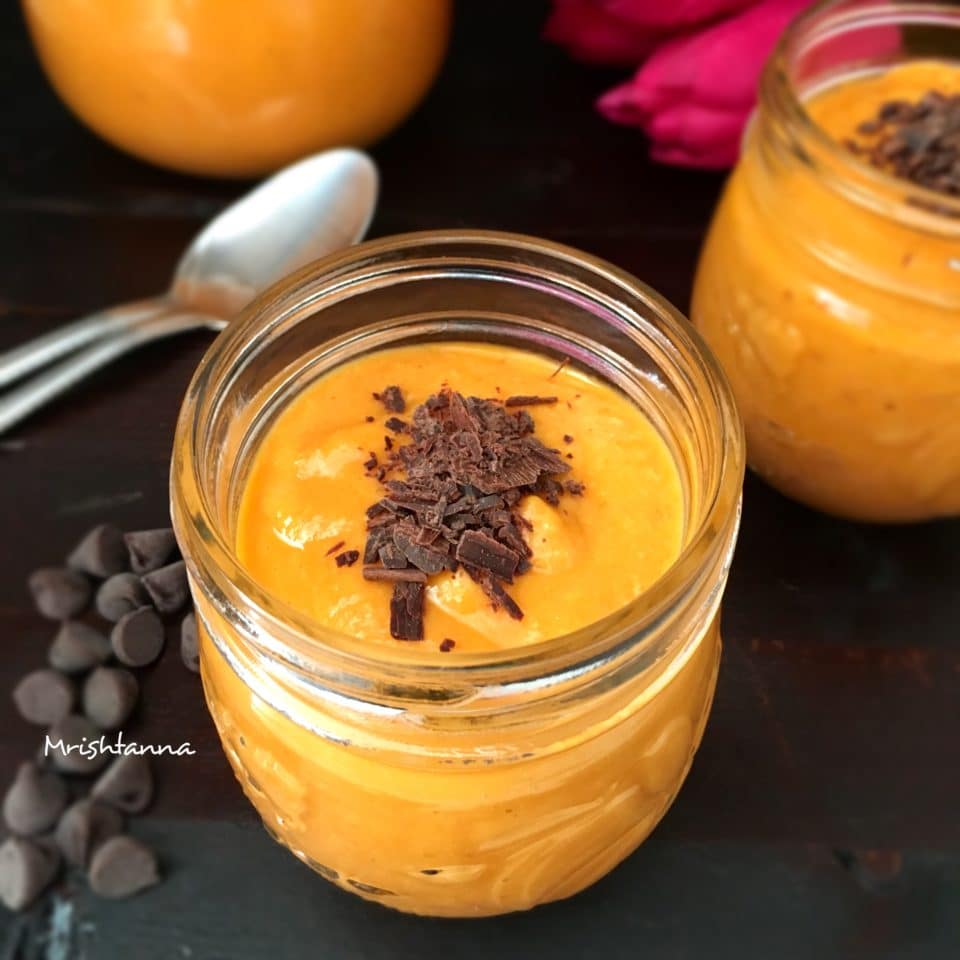 A savory recipe for a samosa needs to be followed up with a sweet and creamy dessert like a Mousse! Not just the usual kind….I am going for a tropical flavored vegan mousse that hardly takes 15 minutes (Do not count the prep time please….:-)) After all, a recipe that is wonderfully creamy such as this Mousse will take a little bit of planning.
I am going with papayas for today's dessert. Not only because I crave for Papayas all year long, but also because it has been long overdue. I have touched upon several fruity desserts but never Papayas.  
  Mousse is a soft prepared food that blends in air bubbles to give it a light and fluffy texture. A cold and fluffy dessert is always a welcome option on a hot and sunny day. The procedure is not that hard either. The difficult part is to get all the right ingredients that offer the light and fluffy texture. I think I got the right mix after I dry roasted some oats in the mousse. Oats help in bringing all the ingredients together.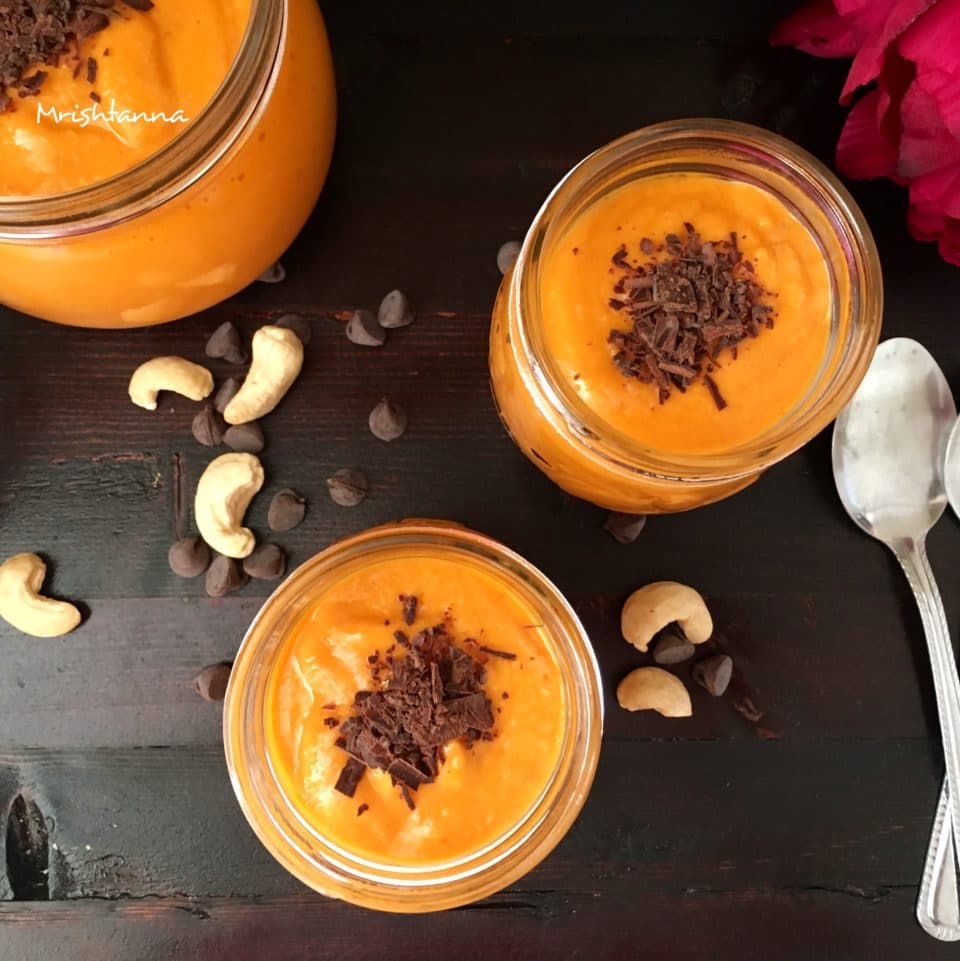 There are several techniques in preparing Mousse, each with a varying level of fluffiness. I am hoping you will get the same fluffy texture that I did. Another main ingredient that turned out to be the key is coconut cream. Be sure not to use coconut milk. They are not the same and will make a big difference! Very soon, I am going to be posting another recipe or updating this recipe, with more details about the Chocolate and Mango Mousse that I am also trying.
      Check my video and try it today. If you like it, please leave a comment here or on my Facebook page. If you prefer getting my recipes directly in your inbox, just hit the subscribe button at the right….
Vegan Papaya Mousse
Ingredients
1

medium sized

ripe papaya

¼

cup

roasted Oats

10-12

pitted Dates

1/4

cup

cashews

1/2

cup

Cold Coconut Cream

Vanilla extract

optional

Dark Chocolate

optional
Instructions
Soak cashews for 6 hours ahead of time and place it aside.

Dry roast the oats in a small pan for about 30-45 seconds

Now blend all the ingredients including the oats and cashews into a smooth texture.

Refrigerate for 4 hours.
Vegan Papaya Mousse is ready! Serve chilled on a sunny afternoon!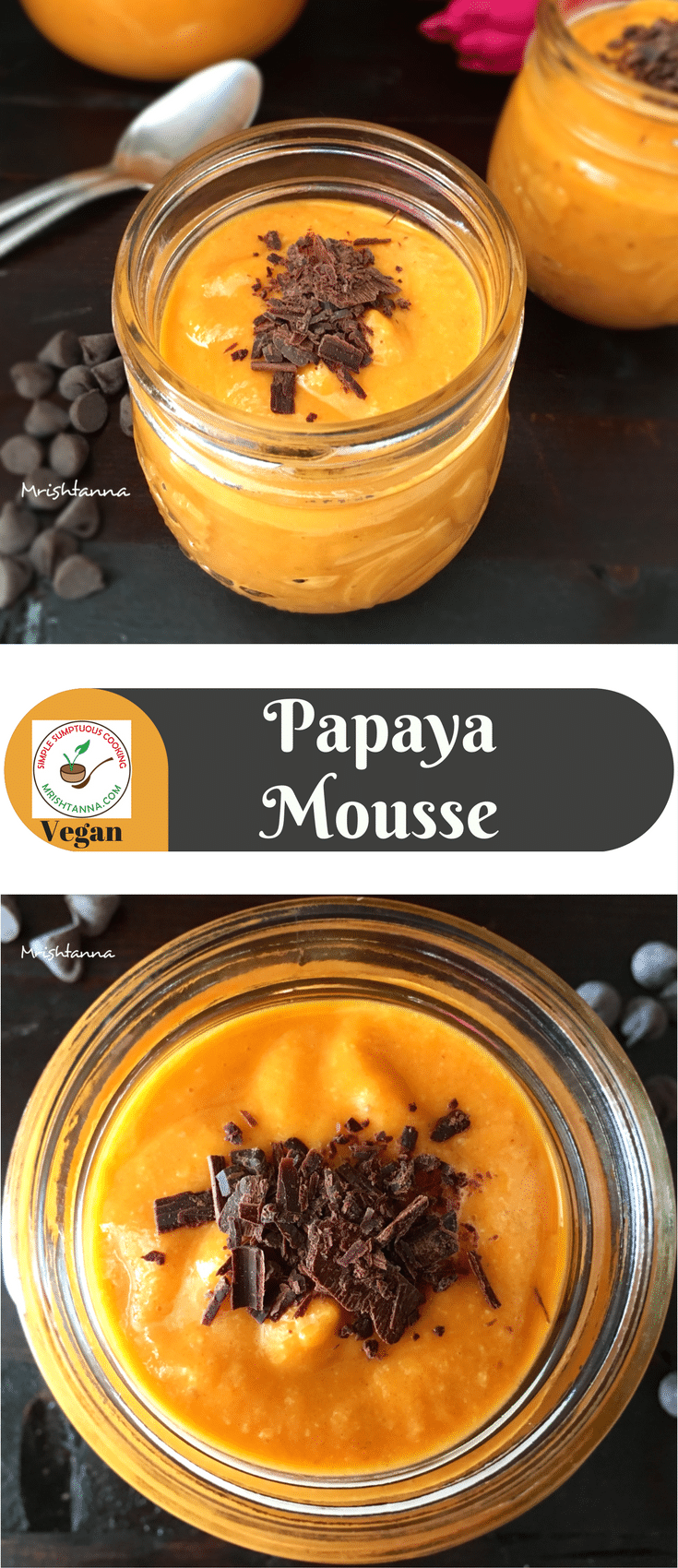 Products from Amazon.com
‹
›