The wonderful thing about this beetroot curry is that it doubles up as a soup too. If you are looking for a light meal or a lean and nutritious meal, Beet curry is a very quick & easy option.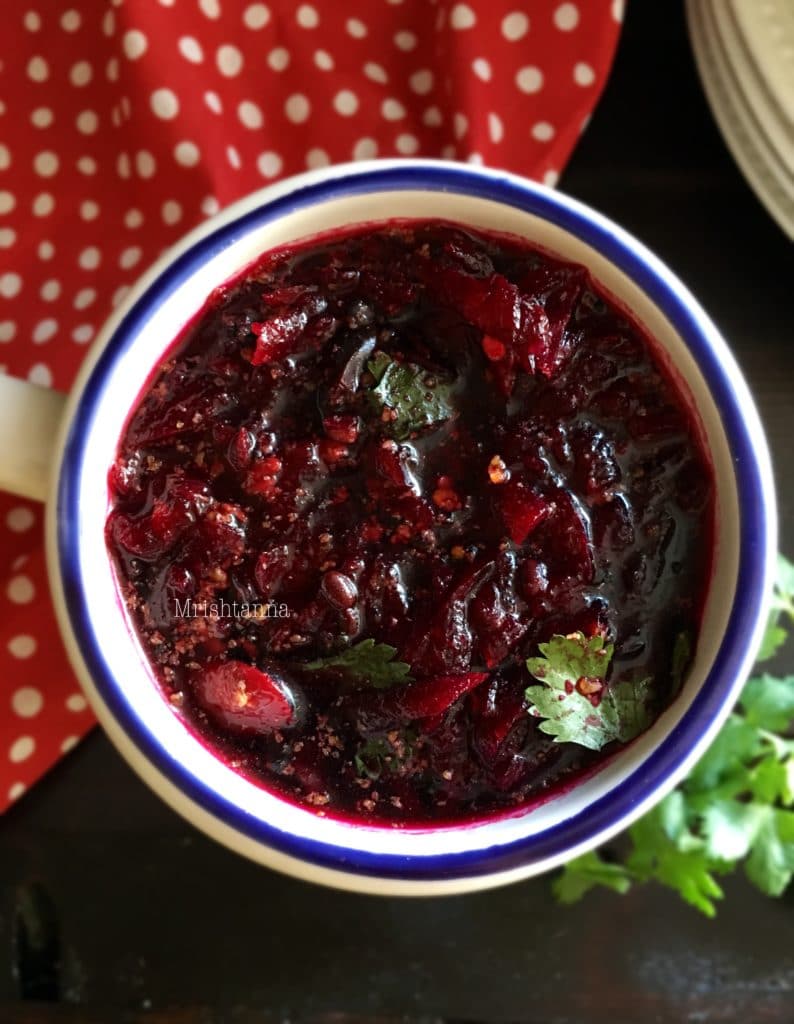 A slow-cooked beets curry that also doubles up as a soup for a winter day! When I asked my kids for dinner ideas, I was surprised to hear them say "Beets!" It does not happen very often that they ask for Beets, but yet this time it did because the last time I made my Beetroot Curry, it was a great hit.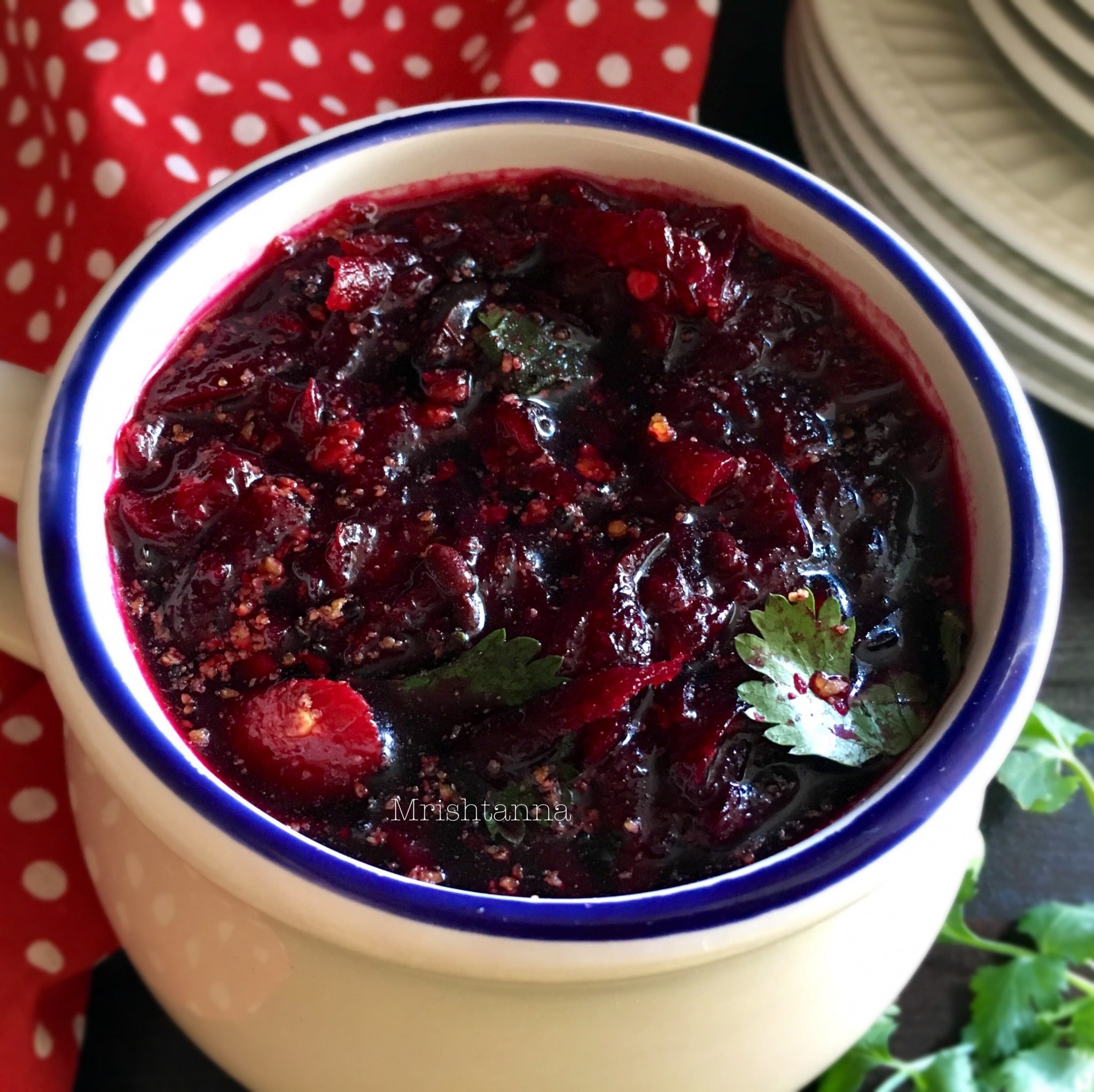 About this curry
Beetroot Curry has its origin from Karnataka, India. The dish is called "Beetroot Mudde  Huli". A simple yet nutritious recipe that goes very well with steamed rice or as a soup. You can also sweeten the dish by adding a little jaggery to it. But I noticed that the beets I bought were so sweet that it did not need any more jaggery.
The beets along with flavors from fenugreek and other spices sauteed in coconut oil make it a tasty and powerful way to add antioxidants to your meal. Adding garlic is optional, but it can be a great taste enhancer too. This is one of the best south Indian beetroot curry recipes.
If you like this recipe give me your feedback in the comments section and follow me in your favorite social media. Thank you!
Ingredients
1 cup grated beets
½ tsp tamarind paste
Salt to taste
2 green chilies
5-6 garlic cloves( optional)
⅚ curry leaves
1 tsp fenugreek ( methi seeds)
1 tsp mustard seeds
1 tsp split black gram
2 red chilies
1 tbsp coconut oil
Step by step direction

Place a vessel over medium heat and boil the grated beetroot with 2 cups water. While boiling, add green chilies and methi seeds. After about 5 minutes, add tamarind paste, salt and continue to boil for 15- 20 minutes. That's almost it! The dish will is ready except for the seasoning.

Place a pan over medium heat with coconut oil. When the oil heats up, add mustard, split black gram and red chilies. When the mustard seeds start to sputter, add it to the beets curry. If you prefer garlic, fry 5-6 garlic cloves in coconut oil until they turn golden yellow and add them to the curry!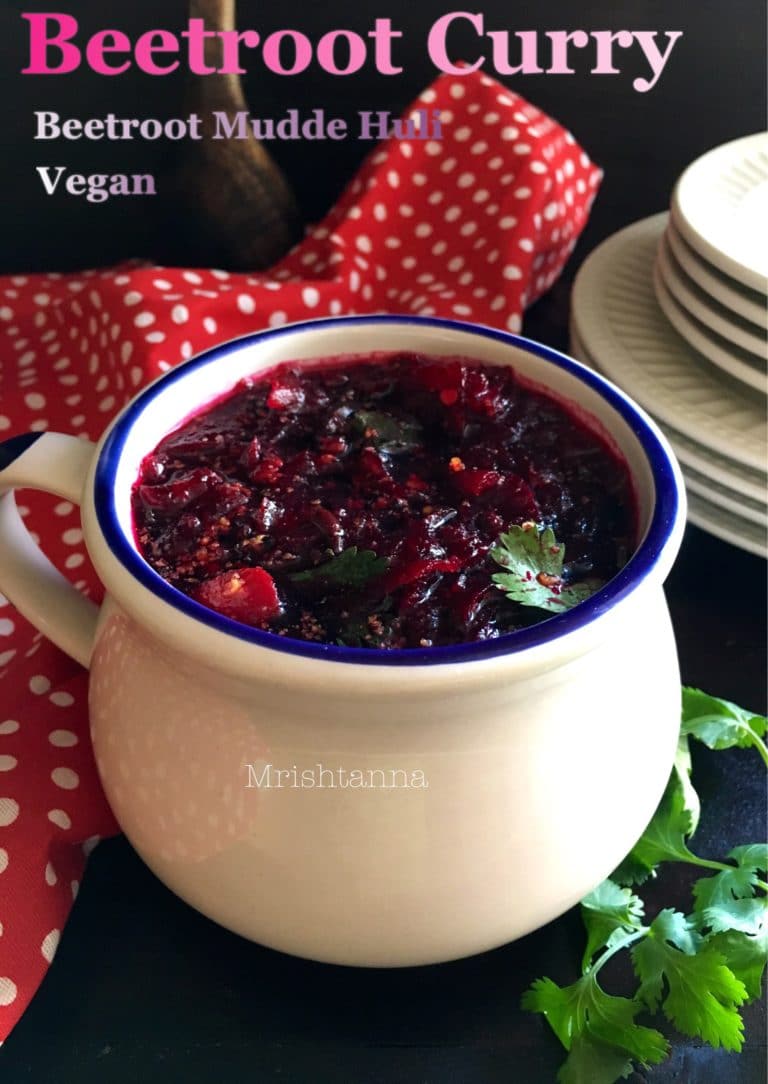 Beetroot Curry is ready! Serve hot with steamed rice.
Check out my other related recipes
If you have time comment below and rate the recipe in the comment box below.  Follow me on social media's Facebook, Instagram, and Pinterest. 
For more delicious vegan recipes such as this sent directly to your inbox, just subscribe to my newsletter. You will also get a copy of my e-book where I have put together some simple vegan dessert recipes and dessert essentials.