I bet you cannot find a better option than Moong dal rasam when it comes to a quick and healthy recipe, especially if you are not feeling 100%. Not only is the Hesaru bele Saaru rich in protein, but it also packs in the power of ginger to take care of the ill effects from the common cold.
If you are out of production, this will be the best, easy and healthy choice. All you need is toor dal or moong dal and a few other common ingredients. Both the dal choices are equally tasty and healthy. The best part is that you do not need any curry powder for this recipe! It goes well with rice or even as a soup!
The secret behind the taste is from turmeric, coconut milk, ginger, and the dal. Hesaru bele saaru is one of the little known comfort food in Karnataka.
The flavor from coconut milk, ginger gives this recipe a dense soupy texture. They also add a rich slow-cooked depth of flavor.
You can adjust the spiciness to your taste by adding fewer green chilies but skipping any other ingredient would not do justice to the dish.
I used to make this dish almost every day, accompanied by sauteed veggies and some home made chips or mango pickle.
How to make this recipe

Place a medium-size vessel with 2 cups water and washed Moong dal over medium heat. Place a cover on top and check back in 10 minutes.
When the dal appears cooked (squishy or mashable), add turmeric powder, ginger, green chilies, and add 2 more cups of water. Place a cover and let it boil on medium heat.
When it starts to boil, add salt and coconut milk and turn off the heat.
Add chopped cilantro and squeeze a little lemon juice on top.
Finally, prepare the seasoning: Place the pan over medium heat with a teaspoon of coconut oil. As the oil starts to heat up, add cumin seeds, black gram, and red chilies. When the spices start to roast, add curry leaves and switch off the heat.
Now add this seasoning to moong dal rasam.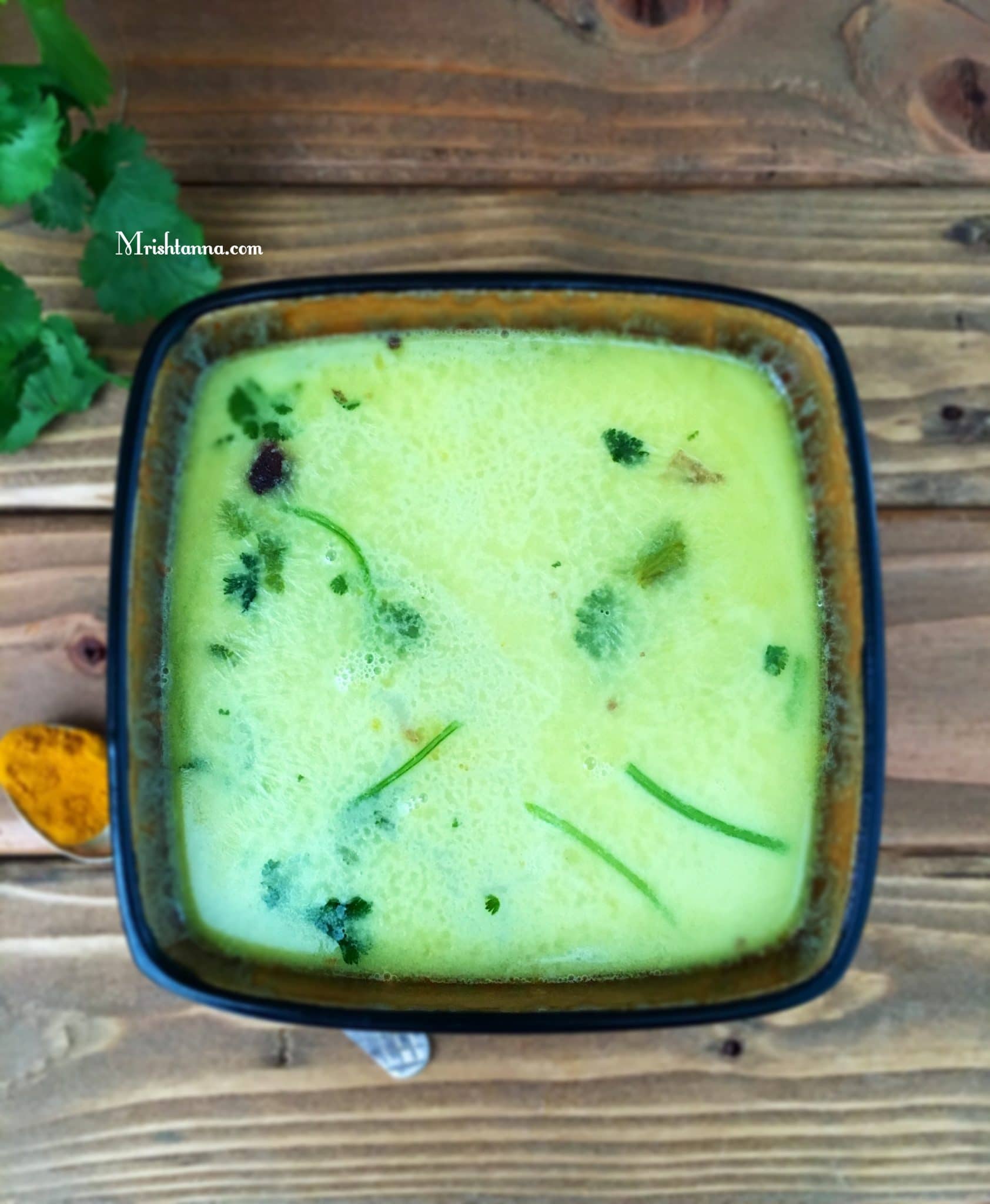 If you have time comment below and rate the recipe in the comment box below. Follow me on social media's Facebook, Instagram, and Pinterest.
For more delicious vegan recipes such as this sent directly to your inbox, just subscribe to my newsletter.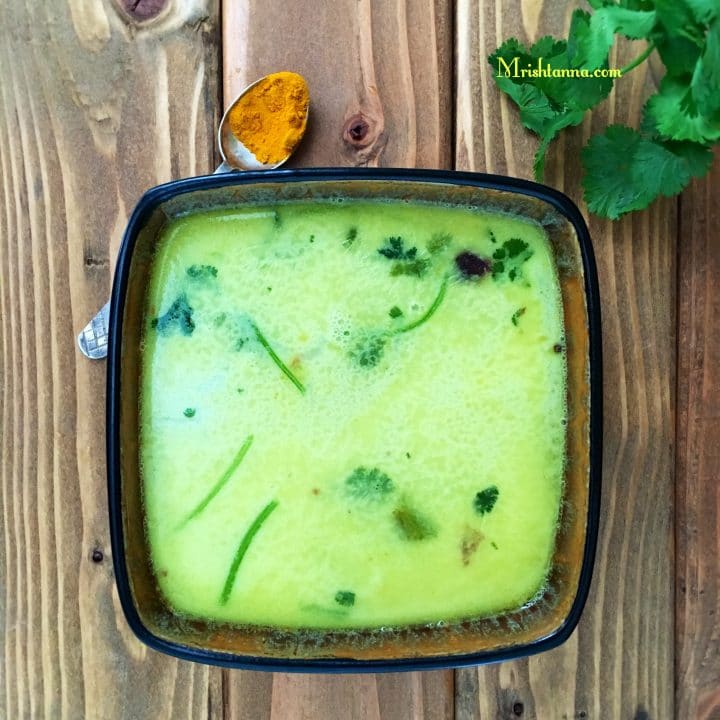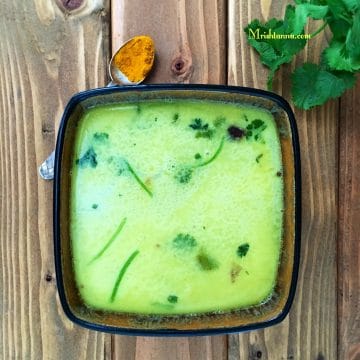 Hesaru Bele Saaru
Instructions
Place a medium size vessel with 2 cups water and washed Moong dal over medium heat. Place a cover on top and check back in 10 minutes.

When the dal appears cooked (squishy or mashable), add turmeric powder, ginger, green chilies, and add 2 more cups of water. Place a cover and let it boil on medium heat.

When it starts to boil, add salt and coconut milk and turn off heat.

Add chopped cilantro and squeeze a little lemon juice on top.

Finally, prepare the seasoning: Place the pan over medium heat with a teaspoon of coconut oil. As the oil starts to heat up, add cumin seeds, black gram, and red chilies. When the spices start to roast, add curry leaves and switch off the heat.

Now add this seasoning to moong dal rasam
Nutrition
Serving:
4
g
|
Calories:
54
kcal
|
Carbohydrates:
4
g
|
Protein:
1
g
|
Fat:
4
g
|
Saturated Fat:
4
g
|
Sodium:
91
mg
|
Potassium:
76
mg
|
Fiber:
1
g
|
Sugar:
1
g
|
Vitamin A:
107
IU
|
Vitamin C:
20
mg
|
Calcium:
14
mg
|
Iron:
1
mg