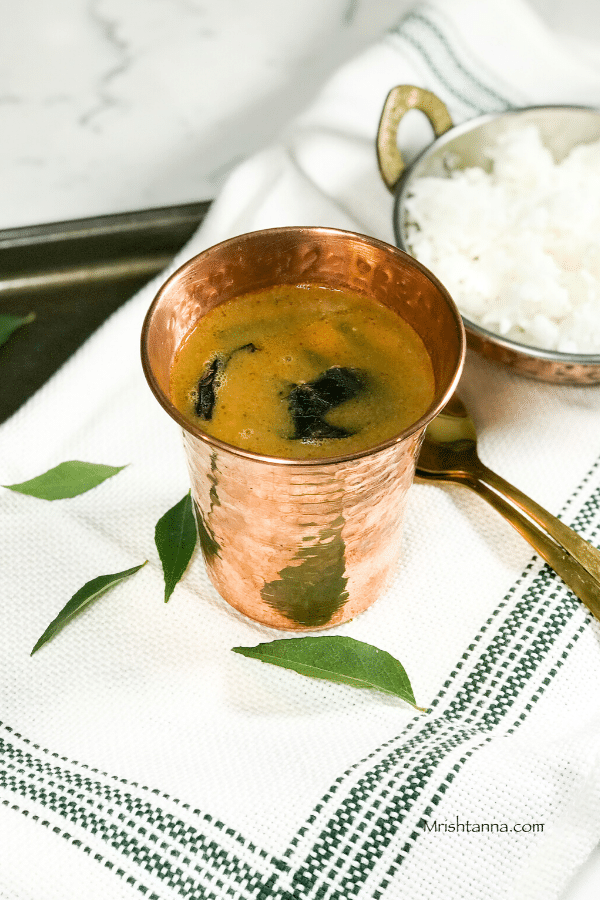 This tiny seed called "Horse Gram" is a natural powerhouse and also the main ingredient for the recipe I am sharing today…"Horse Gram Rasam" or "Hurali Saaru". It is a simple and nutritious option prepared with spices, coconuts and tempered with sauteed garlic.
Horse Gram is one of the lesser-known pulses in India but the health benefits from them are just amazing. It is jam-packed with high iron and protein content.
Now that it is gaining popularity as a weight-loss diet, it is more commonly available in most grocery stores. There are several local Indian dishes that you can prepare with "Horse Gram" or "Hurali" as it is called in my hometown.
Today I am sharing the most common "Hurali saaru" prepared with the Instant Pot.
If you have never used Instant Pot for this kind of dish, you are in for a treat to see how easy it really is. There is absolutely no compromise in taste or texture.
With a healthy serving of protein and being naturally fat-free, this will be a dish you will enjoy in every aspect.
You can customize the spice and consistency the way you prefer. The traditional method of preparing this recipe does not involve adding garlic, but adding sauteed garlic has become a new alternative. Garlic seems to bring out the nutty taste from the horse gram along with its own flavor.
What is Horse Gram a.k.a "Hurali" or "Kollu"?
Being a part of the legume family, Horse Gram is rich in both fiber and proteins. It has been found to be beneficial for patients with ulcers, diarrhea. It has been a big part of ayurvedic diets to treat patients with respiratory issues, including Asthma and Bronchitis.
Of late, Horse Gram is gaining popularity as an option for weight-loss diets. With so many benefits, there is no reason why you shouldn't try this recipe today…
How to cook horse gram| Hurali in instant pot
Traditional methods of cooking Horse Gram involves soaking them in water for 2-5 hours and boiling them to a soft consistency. It gets a little simpler with a non-electric pressure cooker by cutting the cooking time in half. You will still need to soak the pulses and cook for about 5 whistles.
With the Instant Pot or an electric pressure cooker, it is furthermore easier. You only need a couple of hours of soaking time and 15 minutes of cooking time under pressure to get them cooked to a soft and tender texture.

How to prepare Hurali Saaru – Kollu Rasam
Preparing the rasam is a three-step process: Tenderize the Horse gram, Prepare the spice masala and blending the horse gram with other ingredients.
Since there is a little bit of prep work ahead, be sure to plan this at least 2-3 hours in advance and soak the horse gram in warm water.
With the Instant pot, you start with adding 2 cups of water to the inner pot and the soaked horse gram in a small pot with ¾ cup water. Place this pot inside the inner pot.
Cook for 15 min under high pressure. Let the pressure release naturally while you prepare the spices as shown in the details.
After the pressure is released naturally, blend the cooked horse gram with coconut. Check out the photos that I have posted here. It is really much easier than you think.
Kollu Rasam is best served with steamed rice with a side of sauteed vegetables, Chips or papad. The rasam has a decent shelf life too. Store them in the refrigerator for up to 4 days with no compromise in taste.
My family enjoyed every bit of this recipe and I hope your family will enjoy this too. If this recipe interests you, please rate and comment below.
Check out my other Instant Pot recipes
Here are the recipe details….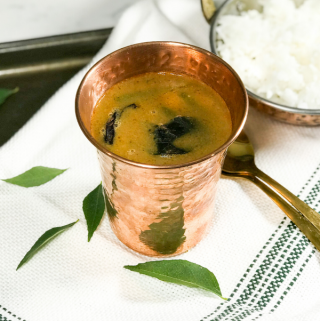 Print Recipe
Hurali Saaru - Kollu Rasam - Horse gram Rasam
Kollu Rasam is best served with steamed rice with a side of sauteed vegetables, Chips or papad.
Instructions
Cook the horse gram: Soak the horse gram in warm water for 2 hours. Add 2 cups of water to the inner pot and put the soaked horse gram in a small pot with ¾ cup water.

Place this pot inside the inner pot and cook for 15 min in high pressure.

Open the lid after pressure is released naturally.

Preparing the spice masala: Place a pan over medium heat add 2 tsp of oil when oil heats up, add all the dry spices listed for masala and roast them evenly.

Once you get a nice aroma, remove from the heat and let it cool.

Blend the masala to a fine powder consistency with a coffee grinder or blender.

Blend the horse gram: When the horse gram (a.k.a kollu) appears cooked, blend them with coconut, along with cooked horse gram broth and bring it to a smooth consistency.

Prepare Horse gram rasam: Mix the 'kollu' paste and 2 cups of water into a medium-sized cooking vessel. Cook on medium heat and add the prepared spice powder, turmeric, black pepper, 1 green chili sliced, tamarind paste, salt, and jaggery. Bring in to boil.

Prepare to temper: Place a pan over medium heat with 2 tablespoons of oil and saute the mustard seeds, urad dal, and 1 red chili. When seeds start to sizzle, add curry leaves and asafoetida powder and turn the heat off.

If you prefer garlic in your dish, saute them after you prepare the tempering and add to the dish.
Notes
If you are using a non-electric pressure cooker, make sure you soak horse gram for about 5 hours and cook it under pressure for up to 5 whistles.
You can add more water if you prefer a thinner consistency. I added 3 cups of water in total.
Note: The nutrition values I show here are my best estimates. Please be sure to check your preferred nutrition calculator, if you are reliant on accurate calculations in your diet.
Nutrition
Nutrition Facts
Hurali Saaru - Kollu Rasam - Horse gram Rasam
Amount Per Serving
Calories 163
Calories from Fat 54
% Daily Value*
Fat 6g9%
Sodium 9mg0%
Potassium 149mg4%
Carbohydrates 23g8%
Protein 5g10%
Vitamin A 214IU4%
Vitamin C 34mg41%
Calcium 15mg2%
Iron 1mg6%
* Percent Daily Values are based on a 2000 calorie diet.
For more delicious vegan recipes such as this sent directly to your inbox, just subscribe to my newsletter.
You will also get a copy of my e-book where I have put together some simple vegan dessert recipes and dessert essentials. My readers have found it very helpful and I am hoping you will too!
Pin this recipe for later use