Have you ever wondered how to make sambar powder? Today I am showing how to make udupi sambar powder in simple way. Apart from the authentic taste that it gives, it saves you from buying those expensive sambar powders at your local grocer. I am posting this recipe to address some of my readers requests. Sambar has several variations across south India. Udupi sambar is one variation from Karnataka. It's usually made without onions or garlic, so it comes with its own authentic taste. A powder like this comes in very handy to make sambar with any vegetable that you prefer. You can make plain sambar (local name: bolu huli), or sambar with coconut (local name: Koddel). I have also used this powder for sautéed veggies. I learned this recipe from my mother. I usually make enough of this to last a month or so in an air tight container.
Most recipes for sambar powder call for adding curry leaves and hing (Asafoetida powder). I skip those ingredients, because once you do that, it cannot be used for the variety of dishes that I mentioned. My experience is that you can always add fresh curry leaves and hing to your sambar when you make it. That way you will get the fresh aroma from curry leaves. Try it and let  me know how it turns out.
Let's get started with the procedure!
Note: every ingredient must be sautéed without oil. Except chilies. And with low heat.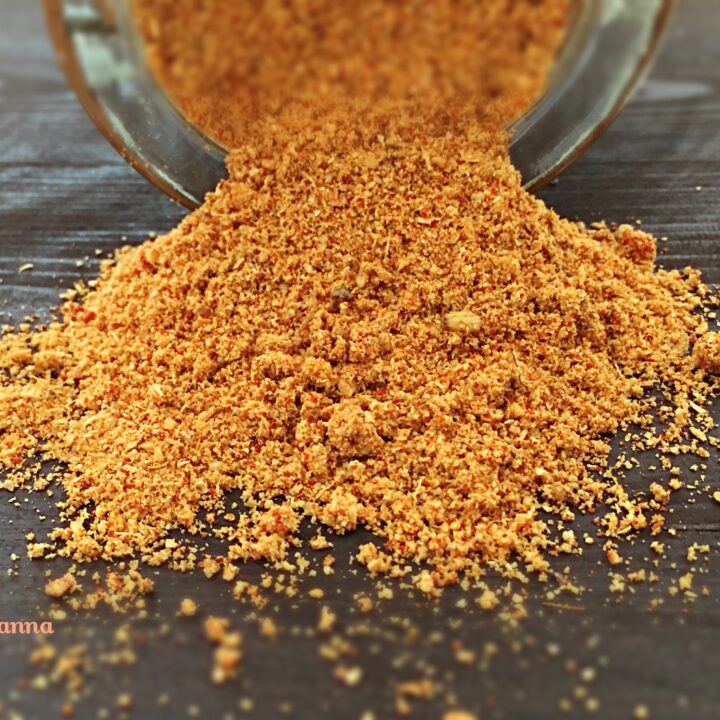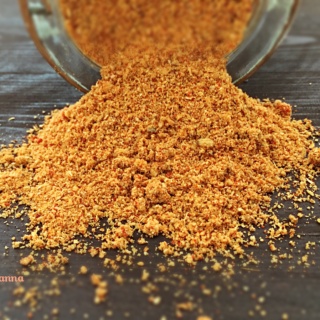 How To Make Sambar Powder
Instructions
Place a big vessel over medium heat, when it's hot sauté the coriander seeds until you get a golden yellow. Keep it aside.

Sauté the black gram until it turns golden and keep it aside.

Sauté cumin seeds and fenugreek on medium heat until they turn light golden and keep them aside.

Sauté the red chilies with 1 tsp of coconut oil. As the chilies turn crispy (but still red), switch off the heat and allow it to cool.

Let all the ingredients cool and blend them to a fine texture. Store it in an air tight container to keep the freshness intact.
You could also freeze it to last even longer! Sambar powder is ready!