How to cook Kale you will actually want to eat? The answer to that question is so simple yet not many people are aware of it!
The biggest difference is in the way you cook them. I'd like to share my delightful results after I experimented with a few different ways to cook kale.
Finally, my family does not mind having this as a snack or in a salad. I actually prepared Kale twice in one week with no complaints!
So, today let us get down to basics with a simple way to cook Kale using the Instant Pot. With its tender leaves, it is fairly easy to overcook them ending up with less than half the nutrition content.
But eating them raw comes with its own set of issues. So cooking Kale with the Instant Pot needs a little bit of balancing act to get it right.
I used this method to pair them with a side of quinoa bowl and once with plain brown basmati rice. It was super quick, super nutritious and tasted amazing with just salt and olive oil.
What types of Kale are perfect?
There are quite a few kale varieties but very few of them actually make it to the produce section in all stores. The most common version is the green curly Kale with its unique look and texture.
You can use any kind of Kale that you can buy. The cooking method depends on what you are trying to prepare.
I used the common curly Kale as well as the winter Kale that has purple leaves. Regardless of which variety I buy, I wash them at least 3 times in clean water before chopping them.
How to cook Kale in Instant pot
With the Instant Pot, Kale comes out tender and delicious every single time and it is ready in minutes, too! You start by washing and chopping them. Make sure to discard only the end of the stems.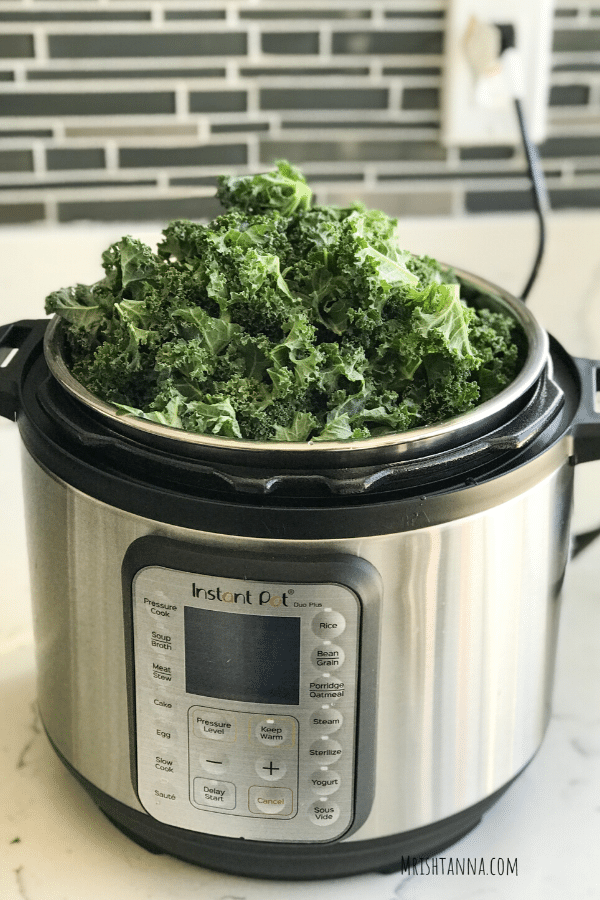 Once you have put your kale inside the steamer, add water into the inner pot of the Instant Pot and seal the lid. Use the "Pressure Cook" or "Manual" setting with a two-minute timer.
At the end of the timer, release the steam using the quick release option. When your timer goes off, quickly release the steam or you can wait until naturally release the pressure.
Ways to eat cooked Kale
You can enjoy it with just a little sprinkled salt and olive oil.

Use it in salads with garbanzo beans to balance the fibers with protein.

Pair them with a side of whole grains like brown rice or wild rice.

Prepare pesto sauce with Kale base (recipe coming soon)
Nutritional value of Kale
The nutritional value of kale is as good as it gets. With as few as 36 calories in a cup, Kale is a fat-free, vitamin powerhouse.
Not surprisingly, Kale is pretty common in smoothies and soups. I try to incorporate this superfood in more than the traditional ways like smoothie and salads to a whole new world of cooked Kale recipes.
Check out my other Instant Pot Recipes
Here are the recipe details….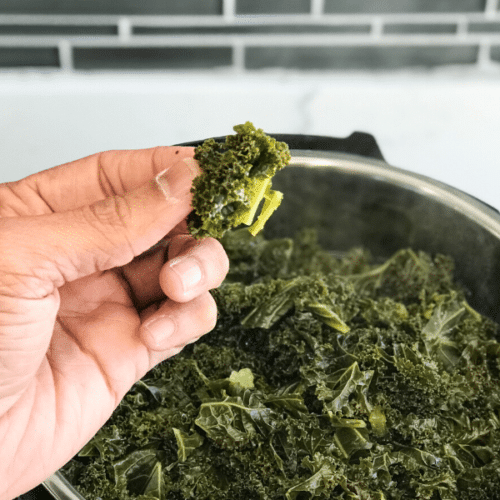 How To Cook Kale In Instant Pot
Ingredients
2

bunch kale

-

2-pound kale

water
Instructions
Wash the kale with clean water 3 times.

Chop the end of the stems and discard it. Alternatively, you can cook it as a whole and chop about 1 inch of the stalk off.

Add water inside the inner pot and place the steamer inside it.

Put the chopped kale inside the steamer and seal the lid.

Press the "Pressure Cook" or "Manual" button. Set your timer to two minutes.

When your timer goes off, quickly release the steam or wait for the natural release.
Notes
Be sure to wash the kale properly to get rid of pesticides. I personally prefer organic varieties for leafy vegetables.
Note: The nutrition values I show here are my best estimates. Please be sure to check your preferred nutrition calculator, if you are reliant on accurate calculations in your diet.
YOUR OWN NOTES
Nutrition
Calories:
48
kcal
|
Carbohydrates:
11
g
|
Protein:
4
g
|
Fat:
1
g
If this recipe interests you, please rate or comments below. For more delicious vegan recipes such as this sent directly to your inbox, just subscribe to my newsletter.
You will also get a copy of my e-book where I have put together some simple vegan dessert recipes and dessert essentials. My readers have found it very helpful and I am hoping you will too!
Pin this recipe for later use