Bagara baingan recipe – Eggplants in Sesame & peanuts Gravy!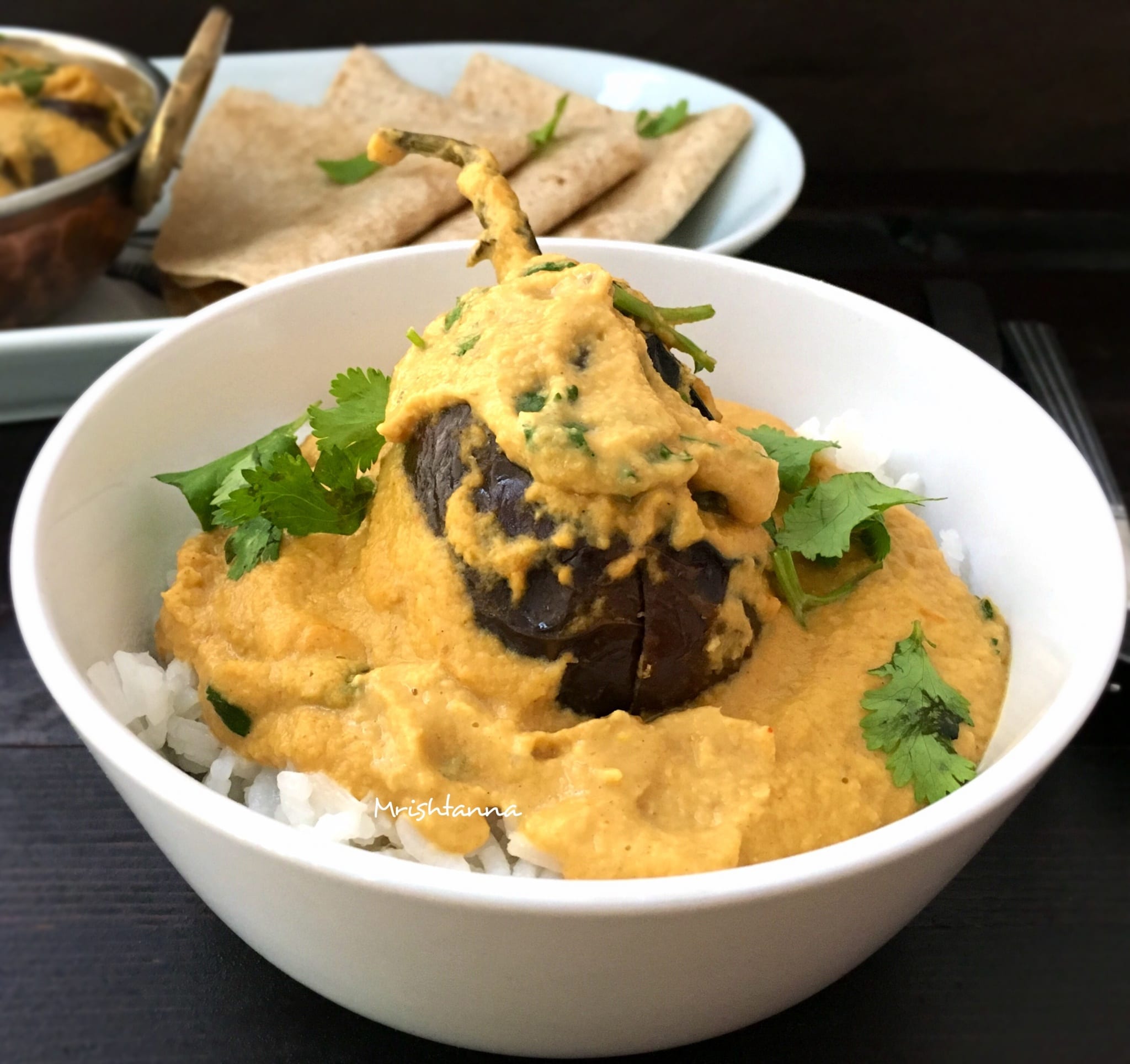 Here's an able Indian competitor to Eggplant Parmigiana! Bagara Baingan is what they call it in Indian cuisine. Bagara Baingan recipe is nothing but eggplant cooked in tahini (sesame) & peanuts sauce.
Bagara Baingan hails from the princely state of Hyderabad in India and comes in various spicy flavors. I have posted this recipe with a spice rating of 5 on a scale of 10. You can tone it down or kick it up higher if you prefer.
Bagara Baingan brings the taste of several spices with just a splash of cooking oil. So, it goes very well with Indian Biriyani or Roti. The toothsome yet tender eggplant cooked with onions and tomatoes stamp the authority of Indian cuisine.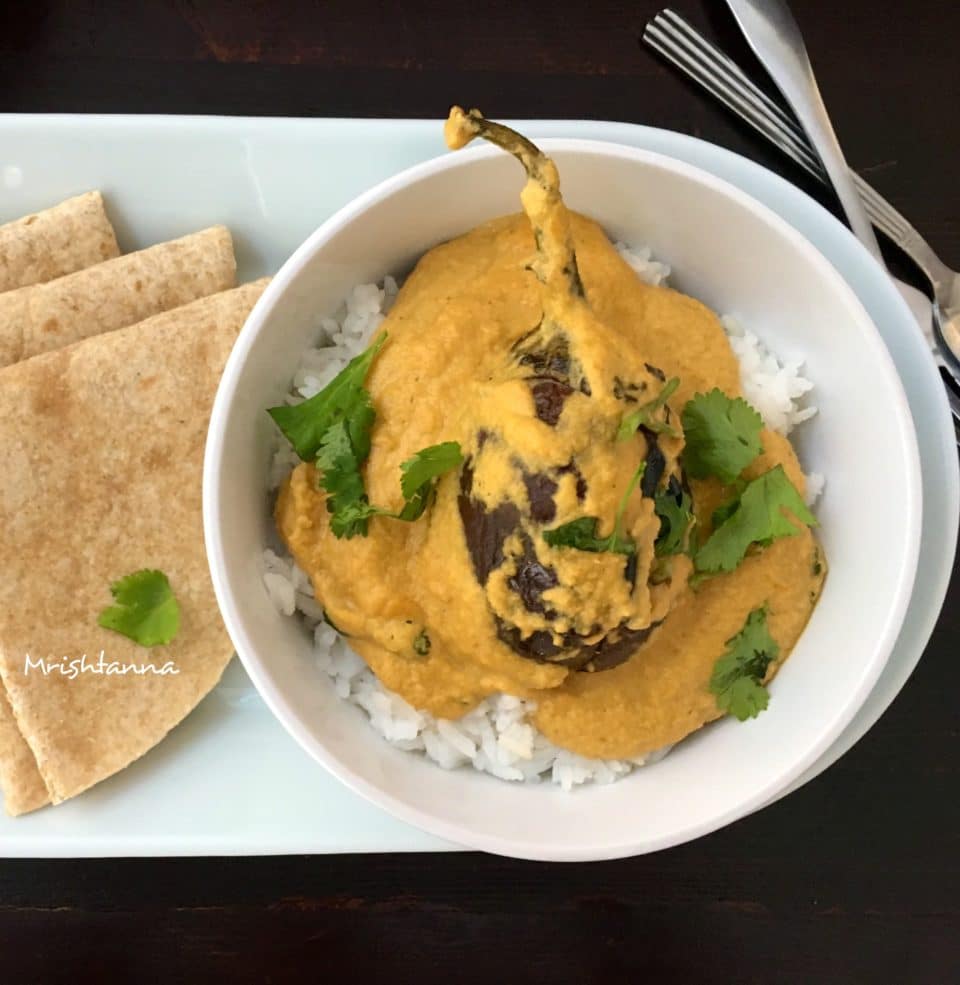 I learned it first from one of my friends, and I have been a fan of it since then. At first, I found it a little hard to dry roast the spices along with coconuts and then mix it with deep-fried eggplant.
But I have some variations now that do not need deep-frying. After several attempts to perfect it, I think I have it nailed the easy and healthier way and I am glad to share it today. I bet you won't go wrong with this, especially if you are looking for a good eggplant recipe.
Please check my video and step by directions to know more. If you like it, please leave a comment here or on my Facebook page. If you prefer getting my recipes directly in your inbox, just hit the subscribe button at the right.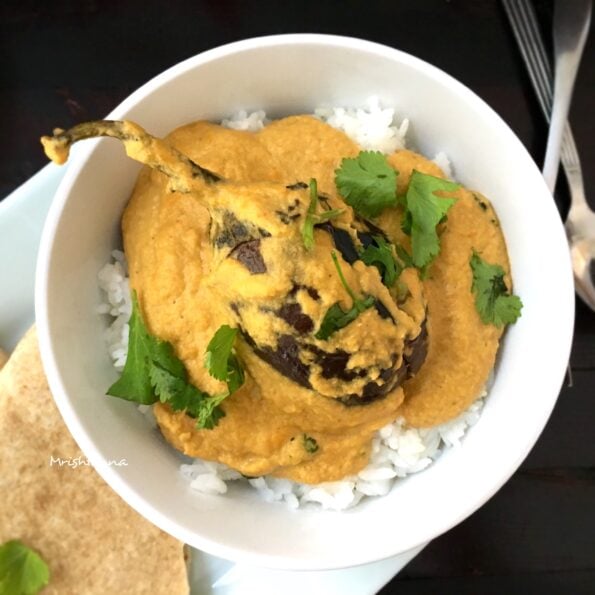 Print Recipe
Bagara Baingan Recipe
Yummy and delicious eggplant curry made with sesame and peanut sauce.
Ingredients
12

small eggplants

4

tbsp

peanut butter

2

tsp

tahini or sesame butter

1

cup

grated Coconut

1

tsp

red chili powder

1

tsp

turmeric powder

1

tsp

ground coriander

1

tsp

ground cumin

Salt to taste

¼

cup

oil

2

tsp

tamarind water or lemon juice

optional

1

cup

chopped onions

½

cup

chopped tomatoes

2

tsp

garlic powder

½

inch

ginger
Instructions
Heat ¼ cup of cooking oil in a medium-size pan (Shallow fry).

As the oil heats up, partially slit the eggplant (Brinjals) into 4 sections, leaving the stem intact.

When the oil is ready, fry the eggplant until the skin softens completely. This is when the eggplants are cooked evenly. Set them aside.

Transfer the hot oil to a bowl and just retain a few tsp oils in the pan.

Saute ginger for about 30 seconds and as they begin to sizzle, add onions.

Fry the onions until they turn transparent and add chopped tomatoes. Continue to saute for a minute.

Add garlic powder, red chili powder, turmeric, coriander, and cumin powder. Continue to fry for another 2-3 minutes and add salt.

Turn the heat off and add tahini, peanut butter (Or roasted peanuts), and grated coconut. Blend it with ¾ cup of water.

Pour the blended gravy in the pan and cook for 5 minutes.

As the gravy begins to bubble, add the shallow-fried eggplants (brinjals) and stir well.

Cover and cook till the flavors are all absorbed by the eggplant.

Garnish well with coriander leaves.
Video
Nutrition
Calories:
285
kcal
|
Carbohydrates:
8
g
|
Protein:
4
g
|
Fat:
24
g
|
Saturated Fat:
10
g
|
Sodium:
92
mg
|
Potassium:
220
mg
|
Fiber:
4
g
|
Sugar:
3
g
|
Vitamin A:
157
IU
|
Vitamin C:
2
mg
|
Calcium:
20
mg
|
Iron:
1
mg
Bagara Baingan is best served hot with a steaming plate of Biriyani or Indian Roti.
Pin this recipe for later use